Trail mix is a great way to clean out your pantry and make a quick and easy snack out of your leftover forgotten-about ingredients. Because I don't know if you're like me, but small amounts of random ingredients tend to collect in the back of my pantry just like half-used bottles of sauces in my fridge. If you don't stay on top of them it can quickly get out of control and result in a LOT of food waste. Instead of letting those ingredients get lost in the pantry, let's do some Spring cleaning and make trail mix! Reduce waste and make a delicious snack? YES PLEASE.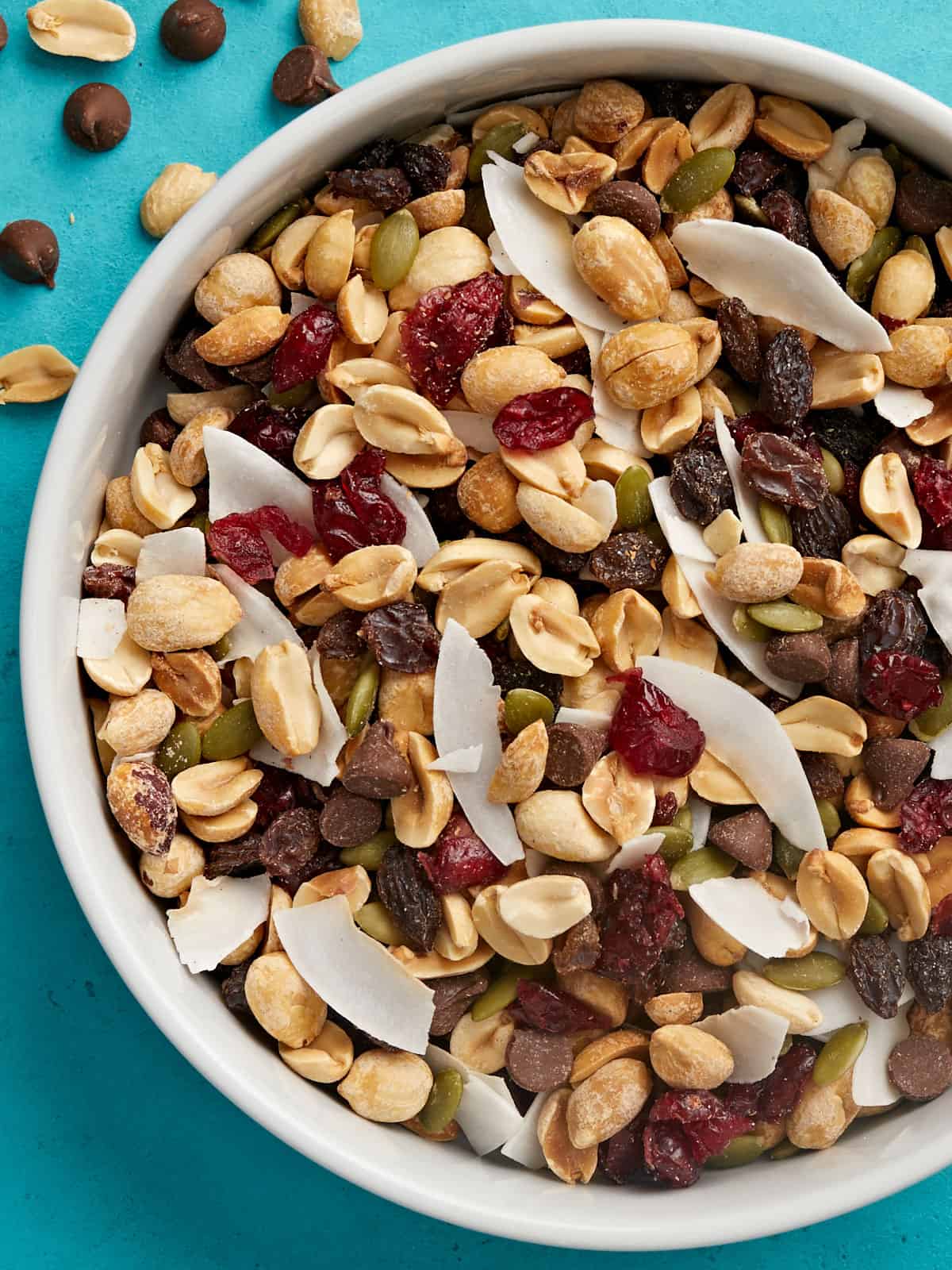 What iS Trail Mix Made Of?
Trail mix (also known as scroggin) is simply a mix of nuts, seeds, fruit, and sometimes other ingredients. With every handful of this simple snack mix you get a nice combination of sweet and savory flavors, protein, carbs, and fat, plus tons of texture and color, making it fun to eat. It's an easy snack to eat on the go (no heating or utensils required) and is a great source of energy during activities where you don't want a super full stomach, like hiking.
Everyone makes trail mix a little bit different, but the classic mix that you'll find in stores is usually peanuts, raisins, M&Ms, and sometimes a second nut like almonds or cashews. I love how flexible trail mix is because it allows you to make any combination of ingredients that fits your budget, the ingredients you have on hand, and the flavors you prefer.
Other Ingredients for Trail Mix
If looking in your pantry for trail mix ideas is a little overwhelming, here are some ingredients that are perfect for trail mix:
Nuts: peanuts, almonds, cashews, pecans, walnuts, coconut, hazelnuts, pistachios, mixed nuts
Seeds: sunflower seeds, pumpkin seeds (pepitas)
Dried Fruit: raisins, cranberries, banana chips, apple, pineapple, ginger, dates, apricots, freeze-dried strawberries
Chocolate: chocolate chips, carob chips, M&Ms, white chocolate chips, butterscotch chips
Snacks & Candy: pretzels, granola, popcorn, Chex, Cheeze-its, chocolate or yogurt covered raisins, marshmallows, licorice, rice crackers, Reece's Pieces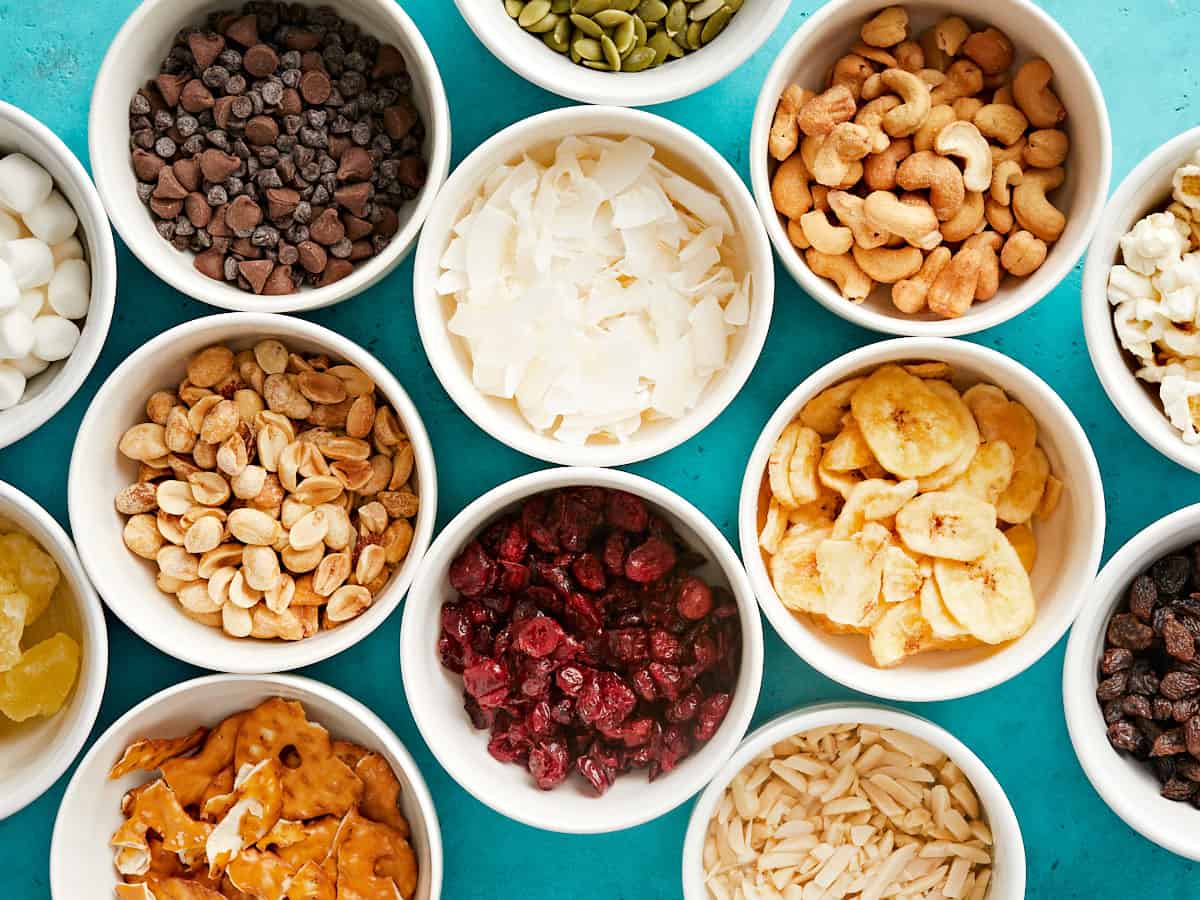 Make Trail Mix Budget-Friendly
Nuts and dried fruit can be expensive, which is why I like to just use random leftover ingredients that I find in my pantry. BUT you can also tweak the ratios of your trail mix to keep the total cost low. Make sure to bulk up your trail mix with less expensive ingredients and then add in just a small handful of the more expensive ingredients.
Low Cost: peanuts, cereal, raisins, pretzels, marshmallows, coconut, popcorn
Expensive: most nuts, pumpkin seeds, dried fruit (other than raisins), brand name snacks (M&Ms, Cheeze-its, etc.)
Trail Mix Flavor Combinations
I've included a very basic trail mix recipe below, but if you still need a little inspo for your own homemade mix, here are some fun combos that I've made in the past:
Fruit & Nut Trail Mix: peanuts, cashews, almonds, raisins, dried cranberries, dried apricots
Tropical Trail Mix: banana chips, cashews, coconut, dried pineapple, dried cranberries
S'mores Trail Mix: peanuts, mini marshmallows, chocolate chips, graham crackers (broken into pieces) or golden grahams cereal
Snack Trail Mix: popcorn, pretzels, chocolate chips, peanuts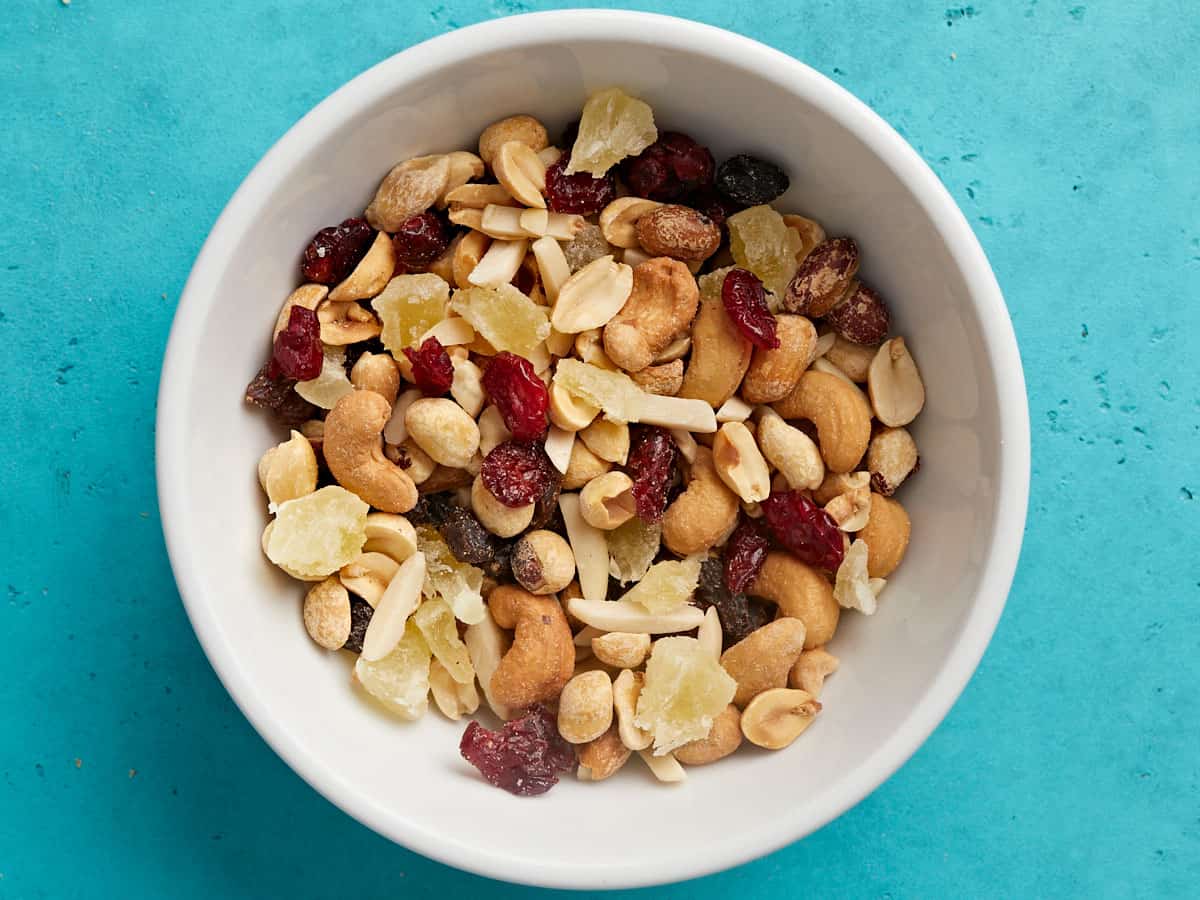 How to Store Trail Mix
Because trail mix is made out of all dry, shelf stable ingredients, you'll want to store it the same way you store the individual ingredients–in an air-tight container away from sunlight and moisture. I highly suggest keeping the trail mix in something clear, like a glass jar or zip top baggies, so you'll see and remember that you have the trail mix on hand. Even better yet, divide it into small single-serving containers so you've got snacks ready to grab and go for the day!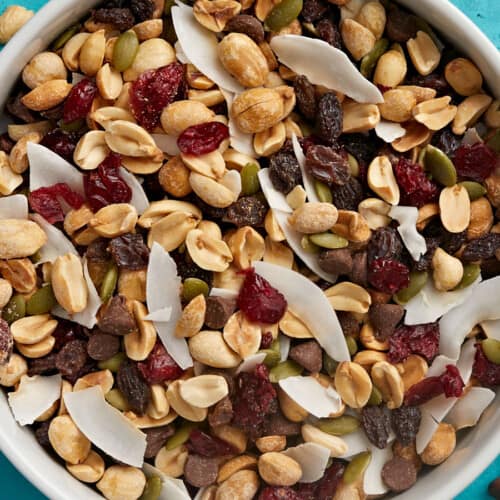 Trail Mix
Making homemade trail mix is a quick and easy way to make a delicious snack AND use up leftover ingredients in your pantry.
Ingredients
1

cup

peanuts

$0.70

1/4

cup

raisins

$0.39

1/4

cup

pepitas (pumpkin seeds)

$0.50

1/4

cup

chocolate chips

$0.49

1/4

cup

shaved coconut

$0.42

1/4

cup

dried cranberries

$0.31
Instructions
Combine all ingredients in a bowl or resealable container and stir to combine. Enjoy one handful at a time!
See how we calculate recipe costs here.
Nutrition
Serving:
0.5
cup
|
Calories:
372
kcal
|
Carbohydrates:
28
g
|
Protein:
11
g
|
Fat:
27
g
|
Sodium:
13
mg
|
Fiber:
6
g
What's your favorite ingredient or ingredient combination for trail mix? Let us know in the comments below!
The post Trail Mix appeared first on Budget Bytes.