Well, I'm not sure if I'm more excited about the turkey or the sides this year for Thanksgiving. But who am I kidding…it's definitely all about the sides!!! There's just so many wonderful side dishes to choose from on Thanksgiving day. You have classic side dishes like mac & cheese, mashed potatoes, savory stuffing, and cranberry sauce. And there's easy, stress-free sides like roasted Brussels sprouts and creamed spinach. So to help you make your selection this year, we're sharing over 25 budget-friendly Thanksgiving Side Dishes! And no matter which ones you choose to add to your dinner menu, there's definitely something here for everyone to enjoy!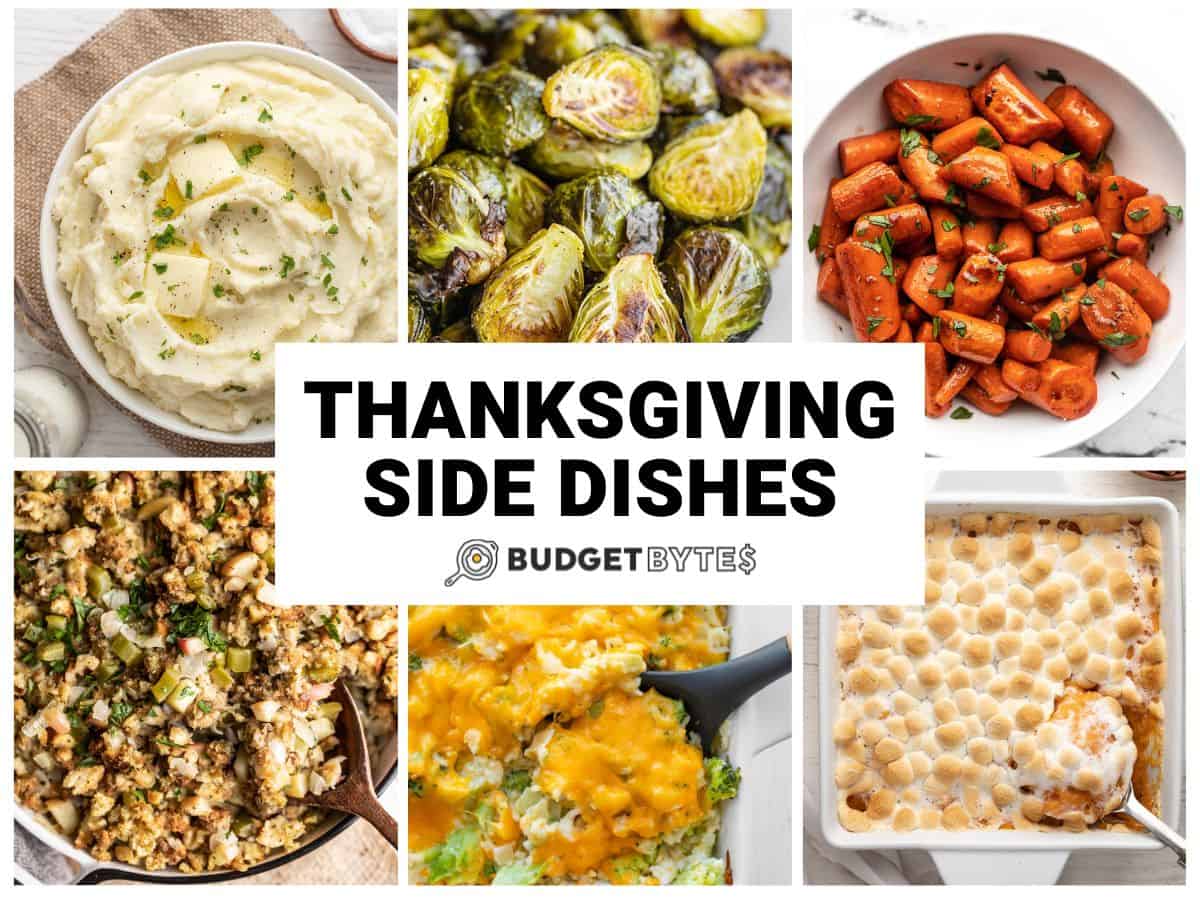 We can't think of anything that's better than a big bowl of buttery Mashed Potatoes. These classic mashed potatoes are fluffy, creamy and easy to make in just a few steps.
These roasted Honey Balsamic Glazed Carrots are sweet, tangy, and rich all at the same time. Incredibly easy to make and perfect for the big day!
Broccoli Cheddar Casserole is a comforting, classic recipe that is always welcomed at dinner parties. This homemade version comes together quickly and is a great way to use up leftover rice!
If there's one side dish that's always welcomed at holiday gatherings it's Homemade Mac and Cheese. This classic stovetop macaroni and cheese recipe is made with a classic roux-based cheese sauce that will satisfy all of your cheesy pasta cravings!
This Vegetarian Stuffing is chock-full of colorful vegetables that bring tons of flavor and texture to this classic Thanksgiving side dish!
This insanely scrumptious Mushroom Herb Gravy is butter-based and perfect to drizzle over those creamy mashed potatoes or your Thanksgiving turkey.
I mean who doesn't love the classic, irresistible Sweet Potato Casserole? It's the perfect side dish during the holidays and family gatherings, and can be topped with marshmallows or a decadent pecan streusel.
If you don't want to spend a lot of time on your Thanksgiving sides this year, you can whip up these easy Roasted Brussels Sprouts in hardly no time!
This Corn Pudding recipe is made 100% from scratch (no boxed cornbread mix or canned creamed corn), it's incredibly easy and it will definitely leave you wanting seconds!
We're taking stuffing to the next level with this easy Apple Walnut Stuffing recipe. It's a combination of boxed stuffing mix along with fresh ingredients like apples and chopped walnuts and ready to serve in just 30 minutes!
A simple but spectacular homemade Cranberry Sauce made with fresh cranberries and a little sweet orange juice. It will definitely brighten up your Thanksgiving meal!
Get ready to experience the magic that brown butter and maple syrup makes with these Maple Brown Butter Mashed Sweet Potatoes! Brown butter creates a nutty, caramel flavor which matches perfectly with the deep flavors of real maple syrup. A simple dish perfect for your holiday meal.
This Wild Rice Stuffed Acorn Squash is a show-stopping Autumn-inspired dish that is absolutely perfect for your Thanksgiving meal. It's colorful, flavorful, full of texture, and just as delicious as it is beautiful.
Collard Greens are a classic potluck side dish and are perfect to add to your Thanksgiving menu. This recipe includes smoked ham hock, chicken broth and lots of aromatics and spices!
This gorgeous Roasted Brussels Sprouts Salad will steal the show at your family gathering this year! It's a beautiful combination of roasted Brussels Sprouts, sweet potatoes, pecans, goat cheese, and a tangy-sweet maple Dijon dressing!
These Balsamic Roasted Mushrooms are bursting with flavor and they make the perfect side dish for any special occasion!
You can't go wrong when you have an easy Creamed Spinach recipe in your back pocket. This version is simple, rich, and creamy without being overly heavy.
Potatoes Au Gratin – a truly classic comfort food dish made with thinly sliced potatoes in a rich and creamy sauce. Did I mention that I'm slightly addicted to this dish? It's just SO good!
This Easy Homemade Cornbread is deliciously sweet, moist and it only uses a few pantry staple ingredients. It always makes the perfect side to go with collard greens or any type of slow cooked beans to help soak up all of that good flavor on your plate.
You get two for one with this easy Potato and Green Bean Skillet! Caramelized onions, smoky bacon, and tender potatoes…yes, count me in!
Take some of the stress away and make this simple and delicious Roasted Delicata Squash for Thanksgiving this year. A little bit of olive oil and a simple seasoning mix is all you need.
You'll definitely impress your guests this year with these Twice Baked Potatoes. These deconstructed loaded baked potatoes are mixed perfectly with all your favorite toppings, then re-stuffed into crispy potato skins. Perfect for individual servings too!
These sweet and savory caramelized Balsamic Roasted Vegetables are versatile (use any vegetables) and make a simple yet stunning Thanksgiving side dish!
I'm pretty sure this Baked Mac and Cheese will be in high demand on Thanksgiving Day. It's a staple potluck side dish and if you want more of that cheesy goodness with a crunchy flavorful topping, then baked mac and cheese is the way to go!
Maple Roasted Sweet Potatoes with Pecans are tender, sweet, easy to prepare, and a simple side dish for holiday gatherings.
Get ready to take your cornbread skills to the next level with this rich and thick Sweet Potato Cornbread! It's slightly sweet but also has a good amount of warm, aromatic spices to keep it from being too dessert-like.
This Wild Rice Pilaf is full of color, texture, and flavor! It has lots of aromatics and is a great side dish for your next holiday gathering.
The post Thanksgiving Side Dishes appeared first on Budget Bytes.