If you've never roasted spaghetti squash, the first time you stare at it on your kitchen counter can be intimidating. I mean, how in the world does a hard-skinned gourd transform into tender strands that look like angel hair? Well, dear reader, with one of my favorite kitchen hacks up your sleeve, it's actually really easy.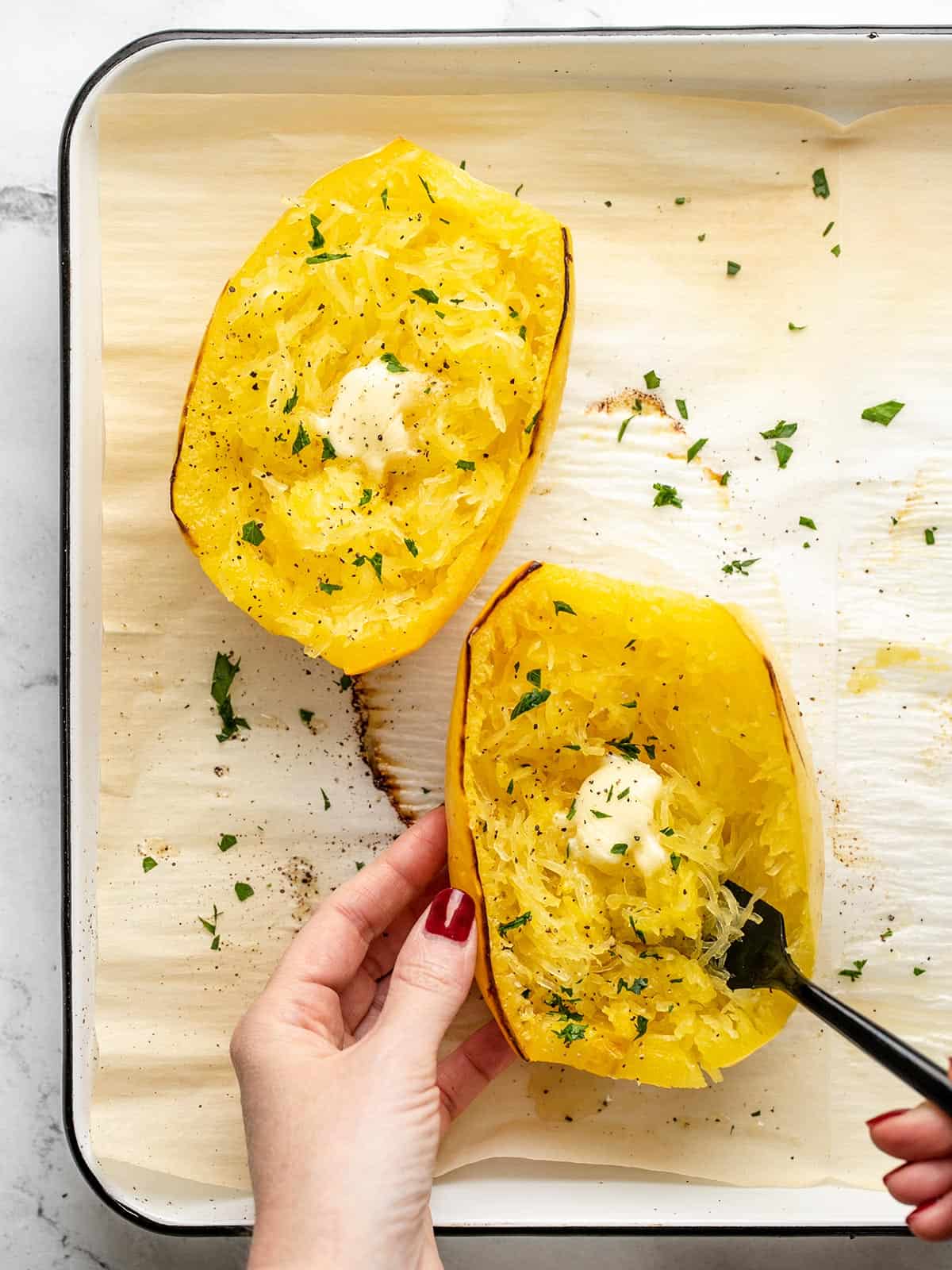 What Is Spaghetti Squash?
Surprisingly, considering all of its savory preparations, spaghetti squash is a fruit, just like every other squash. Its bright canary yellow and football-like shape makes it easy to recognize among its more famous cousins, butternut and acorn. No matter, as Spaghetti is the unicorn of winter squashes. Once it's cooked, its neutral-flavored flesh separates into long, translucent strings that resemble angel hair pasta. Try that with butternut squash! (Spoiler alert: you will fail miserably.) PS, spaghetti squash seeds are edible, so don't throw them out.
HOW TO Make Cutting Easy
If you think you need super-human strength and wolverine-like blades to cut through this hard-skinned squash, you would be correct. But as I mentioned, I have tricks that will help you keep all of your digits on your hands where they belong. After a nice little rinse in your sink, pierce your squash about a dozen times with a fork. Then pop it in your microwave and cook it for five minutes. The heat transforms its hard shell into something a bit more manageable. This trick works with all hard-skinned squashes.
How To Cut Spaghetti Squash
While it's getting nuked into submission, prepare your work surface. First, place a damp paper towel under your cutting board, so it doesn't slip. Then place a thick dish towel on your cutting board so the squash doesn't slip.
Place the softened squash long side down on the dish towel on top of your cutting board. Slice off both ends, and create a flat surface to help stabilize the squash on your board.
Next, set it upright on its newly trimmed bottom and cut straight down the middle from tip to end. Alternatively, you can set it on its side and slice it into rounds. Yes, that will take longer than counting out $20 in nickels and dimes. But you do you.
How To Get SEEDS OUT OF Squash
Once the squash has been cut open, use a soup spoon to scrape out the fifty thousand seeds in its cavity. Don't go crazy here, as it's easy to scrape a ton of flesh out along with the seeds. If you want, clean the seeds and reserve them for roasting. Boom! You're ready to go! Check out my simple recipe below for Roasted Spaghetti Squash.
What can you serve with Spaghetti Squash?
Spaghetti squash has a very neutral flavor, which makes it a perfect canvas for All. Of. The. Things. You can separate its strands and dress them simply in salted butter (my fave!) or go all out: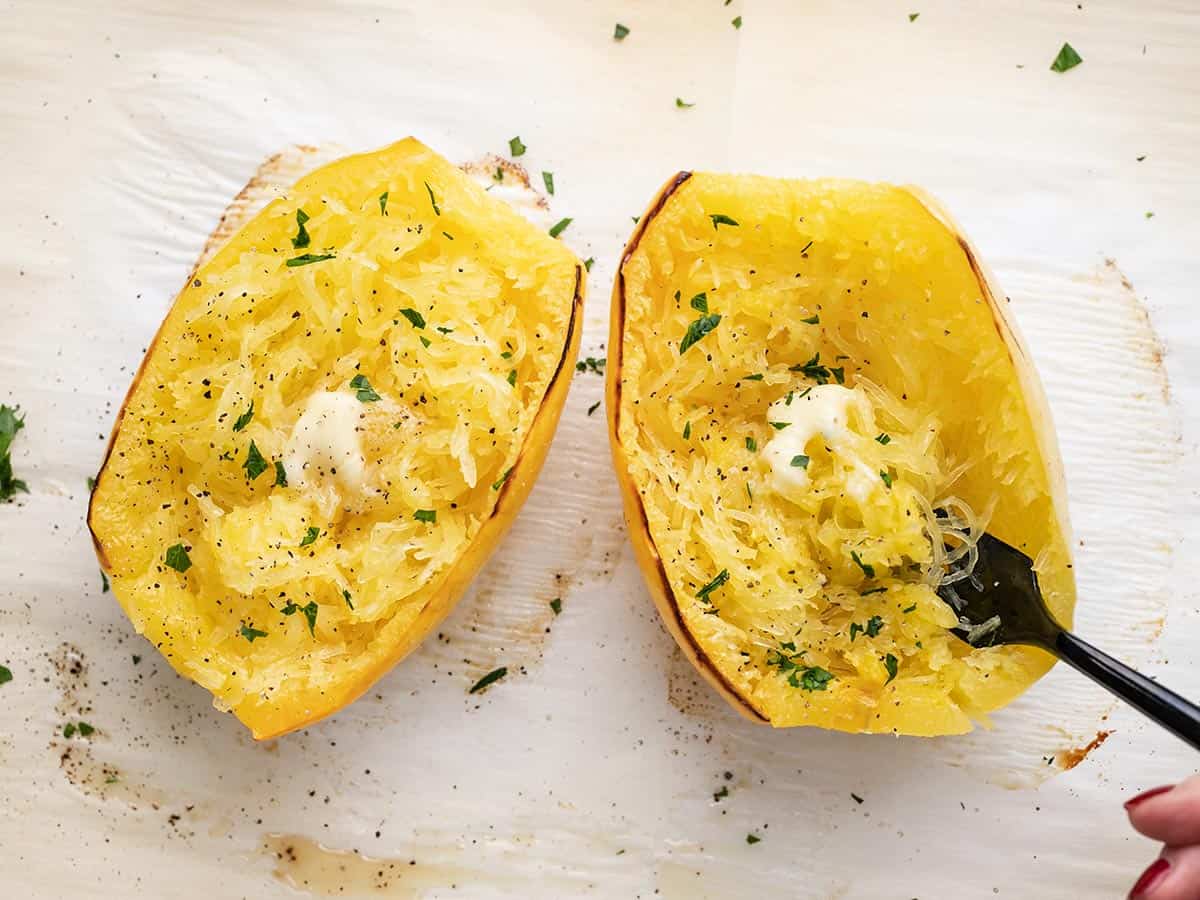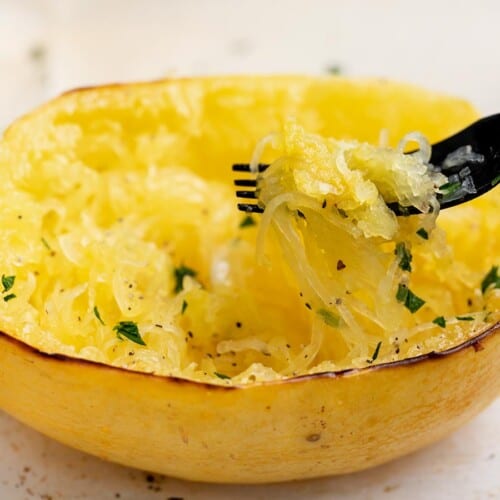 Roasted Spaghetti Squash
There's a hard way and an easy way to roast spaghetti squash. Here's the easiest way to get buttery roasted strands of squash on your table fast.
Ingredients
1

spaghetti squash, (1 and 1/3 lbs)

$0.79

1

Tbsp

olive oil

$0.15

1/2

tsp

salt

$0.01

2

Tbsp

salted butter

$1.20
Instructions
Place a rack in the center of your oven and preheat it to 400°F. Line a sheet pan with parchment. Place a dish towel on your cutting board to stabilize the squash, and then trim off 1/4 inch from both ends.

Place the cut bottom of the squash on your cutting board with the stem side facing up. Cut down the center of the squash, from the top to the bottom.

Use a soup spoon to scrape out all of the seeds in the cavity of the squash. If you wish, reserve them for roasting.

Brush olive oil on both halves of the squash and sprinkle salt on them.

Place the halves cut side down on the sheet pan. Roast your squash for 30 to 45 minutes or until a fork easily pierces the skin.*

Allow the squash to cool until it's comfortable to hold. Use a fork to scrape the squash halves in one direction, creating spaghetti-like strands.

Dress with butter and serve.
See how we calculate recipe costs here.
Notes
*Cooking time will vary depending on the size of the squash.
Nutrition
Calories:
156
kcal
|
Carbohydrates:
17
g
|
Protein:
2
g
|
Fat:
11
g
|
Sodium:
377
mg
|
Fiber:
4
g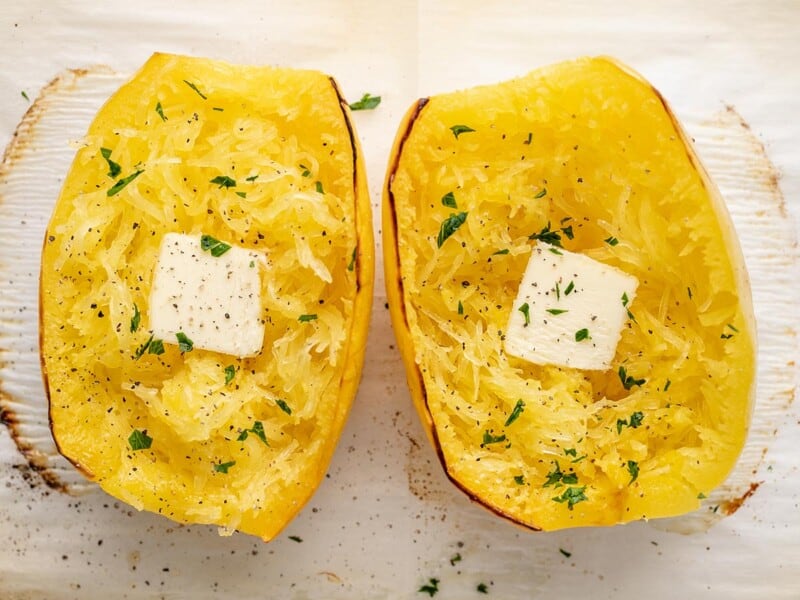 How to Make Roasted Spaghetti Squash – Step by Step Photos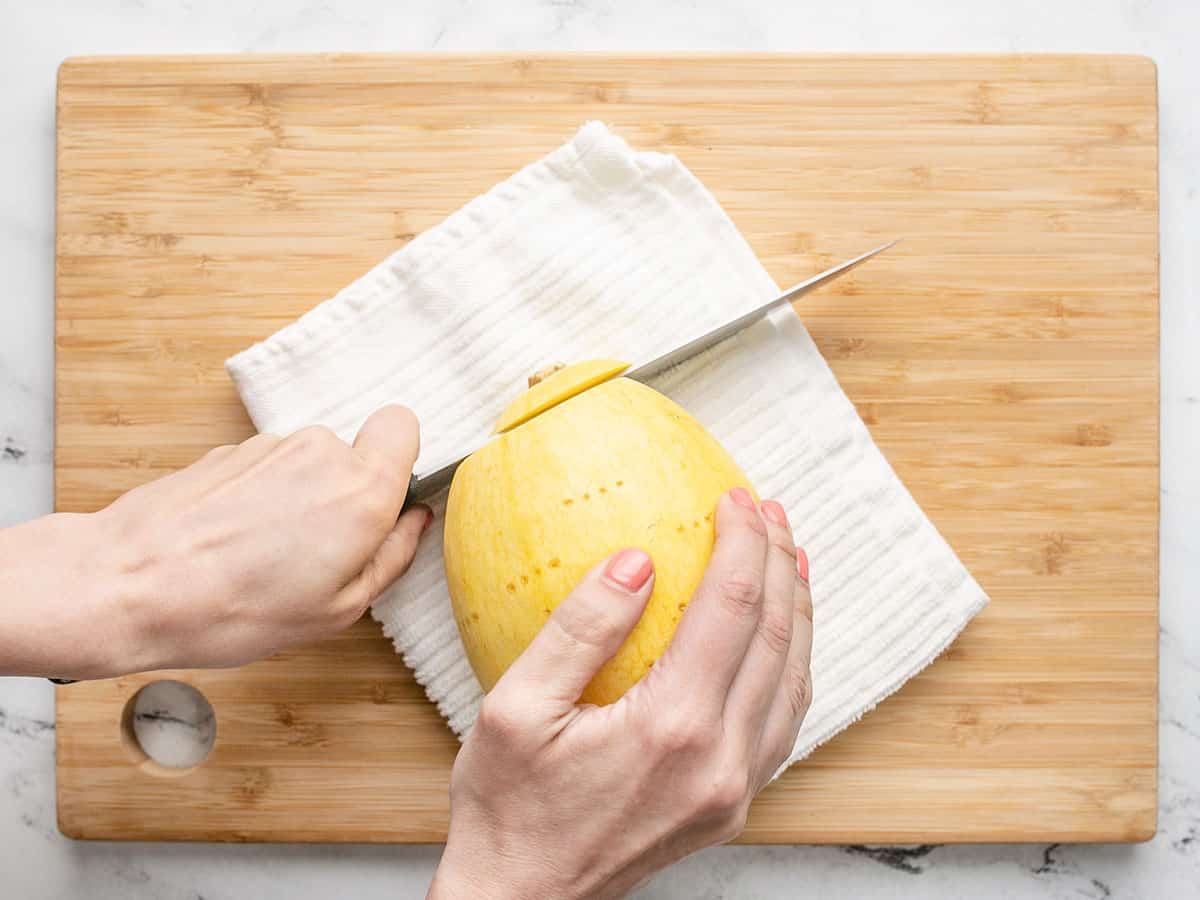 Place a rack in the center of your oven and preheat to 400°F. Line a sheet pan with parchment paper. Place a dish towel on your cutting board and put the spaghetti squash on top of it. Use a chef's knife to cut 1/4 inch off both ends.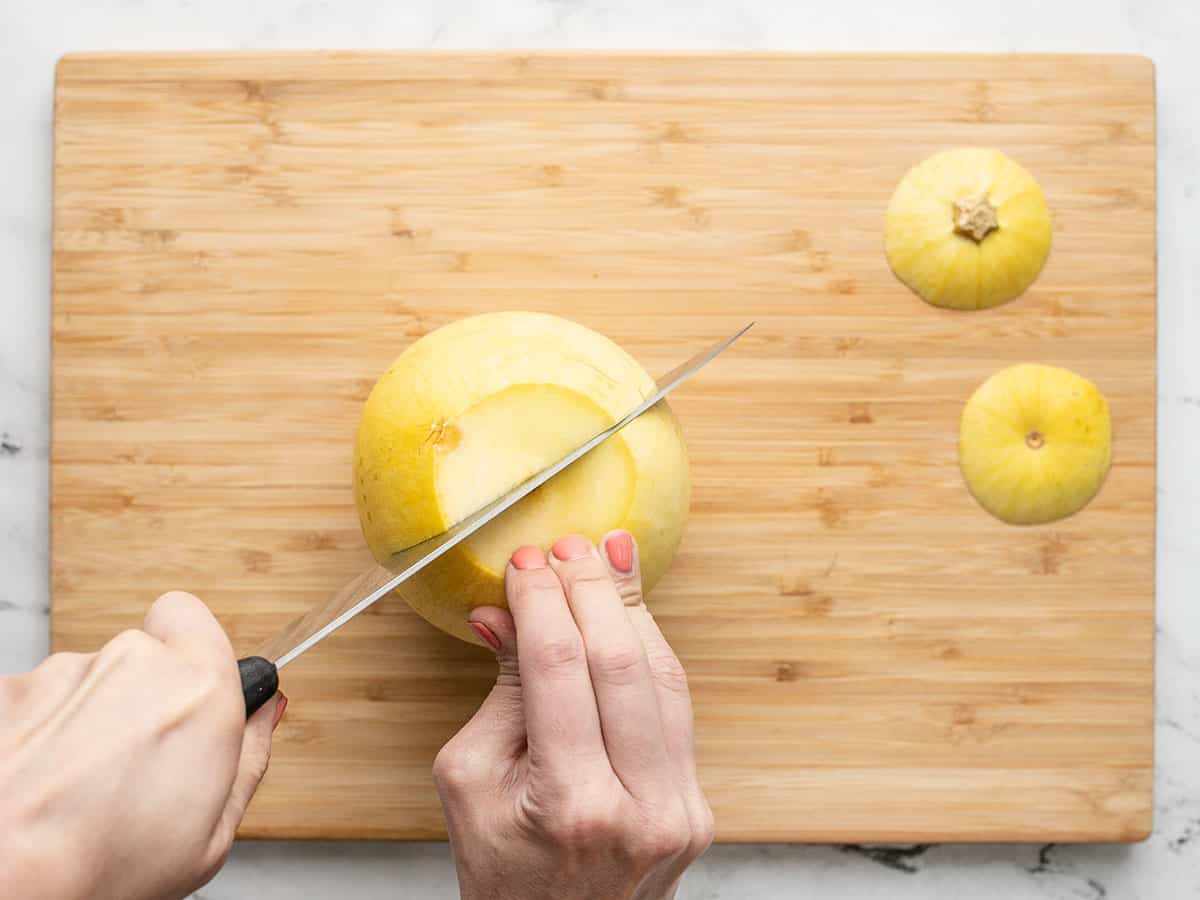 Place the bottom of the squash on the board, with the tip facing up. Hold the squash with one hand and slice it down the middle with the other.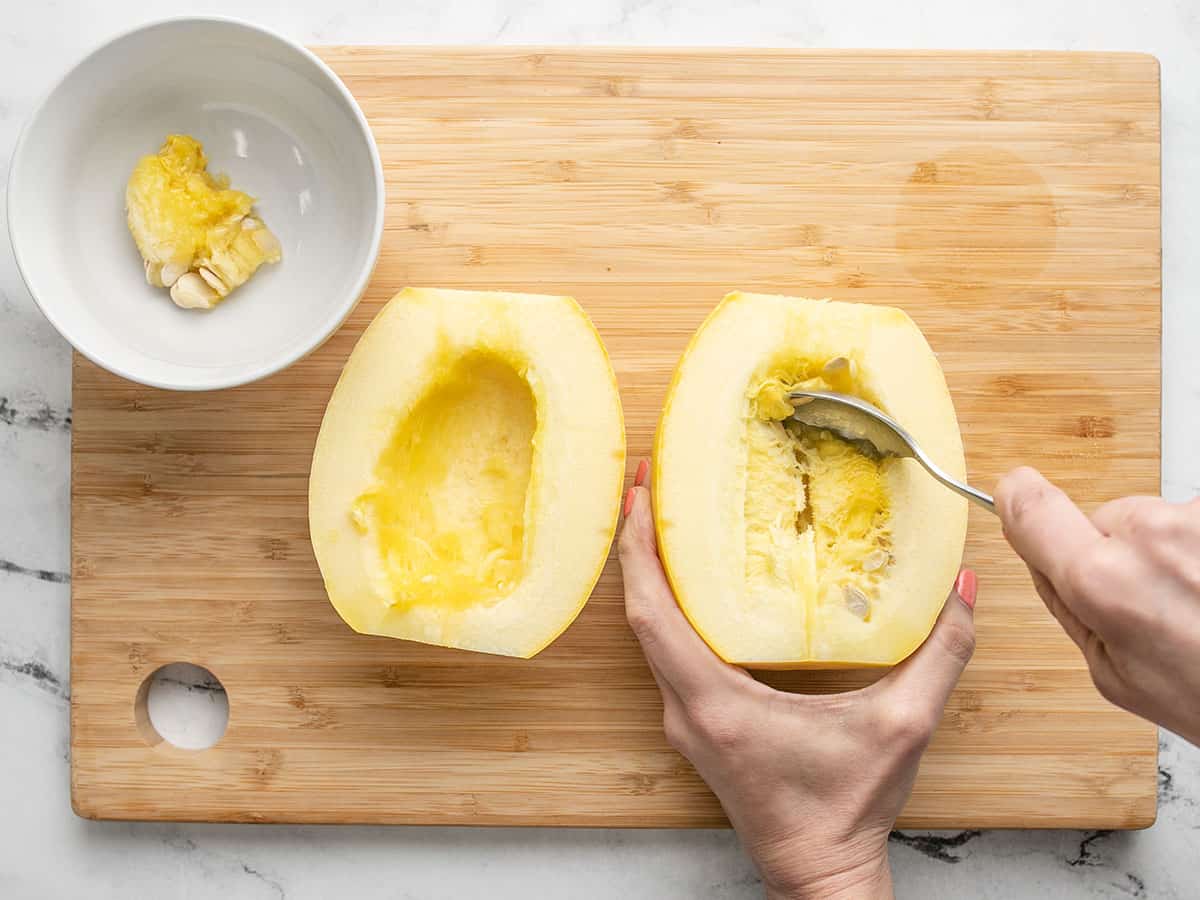 Use a soup spoon to scrape out the seeds in the cavity of the squash, taking care not to remove the flesh. If you wish, reserve the seeds for roasting.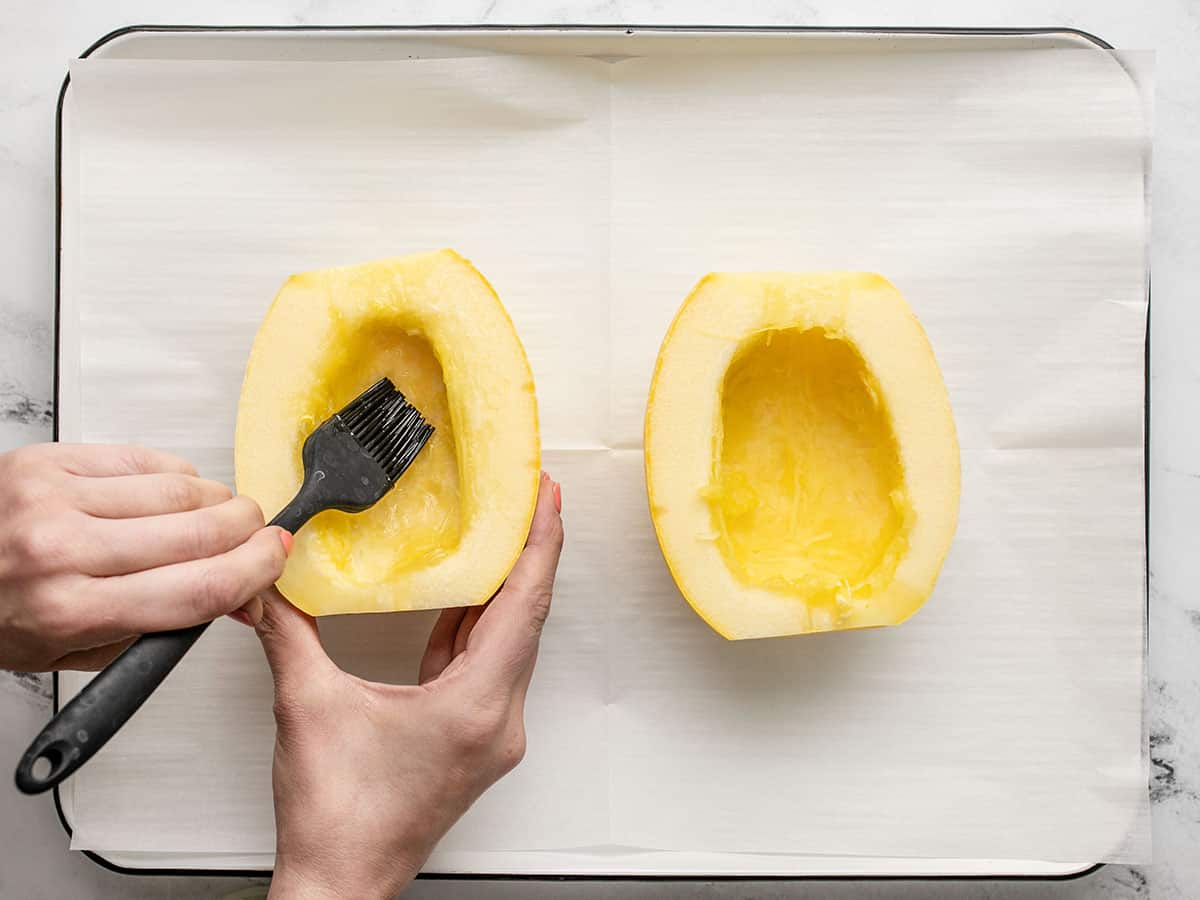 Place the spaghetti squash halves on a sheet pan, cut side up. Brush one tablespoon of olive oil on the squash halves. Drizzle with 1/2 teaspoon of salt.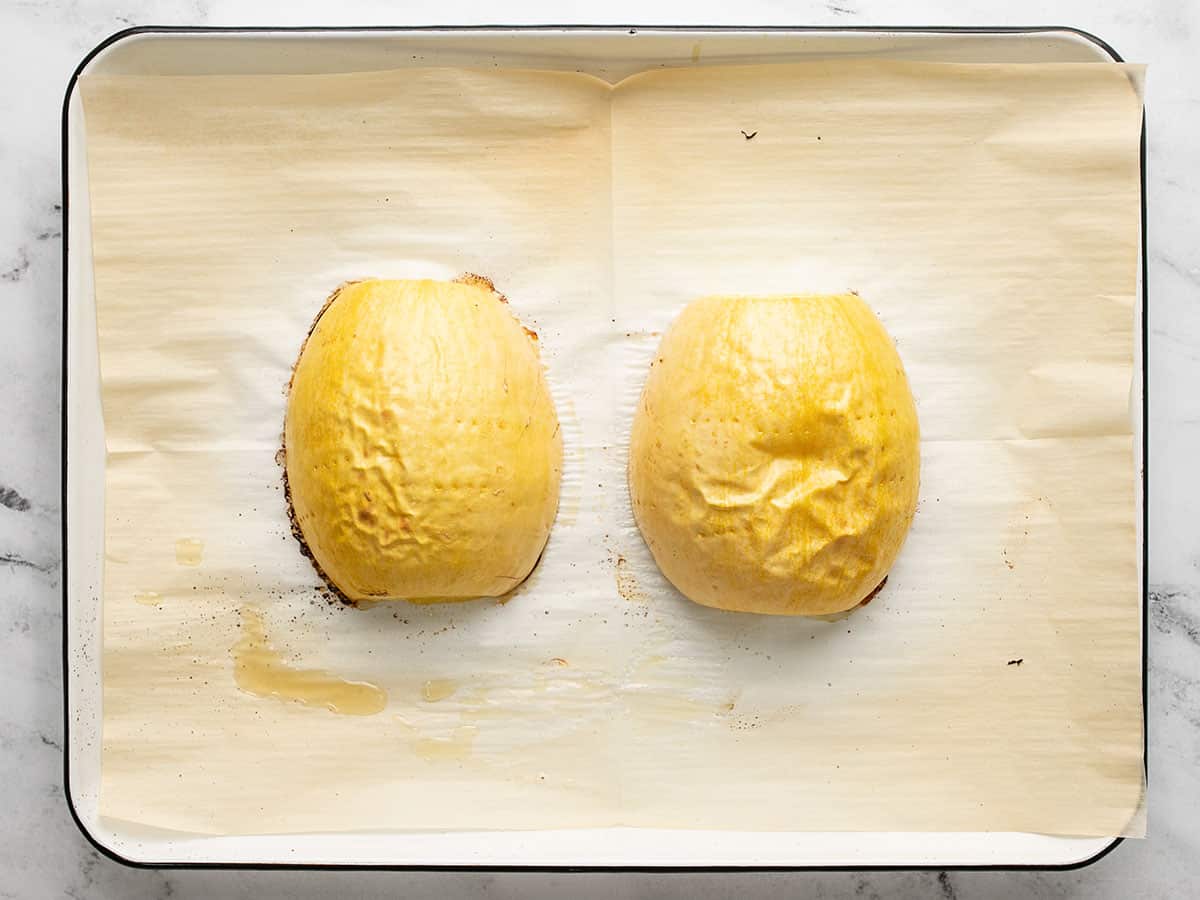 Turn the spaghetti squash halves face down on the sheet pan and roast for 35 to 45 minutes, or until a fork pierces the skin with no resistance.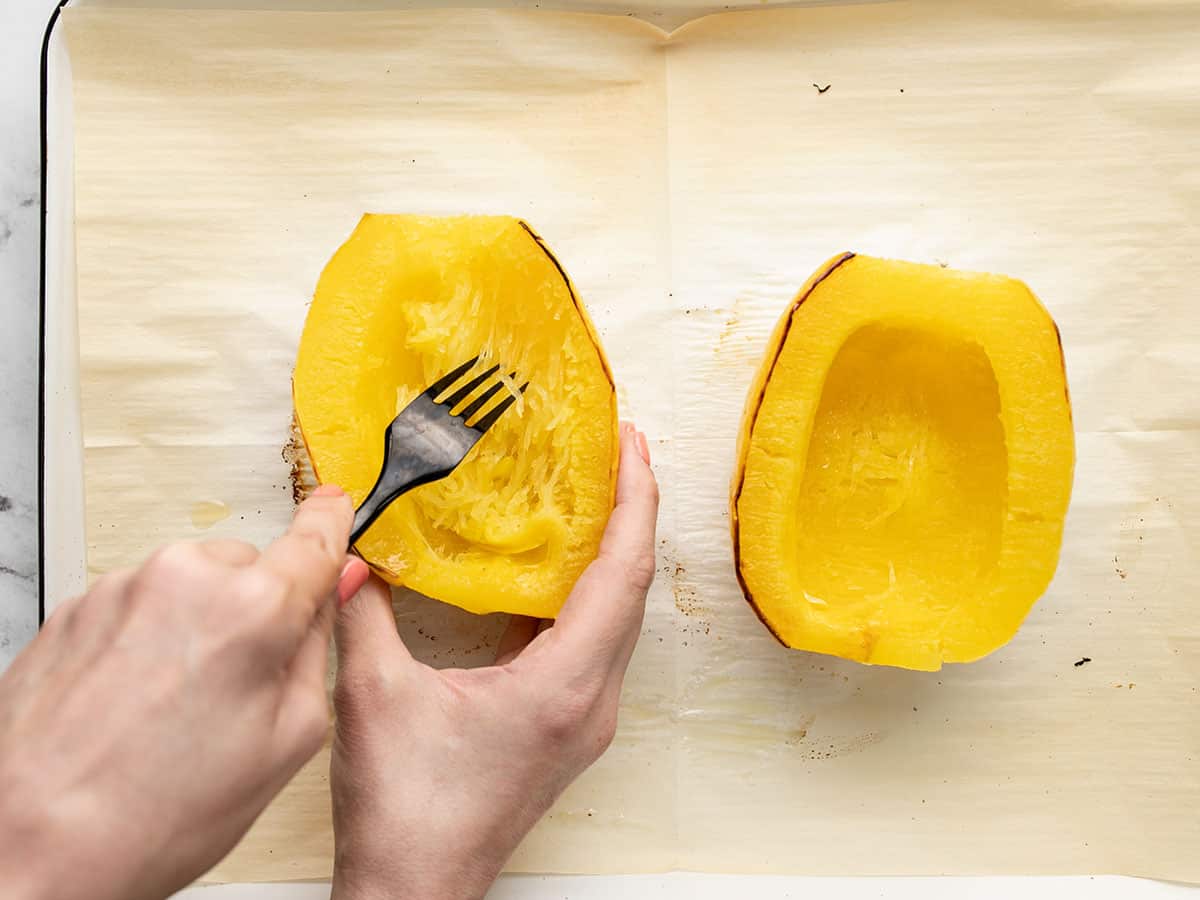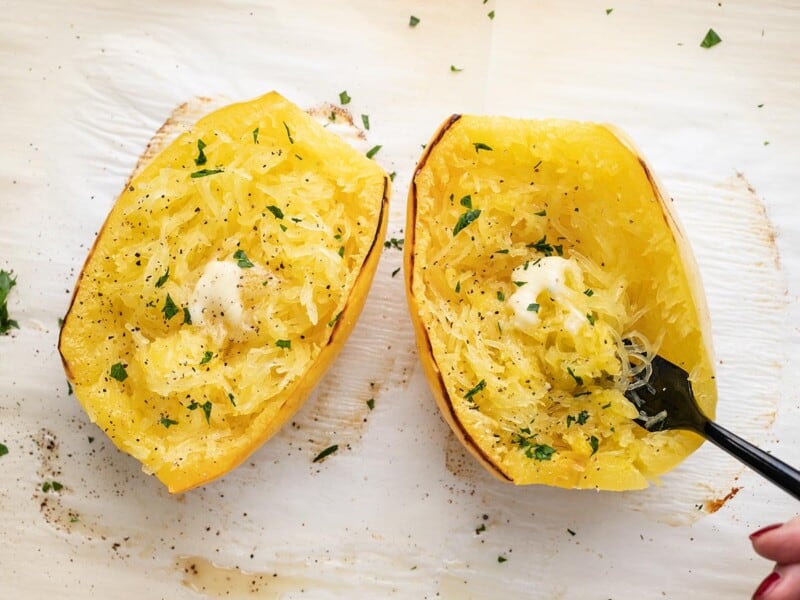 The post Roasted Spaghetti Squash appeared first on Budget Bytes.