Rice is a great inexpensive ingredient that you can easily incorporate into your everyday meals. Not only is it budget-friendly, but its also shelf stable and very filling! You can add it as a base ingredient to different rice bowl recipes or jazz it up with lots of flavor and spices to serve as a side dish to your main meal. However you decide to enjoy it, we've gathered 25 of our top Rice Recipes including chicken and rice recipes, rice bowl recipes, rice recipes for dinner, and easy rice recipes!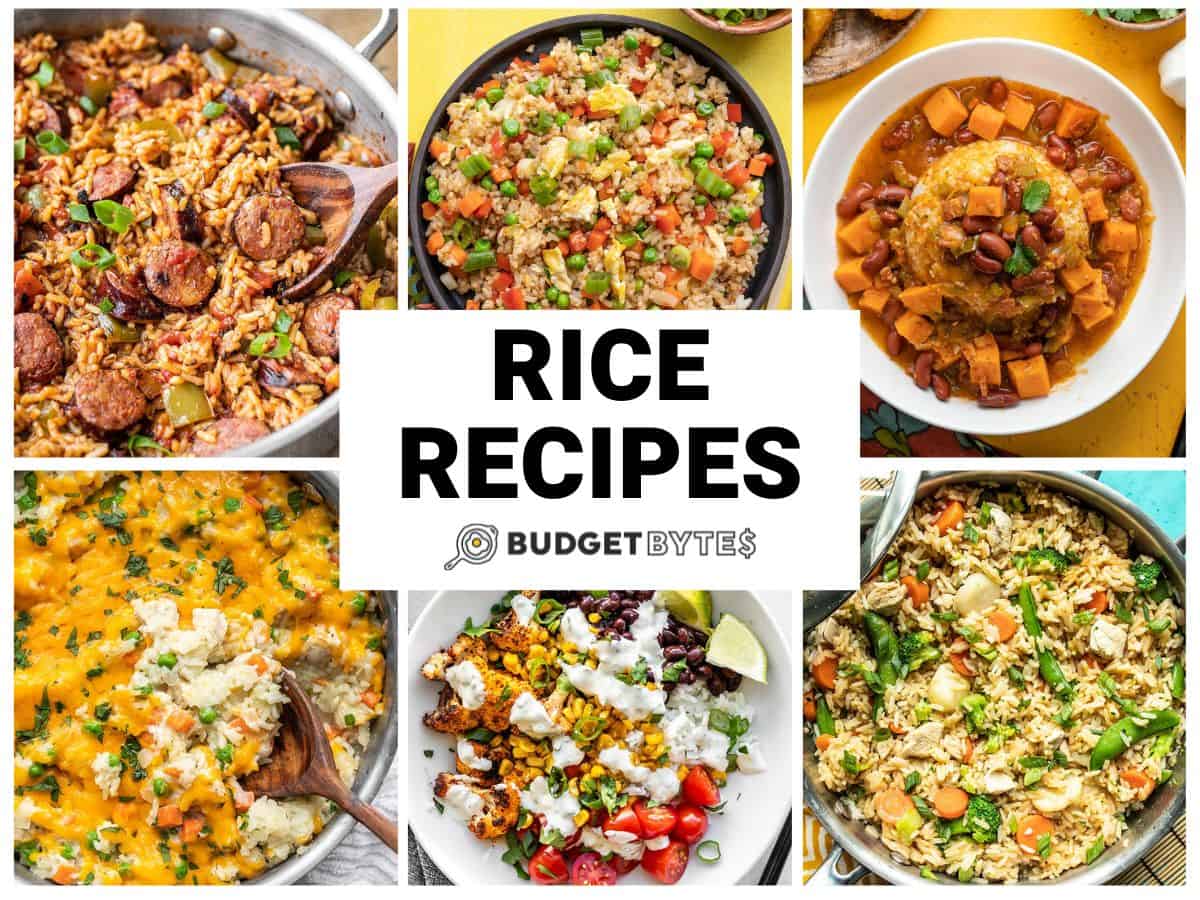 Get ready to dive into 25 delicious, affordable, and easy to make rice recipes that we're sure you and your whole family will enjoy!
Chicken And Rice Recipes
This super popular One Pot Chicken and Rice dish is packed with rich and delicious flavor and since everything cooks in one pot, no flavors are lost! It's easy, cozy, and ultra satisfying.
Juicy chicken, rice, stir fry vegetables, and a yummy teriyaki sauce come together to make this easy One Pot Teriyaki Chicken and Rice!
A quick & easy Southwest Chicken Skillet made with beans, salsa, rice, and comes together in under 30 minutes…um, sign me up please!
The flavor in this Chipotle Lime Chicken and Rice is simply undeniable. There is a hefty dose of spices, tangy lime juice, and a bunch of flavor from the chicken that cooks right in the same pot. So delicious!
This mouth-watering, budget-friendly, Arroz Con Pollo is a one pot Puerto Rican chicken and rice dish. It has tons of flavor and is perfect for a cozy, weeknight dinner meal.
This Creamy Chicken and Rice Skillet is probably one of the most well-love comfort food recipes of all time! It's creamy, cheesy, and all made in one skillet.
Rice Bowl Recipes
When you're craving sushi, but you want something that's easy to make and easy on the budget – these Sushi Bowls will hit the spot!
Taco and burrito bowls are my favorite!! Especially when they're made with fresh ingredients like these Roasted Cauliflower Taco Bowls! Vibrant, flavorful, and perfect for lunch or dinner.
These quick & easy Sesame Tempeh Bowls are made with a simple stir-fry sauce and served with rice and frozen broccoli florets. Perfect for meal prep!
These Taco Chicken Bowls are made in a slow cooker so they're perfect for busy families, college students, and even bachelors. You just dump all your ingredients together in the pot, let it cook, and you have an easy weeknight dinner meal!
Burrito bowls have become super popular over the past few years, but if you don't have a lot of money for fancy take-out, you can certainly indulge in these simple, Poor Man's Burrito Bowls! Simple ingredients, easy to customize, and still very filling.
If you haven't noticed we're kind of obsessed with meatballs here at Budget Bytes. These Teriyaki Meatball Bowls are covered in a homemade teriyaki sauce and served with jasmine rice and broccoli florets. Absolutely delish!
Rice REcipes For Dinner
Our super popular Cajun Sausage and Rice Skillet might just be your new favorite recipe! It's made with similar ingredients as jambalaya, but it's a slightly scaled back, simplified version, perfect for quick weeknight dinner.
This One Pot Lemon Garlic Shrimp and Rice dish is packed with flavor and comes together in just 30 minutes! Not only is it easy to make, but it's also very impressive for serving to company (or a special date night!)
This Southwest Lentils and Rice Skillet is a simple one pot meal made with brown lentils, white rice, lots of veggies, and bold spices. It's budget-friendly and great for meal prep!
Don't get me wrong, I love a good stuffed bell pepper, but even better if I can throw all the same ingredients into one skillet for a super easy Unstuffed Bell Peppers meal! #winwin
Puerto Rican Style Red Beans and Rice can be a meal on its own with a side of ripe yellow plantain slices or you can serve it as a sidekick to any protein!
Broccoli Cheddar Casserole is a classic rice dish! It's cheesy, comforting, and perfect as a Thanksgiving side, or just a tasty addition to dinner any night of the week!
Easy Rice Recipes
Vegetable Fried Rice is a classic rice dish that's fast, easy, filling, and delicious! You can mix and match veggies and add some meat if you want for the perfect lunch or dinner meal!
No need for box flavored rice dishes, try this super flavorful Mushroom Rice instead! Savory garlic, rich butter, and vegetable broth really amps up the flavor; and it's perfect to serve on the side with baked chicken, roasted pork tenderloin, or even homemade meatloaf.
This Tomato Rice recipe is similar to Mexican rice (although not authentic) and is the perfect side to liven up your dinner plate! It's made with simple ingredients that give it a bright & savory flavor.
Just 5 ingredients is all you need to make this rich, savory, and insanely delicious Coconut Rice!
Cilantro Lime Rice is a big favorite of mine and it tastes great with burrito bowls, taco bowls, or as a side dish with any Mexican meal!
This Yellow Jasmine Rice is incredibly flavorful and delicious! It's one of our most popular rice recipes for good reason. If you haven't tried it yet, make it NOW!
Creamy Rice Pudding is a simple, warm, and comforting dish that is always satisfying. Enjoy it plain or add other add-ins like raisins, nuts, saffron, or toasted coconut. Delish!
The post Rice Recipes appeared first on Budget Bytes.