This Ramen Noodle Salad is something we ate often when I was growing up and I still love it just as much today. Why? Because it's light, fresh, filling, uses simple and inexpensive ingredients, and holds up well in the fridge so you can eat the leftovers for days (less cooking, more eating!). Keep this recipe bookmarked because it's going to get you through those long hot days of Summer!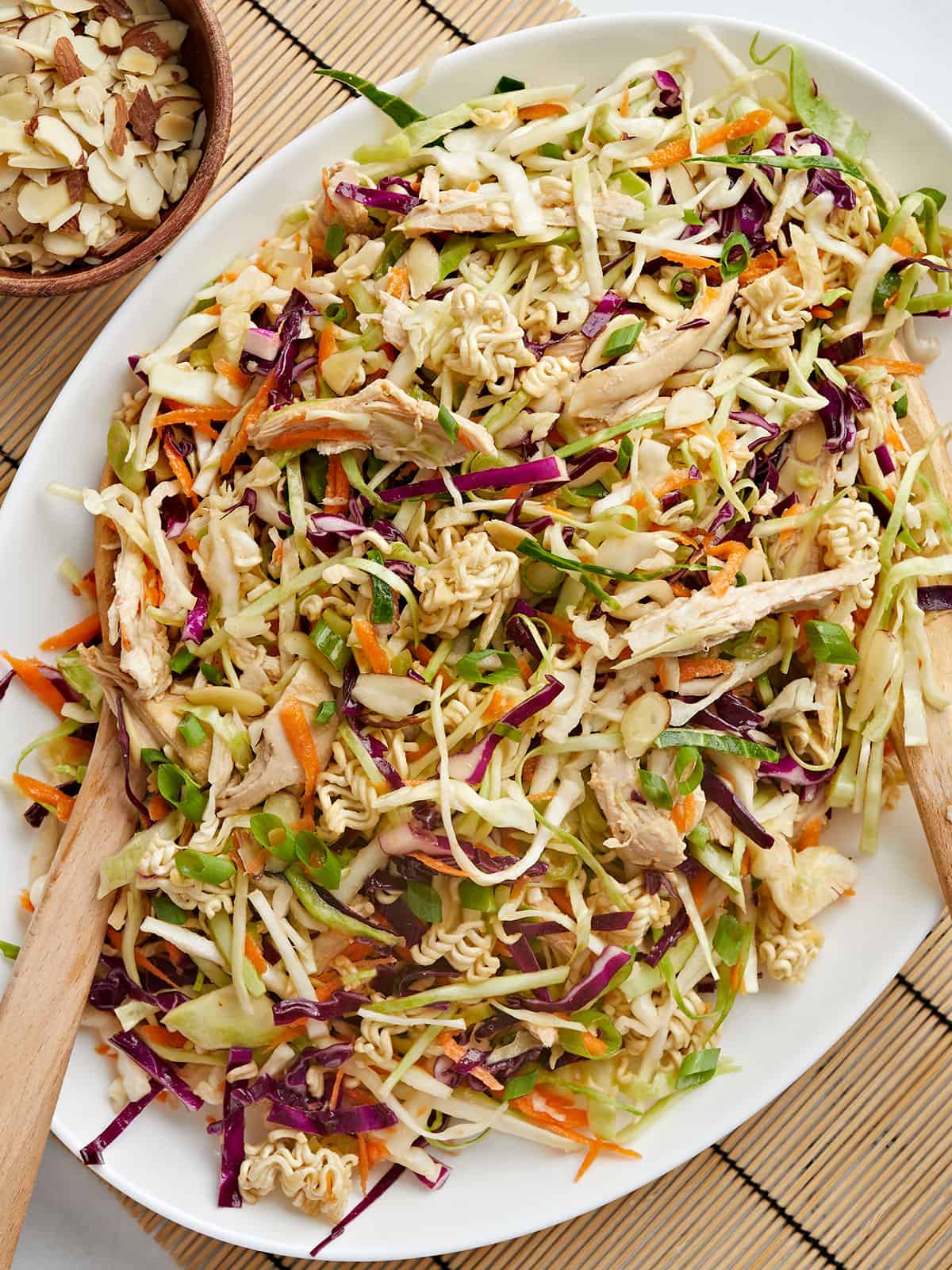 What is Ramen Noodle Salad?
This Ramen noodle salad is simply a mix of finely shredded cabbage, chicken, carrots, green onion, almonds, and …drum roll… uncooked instant ramen noodles for a little extra CRUNCH! The salad also features a simple light dressing that has Asian inspired flavors, like ginger, rice vinegar, and soy sauce. A lot of people call this salad Chinese Chicken Salad, but it's not an authentic Chinese recipe, so we're rebranding it with a more accurate name, Ramen Noodle Salad.
What Kind of Cabbage to Use
This salad is usually made with Napa cabbage, which has a slightly lighter and more delicate texture than regular green cabbage, but it's totally flexible. Napa cabbage was a little on the expensive side when I was at the store this week so I swapped it out for some green cabbage and added a little purple cabbage for color. You can use all green cabbage if you want, or if you want to take an even bigger short cut just use two bags of pre-shredded coleslaw mix (cabbage and carrots) instead of shredding your own. …But freshly shredded always tastes better. 😉
What Else Can I Add?
I love salads because you can add so many different things to them and this Ramen Noodle Salad is no exception! Here are some other fun ingredients you can add to the ramen noodle salad, if you have them on hand:
Mandarin oranges
Sesame seeds
Cashews
Avocado
Cucumber
Edamame
Peanuts
Shredded broccoli stems
HOW TO STORE THE LEFTOVERS
If you plan to meal prep this ramen noodle salad (highly recommend), you have a couple of options. If you want the ramen noodles to stay super crunchy, don't stir them into the salad before storing. Simply sprinkle them over each serving just before eating. I kind of like the way the ramen soaks up the flavor of the dressing over time, but you do you! The almonds will also soften slightly as the salad is refrigerated. The salad will last about 3-4 days in the fridge.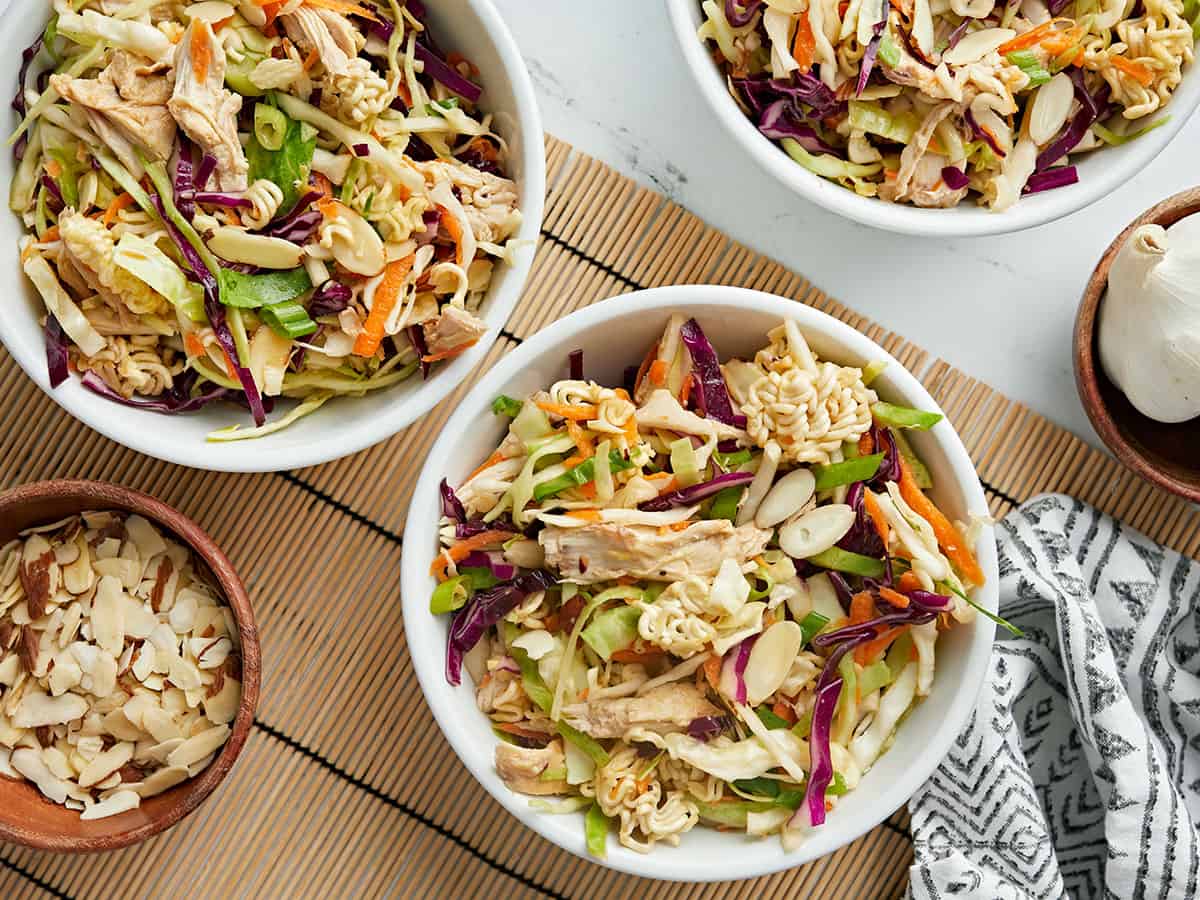 Ramen Noodle Salad
This light and fresh ramen noodle salad features crisp cabbage, shredded chicken, crunchy ramen noodles and a simple homemade vinaigrette.
Ingredients
Vinaigrette
1/4

cup

neutral salad oil*

$0.16

1/4

cup

rice vinegar

$0.60

2

Tbsp

honey

$0.50

2

tsp

soy sauce

$0.04

1

tsp

ground ginger

$0.10

1/4

tsp

garlic powder

$0.02

1

tsp

toasted sesame oil

$0.10
Salad
6

cups

shredded cabbage

$1.10

1

carrot

$0.14

4

green onions

$0.45

1

3oz. package

instant ramen

$0.39

1/4

cup

sliced almonds

$0.73

2

cups

shredded rotisserie chicken

$4.00
Instructions
Make the dressing first. Whisk together the salad oil, rice vinegar, honey, soy sauce, ginger, garlic powder, and toasted sesame oil. Set the dressing aside.

Shred the cabbage as finely as possible. Shred the carrot and slice the green onions. Crush the instant ramen noodles (discard the seasoning packet or save it for another use).

Place the cabbage, carrot, green onion, almonds, crushed ramen noodles, and shredded chicken in a large bowl. Pour the prepared dressing over top. Toss the salad until everything is evenly combined and coated in dressing. Serve immediately or refrigerate until ready to eat.
See how we calculate recipe costs here.
Notes
*Use any light flavored or neutral oil like canola, peanut, sesame (not toasted), light olive oil, or avocado oil. 
Nutrition
Serving:
1.5
cups
|
Calories:
292
kcal
|
Carbohydrates:
22
g
|
Protein:
17
g
|
Fat:
16
g
|
Sodium:
581
mg
|
Fiber:
3
g
How to Make Ramen Noodle Salad – Step by Step Photos
Make the dressing first. Whisk together ¼ cup neutral salad oil, ¼ cup rice vinegar, 2 Tbsp honey, 2 tsp soy sauce, 1 tsp ground ginger, ¼ tsp garlic powder, and 1 tsp toasted sesame oil. Set the dressing aside.
Shred about six cups of cabbage for the salad. You can use green cabbage, purple cabbage, Napa cabbage, or any mix of the above. Shred the cabbage as finely as possible.
Shred one carrot and slice four green onions.
Shred about two cups of cooked chicken breast. We used a rotisserie chicken, but you could cook your own chicken breast or even use canned chicken breast.
Place the shredded cabbage, carrot, green onion, and chicken in a bowl. Crush one 3 oz. package of instant ramen noodles (discard seasoning packet or save for another use). Add the crushed ramen noodles and ¼ cup sliced almonds to the bowl. Pour the prepared dressing over top.
Toss the salad well until everything is evenly mixed and coated in dressing.
Serve the ramen noodle salad immediately or refrigerate up to four days. Always give the salad a good stir just before serving to redistribute the dressing.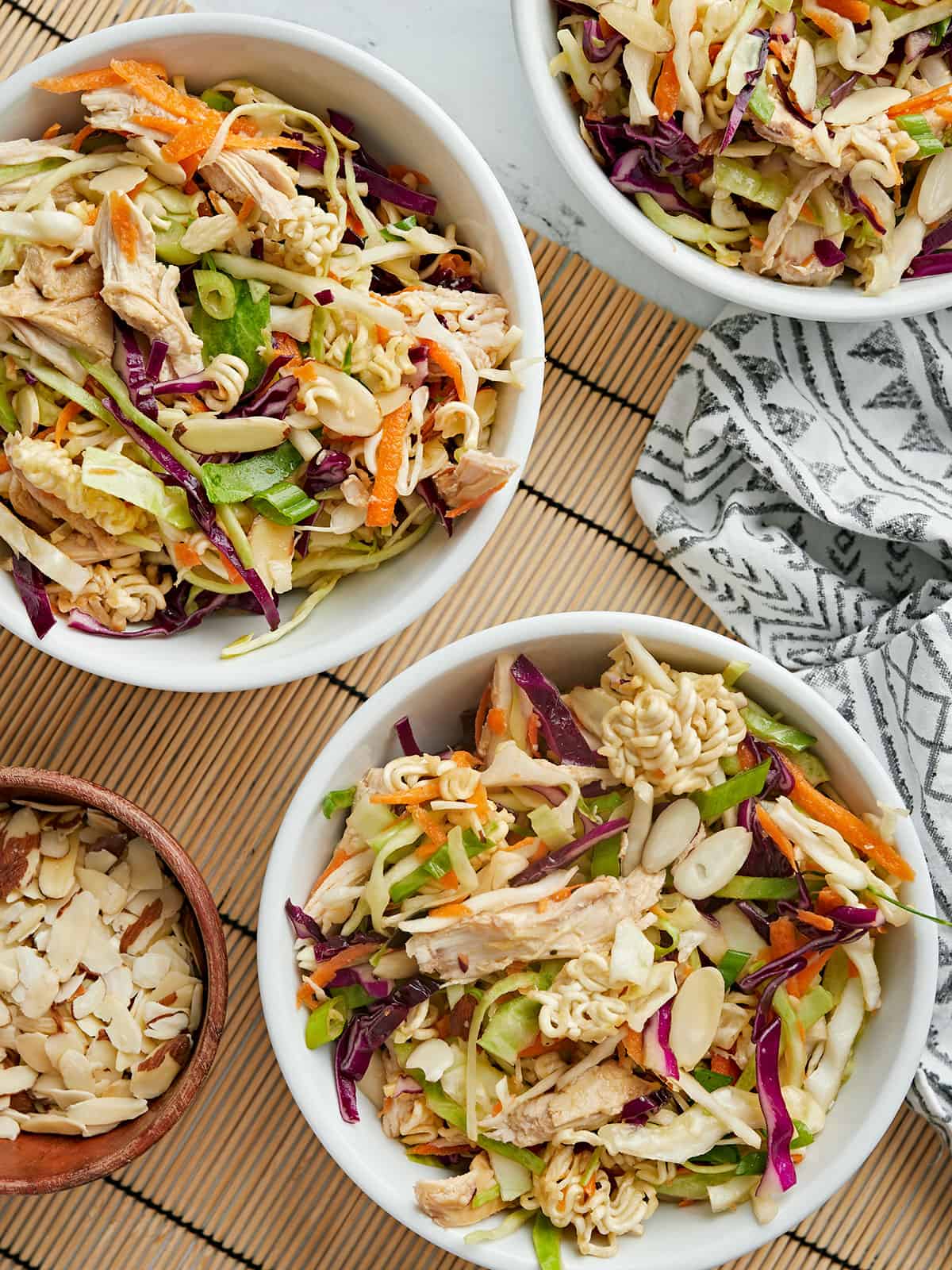 Enjoy that crunchy fresh goodness!!
The post Ramen Noodle Salad appeared first on Budget Bytes.