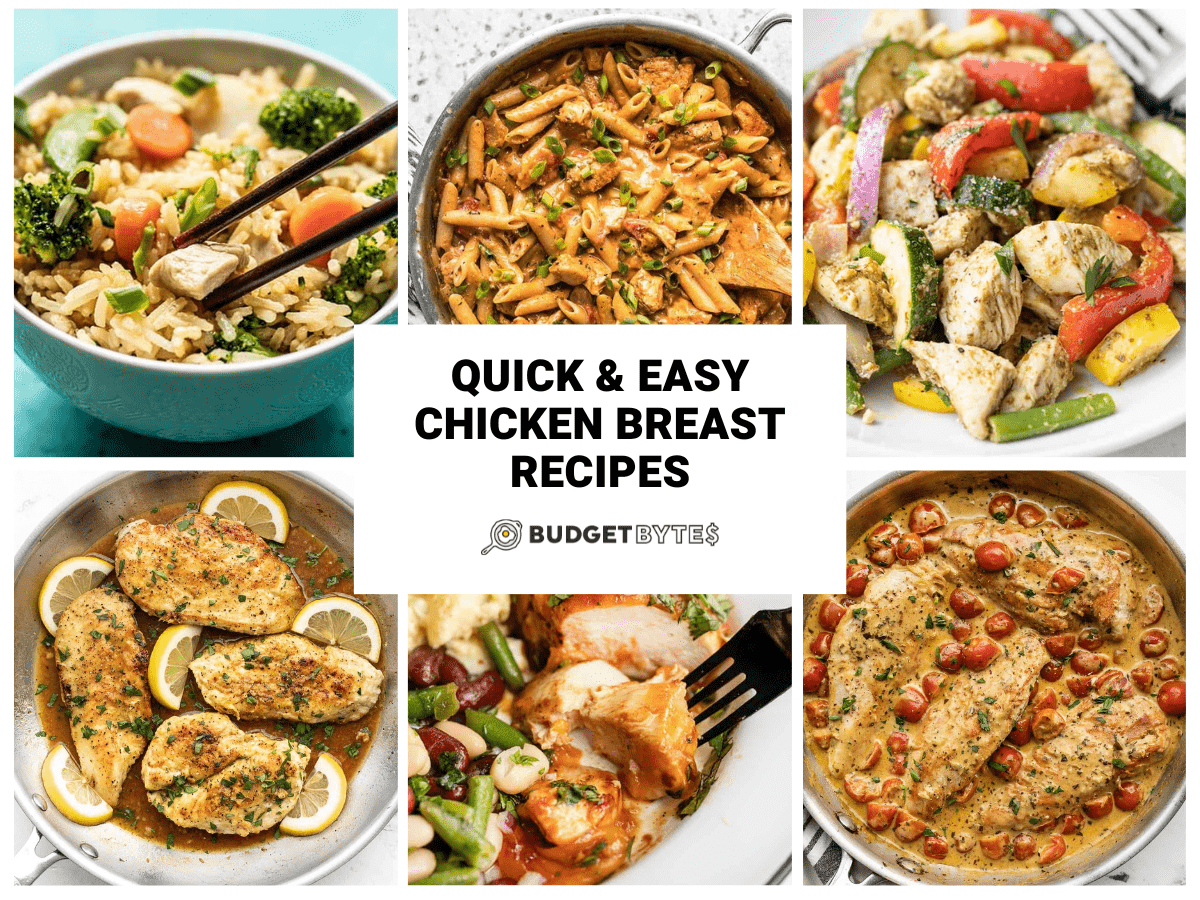 Easy CHICKEN SALADS
Boneless, skinless chicken breast is one of the best, budget-friendly sources of protein available at the supermarket. And since chicken breasts are great served hot or cold, they're a meal prep mainstay! Picking up a store-bought rotisserie chicken is a simple, time-saving way to eat a meal without spending all night at the stove. Here are three classic chicken salad recipes that transform chicken into a satisfying meal in just 15 minutes: 
This Chicken Salad with Apples and cranberries is such a classic way to serve chicken. It makes a perfect lunch, or light and easy dinner. It's easy to prepare, super filling, and the perfect cold meal. It's full of different textures and flavors, and is easy to switch up depending on your taste!
Broccoli is a lot like chicken breast. It's filling, versatile, and can be prepared and served in so many ways! Next time you have some fresh broccoli on hand, you've got to try out this Broccoli Cheddar Chicken Salad! It's so good, you'll be singing broccoli's praises as you devour every last bite. 
Kale is super yummy on its own, but pairing it with a ton of other flavors and ingredients as we do in this Crunchy Kale and Chicken Salad is a great way to turn it into a satisfying meal! That being said, if you're not a fan of kale, you can swap it with whatever crunchy green you like best. This recipe also includes a wonderfully easy honey mustard vinaigrette that will amp up the flavor of almost any salad in your arsenal. 
Easy SKILLET and BAKED CHICKEN recipes
Cooking chicken breast on the stovetop or in the oven is an excellent way to get dinner on the table in around 30 minutes. They thaw and cook quickly. And since almost everything is good with chicken, it's the easiest choice to pair with whatever other ingredients you have on hand. Check out these easy chicken dinners to shake up your weekly meal plan: 
You can put pesto on just about anything, but it is particularly delicious with chicken breast! This Creamy Pesto Chicken has a super lush, decadent sauce, and you won't want to waste a single drop! Make sure to serve it with garlic bread, or spoon it over pasta or rice to soak it all up.
Pesto is a super versatile ingredient and makes a great sauce for more than just pasta! So add a dollop to your next stir fry! This Easy Pesto Chicken and Vegetables is a lighter dish, but is absolutely bursting with flavor. Since the variety of vegetables you can add to this recipe is nearly endless, it's the perfect way to clean out the fridge!
The best way to keep chicken breast feeling fresh in your dinner rotation is to pair it with punchy ingredients, like lemon, to really make it shine. The best part about this Easy Lemon Pepper Chicken? There's no need for fresh lemons! Instead, we use budget-friendly alternatives that are easier to always have on hand.
Want to talk about an iconic chicken dinner recipe? It's this BBQ Cheddar Baked Chicken. There's absolutely no better, easier way to serve up chicken breast baked in the oven than smothering it in your favorite barbeque sauce and cheddar cheese. Sending it on a trip to the oven ensures it gets sticky, caramelized, and decadent.
ONE-POT chicken recipes
Cooking one-pot meals is "like riding a bike." Once you learn how to make them, they really are that easy. Here are a few of our most popular one-pot recipes with chicken breast: 
If there was a Budget Bytes Recipe Hall of Fame, this One-Pot Creamy Cajun Chicken Pasta would absolutely be one of them! This fantastic recipe unites our foolproof one-pot methods with classic Cajun spices. The heat level of this dish is very moderate, so it's approachable for everyone, but feel free to kick it up a notch if that's what you like! 
One of our go-to ways to cook chicken breast is simmering it in a creamy, decadent pesto sauce. Add whatever veggies we have on hand to round it out into a full meal. Since serving it with pasta is an obvious choice, we might as well cook it in one pot! While this One-Pot Creamy Pesto Chicken Pasta won't do the dishes for you, but it really helps!
This Asian-inspired One-Pot Teriyaki Chicken and Rice is packed with veggies but requires very little chopping. The leftovers are also amazing, which makes it an easy choice for meal prep. Don't be deterred if you're a rice-cooking novice, you can always prepare the rice in a separate pot! 
---
The post Quick & Easy Chicken Breast Recipes appeared first on Budget Bytes.