Warm your bones and fill your belly with Pollo Guisado, a hearty Puerto Rican chicken stew that's packed with flavor, easy to make, and ready to devour in about an hour. Granted, we eat this year-round on my little island, where it rarely dips below 70 degrees. But it's especially delightful when the weather turns chilly and you're looking for a hearty meal to make you feel all sorts of toasty.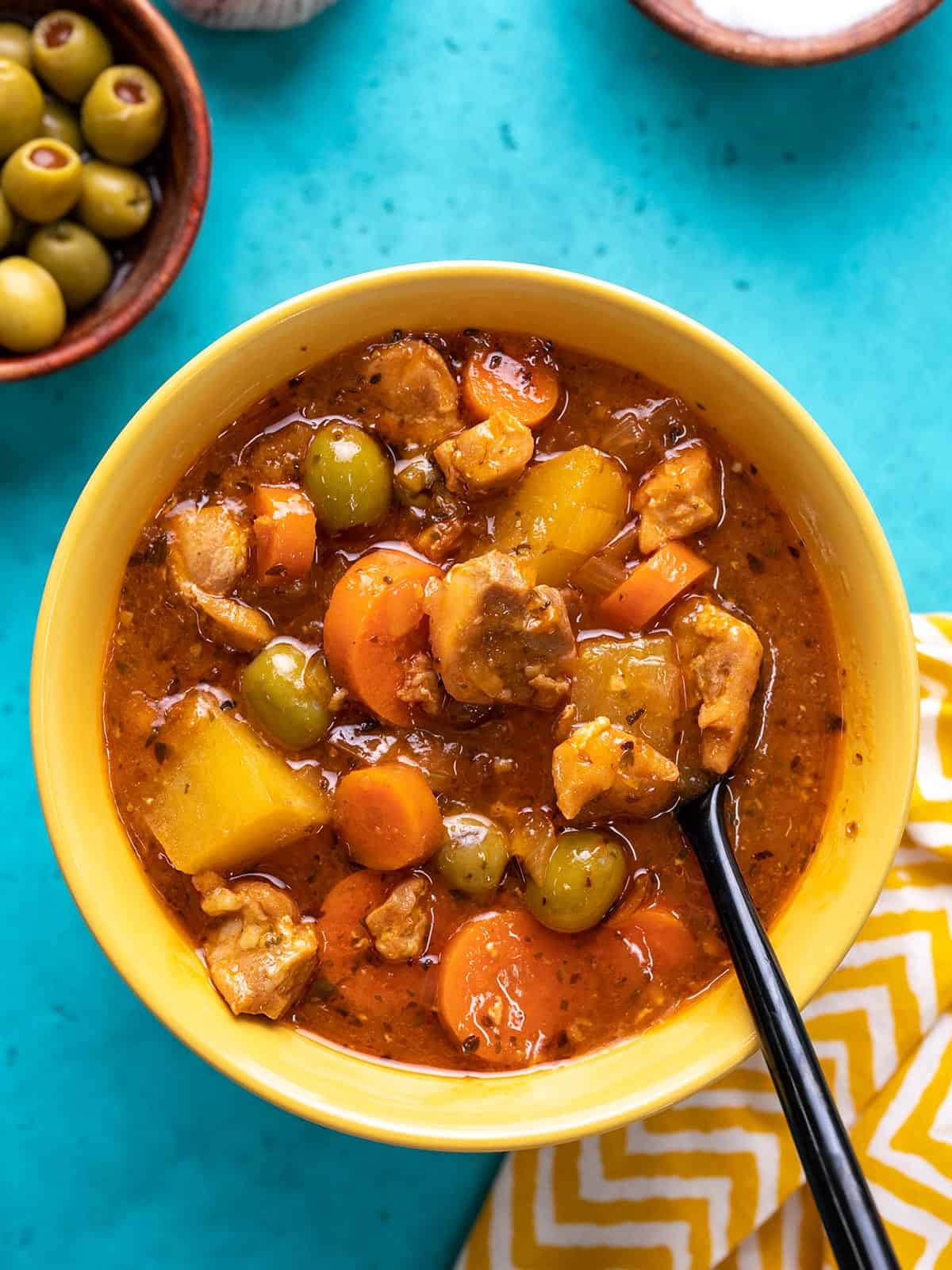 What Is Pollo Guisado?
Pollo Guisado (pronounced puh-yuh gee-sah-duh) is a Puerto Rican stew made up of braised chicken, potatoes, carrots, and olives in a tomato-based broth. Like most savory dishes from the island, its deep flavor comes from sofrito, a blend of peppers, onions, garlic, and cilantro. The unctious chicken, briny olives, and subtle sweetness of the carrots make a truly perfect bite.
CAN I SUBSTITUTE THE CHicken?
While this is a chicken stew, feel free to use any protein that benefits from a long braise. You can substitute chicken with chuck roast, top round, or even steak. Using these cuts will lengthen your cooking time by thirty or so minutes. If you are vegetarian or vegan, use a vegetable-based broth and substitute the chicken with mushrooms. Brown them, just as you would the chicken, which helps them release moisture and develop big flavors.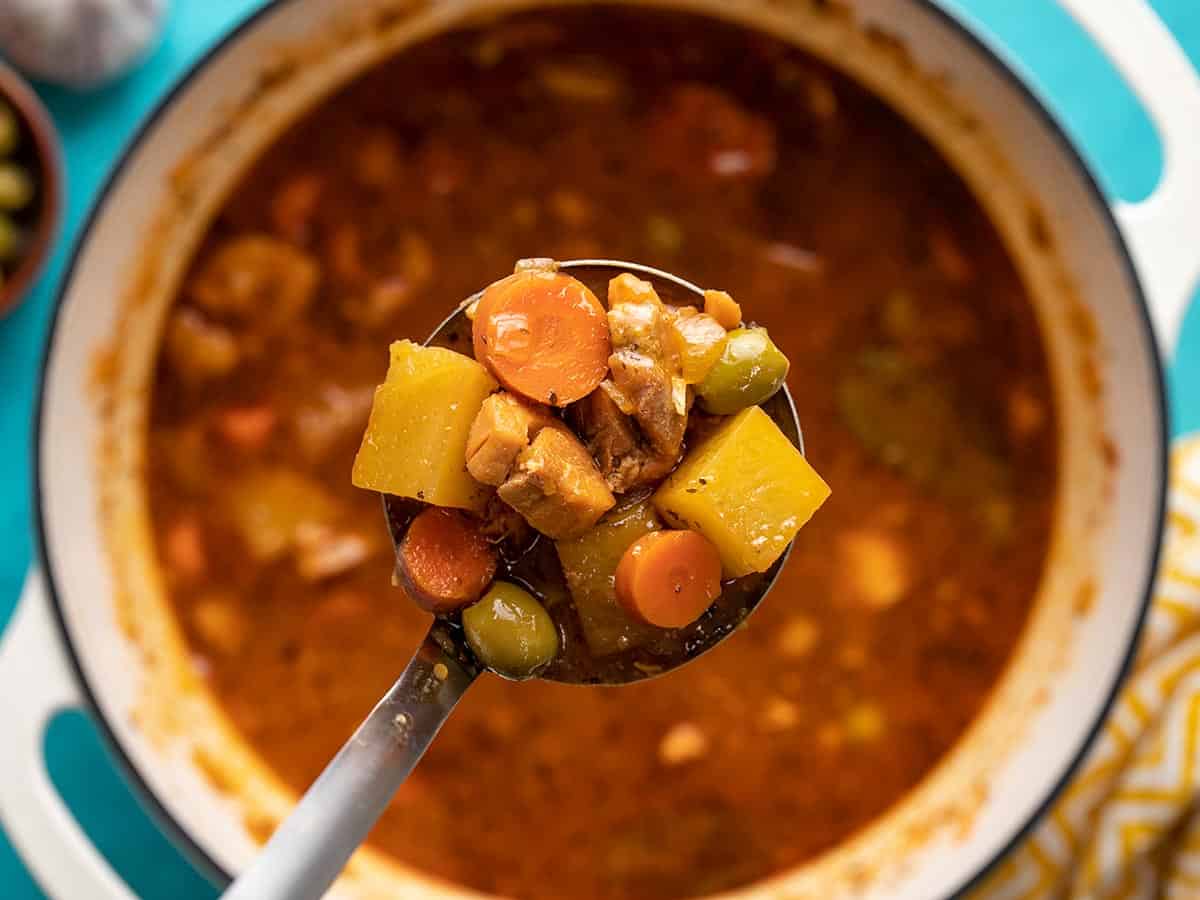 How to Make Pollo Guisado – Step by Step Photos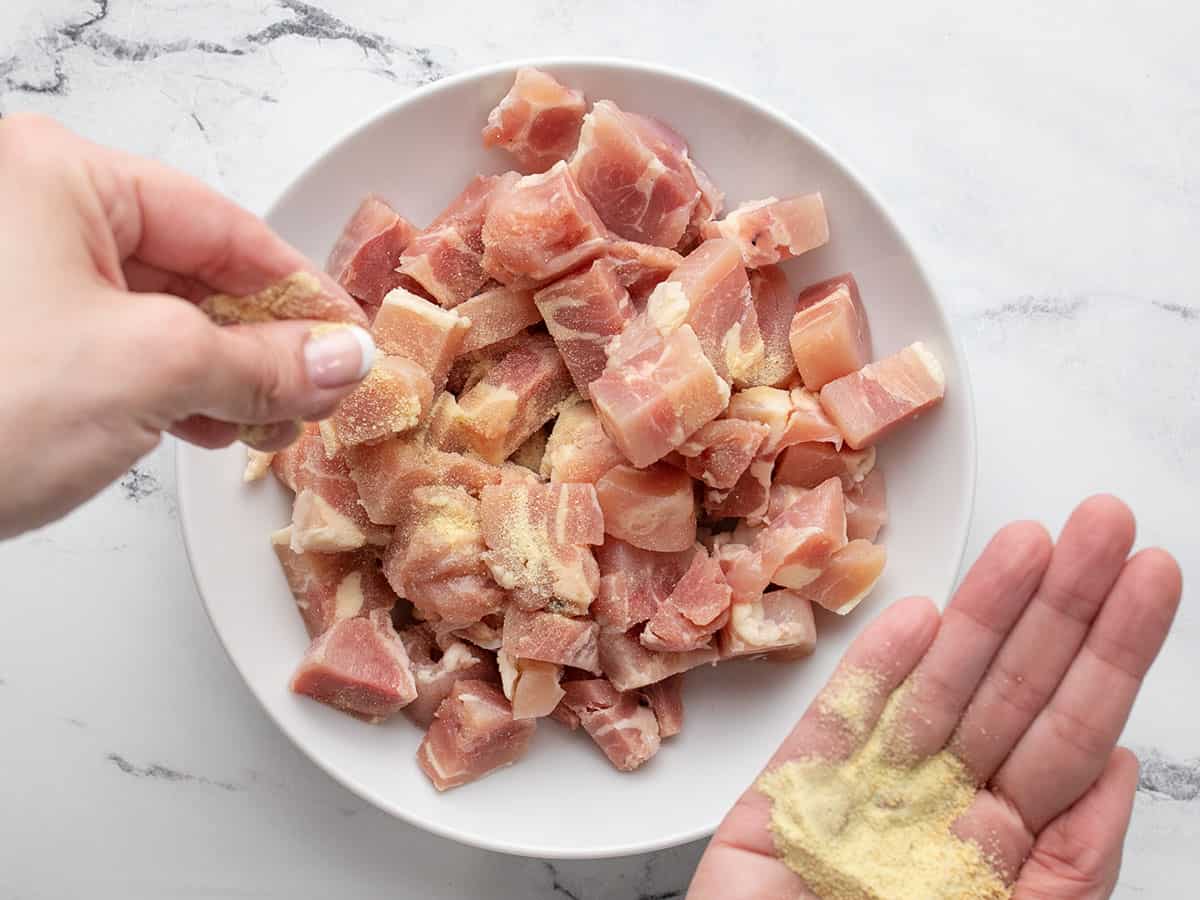 Dry the 1.5 pounds of chicken thighs thoroughly with paper towels. Then dice them into 2-inch cubes. Finally, season the chicken with 2 teaspoons of adobo. (Helpful hint: freeze the chicken thighs for about 15 minutes to make them easier to dice.)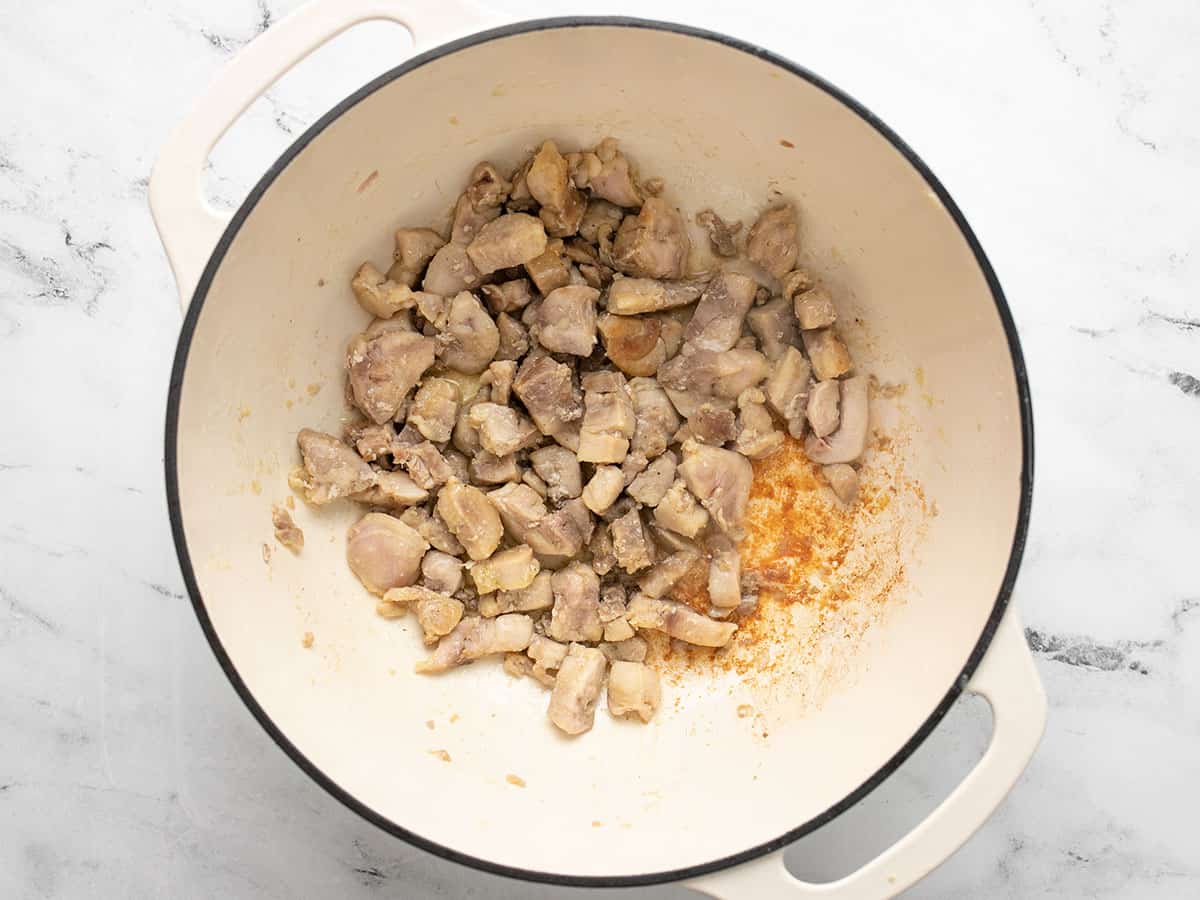 Set a Dutch oven over medium-high heat. Add the 2 tablespoons of oil to the pre-heated Dutch oven. Once it has warmed, add the diced chicken in one layer. Do not crowd the pot. Brown in batches if necessary. Remove the chicken from the pot and set it aside.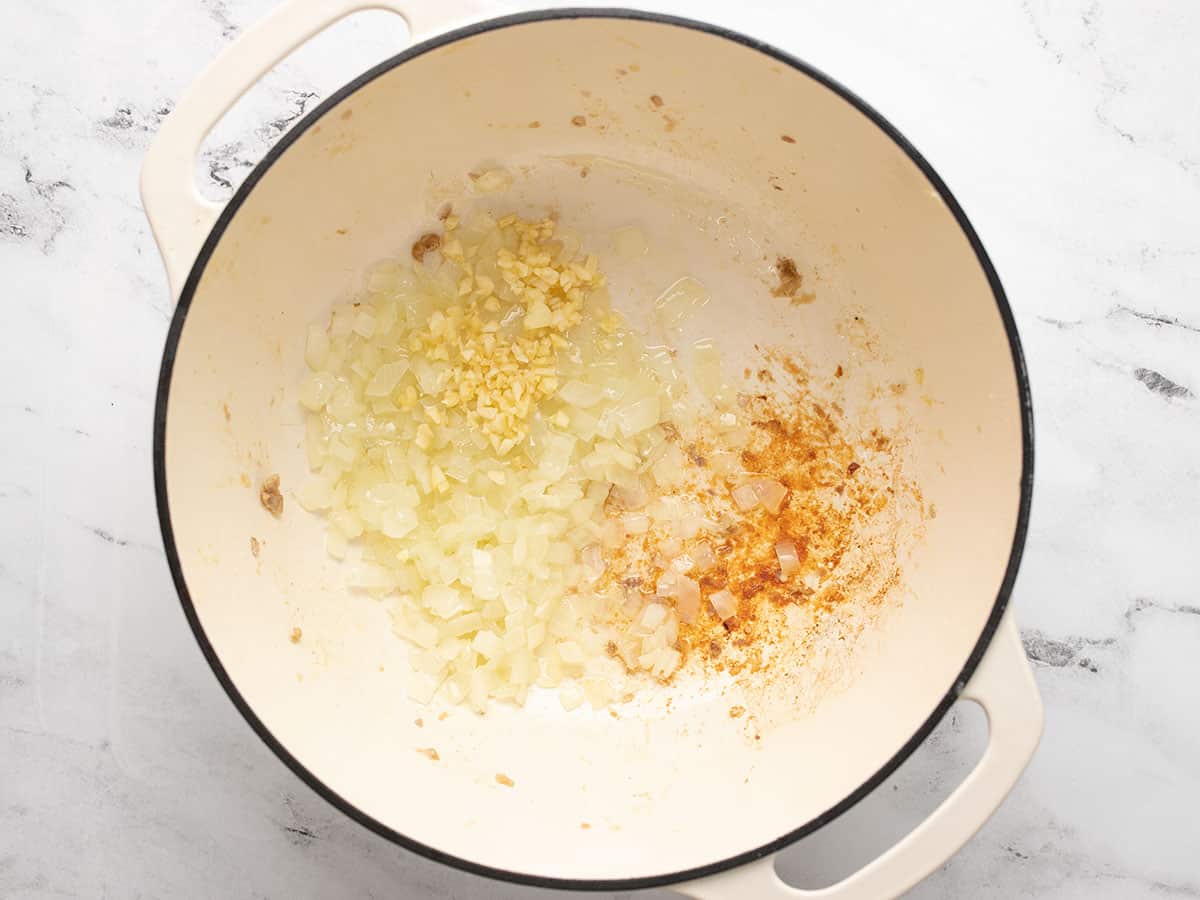 Next, add the diced yellow onion to the pot and cook until translucent, about 2 minutes. Then add the 3 cloves of finely chopped garlic and cook until fragrant, about 1 minute.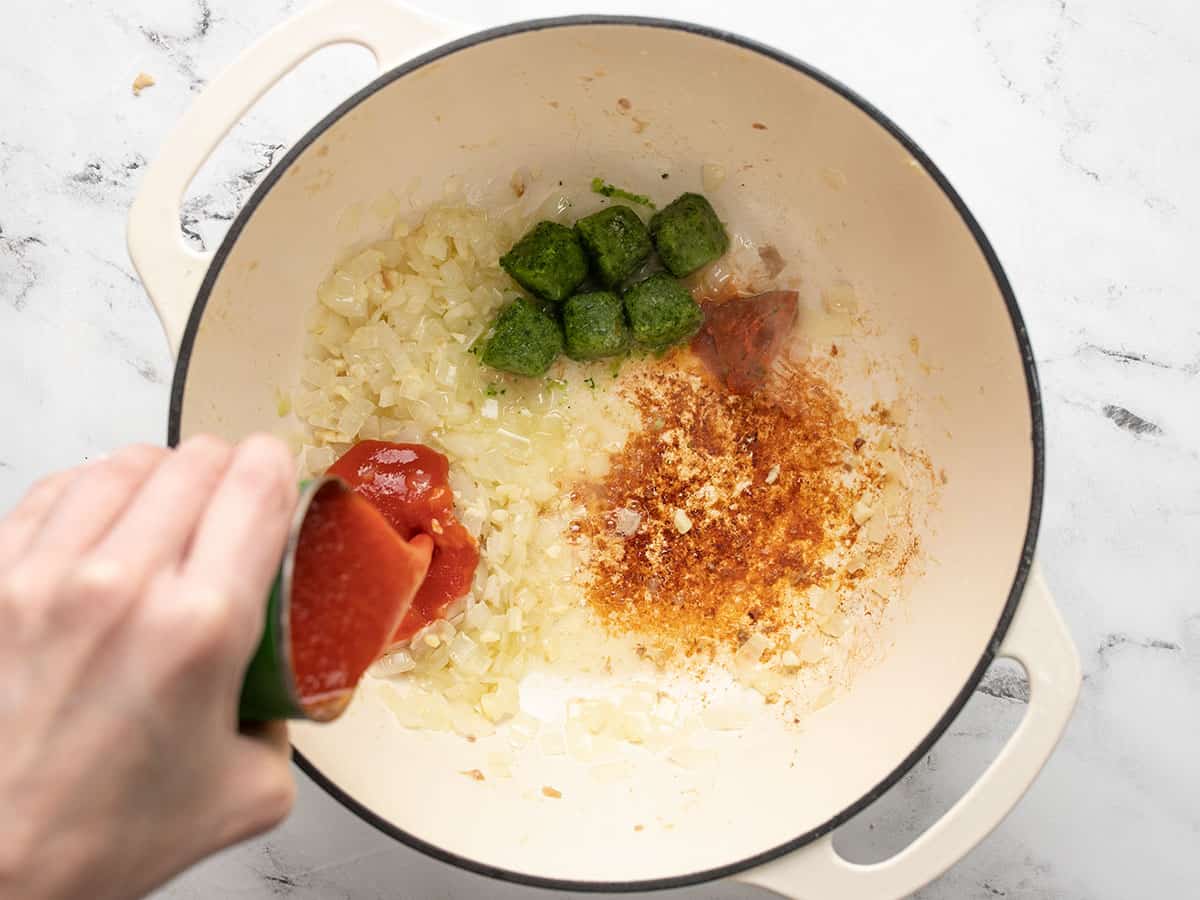 Add the 1/2 cup of sofrito and 8 ounces of tomato sauce to the pot.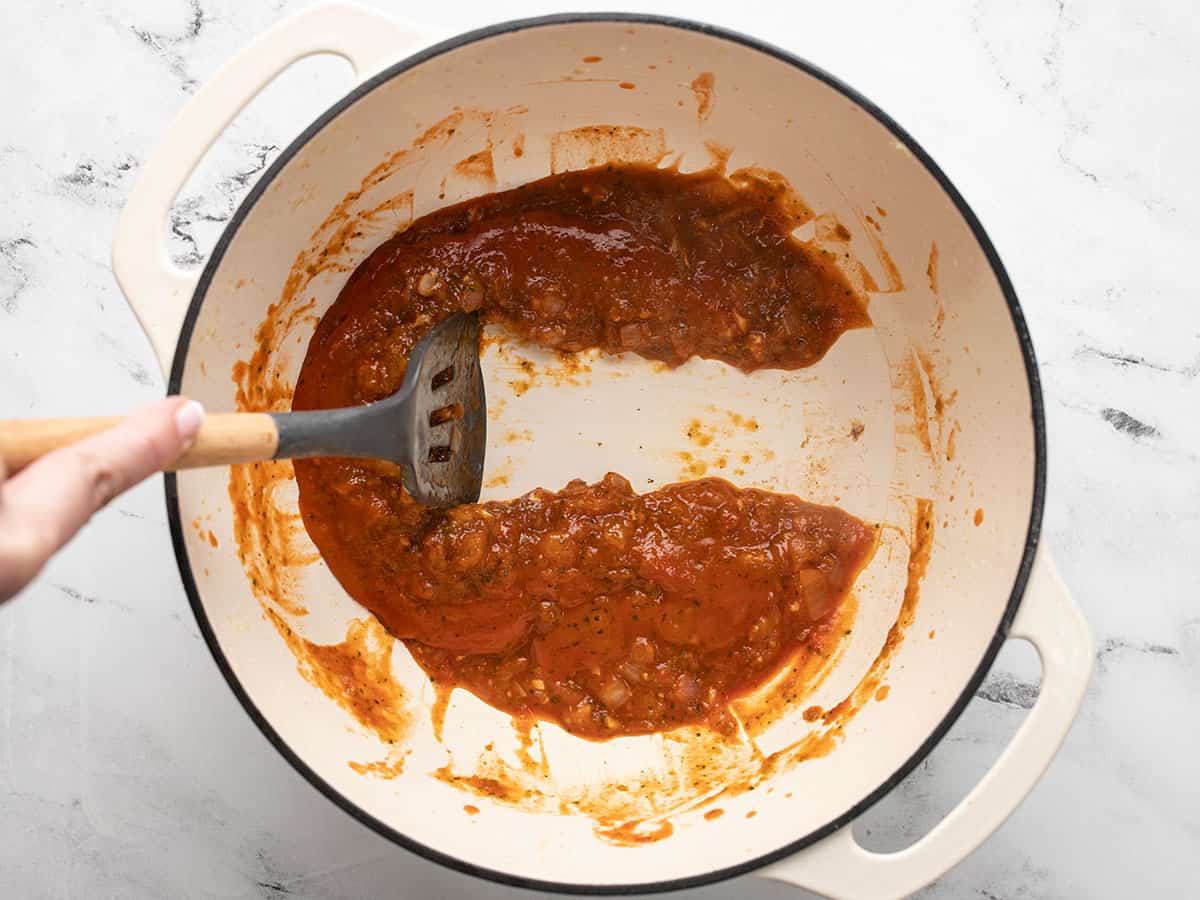 Cook for 2 to 3 minutes until it is thick and bubbly. If you run a spoon through it, the sauce should remain divided.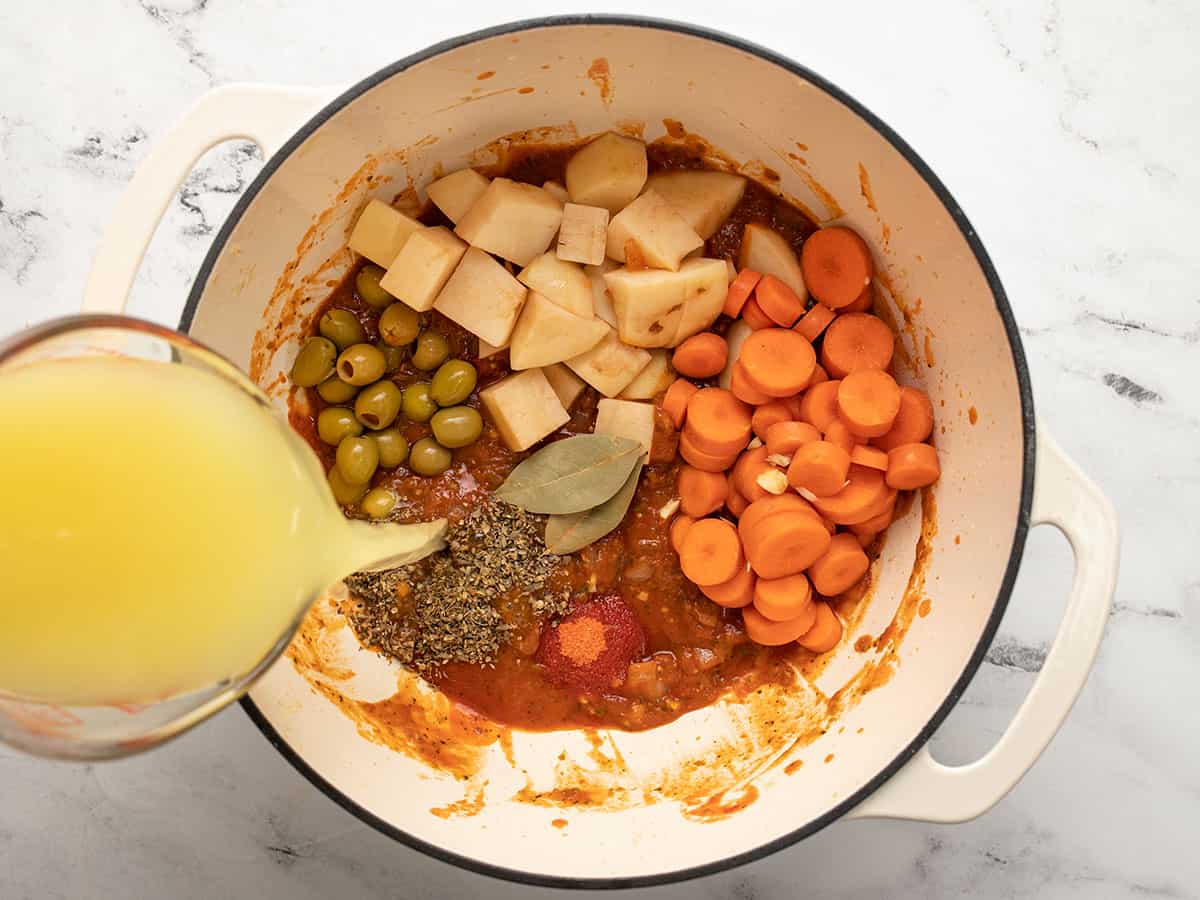 Add the packet of sazón, 2 teaspoons of oregano, 2 bay leaves, 1 cup of diced potatoes, 1 cup of sliced carrots, 1/4 cup of manzanilla olives, and 3 cups of chicken stock into the pot.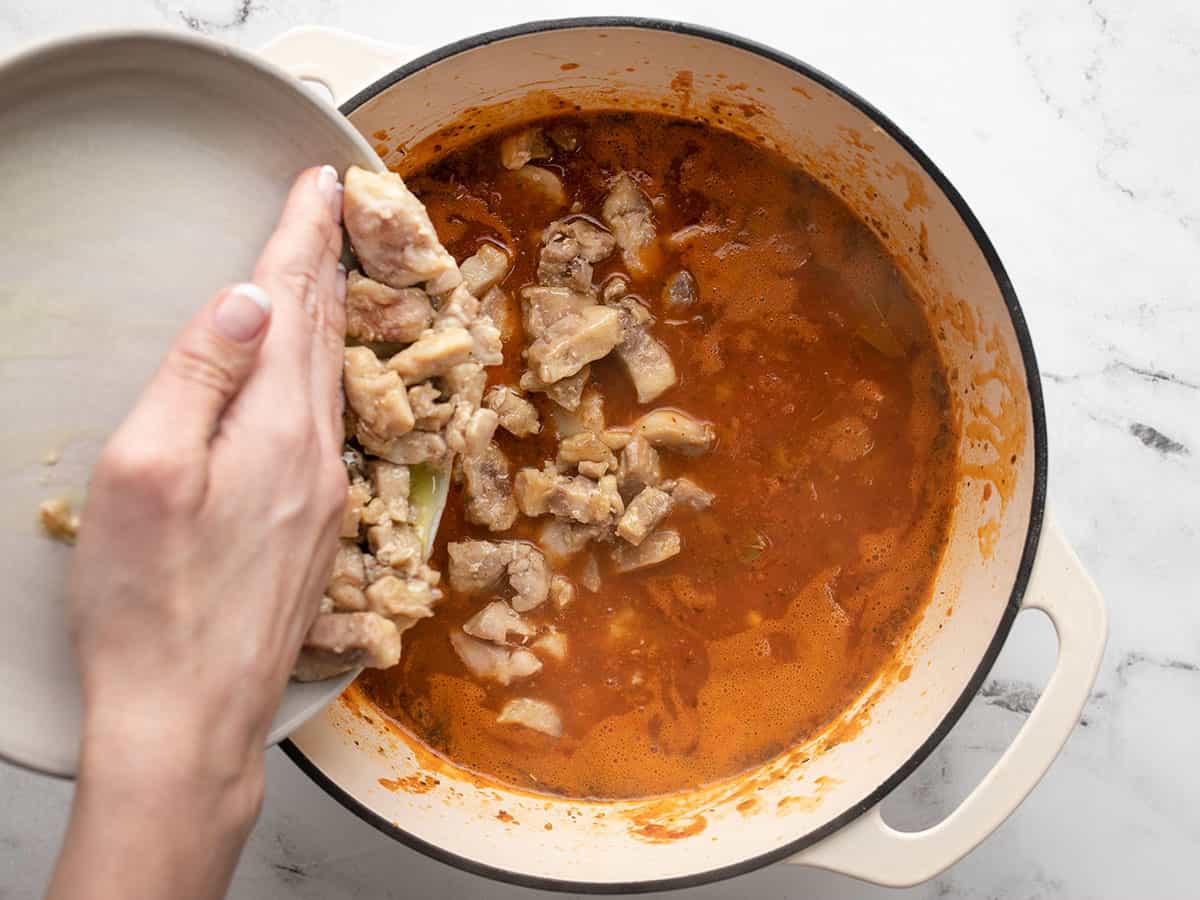 Bring the mixture to a boil, then add the chicken back into the pot. Lower the heat, cover the pot and simmer for 40-50 minutes until the chicken is cooked through. If the stew hasn't thickened, break a few of the potatoes apart with a fork, and keep the stew simmering with the lid off until it thickens.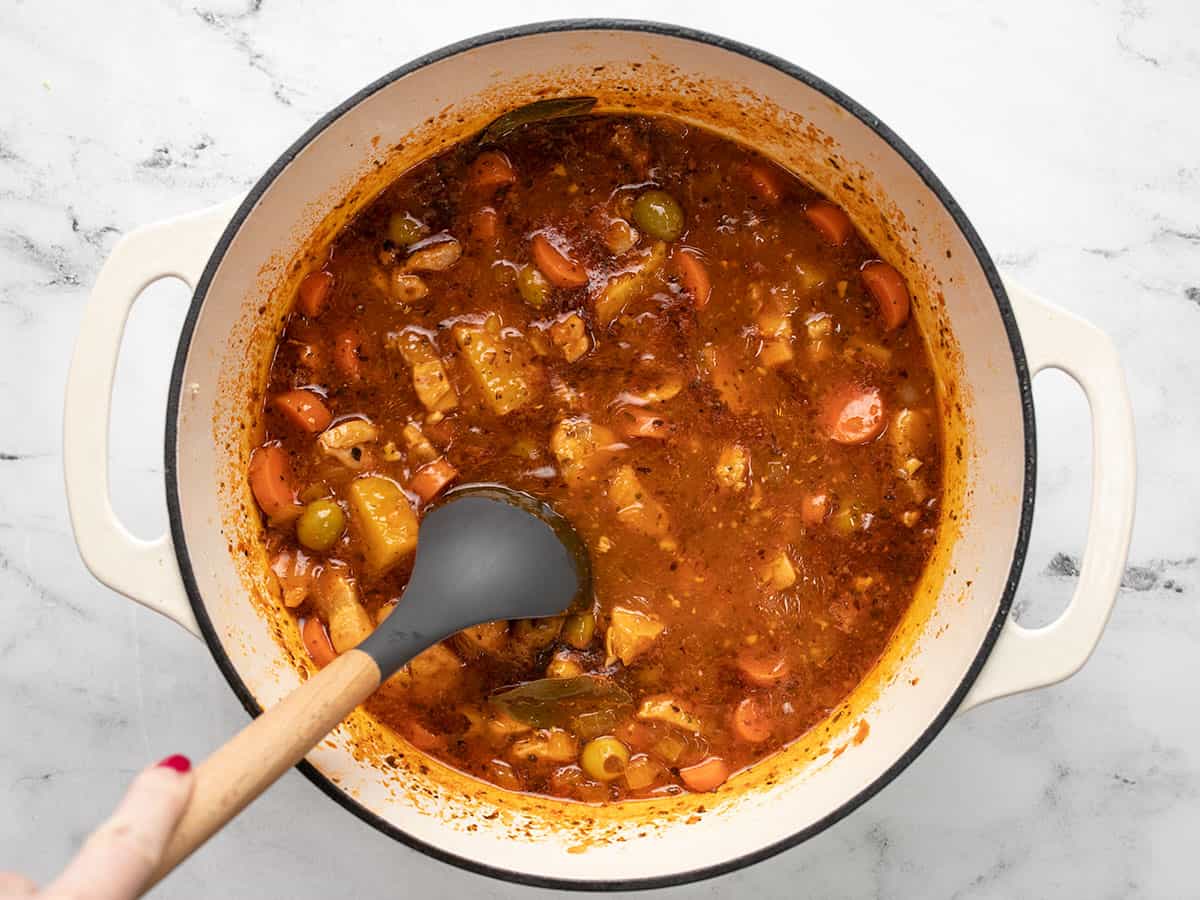 When it is off the heat, sample the soup and add salt and pepper to taste. Remove the bay leaves before serving. Garnish with cilantro (optional) and serve with white rice (optional). As we say in Puerto Rico, buen provecho!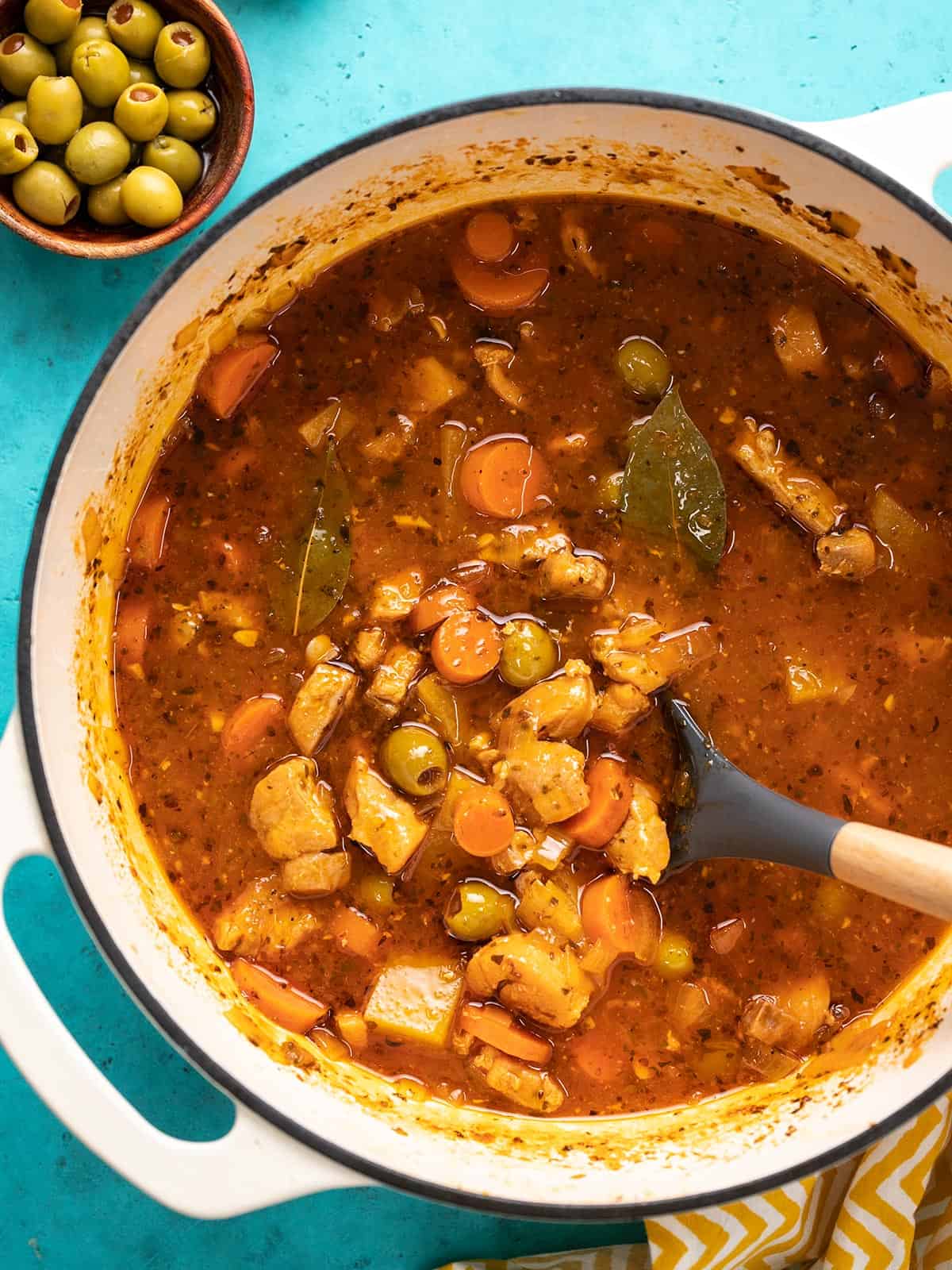 The post Pollo Guisado (Puerto Rican Chicken Stew) appeared first on Budget Bytes.