For me nothing says Spring quite like a big serving of Pasta Primavera! This dish is full of fresh seasonal vegetables tossed with pasta in a light lemon and butter sauce. Now I know I'm not the only one who struggles getting their daily veggies, which is why I love this recipe. It incorporates lots of colorful vegetables, is simple to toss together and the leftovers are just as good the next day!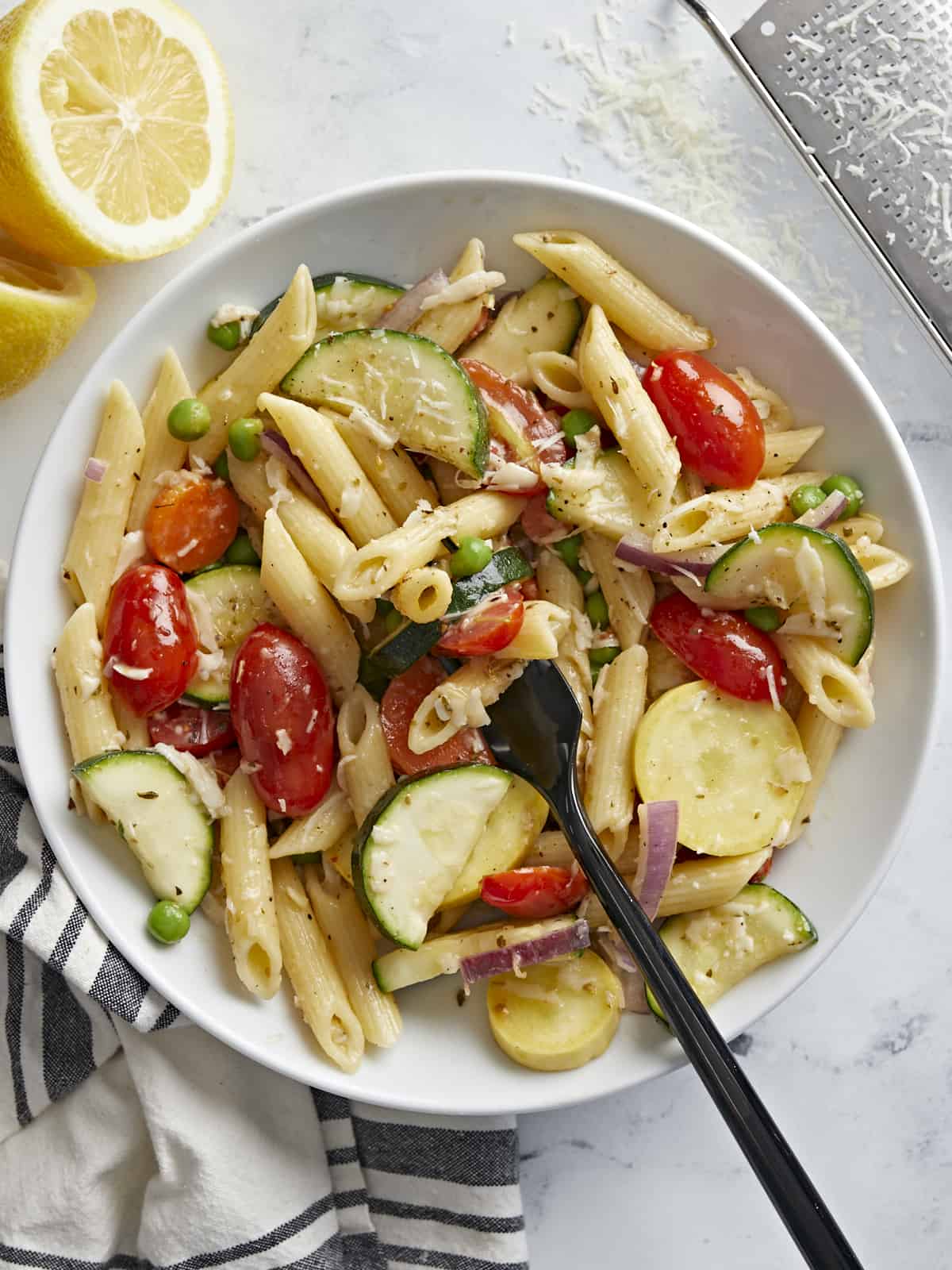 Pasta Primavera
Although the name Primavera stands for "Spring" in Italian, Pasta Primavera is actually a popular American dish that was first introduced in the 1970s. It includes lots of fresh Spring and Summer vegetables that are sauteed and tossed with pasta in a light cream sauce. In this recipe we opted for a fresh lemon and butter sauce.
Ingredients for Pasta Primavera
Can I Use Different Vegetables?
Absolutely! Pasta Primavera is extremely versatile. You could mix and match with other vegetables like broccoli, mushrooms, asparagus, green beans or any fresh vegetables that are in season that will cook in relatively the same amount of time. This is also a great recipe to use up any leftover veggies that may be hanging out in your fridge to help reduce food waste in your kitchen.
What to Serve with Pasta Primavera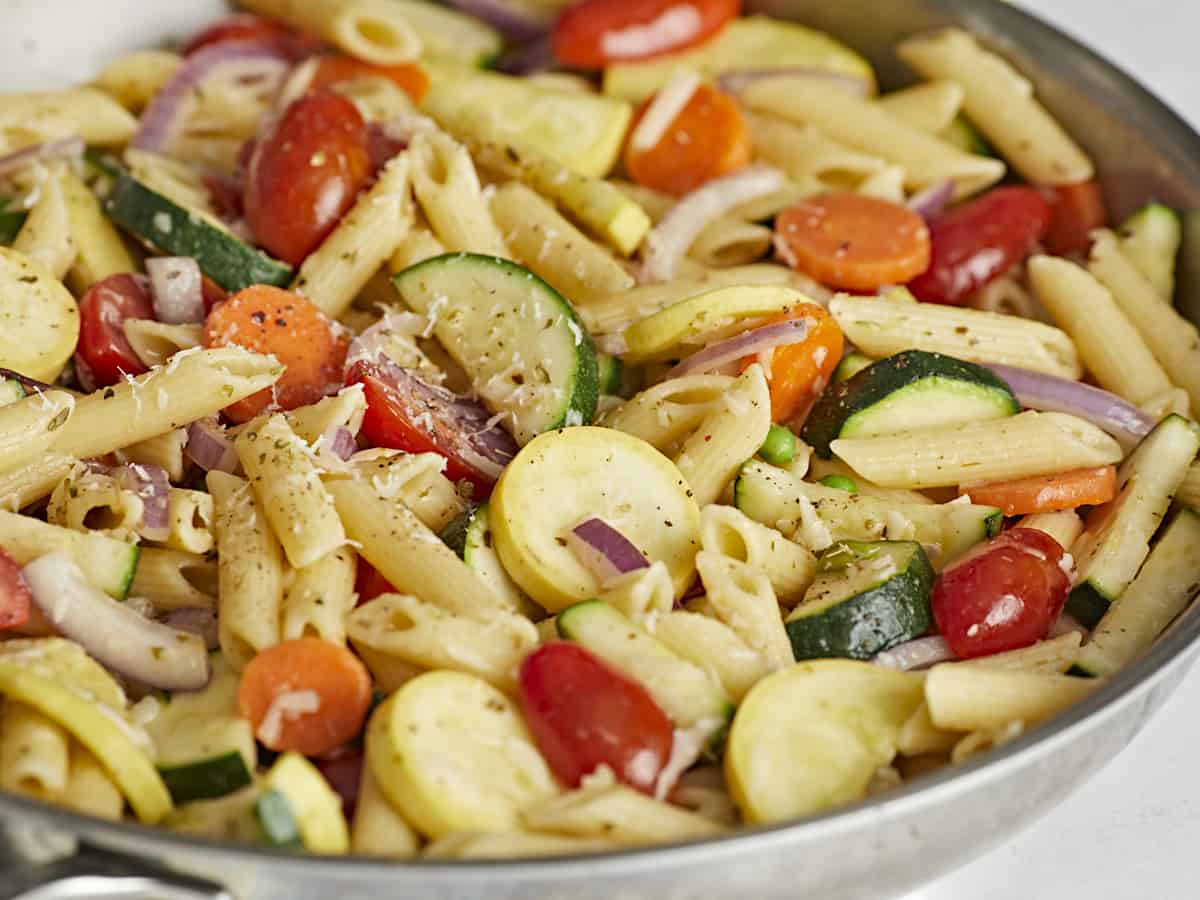 How to Make Pasta Primavera – Step by Step Photos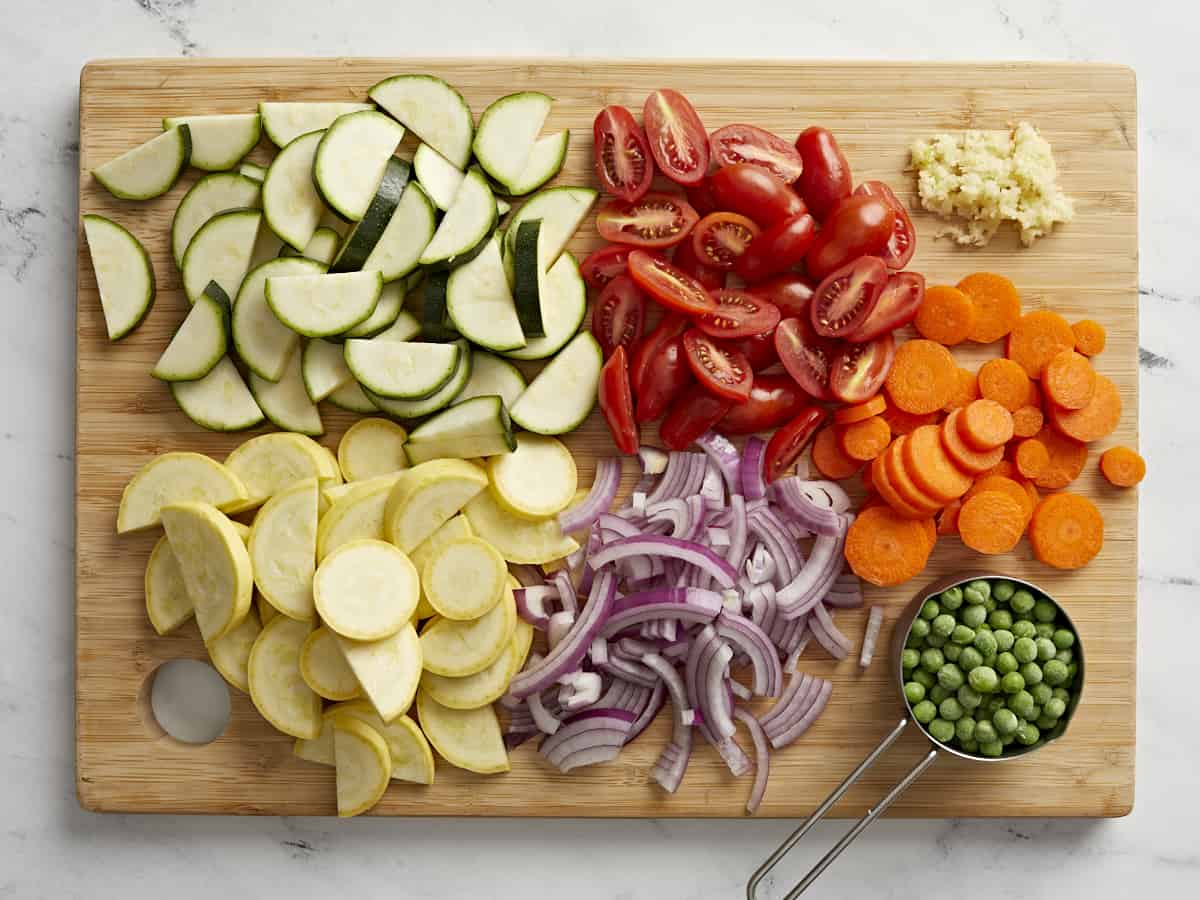 Start by prepping your vegetables. Wash the vegetables thoroughly then cut and slice each vegetable into equal size pieces. Cut the one zucchini and one yellow squash into half moons, slice one carrot into thin rounds, thinly slice half of a red onion, cut one cup of grape tomatoes in half, and mince three cloves of garlic.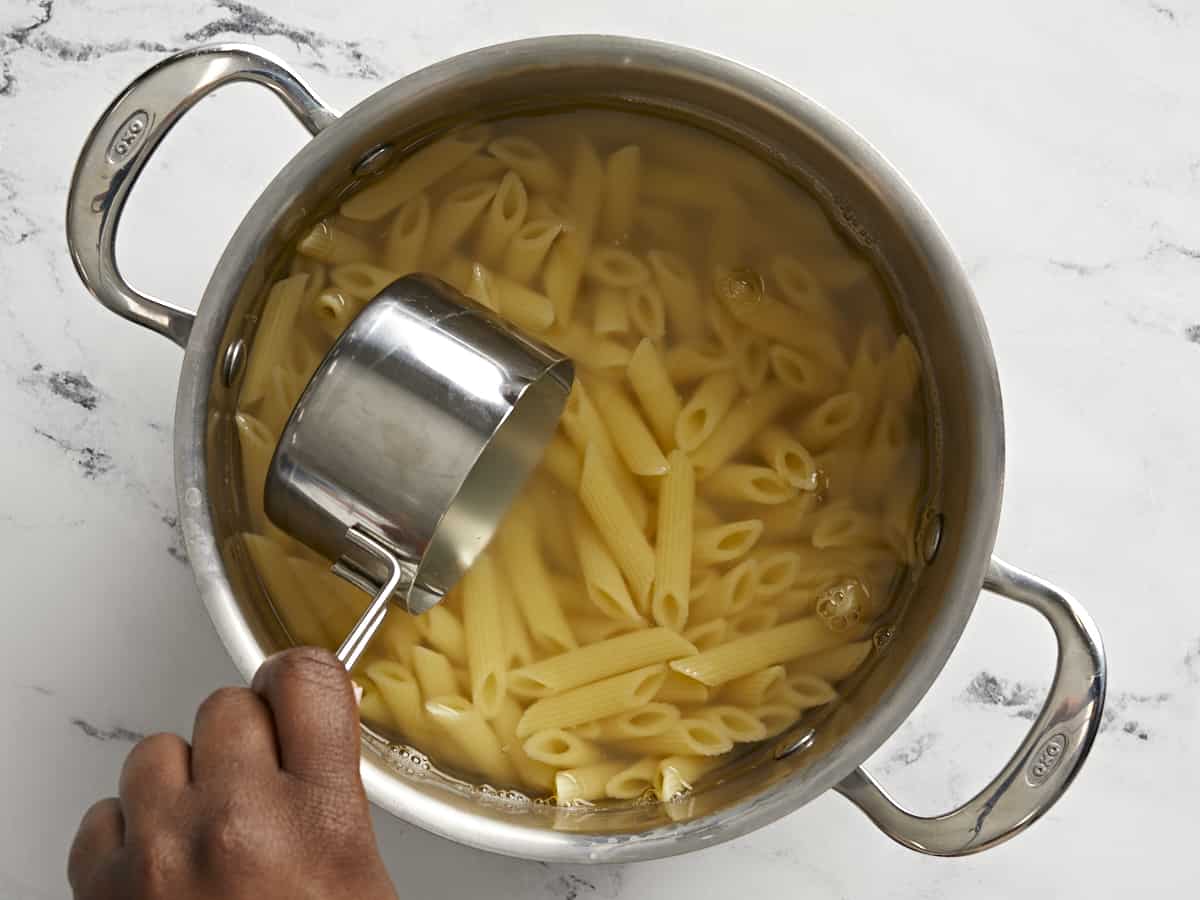 Next bring a large pot of salted water to a boil. Cook pasta according to the package instructions to al dente. Reserve ½ cup of pasta water before draining the pasta in a colander. Transfer drained pasta to a large bowl.
While the pasta is boiling, start sautéeing the vegetables. In a large deep skillet add olive oil. Sauté carrots and onion over medium heat for 2 minutes. Next add zucchini and yellow squash and sauté for an additional 2 minutes. Now add the minced garlic, grape tomatoes and frozen peas. Season the vegetables with 1 tsp salt (or to taste), 1/2 tsp pepper and 1 tsp dried oregano. Sauté for an additional 1-2 minutes then turn your heat off.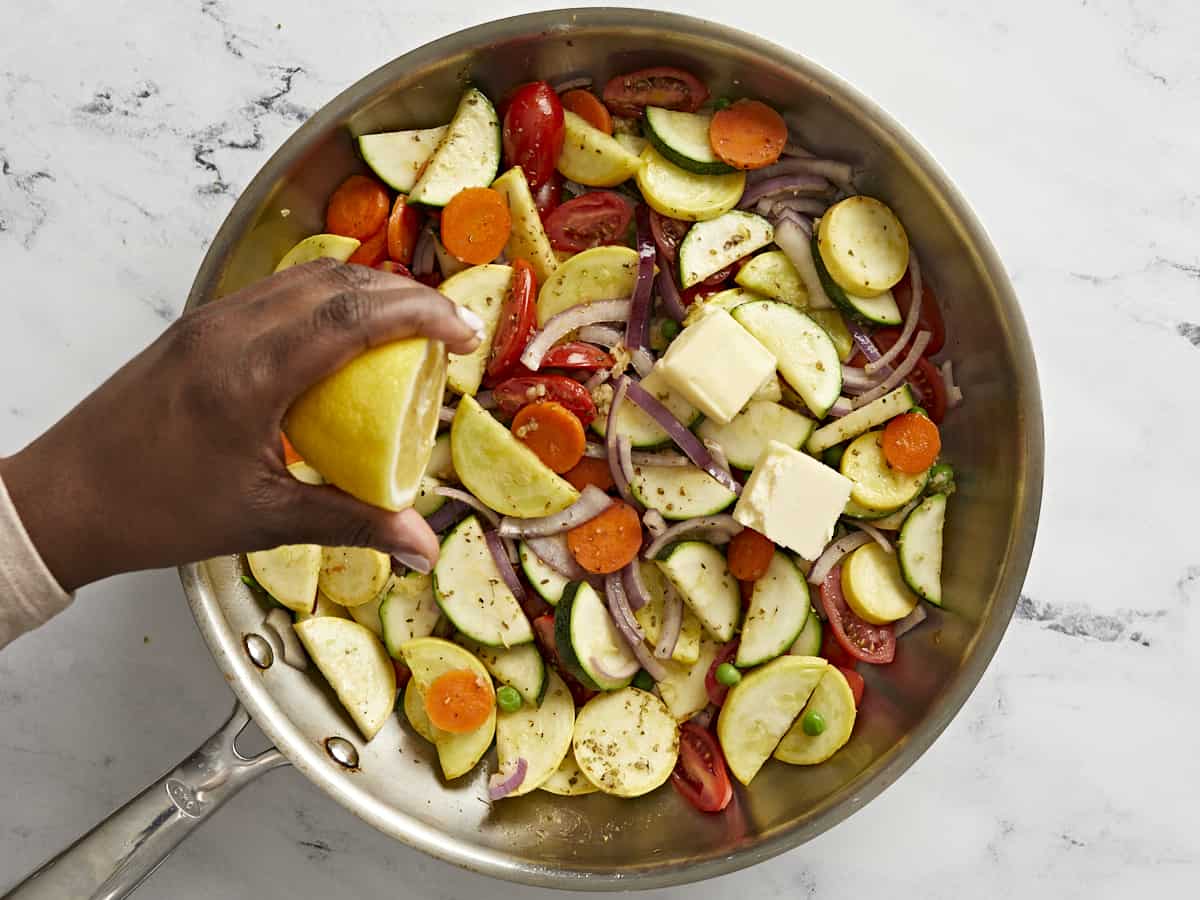 Add 2 Tbsp butter to the skillet along with about 2 Tbsp fresh squeezed lemon juice. Stir the vegetables well to combine.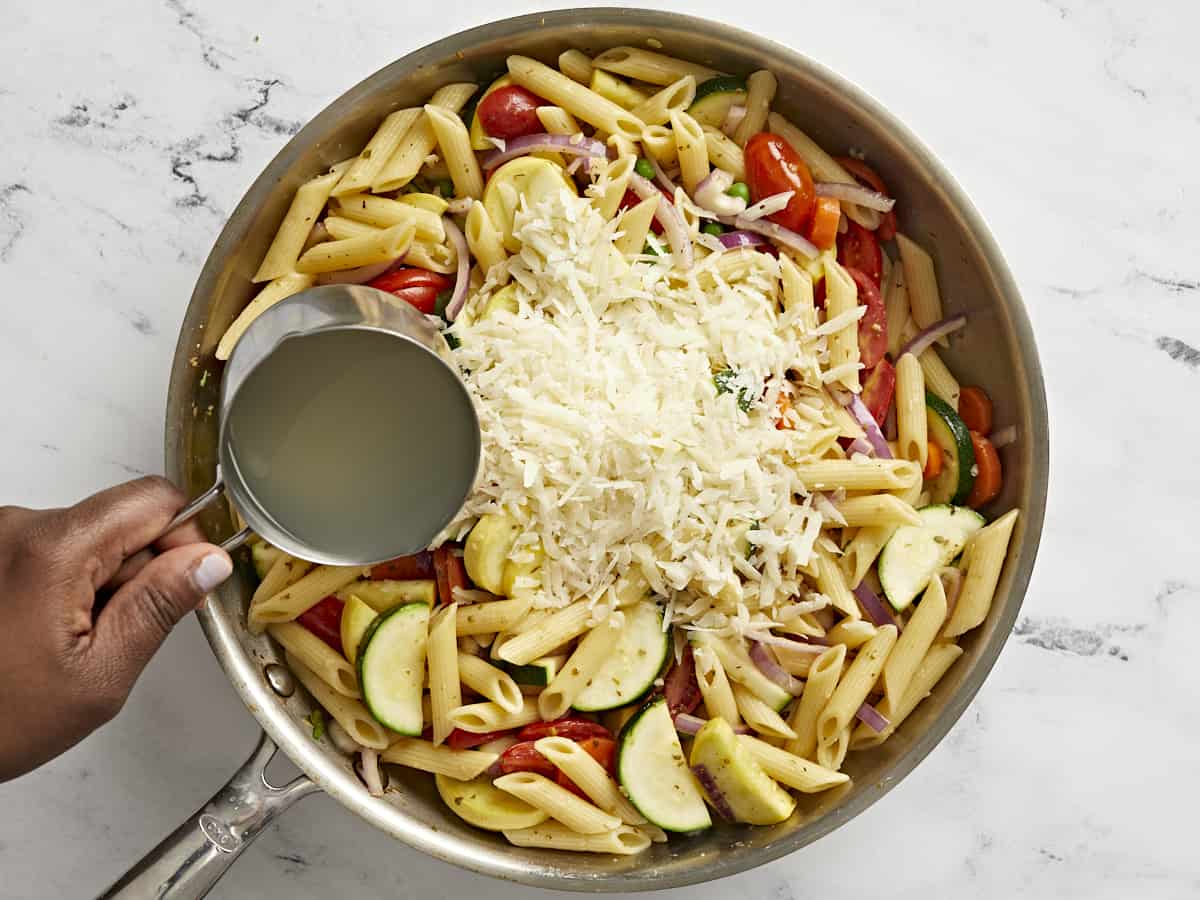 Either add the cooked and drained penne to the skillet and stir to combine with the vegetables or transfer both the pasta and vegetables to a large bowl. Add 1/2 cup grated or shredded parmesan cheese and about ¼ cup of the reserved pasta water. Stir until well combined. Add more of the reserved pasta water if needed to create a light sauce.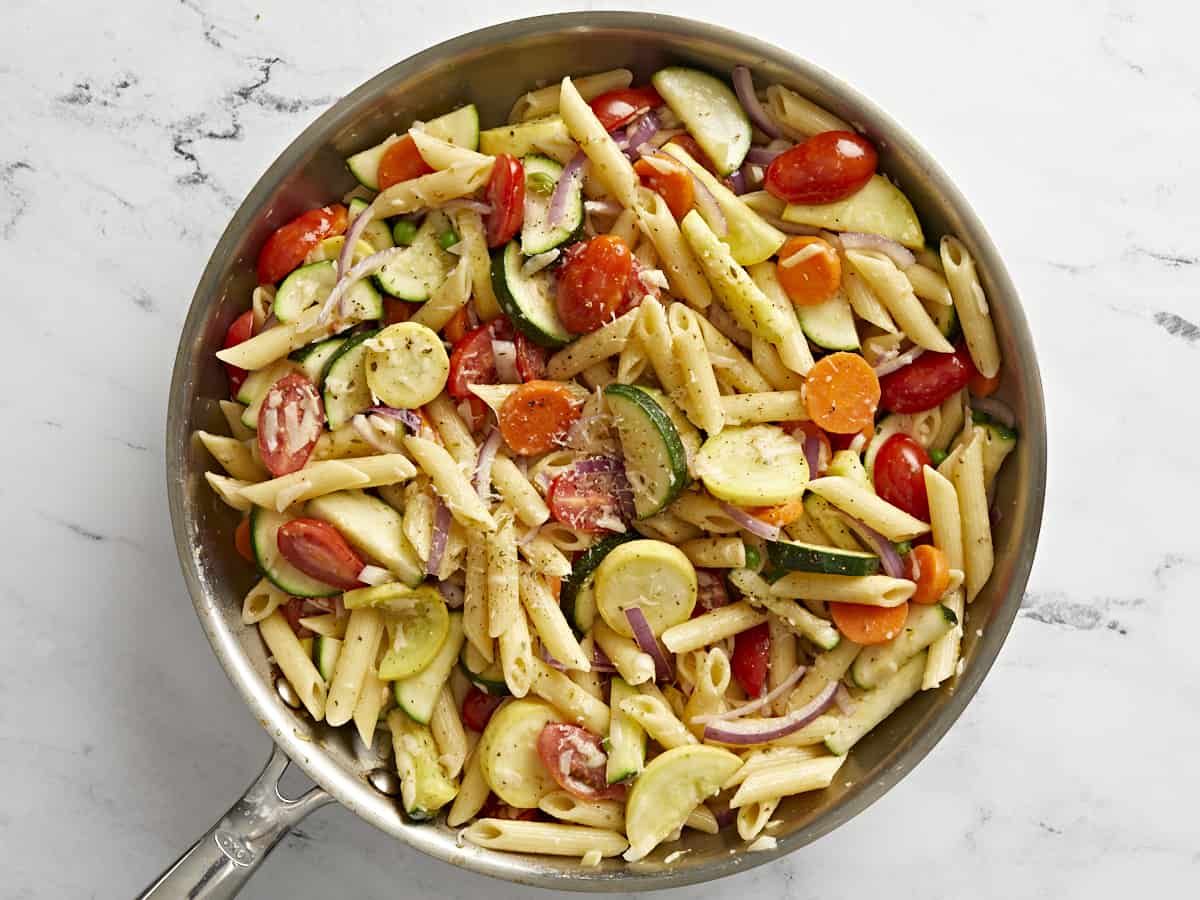 Serve with fresh chopped parsley and enjoy!
The post Pasta Primavera appeared first on Budget Bytes.