I love lasagna in all its forms, especially these cute little Lasagna Roll Ups that are perfectly portioned for meal prep. Stash a few portions of these in your freezer for a rainy day and you will THANK yourself later. Promise. Lasagna roll ups are flexible and you can fill them with whatever you like, sausage, beef, or even make them vegetarian as I have here with a light spinach-ricotta filling. No matter the flavor, they're delicious and fun to eat!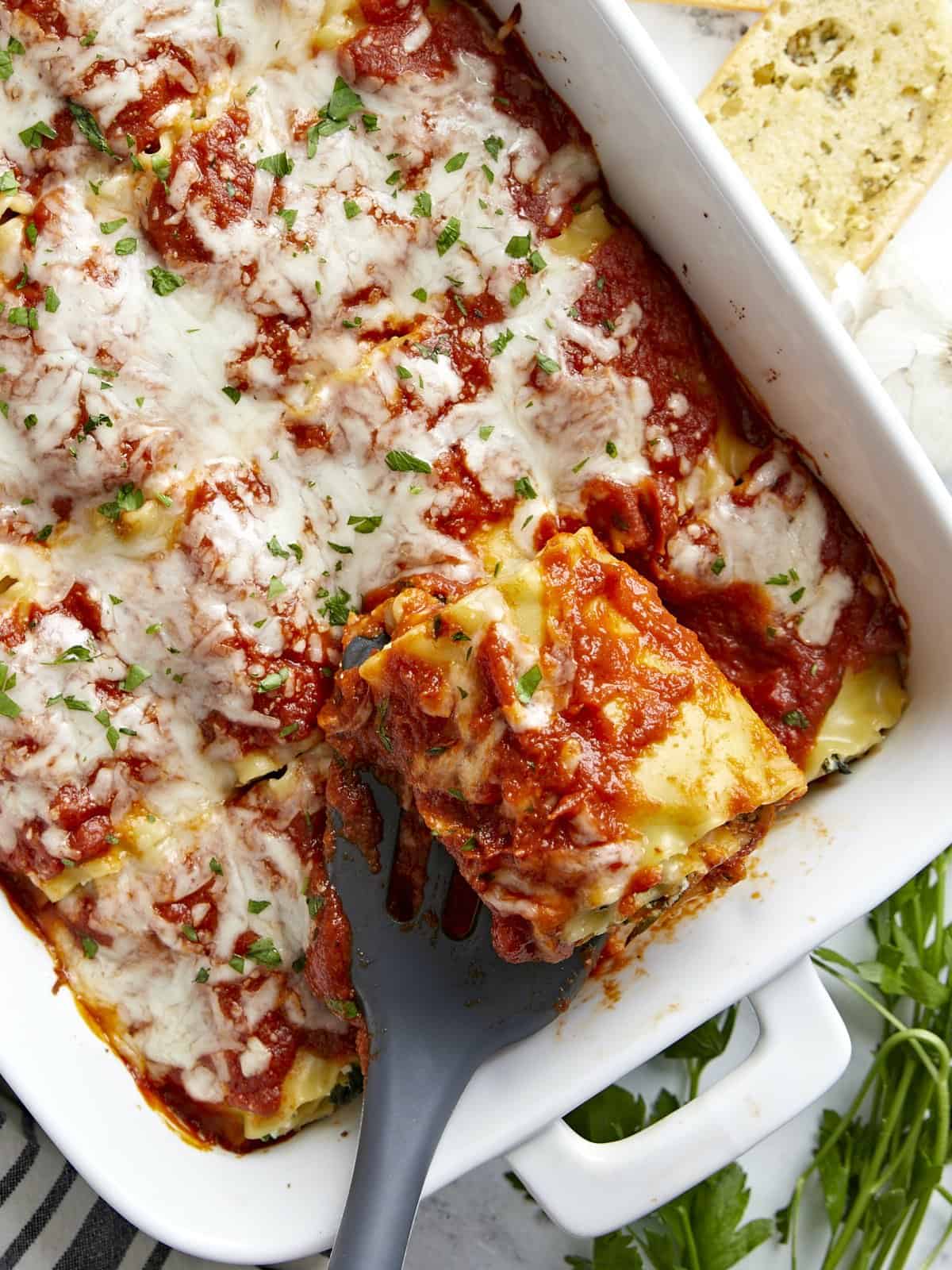 What Are Lasagna Roll Ups?
Lasagna roll ups have all the same components of lasagna, but they are combined in different form. Instead of layering the ingredients into a casserole dish, the filling is spread onto each lasagna noodle and then rolled into a perfect little portion. Sauce is poured over the top and then they're baked to perfection!
Ingredients for Lasagna Roll Ups
As with traditional lasagna, the filling for these lasagna roll ups is quite flexible. Here is what you'll need to make the vegetarian spinach and ricotta-filled version below:
Lasagna Noodles: Each lasagna noodle makes one bundle. I like to get the flutter edge noodles instead of flat noodles because they make the prettiest roll ups.
Cheese: We use a mix of ricotta cheese, mozzarella cheese, and Parmesan cheese to create the most flavorful filling for the roll ups.
Egg: Egg helps bind the cheese filling and keeps the filling moist and rich. I have, on occasion, forgotten the egg and the lasagna roll ups still turned out quite delicious, just not as moist.
Frozen Spinach: I chose to make a vegetarian version of lasagna roll ups to save on money, using an inexpensive block of frozen cut spinach, but you can swap for Italian sausage or ground beef if you want a meat version. Sautéed mushrooms also work well.
Pasta Sauce: To make this recipe extra easy, I used a simple jar of pasta sauce to drench the lasagna roll ups. If you prefer to make your own, you can use our Slow Cooker Spaghetti Sauce, or our quick Weeknight Pasta Sauce and have meat in addition to the spinach.
What to Serve with Lasagna Roll Ups
Some homemade garlic bread and a nice side salad would be perfect to pair with this meal and will add some color and freshness to the plate. But the roll ups are pretty filling on their own, so you won't need to add much to make it a meal!
Meal Prep It!
These lasagna roll ups will stay good in the refrigerator for about five days, so make sure to portion them out into air-tight containers after cooking for quick grab-and-reheat meals for the rest of the week. After the portions are chilled in the refrigerator you can transfer some to the freezer for longer storage (up to three months).
To reheat the frozen lasagna roll ups, either let them thaw in the refrigerator over night before reheating in the microwave, or go straight from the freezer to the microwave, making sure to use the defrost function first.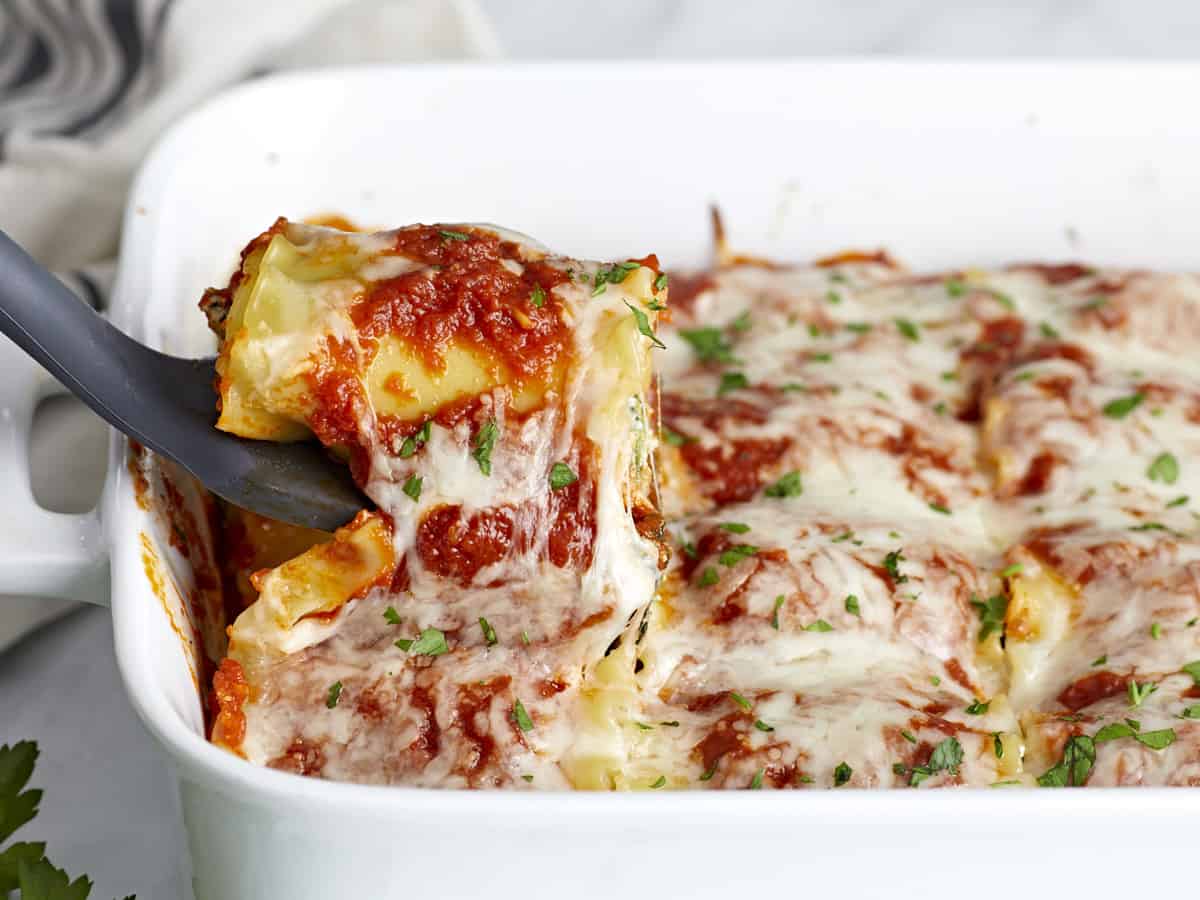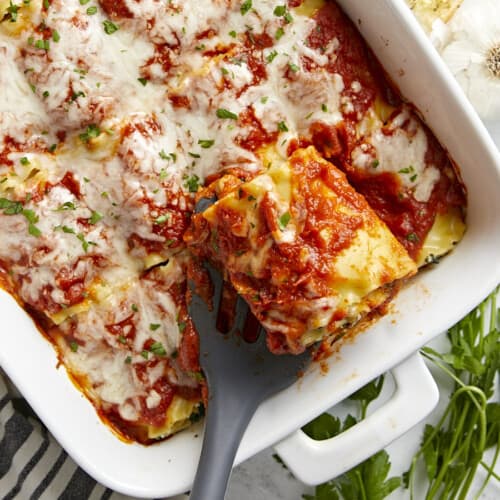 Lasagna Roll Ups
Lasagna Roll Ups are a fun take on the classic Italian dish. Perfectly portioned for meal prep, customizable, and freezer-friendly!
Servings
8
(2 rolls each)
Ingredients
12

oz.

lasagna noodles

$2.19

15

oz.

whole milk ricotta cheese

$3.39

2

cups

shredded mozzarella, divided

$2.33

1/4

cup

grated Parmesan

$0.38

1

large

egg

$0.09

1/4

tsp

salt

$0.02

1/4

tsp

freshly cracked black pepper

$0.02

10

oz.

frozen spinach, thawed

$1.20

1

24oz. jar

pasta sauce

$1.99
Instructions
Preheat the oven to 400ºF. Bring a large pot of water to a boil over high heat. Once boiling, add 1 tsp salt to season the water, then add the lasagna noodles. Boil the noodles just until al dente (they become too delicate to roll if they are too soft). Drain the noodles in a colander.

While the noodles are boiling, drain the thawed spinach, squeezing out as much of the excess water as possible. Add the spinach to a bowl with the ricotta,

1

cup of the mozzarella, Parmesan, egg, salt, and pepper. Stir until everything is evenly combined.

Once the lasagna noodles have cooled enough to touch with your hands, lay a few noodles out onto a clean surface. Spread about ¼ cup of the spinach and cheese filling onto each noodle, spreading it from edge to edge. It's okay if the filling is thin or doesn't create a solid layer. Roll the noodles up, then place in a large casserole dish. Repeat with the remaining noodles until you've used all of the filling. You should get about 16 roll ups and you may have a few noodles left over (those will be back up in case any tear).

Once all of the noodles are filled, rolled, and placed in the casserole dish, pour the jar of pasta sauce over top. Top the lasagna roll ups with the remaining

1

cup of mozzarella cheese.

Cover the casserole dish with foil and bake the lasagna roll ups for 30 minutes in the preheated 400ºF oven. Serve hot and enjoy!
See how we calculate recipe costs here.
Nutrition
Serving:
2
roll ups
|
Calories:
387
kcal
|
Carbohydrates:
40
g
|
Protein:
22
g
|
Fat:
16
g
|
Sodium:
788
mg
|
Fiber:
4
g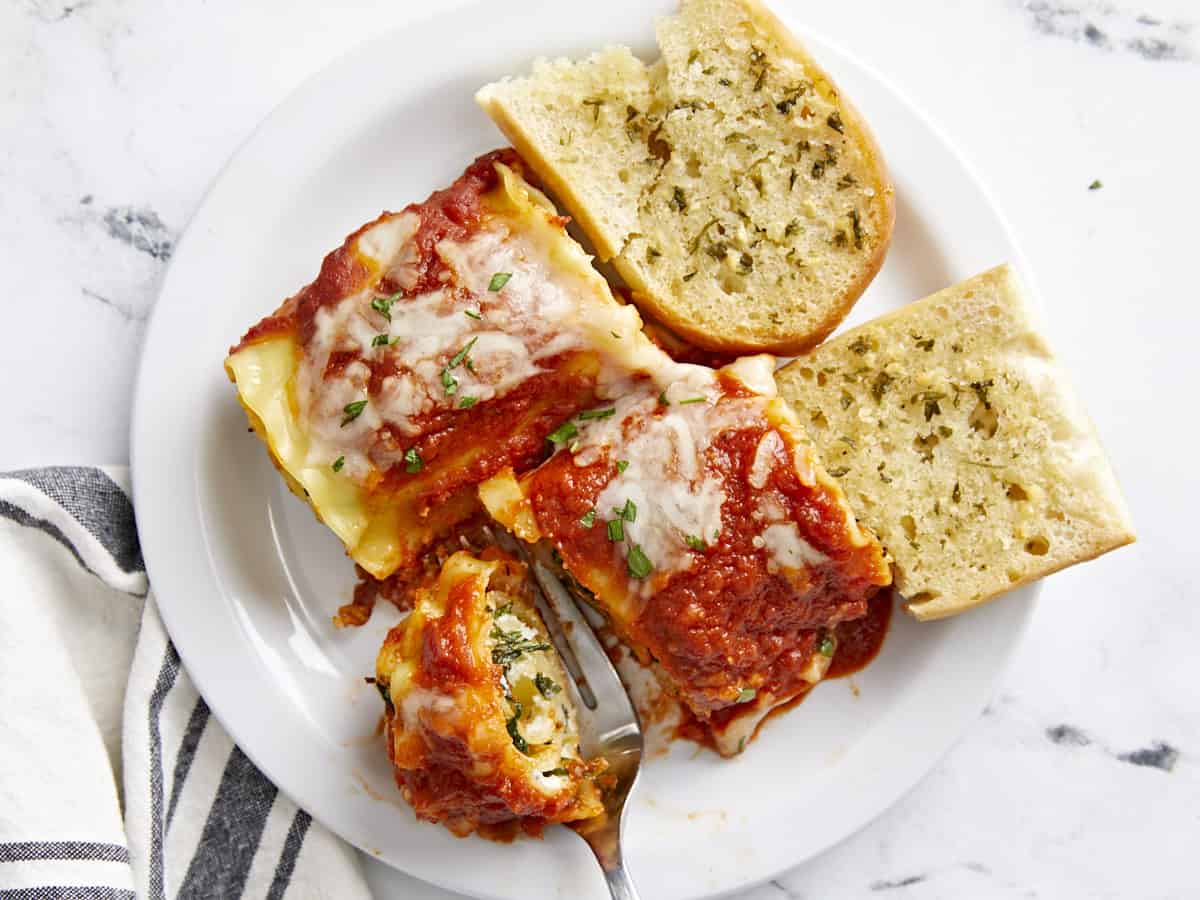 How to Make Lasagna Roll Ups – Step by Step Photos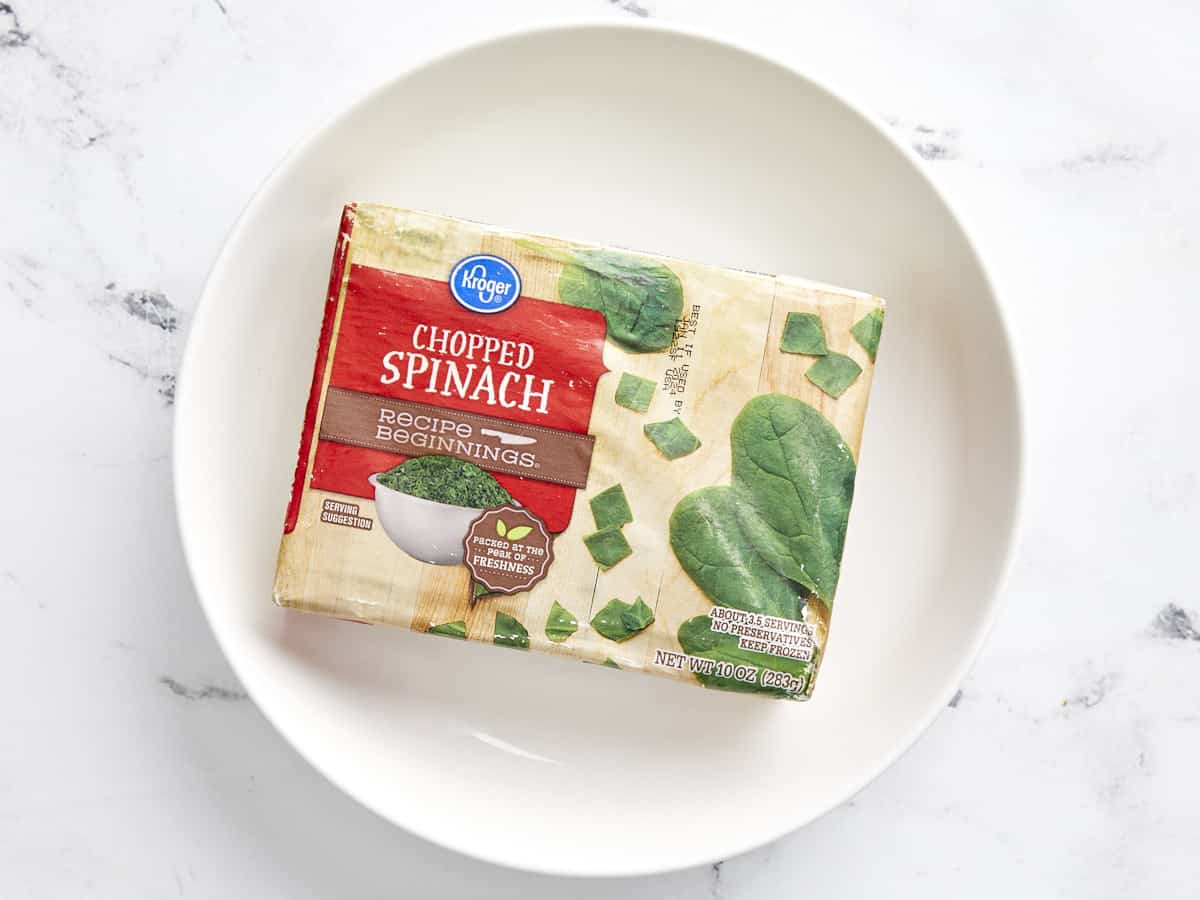 Thaw one 10oz. package of frozen chopped spinach (either use the defrost function on a microwave or transfer it to the refrigerator the day before to thaw). Preheat the oven to 400ºF.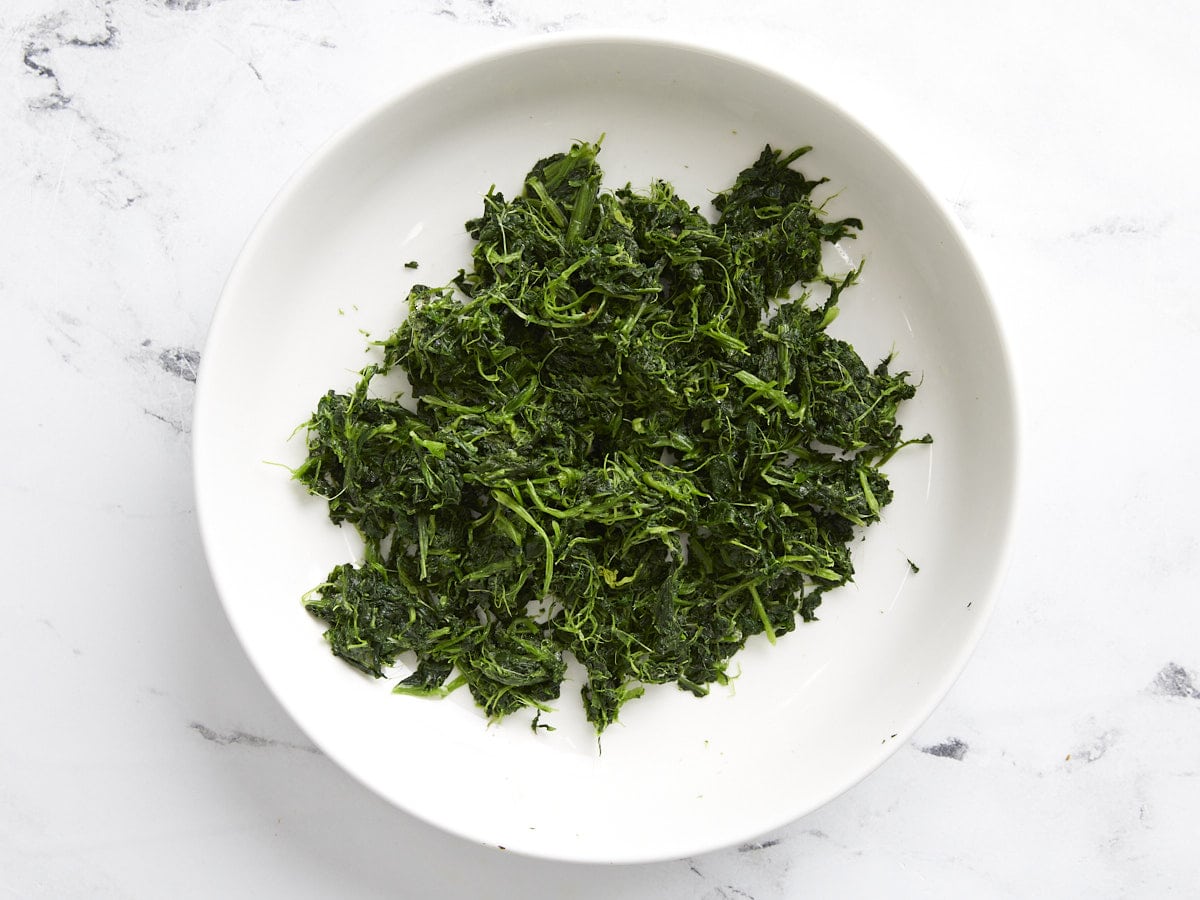 Once the spinach is fully thawed, squeeze out as much water as possible from the spinach. You should have about one cup tightly packed spinach after squeezing.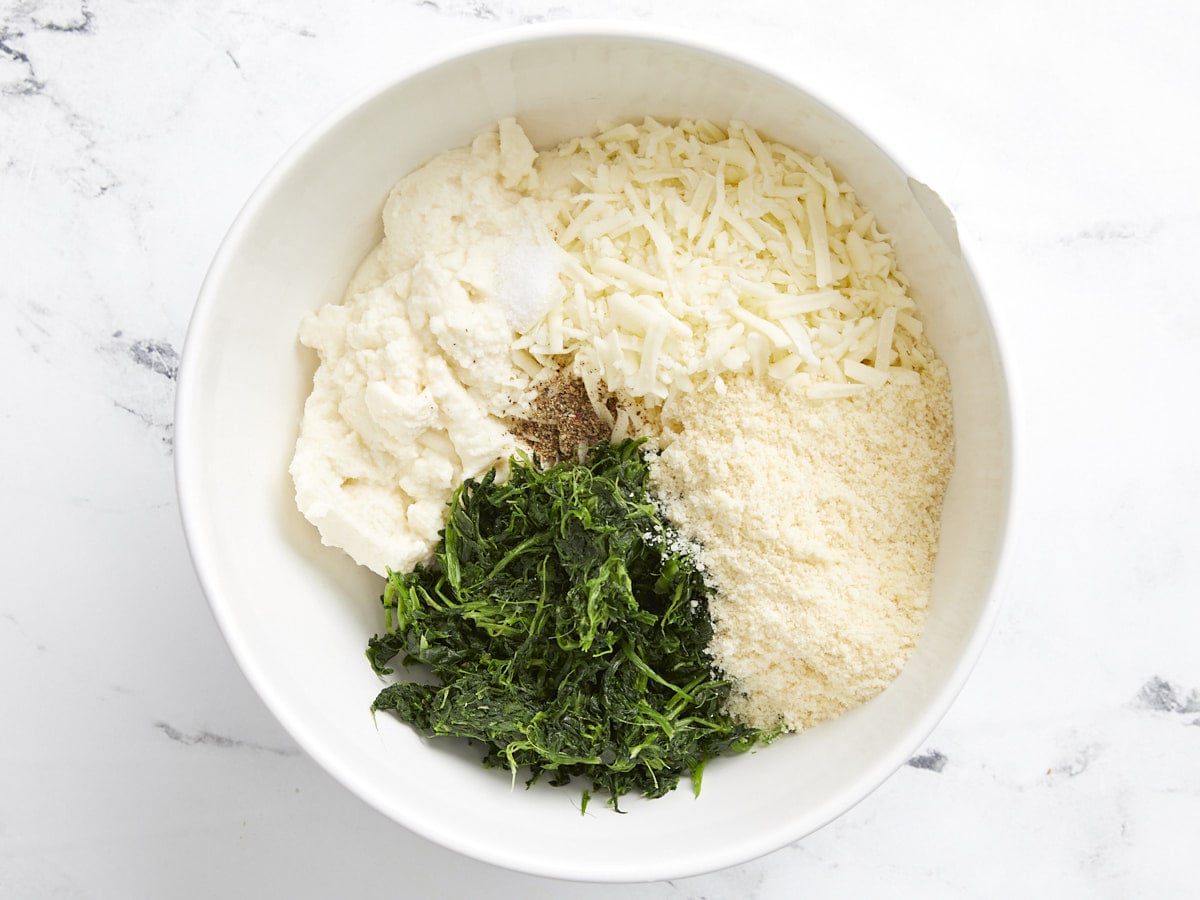 Add the spinach to a large bowl with one large egg, 15oz. ricotta cheese, 1 cup shredded mozzarella cheese, ¼ cup grated Parmesan cheese, ¼ tsp salt, and ¼ tsp pepper. Stir everything together until evenly combined.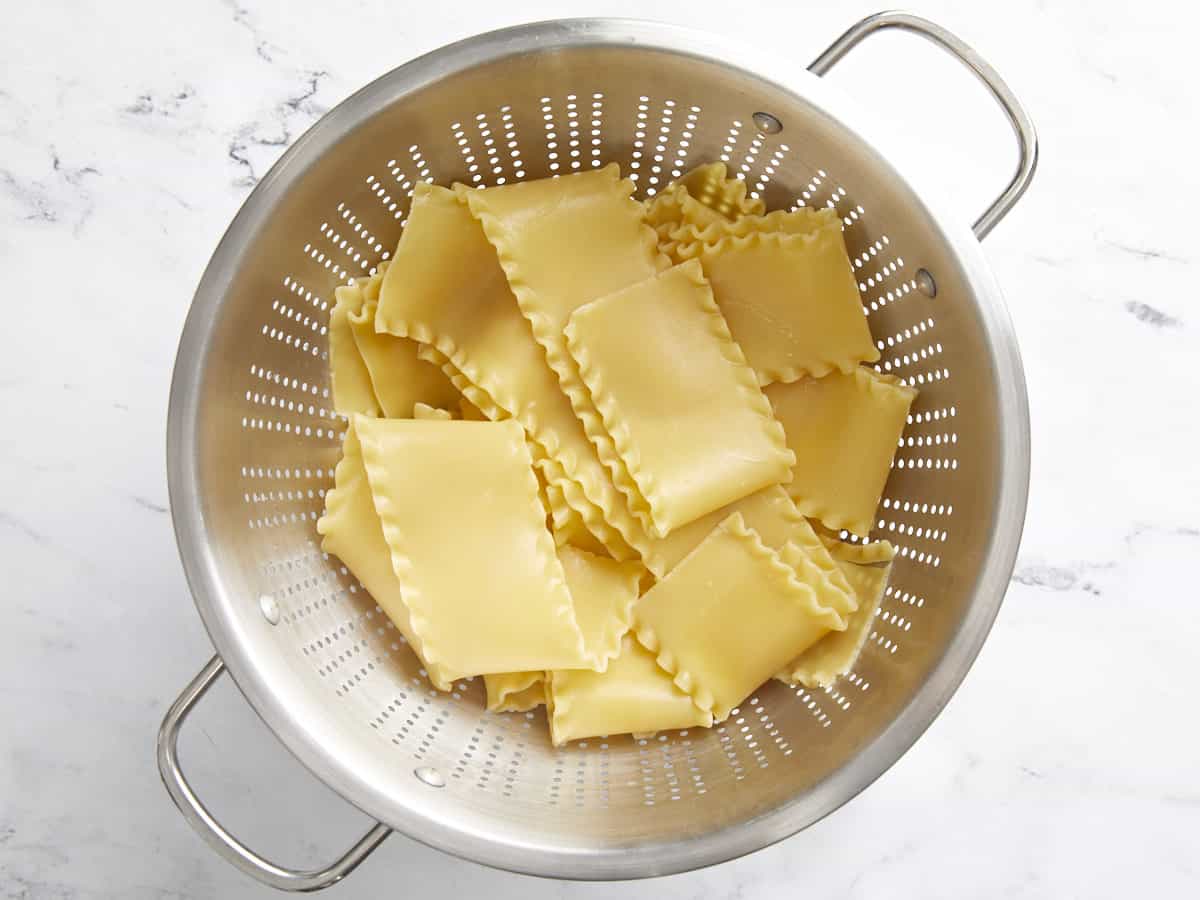 Boil 12oz. lasagna noodles until al dente, then drain in a colander. Do not let the noodles overcook or they'll be too delicate to work with. You'll only need 12 noodles, but you'll likely have a few more if you boil an entire 12oz. box. It's always good to have a few back up in case they tear as you're filling and rolling.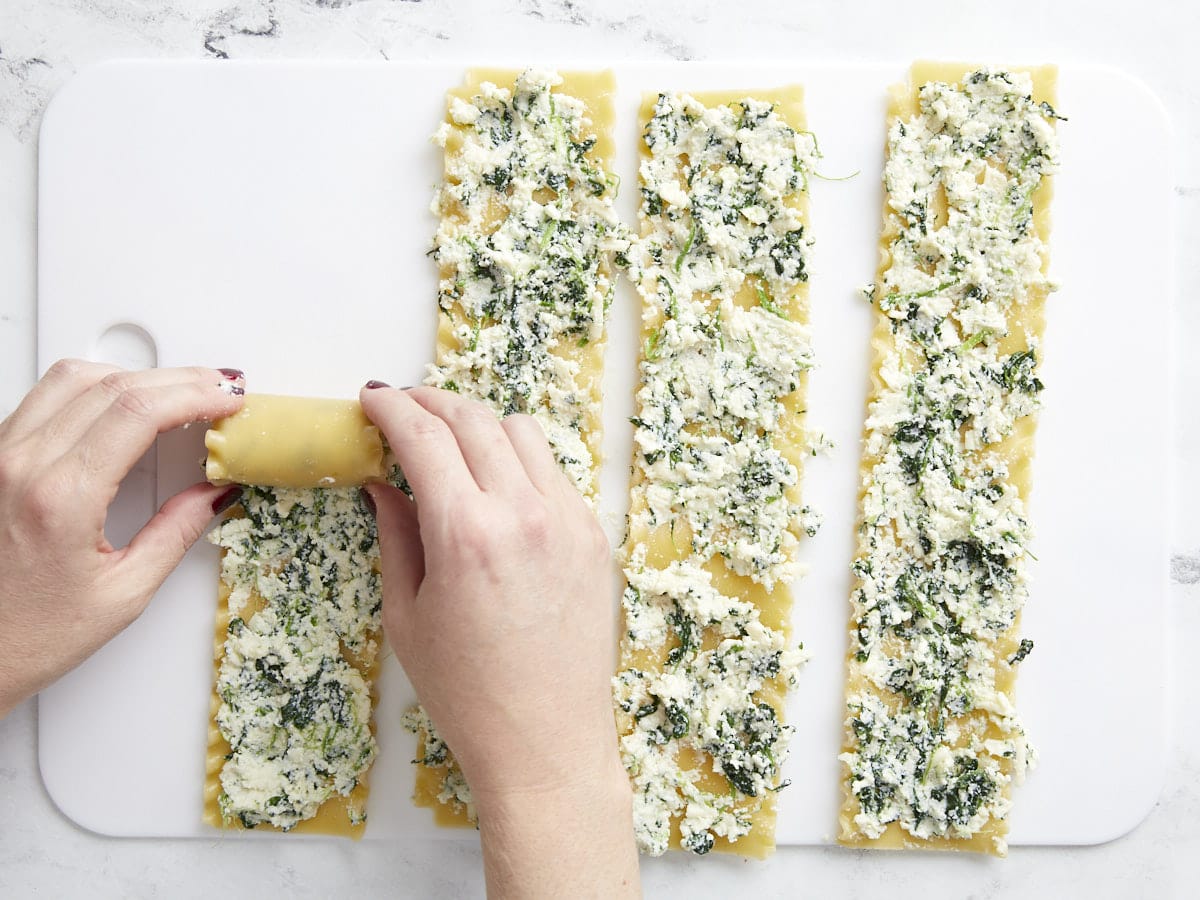 Lay a few of the lasagna noodles out onto a clean surface and spread a thin layer of the cheese filling onto each noodle from edge to edge. The filling does not need to be thick or in a solid layer because it adds up when the noodles are rolled. I used heaping ¼ cup of filling per noodle.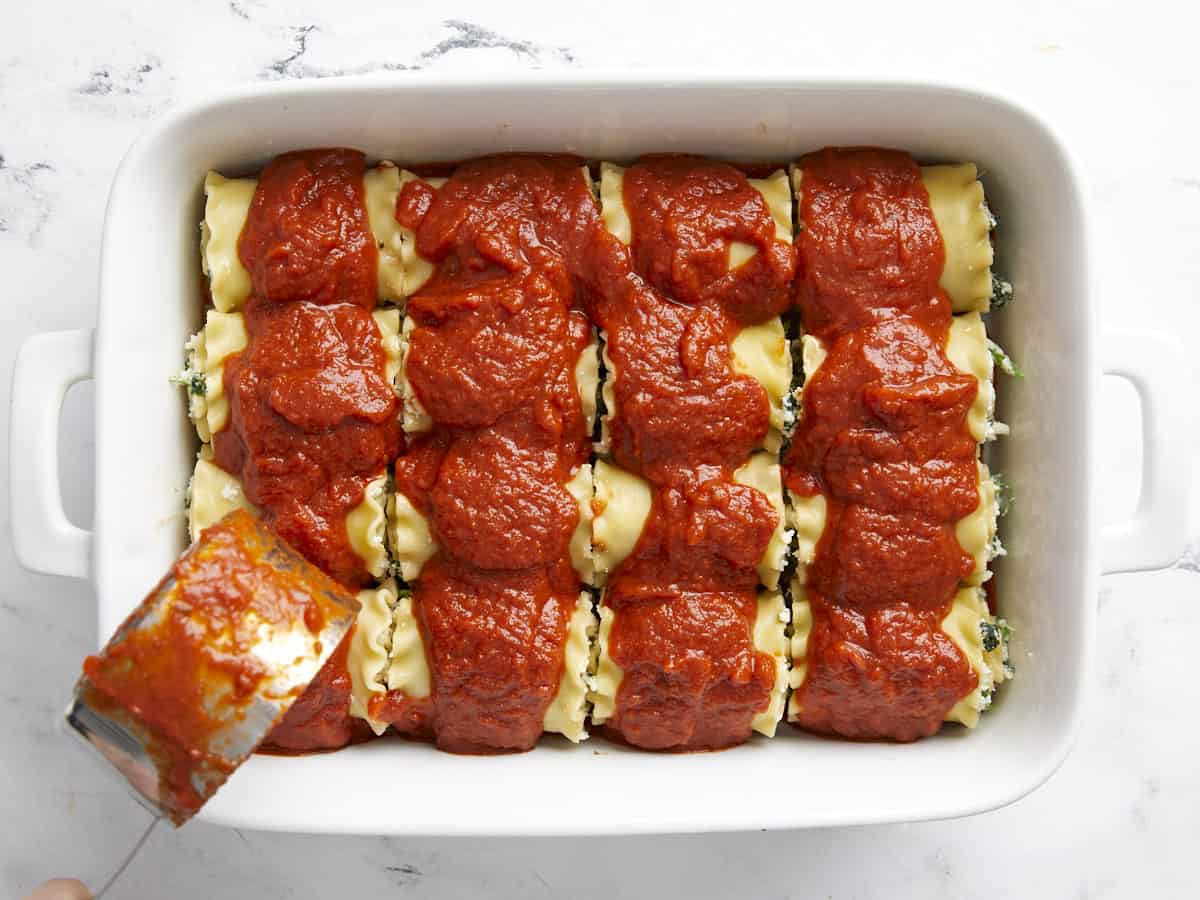 As you fill and roll the noodles, place them in a large casserole dish. Pour one 24oz. jar of marinara sauce over the lasagna roll ups.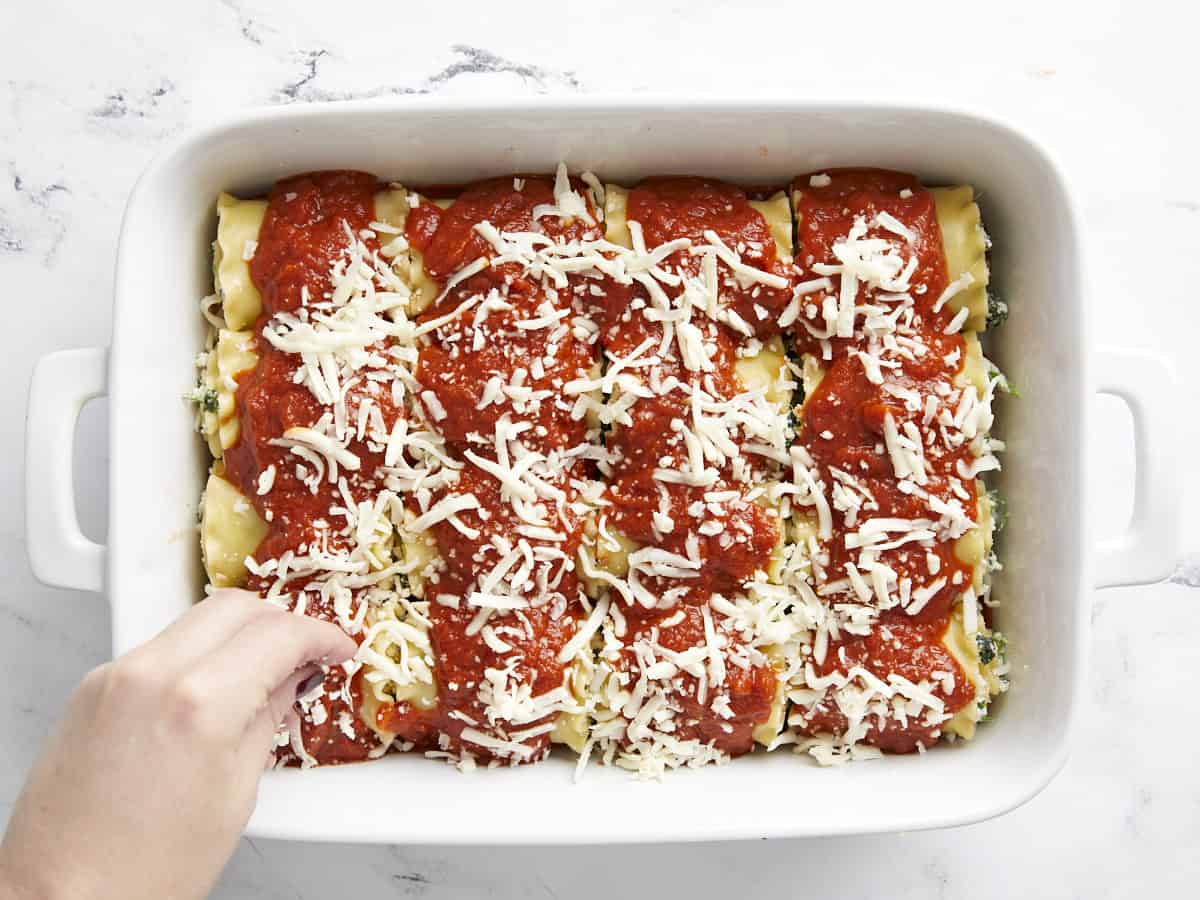 Sprinkle the remaining 1 cup of mozzarella over the lasagna roll ups.
Cover the baking dish and bake the roll ups for about 30 minutes in the preheated 400ºF oven, or until the sauce and cheese are bubbling up around the edges.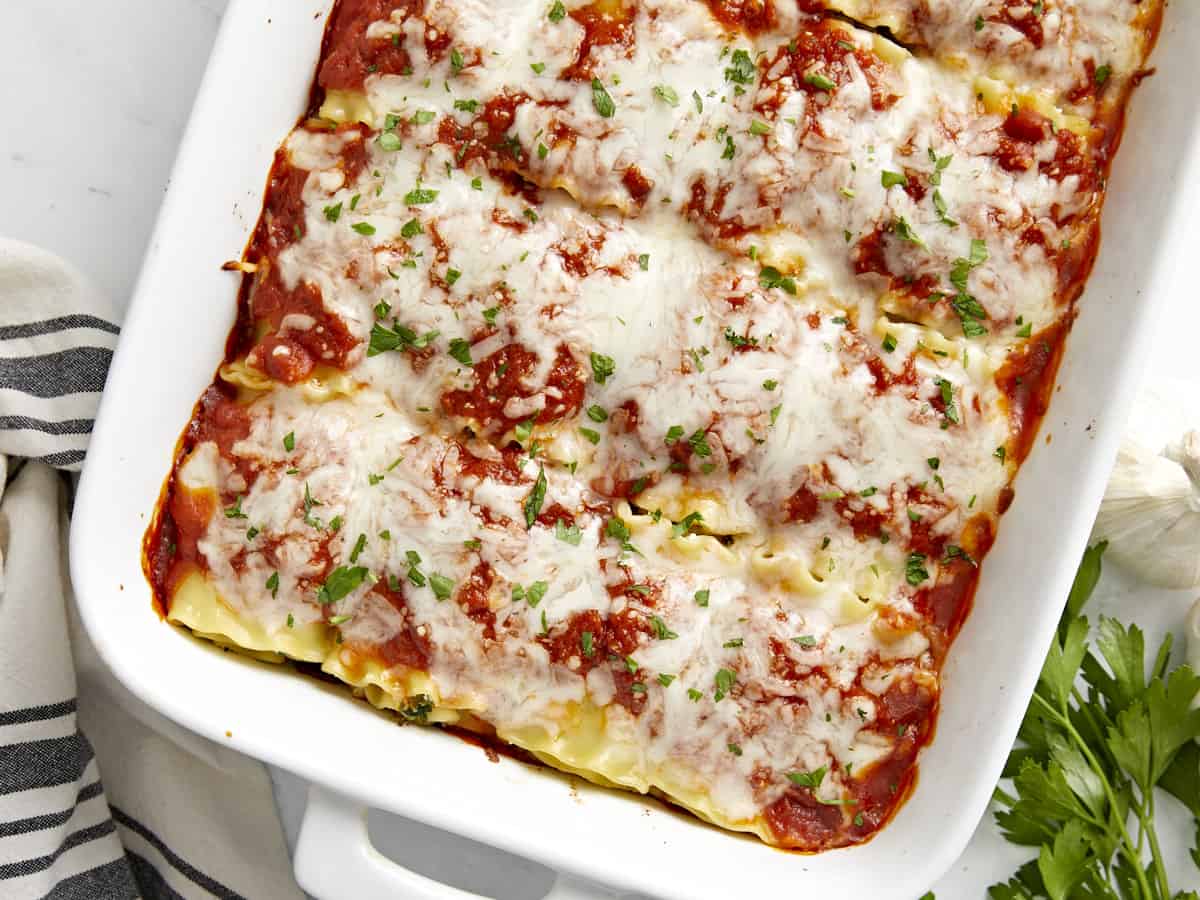 Serve and enjoy! (Garnish with parsley for a little extra color, if desired.)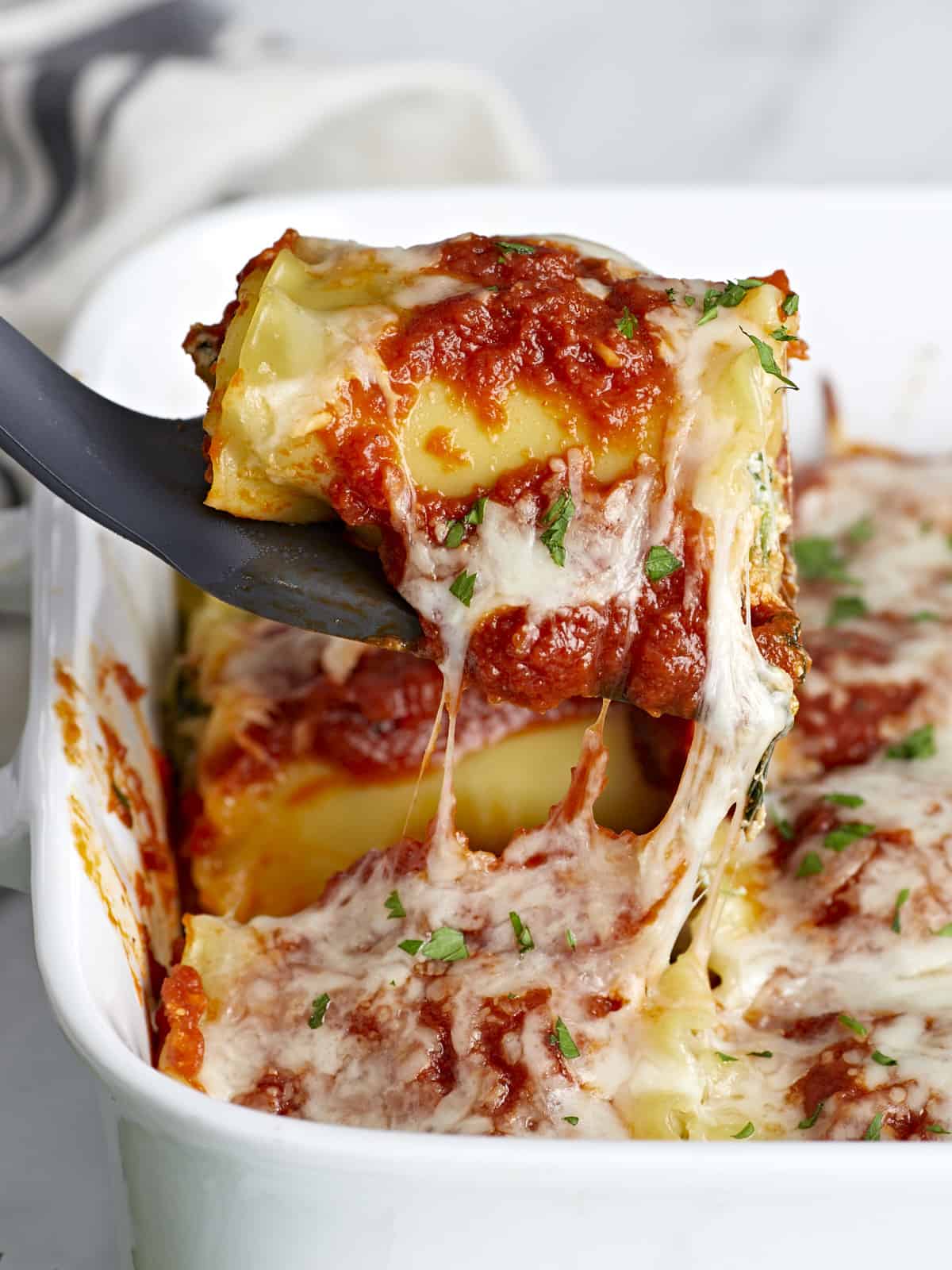 The post Lasagna Roll Ups appeared first on Budget Bytes.