A couple of years ago I ate an appetizer at a restaurant that really wowed me — kimchi pimento cheese dip. I wouldn't have ever thought about pairing kimchi and cheese together, but ever since I had it I've been obsessed with that combo. And since kimchi and eggs also go great together, it only made sense for me to start adding kimchi to my egg and cheese quesadillas (my favorite go-to quick meal). These kimchi quesadillas are the perfect mix of flavors and textures, they're SO FAST to make, and all of the ingredients last a long time in the fridge, so they've quickly become my favorite low-effort, high-reward meal.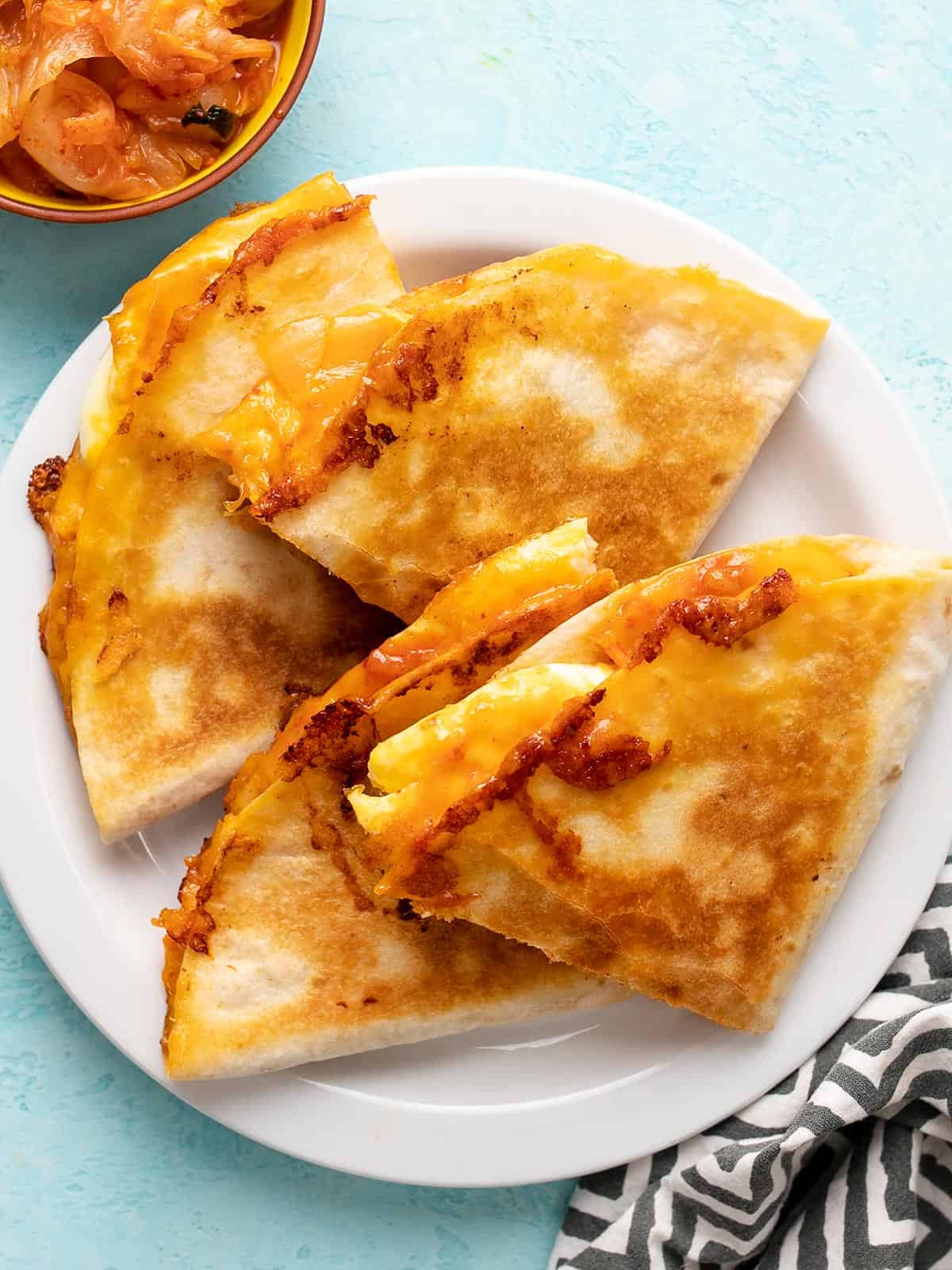 Why I'm Obsessed with Kimchi Quesadillas
These kimchi quesadillas are incredibly simple to make and only require five simple ingredients: eggs, oil or butter (to cook the eggs), tortillas, cheese, and kimchi. You can make one at a time or more, but I promise, once you eat one you're going to want seconds. 😉 The way the cheese stays gooey on the inside, crisps up with the tortilla on the outside, and the kimchi makes everything a little tangy and spicy… it's just perfection.
What is Kimchi?
Kimchi is a traditional Korean side dish made with fermented vegetables, like cabbage, radish, scallions, garlic, ginger, and sometimes other vegetables depending on the recipe. It's flavored with gochugaru (a Korean chili powder) and salted seafood. The flavor is savory, tangy, spicy, salty, and full of umami. It's served with almost every meal as a small side dish or condiment. The tangy, spicy, salty flavor of kimchi really adds a ton of flavor and dimension to whatever you eat it with, including an egg and cheese quesadilla!
Where to Find Kimchi
Although Kimchi is a staple in Korean cuisine, it is growing in popularity in the U.S. and most major grocery stores now carry at least one brand of kimchi. Because it's a fermented food containing live cultures, you'll usually find it in the refrigerated section of grocery stores, near other fermented products like yogurt, fresh sauerkraut, and pickles, or even sometimes near tofu and tempeh.
Even better yet, if you have an Asian grocery store near you, you'll be able to find several types of authentic kimchi for really good prices compared to large chain U.S. grocery stores.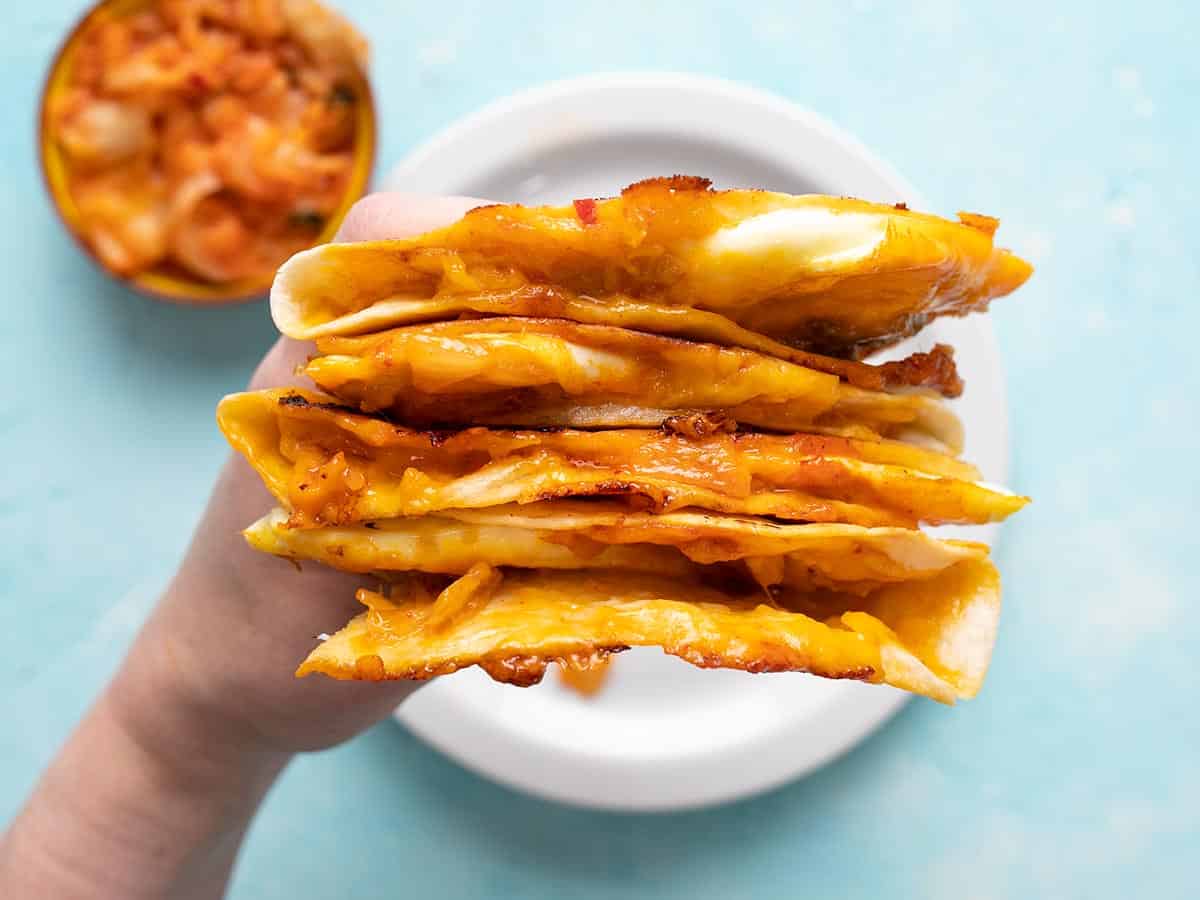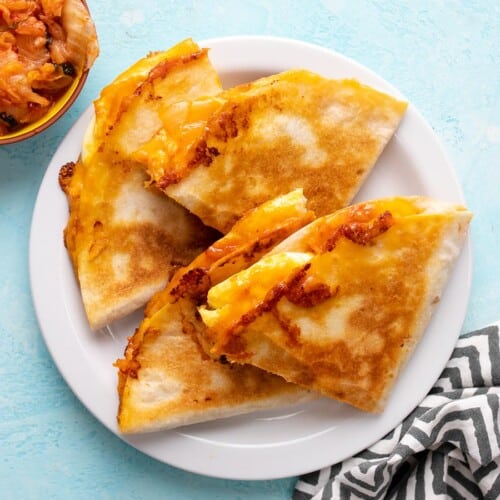 Kimchi Quesadillas
Kimchi quesadillas are an easy to make quick meal or snack that use only a few simple ingredients to pack a huge flavor punch.
Servings
2
(1 quesadilla each)
Ingredients
1/4

cup

kimchi

$0.78

1/2

cup

shredded cheddar cheese

$0.58

2

flour tortillas (8″ diameter)

$0.40

1

Tbsp

butter or oil

$0.04

2

large

eggs

$0.18
Instructions
Roughly chop the kimchi into smaller pieces. Cover half of each tortilla with shredded cheddar cheese, then add the chopped kimchi on top.

Heat a large skillet over medium, then add the butter or oil. Fry or scramble the eggs in the butter or oil until they reach your desired doneness (I like over-medium).

Transfer the cooked eggs to the tortillas, placing them on top of the kimchi. Fold the empty side of the tortilla over the filled side to close.

Transfer the folded quesadillas back to the same skillet used to cook the eggs and continue to cook over medium heat until the cheese is melted and the tortilla is browned and crispy on each side.

Slice the cooked kimchi quesadillas in half and enjoy!
See how we calculate recipe costs here.
Nutrition
Serving:
1
quesadilla
|
Calories:
331
kcal
|
Carbohydrates:
16
g
|
Protein:
16
g
|
Fat:
23
g
|
Sodium:
593
mg
|
Fiber:
1
g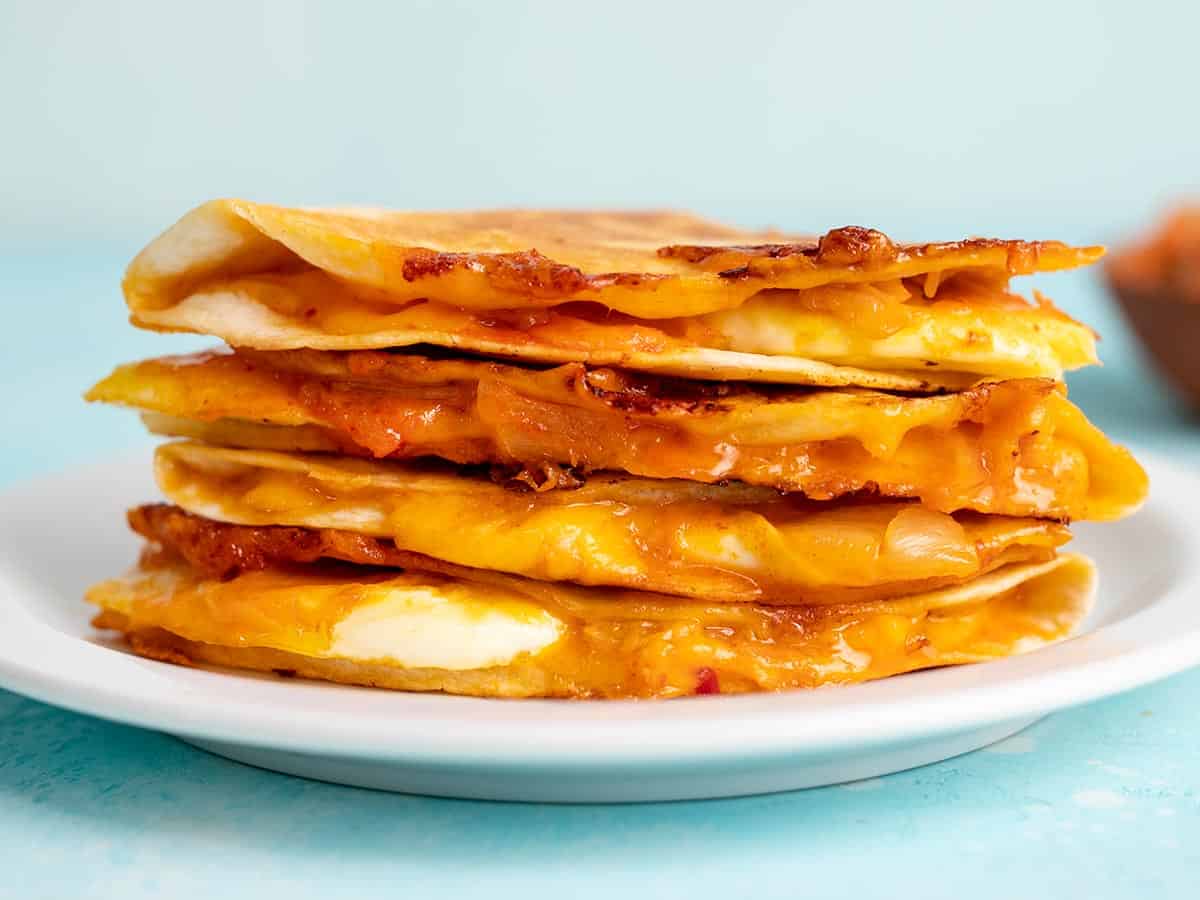 How to Make Kimchi Quesadillas – Step by Step Photos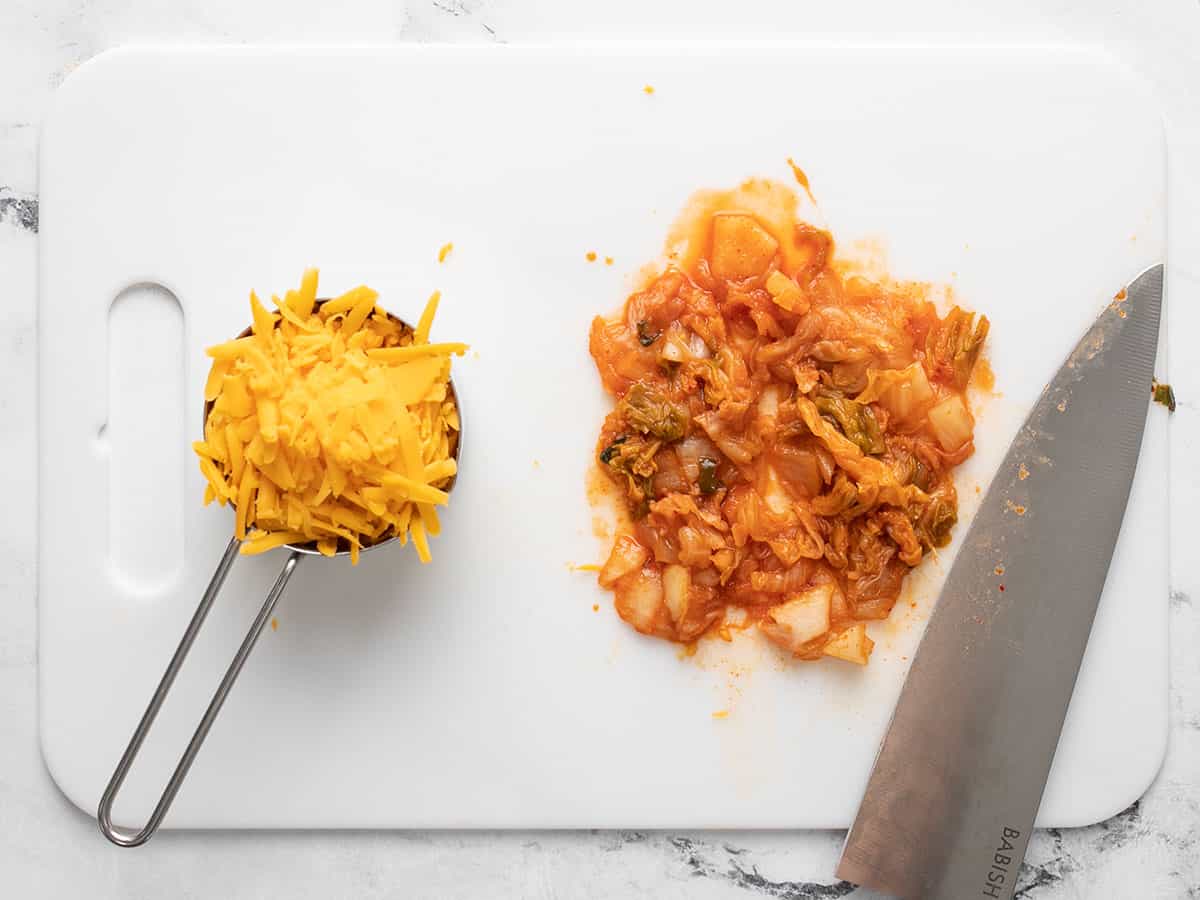 To make two kimchi quesadillas, roughly chop ¼ cup of kimchi into smaller pieces. Measure ½ cup of shredded cheddar cheese.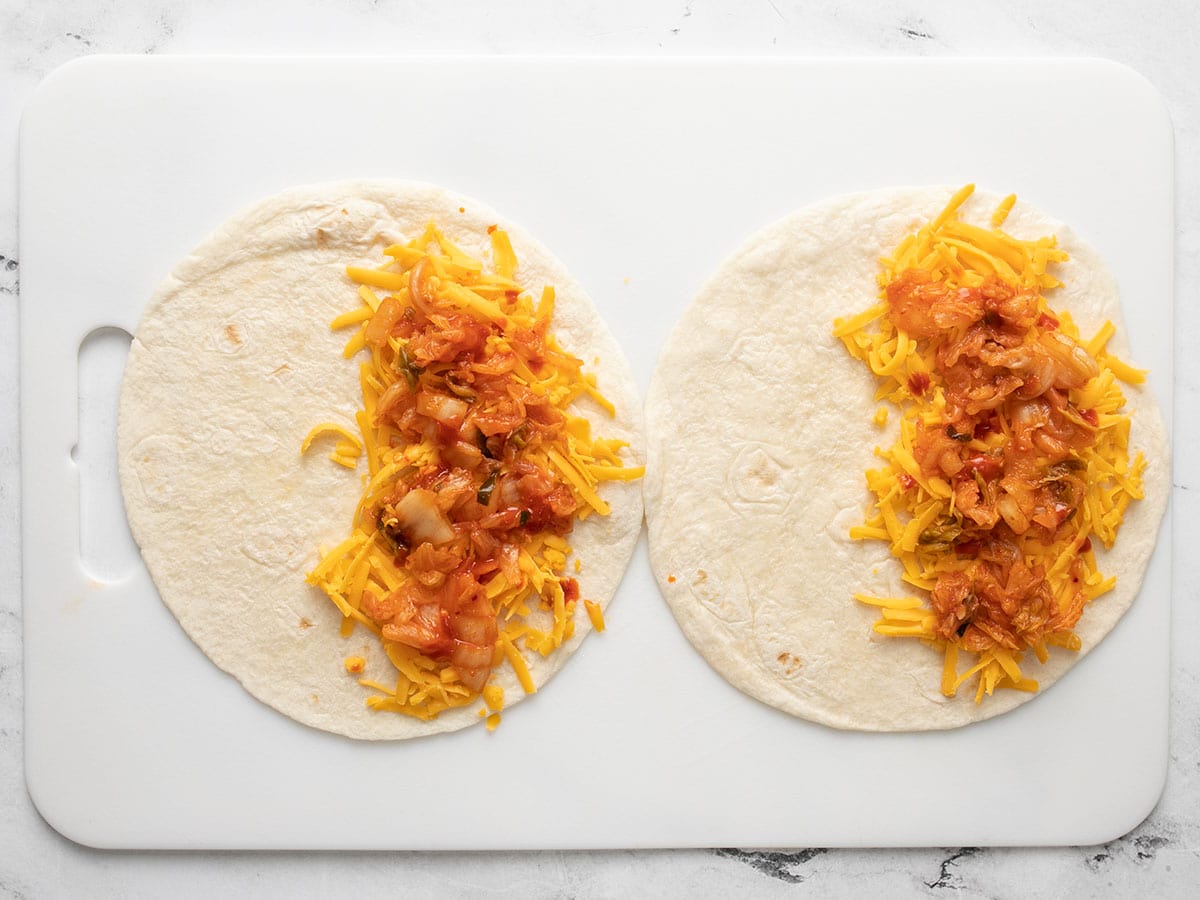 Divide the cheese and kimchi between two 8-inch flour tortillas, covering only one side of each tortilla (the empty side will be folded over top to close).
Next, fry two large eggs in a skillet with a tablespoon of oil or butter. I like to fry my eggs over medium for quesadillas, but you could also scramble them if that's easier.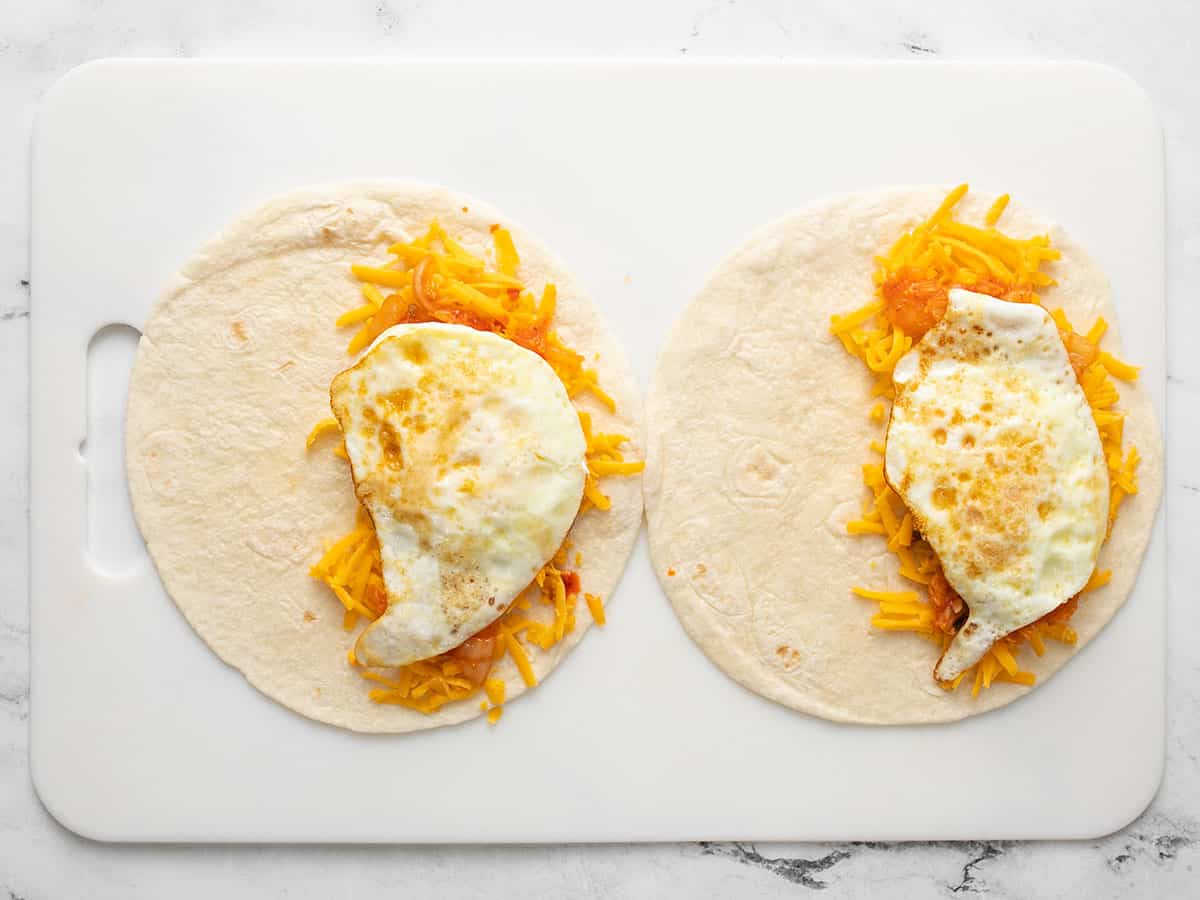 Place one fried egg on top of the cheese and kimchi in each quesadilla. Fold the empty half of the tortilla over the filled side to close.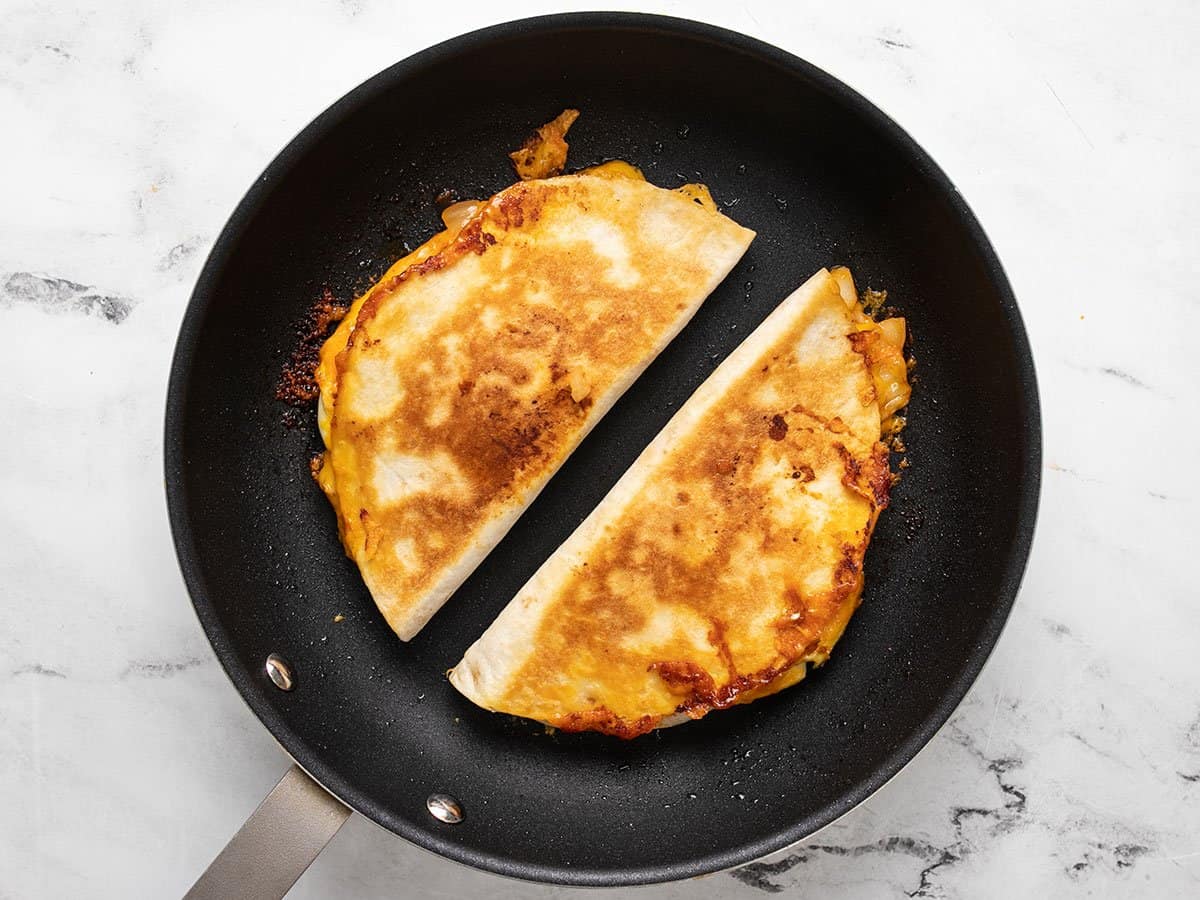 Return the folded quesadillas to the skillet used to cook the eggs and continue to cook over medium heat until the cheese is melted and the tortillas are golden brown and crispy on each side. Don't worry if some of the cheese spills out, that will just create extra crispy goodness!
Transfer the cooked quesadillas to a cutting board, slice in half, and enjoy! To keep the filling from spilling out when you cut them, use a pizza cutter or large knife and cut from the outside edge in toward the folded side.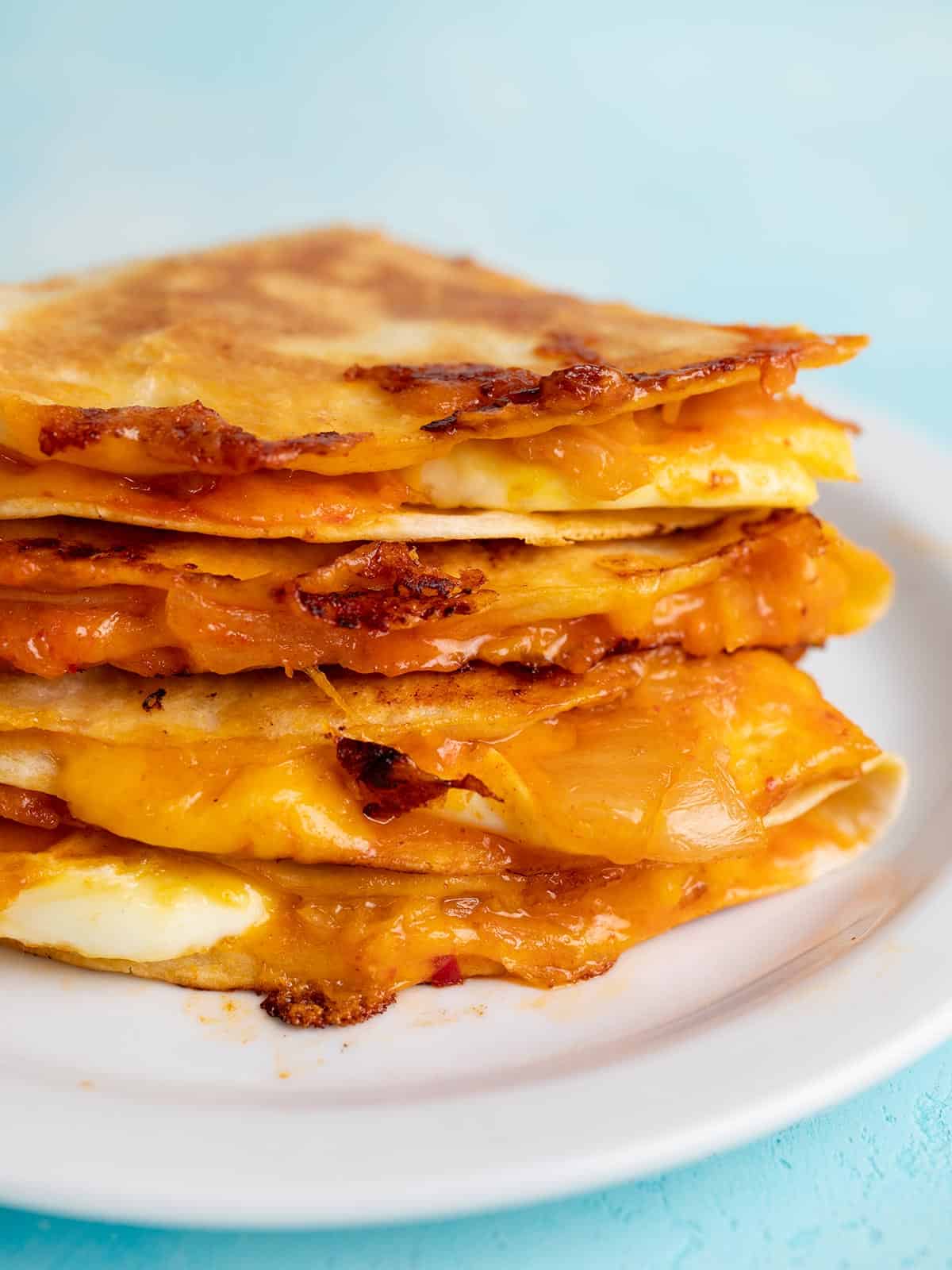 Soooo cheesy, sooo tangy!
The post Kimchi Quesadillas appeared first on Budget Bytes.