Kapustnyak, or Kapusniak, is one of the heartiest soups I know! It is sharp, smokey and comforting, a great soup to enjoy at the end of a long day. Ukrainians took advantage of inexpensive, widely available and highly nutritious fresh or fermented cabbage and made a lot of dishes with it.
I grew up eating this soup every few weeks. Grandma made it with sauerkraut stored in barrels for winter and whatever pork meat or soup bones she had on hand. I always enjoyed a bowl of Kapustnyak with a dollop of sour cream and a slice of crusty bread, and I don't know anyone who didn't love it. I hope you like it too!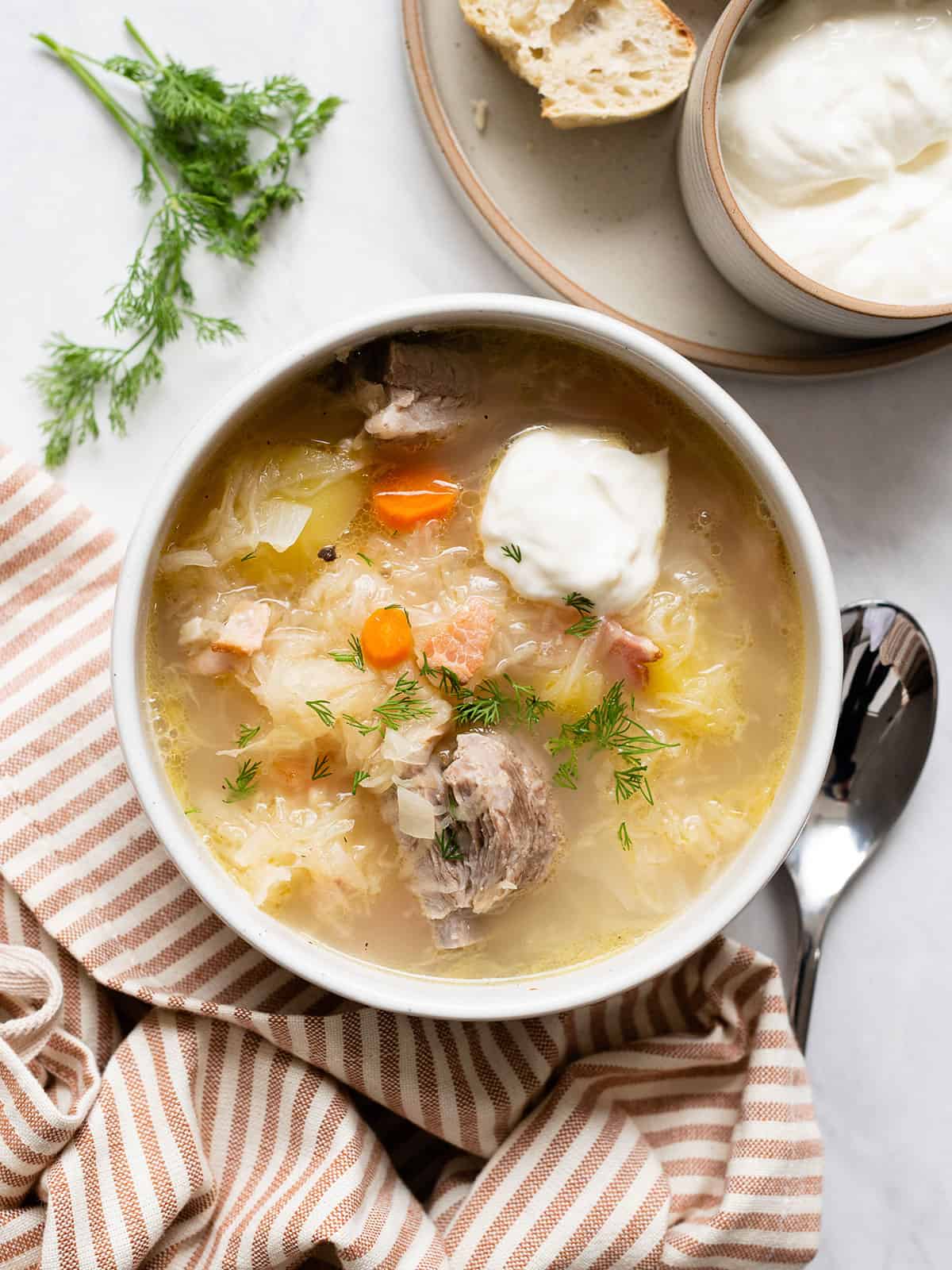 What is Kapusniak?
Kapustnyak is a hearty Ukrainian sauerkraut soup with pork and vegetables. It is a very rich, dense, and delicious dish that even picky eaters love.
The main ingredients in kapustnyak are sauerkraut and pork. Then various root vegetables like onion, carrot, potatoes, and garlic are added. In Ukraine, we ate soup every day year-round.  Kapustnyak is more of a winter soup because fresh produce is not available during colder months. Rather everyone had cold storage full of root veggies and pickled goods including sauerkraut. 
Kapustnyak is seasoned very simply. In Central Ukraine, we used "salo", cured with salt pork fat similar to bacon or lard, to saute the veggies in. It adds an immense amount of flavor along with cooked pork and broth. Then we add garlic, salt, pepper and dill. Also the juices from sauerkraut add a ton of flavor to the broth.
There are a few other versions of Kapustnyak. One of them is thickened with a roux of butter and flour, resulting in a thick broth. Zaporizhzhian kapustnyak contains millet. Another variation is to add white beans.
What kind of meat can be used in Kapusniak?
If pork ribs are not available, you can use any cut of pork, like pork chops, in their place. Kielbasa would also taste good, but that would be more like the Polish version of kapustnyak.
If ribs are too expensive, 6-7 slices of bacon is another great option. It will add a good amount of pork flavor and fat kapustnyak relies on.
You can also use fewer ribs, about 1 lb., to make this recipe more budget-friendly, or even pork soup bones.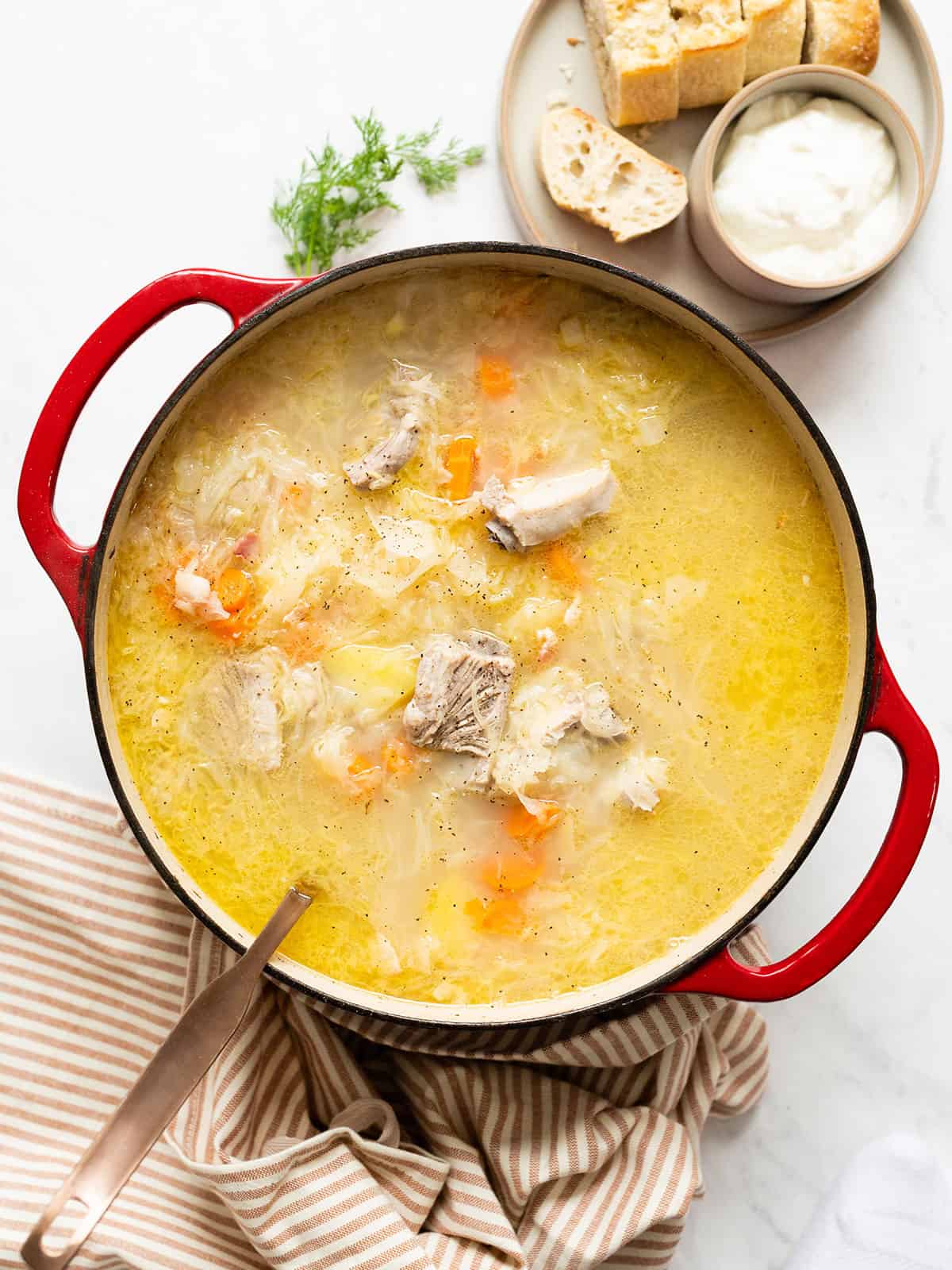 What Kind of Sauerkraut to Use
Make sure to buy regular sauerkraut, also known as German sauerkraut, in regular grocery stores. Ingredients should be "cabbage and salt". Do not buy sauerkraut in white wine. There is no need to rinse or drain the sauerkraut. Use all the juices for maximum flavor.
What else can you add to Kapusniak?
Here are some other great ingredients that you can add to kapustnyak to take it to the next level:
Allspice: In some regions in Ukraine add 1/2 to 1 teaspoon of allspice.
Thicker soup: It is common to see an addition of 2 tablespoons of millet, a bit of mashed potatoes, or all-purpose flour to thicken the soup.
Fresh cabbage: Some people like to add 1-2 cups of shredded raw green cabbage to make it taste fresher and resemble borscht. 
Fresh parsley: If you don't have fresh dill, feel free to use fresh parsley. I do not recommend using dried dill weed as its taste is very strong and bitter. In Ukraine, it is used mostly for pickling. Or omit fresh herbs altogether, soup will be delicious anyways!
What to serve with Kapusniak
Serve kapustnyak very warm with a dollop of sour cream and a slice of rye bread or fresh crusty bread like a baguette. This hearty soup is a meal on its own!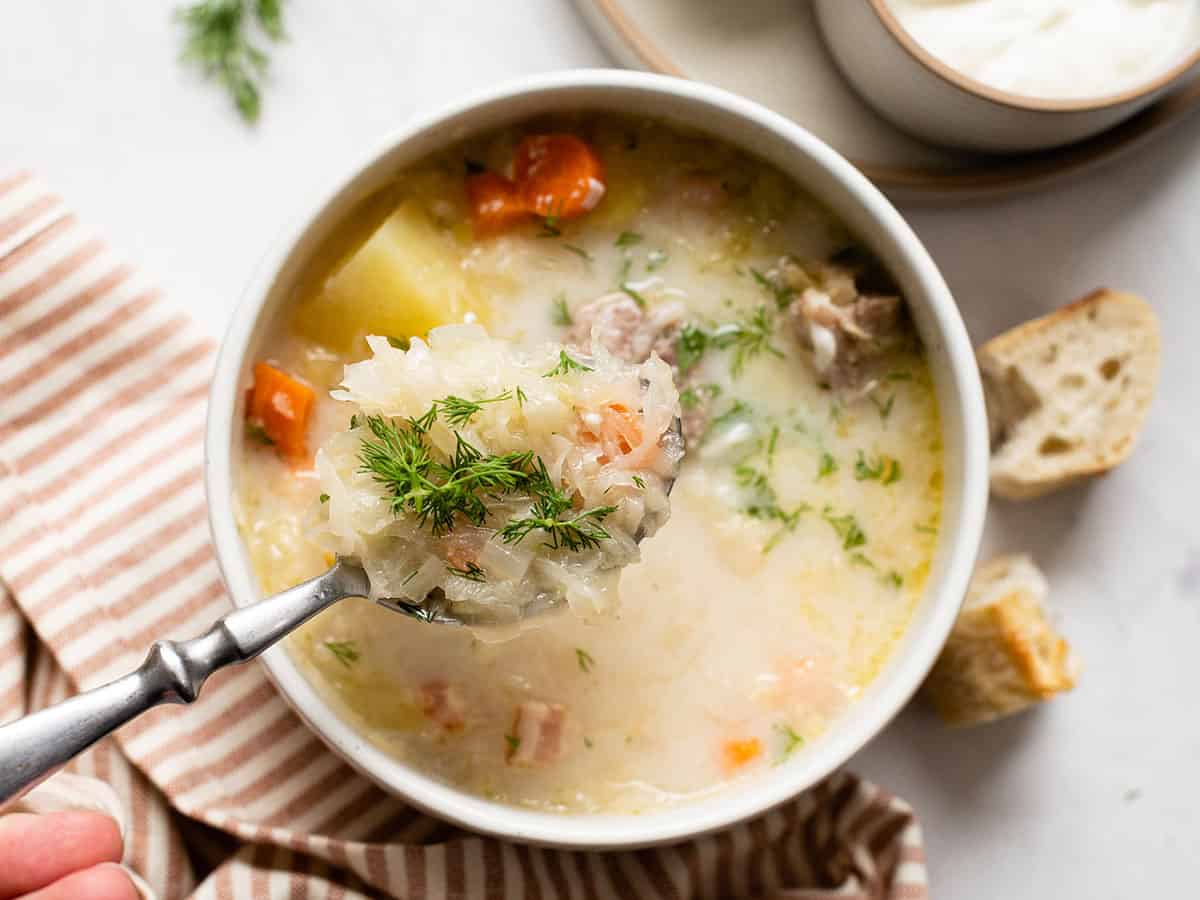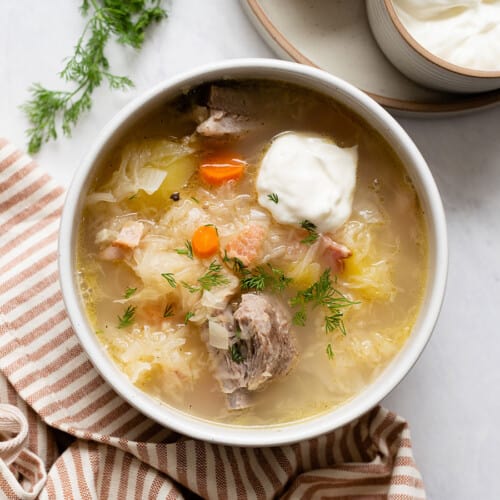 Kapusniak
Kapusniak is a hearty and budget-friendly soup made with sauerkraut, vegetables, and pork. It's the perfect warm and cozy bowl for winter!
Servings
10
1.5 cups each
Ingredients
2

lbs.

pork short ribs or pork side ribs

$5.98

12

cups

water

$0.00

3

bay leaves

$0.45

2

slices

bacon*

$0.80

1

large

yellow onion, chopped

$0.37

2

large

carrots, chopped

$0.29

4

large

potatoes, peeled and cubed (2″ cubes)

$1.19

4

cups

sauerkraut (or one 28oz. jar)

$1.74

1

tsp

salt (or to taste)

$0.05

1/2

tsp

freshly ground black pepper

$0.03

1

Tbsp

fresh dill (optional)

$0.27
Instructions
In a large pot, add the pork ribs, water, and bay leaves. Bring the water to a boil, then reduce the heat to low, cover and simmer for 45 minutes.

Meanwhile, preheat a large skillet over medium heat and saute the bacon for 3 minutes, stirring occasionally. Add the onions and carrots, and saute for another 4 minutes, stirring occasionally. Set the bacon and vegetables aside.

Remove the pork ribs from the pot, place them on a plate, and set them aside. Add the sauteed veggies, potatoes, garlic, sauerkraut, salt, and pepper to the pot with the broth. Bring to a boil and then cook on low heat covered for 20 minutes or until potatoes are fork-tender.

Meanwhile, cut the cooled meat into small pieces. Add the chopped meat to the soup, stir, discard the bay leaves and adjust the salt to taste.

Serve the soup hot with a dollop of sour cream and a slice of rye bread or baguette for dipping.
See how we calculate recipe costs here.
Notes
*If you do not have bacon, you can use 1 Tbsp olive oil to cook the vegetables.
*Store the soup in the refrigerator for up to 5 days. 
Nutrition
Serving:
1.5
cups
|
Calories:
327
kcal
|
Carbohydrates:
31
g
|
Protein:
22
g
|
Fat:
13
g
|
Sodium:
728
mg
|
Fiber:
6
g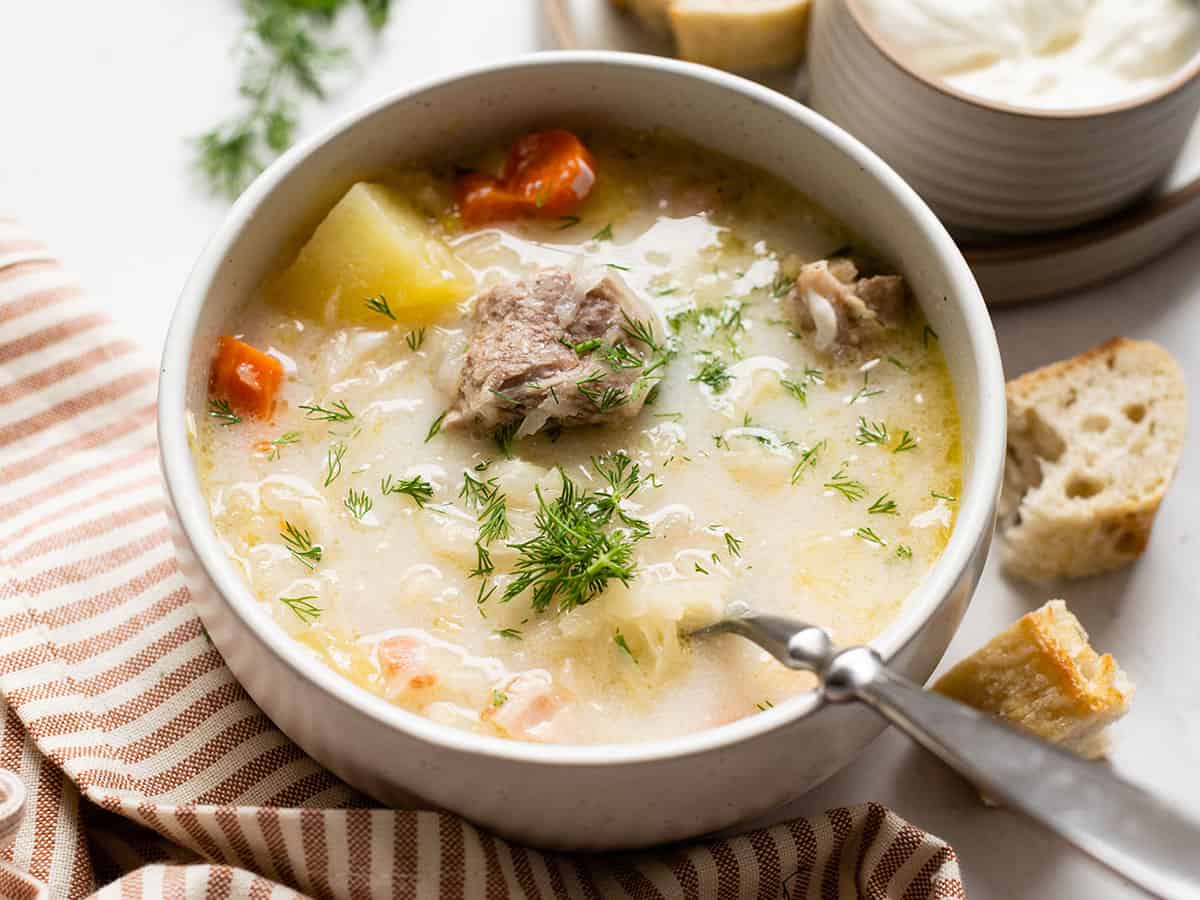 How to Make Kapusniak – Step by Step Photos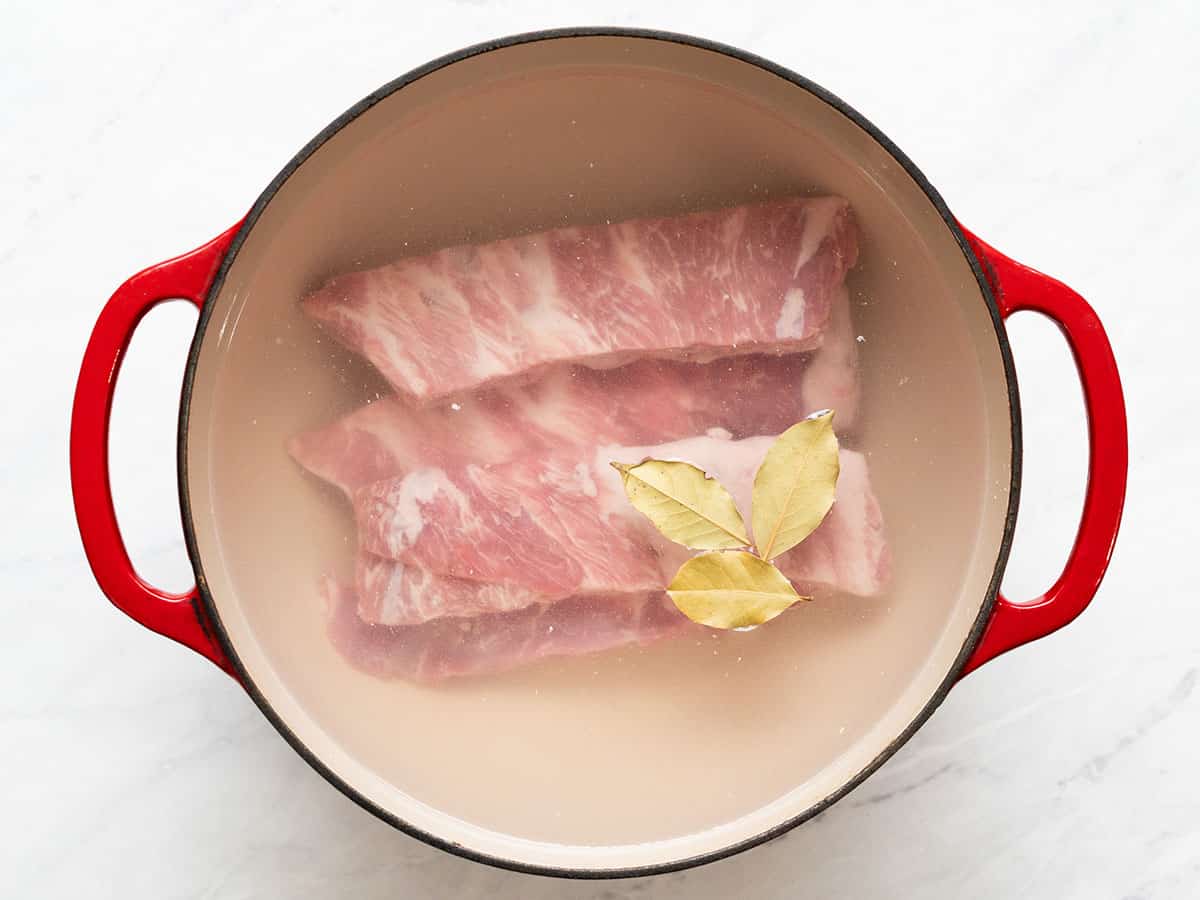 Add 2 lbs. pork ribs to a pot along with three bay leaves and 12 cups of water. Place a lid on top and bring the pot to a boil over high heat. Reduce the heat to low and let simmer for 45 minutes.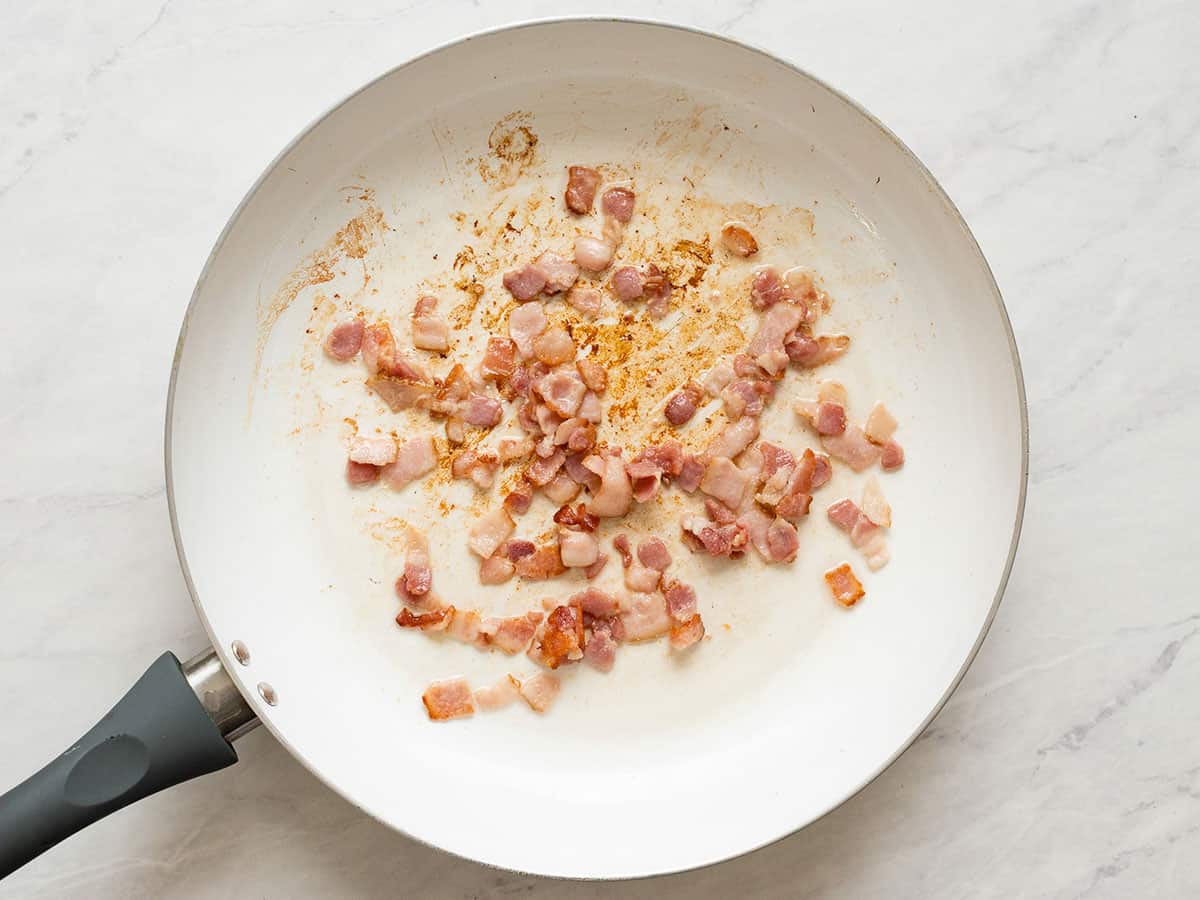 Meanwhile, chop two slices of bacon and cook in a skillet over medium heat for about 3 minutes to render some of the fat. If you don't have bacon, you can just use 1 Tbsp olive oil.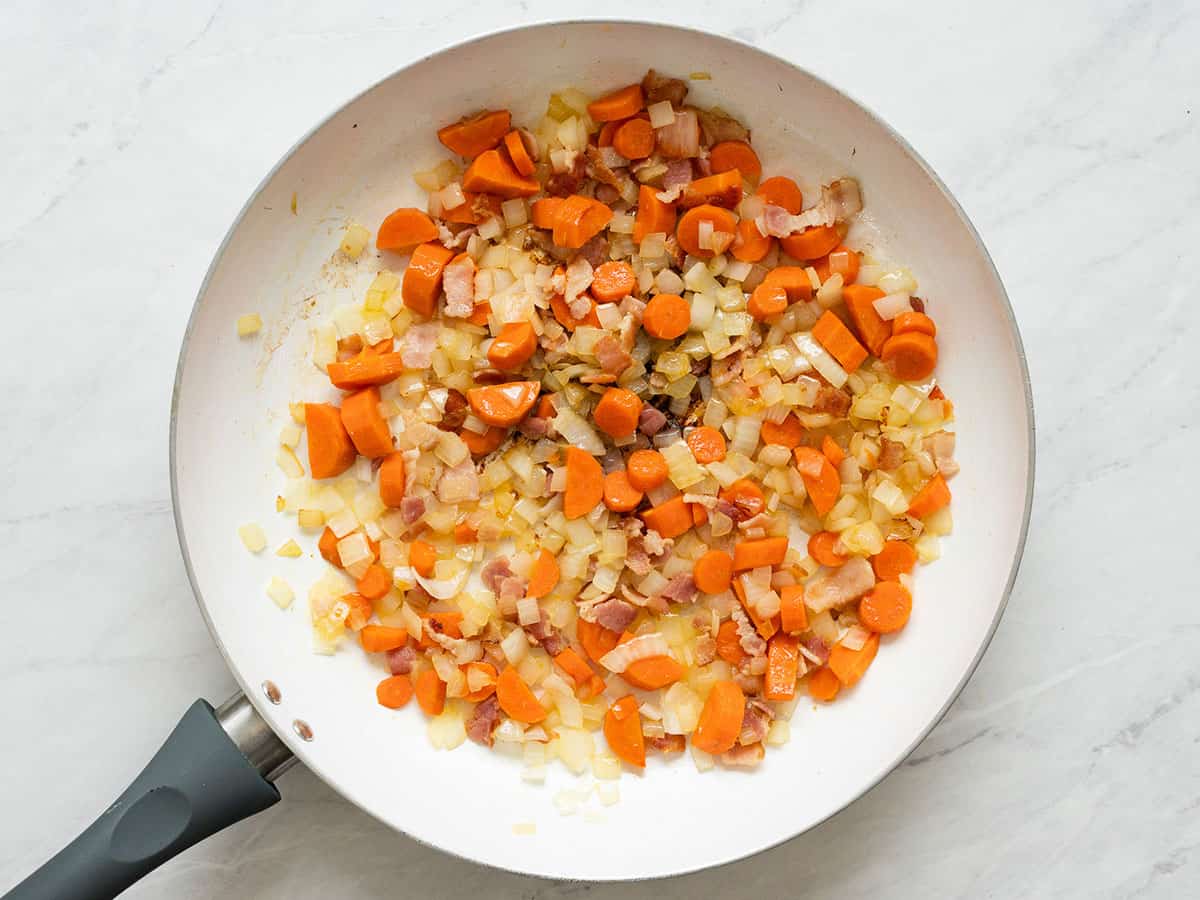 Add one large onion (diced) and two large carrots (chopped) to the skillet with the bacon and continue to sauté over medium for 4-5 more minutes.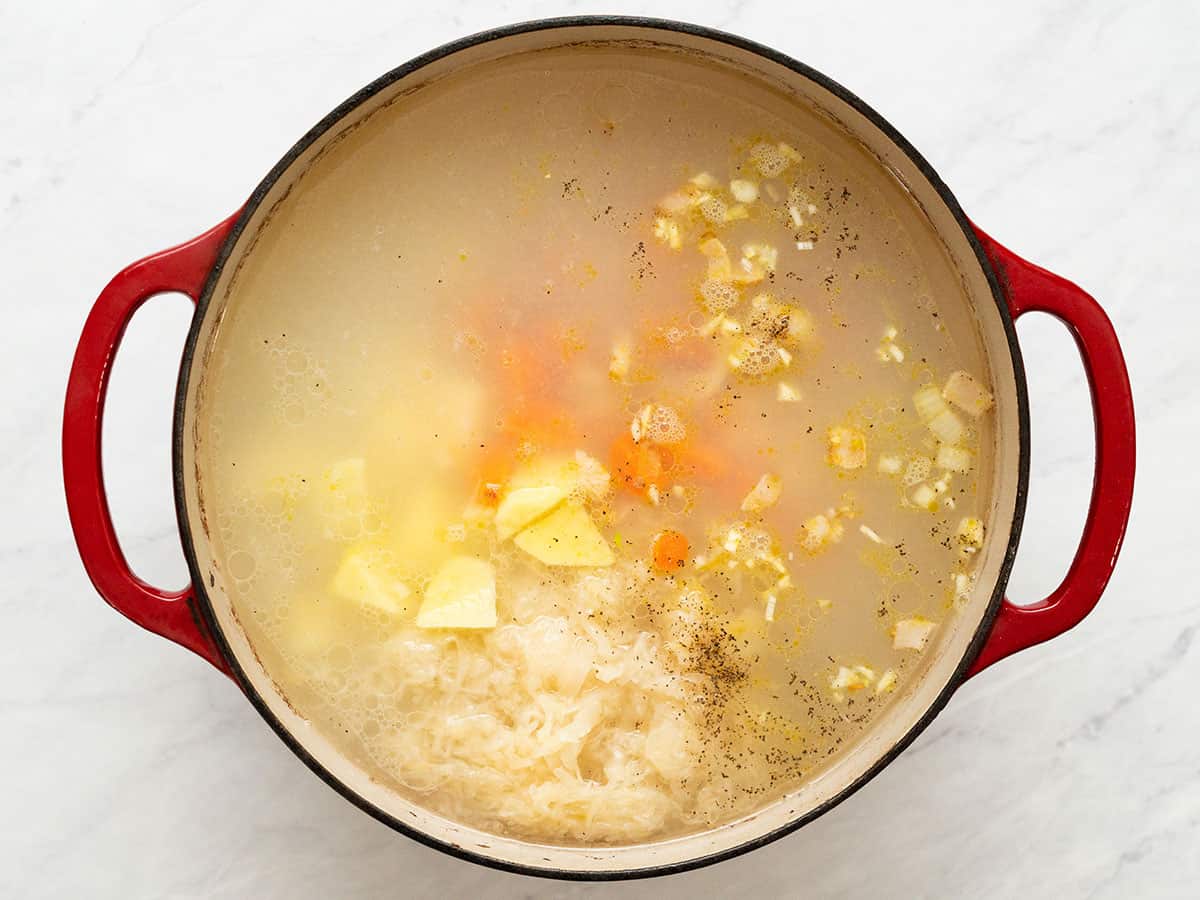 Remove the pork ribs from the pot. Add the sautéed bacon and vegetables, 4 large potatoes (cut into 2-inch pieces), 2 cloves of garlic (minced), and 28oz. sauerkraut, 1 tsp salt, and ½ tsp pepper to the pot. Place a lid on the pot and bring it to a boil over high heat, then reduce the heat to low and let simmer for 20 minutes or until the potatoes are fork-tender.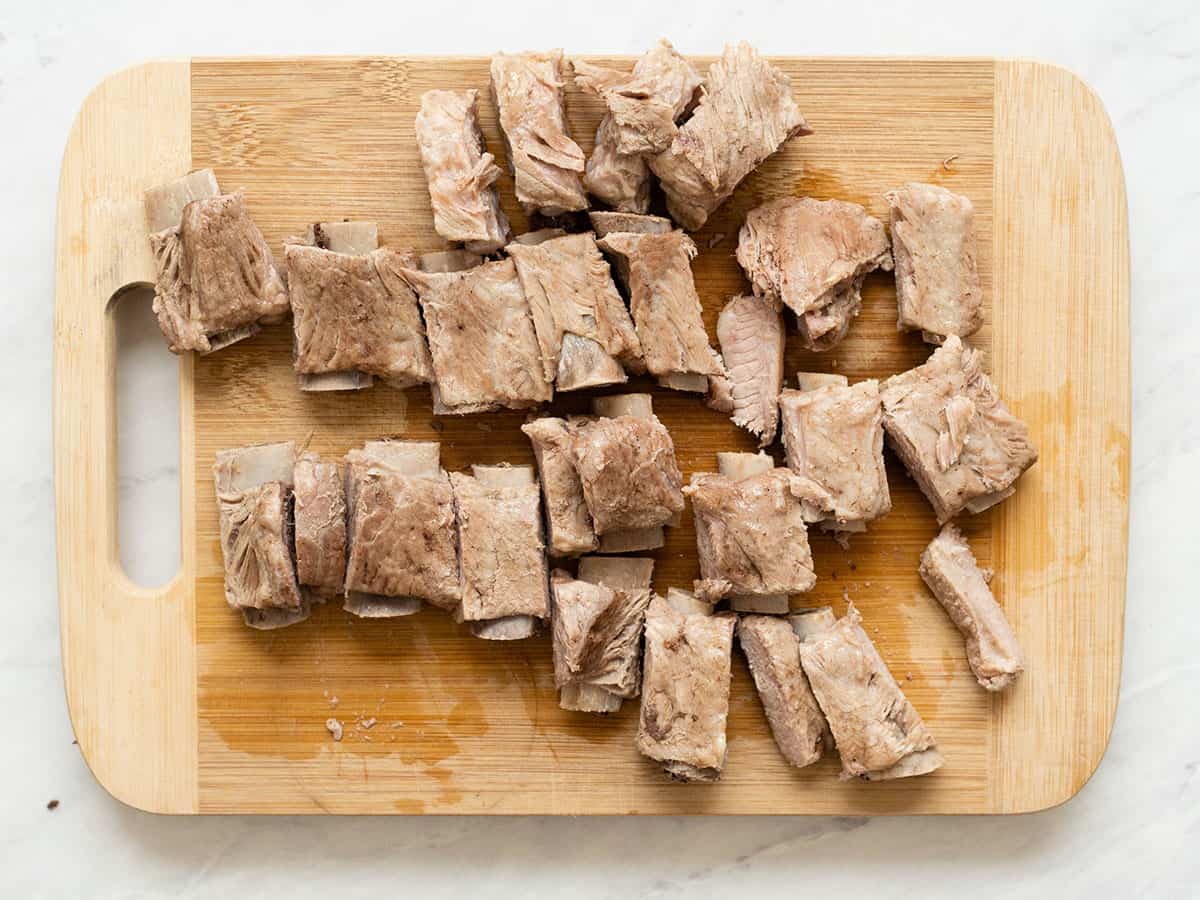 Meanwhile, cut the cooled pork ribs into small pieces.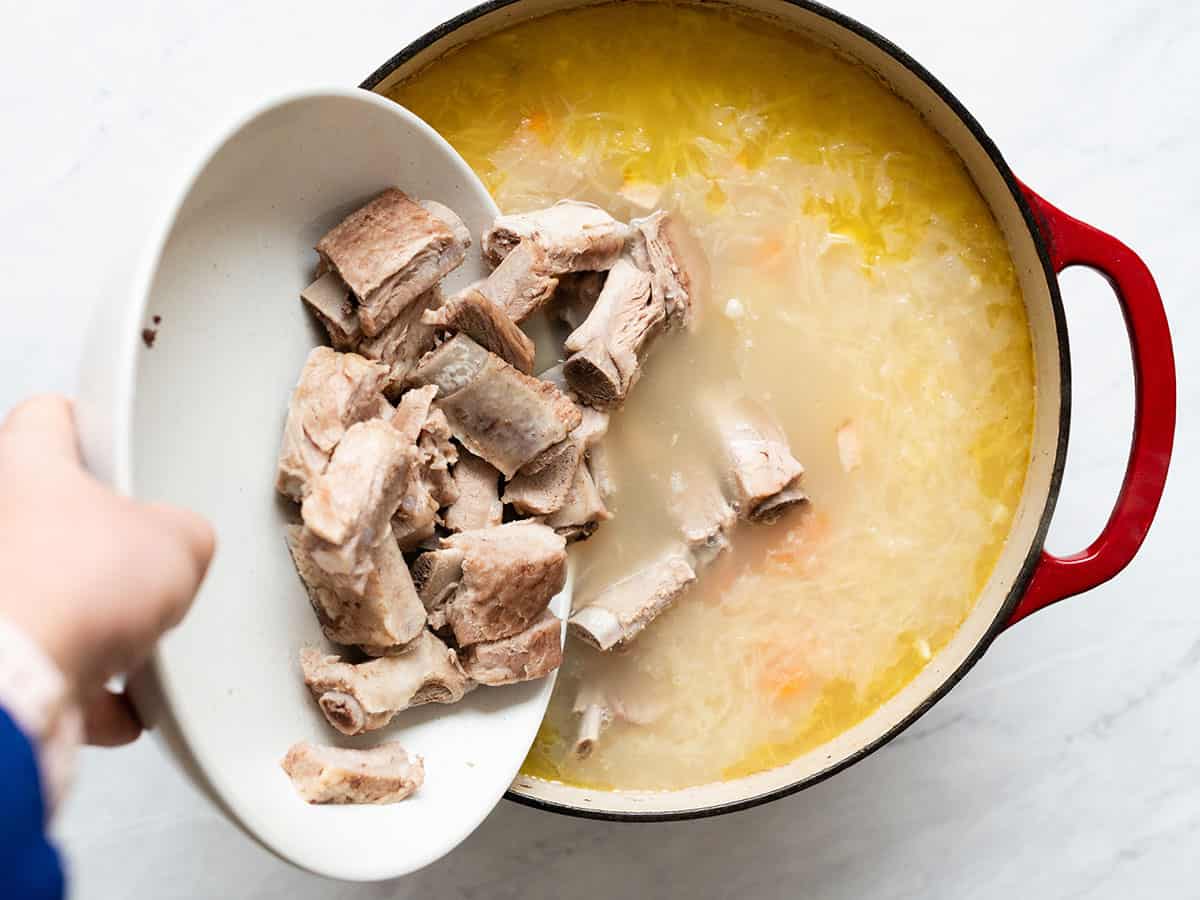 Remove the bay leaves, add the chopped pork ribs back to the soup, stir, and adjust the salt to taste, if you wish.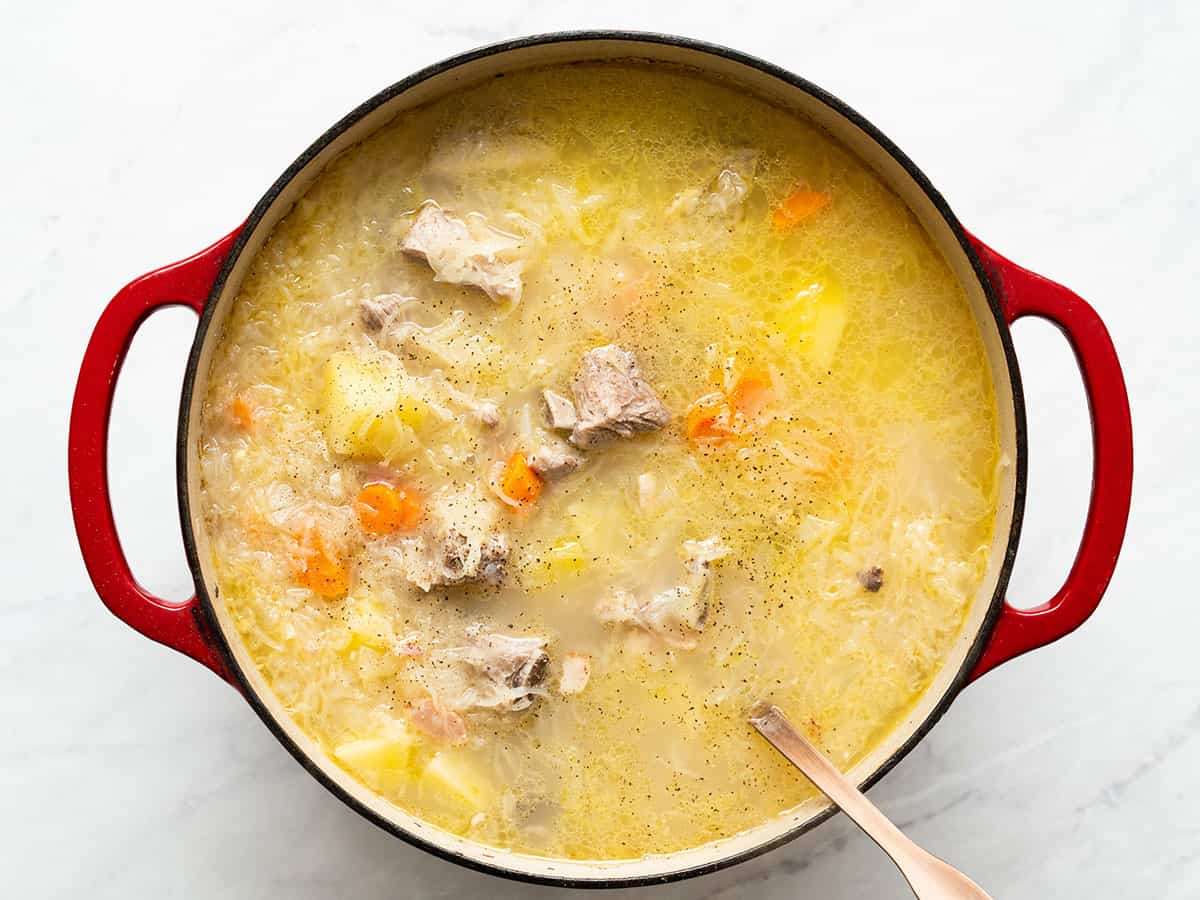 Serve the soup hot with some fresh dill, a dollop of sauerkraut, and some bread for dipping!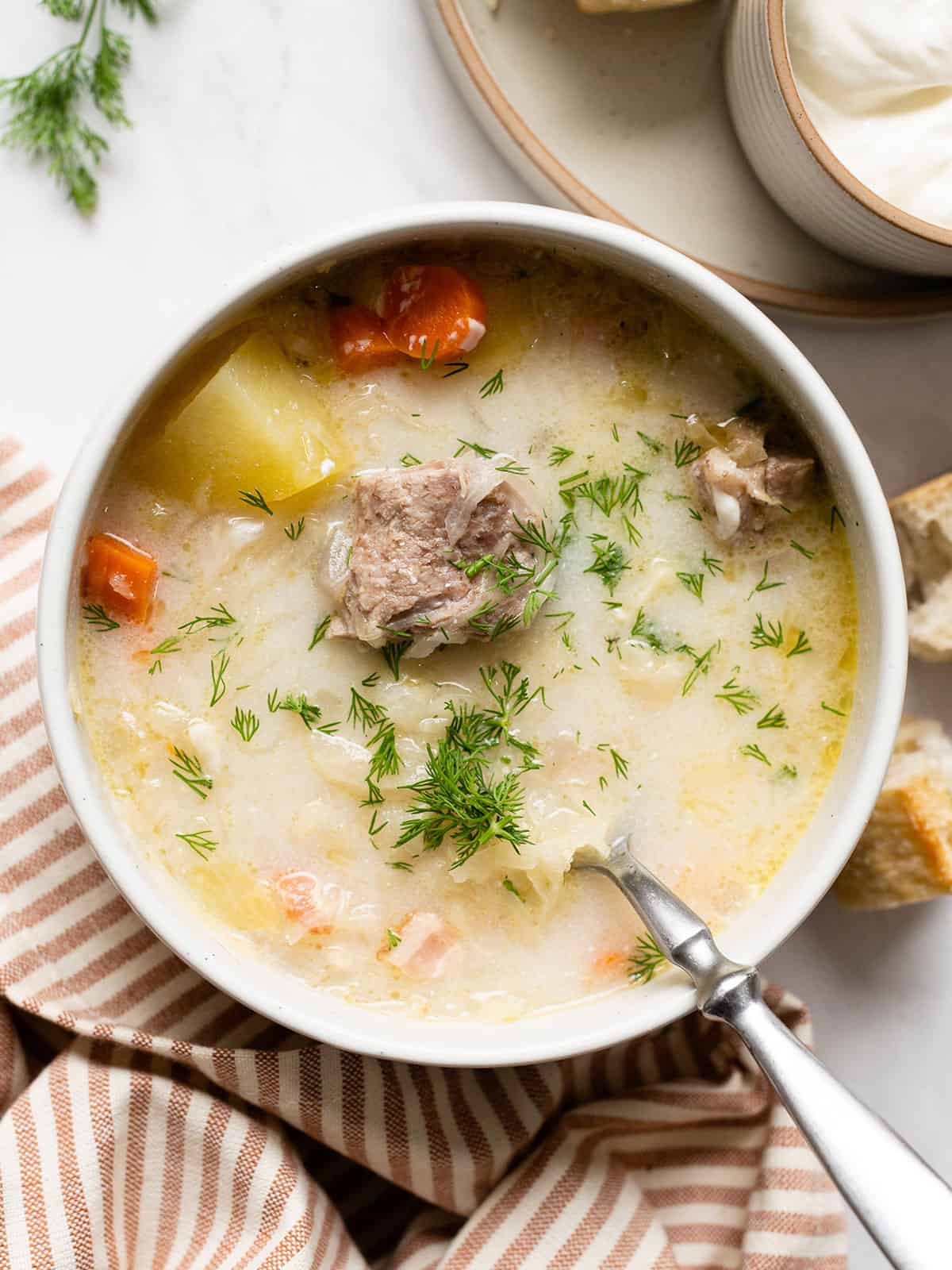 The post Kapusniak (Ukrainian Sauerkraut Soup) appeared first on Budget Bytes.