I'm always on a quest to reduce the number of half-used bottles of sauce in my fridge (the struggle is real…) Instead of buying every single sauce under the sun, I keep a few basic condiments on hand so I can make any other homemade sauce whenever I want and in whatever quantity I need. This Homemade Tartar Sauce is the perfect example. I don't eat tartar sauce often, but when enjoying homemade fish sticks it's an absolute must! It takes just a few minutes to whip up, uses only six (or less!) pantry and fridge staples, and I can make any amount that I need with NO leftovers. #win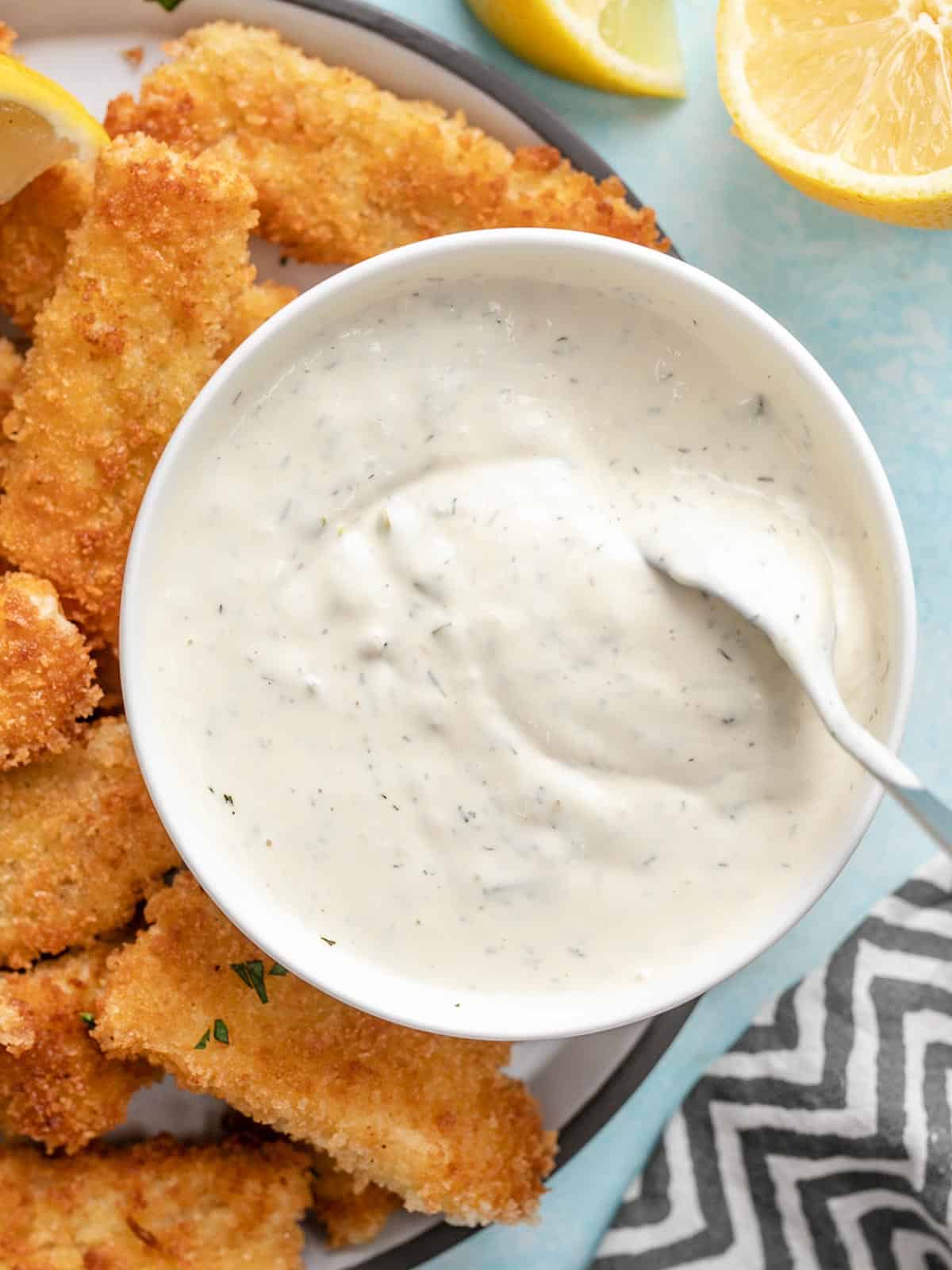 What is Tartar Sauce?
Tartar sauce is a rich and tangy mayonnaise-based sauce that is perfect for serving with any type of fish or seafood. It's incredibly simple to make, and you might just have all of the ingredients on hand!
Ingredients for Tartar Sauce
Here are the ingredients for our super easy homemade tartar sauce recipe:
Mayonnaise: This is the rich and creamy base for tartar sauce. You can use your favorite brand, but I usually lean towards Hellmann's or Dukes.
Plain Yogurt (optional): I like to do a half-and-half mix of mayonnaise and yogurt because the yogurt lightens up the sauce just a bit and makes the flavor slightly brighter. You can use all mayo if you prefer a richer sauce. You can use regular-style yogurt for a thinner tartar sauce, or Greek-style yogurt for a thicker tartar sauce.
Dijon Mustard: Dijon adds a nice tanginess to the tartar sauce, plus a little complexity to the flavor.
Lemon Juice: Lemon and fish are BFF's, so a little lemon juice in the mix helps the tartar sauce pair perfectly with the seafood and it helps cut the heaviness of the mayo.
Dill Relish: Relish gives the sauce some much-needed texture and the dill flavor goes perfectly with lemon.
Dried Dill: We're doubling down on the dill flavor with a little more dried dill. It amps up the flavor and adds a little more color to the sauce.
What Else Can I add?
This easy tartar sauce recipe is a great base that can then be modified to fit your taste buds or other ingredients you may have on hand. Try adding these ingredients to customize your tartar sauce:
Try adding a dash or two of hot sauce or a small spoonful of horseradish for some kick!
Got leftover capers? Stir them in for some extra briney flavor.
Finely diced red onion would add even more crunch and savory flavor.
Add a dash of Worcestershire sauce for some more umami.
Add a tablespoon of freshly chopped parsley for more freshness.
How to Serve Tartar Sauce
Tartar sauce is obviously great with Homemade Fish Sticks, but it's also delicious with Chicken Nuggets, Steak Fries, Garlic Butter Shrimp, or Tuna Patties. And since it's simply a lemon-dill flavored mayonnaise, it could also be used as a spread on sandwiches and wraps!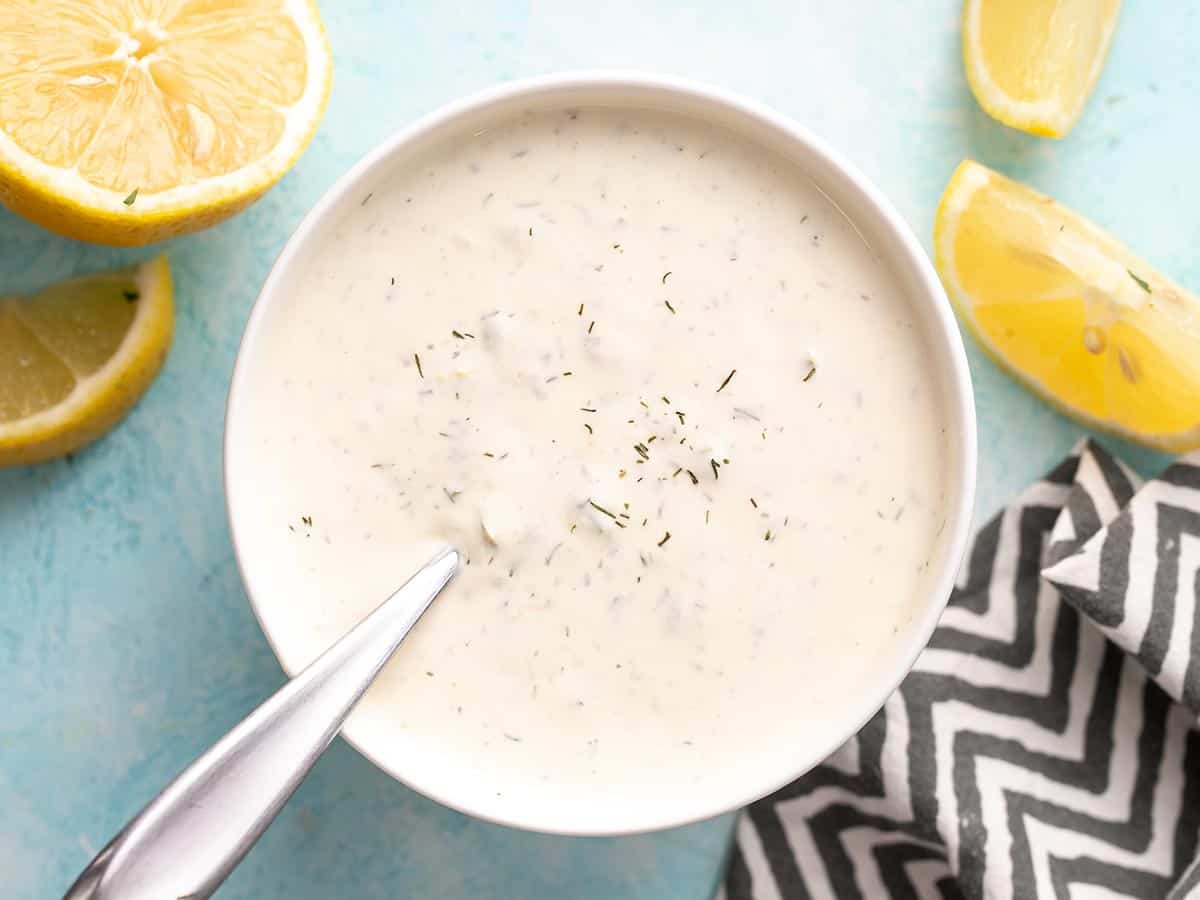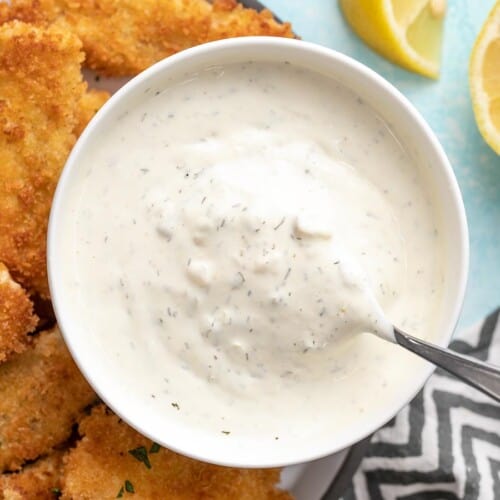 Tartar Sauce
Homemade tartar sauce is incredibly easy to make and pairs perfectly with any baked or fried fish or seafood.
Servings
5
(about ¼ cup each)
Ingredients
1/2

cup

mayonnaise

$0.67

1/4

cup

plain yogurt*

$0.53

1/4

cup

dill relish

$0.32

1

Tbsp

Dijon mustard

$0.02

1

Tbsp

lemon juice

$0.06

1/2

tsp

dried dill

$0.05
Instructions
Add all of the ingredients to a bowl and stir to combine. Serve immediately or refrigerate for up to five days.
See how we calculate recipe costs here.
Notes
*You can use regular style yogurt for a thinner sauce, or Greek style yogurt for a thicker sauce. Or, substitute with more mayonnaise for an ultra rich and thick tartar sauce.
Nutrition
Serving:
0.25
cup
|
Calories:
174
kcal
|
Carbohydrates:
4
g
|
Protein:
1
g
|
Fat:
17
g
|
Sodium:
314
mg
|
Fiber:
0.3
g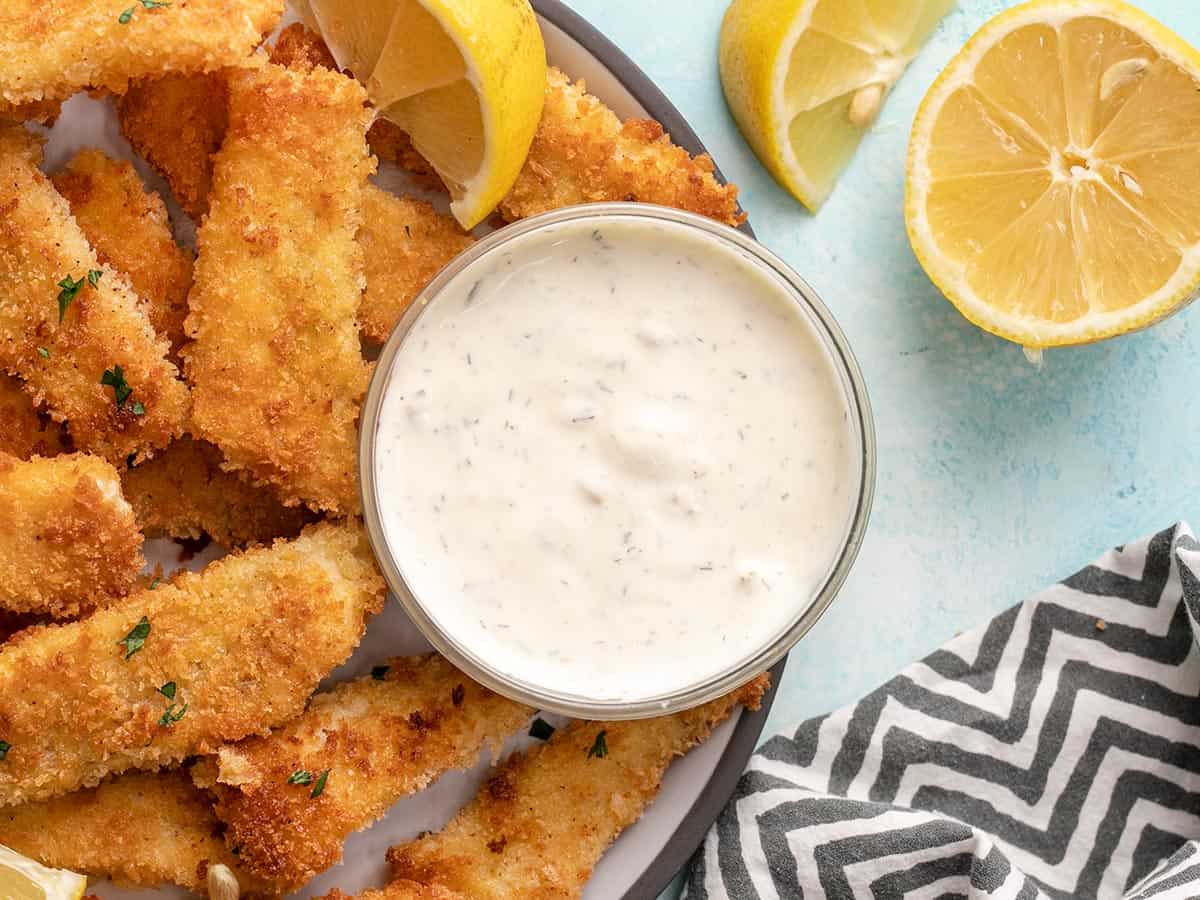 How to Make Tartar Sauce – Step By Step Photos
All you have to do to make tartar sauce is stir together ½ cup mayonnaise, ½ cup plain yogurt (or just do 1 cup total mayonnaise), ¼ cup dill relish, 1 Tbsp Dijon mustard, 1 Tbsp lemon juice, and ½ tsp dried dill.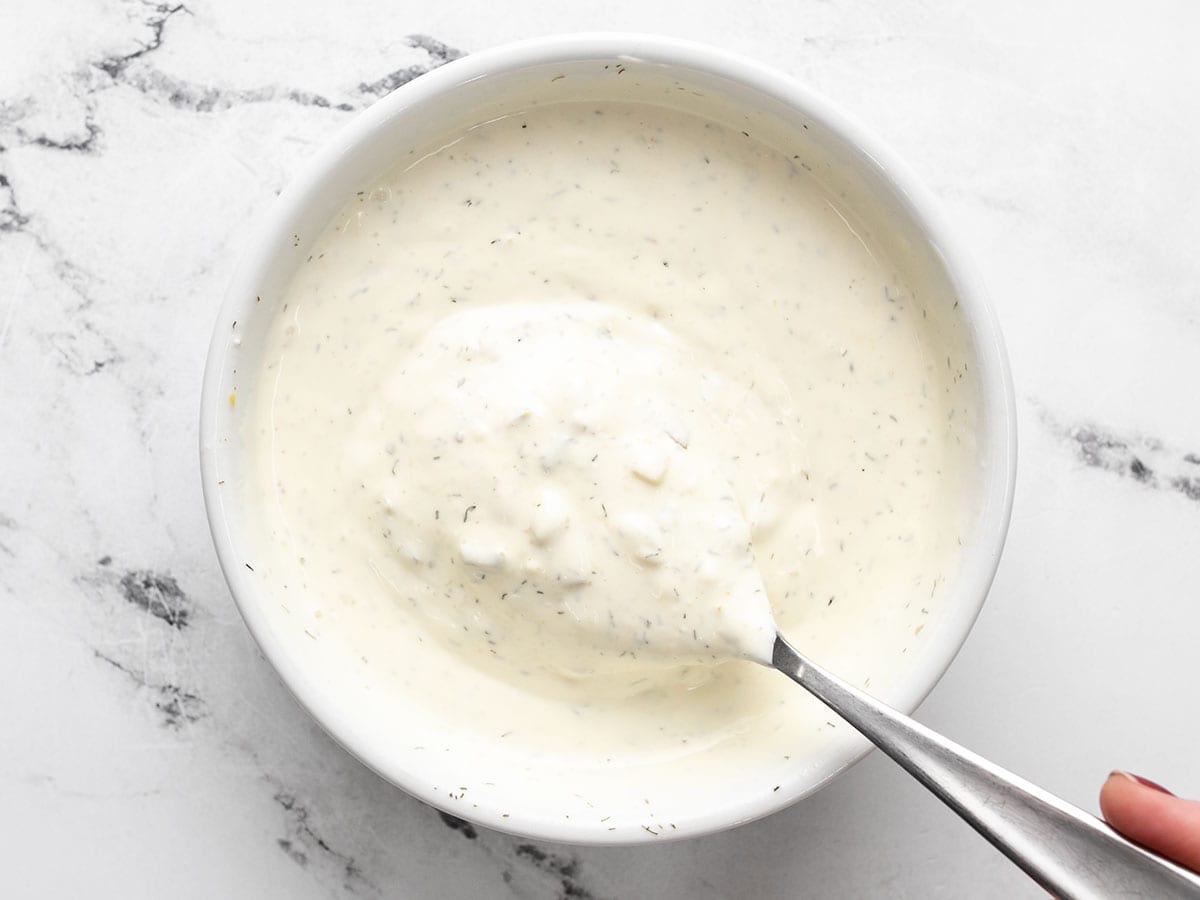 Stir it all together and you're good to go! You can store this sauce in the fridge for up to five days. If you prefer a thicker tartar sauce, use Greek-style yogurt, or skip the yogurt and use all mayonnaise.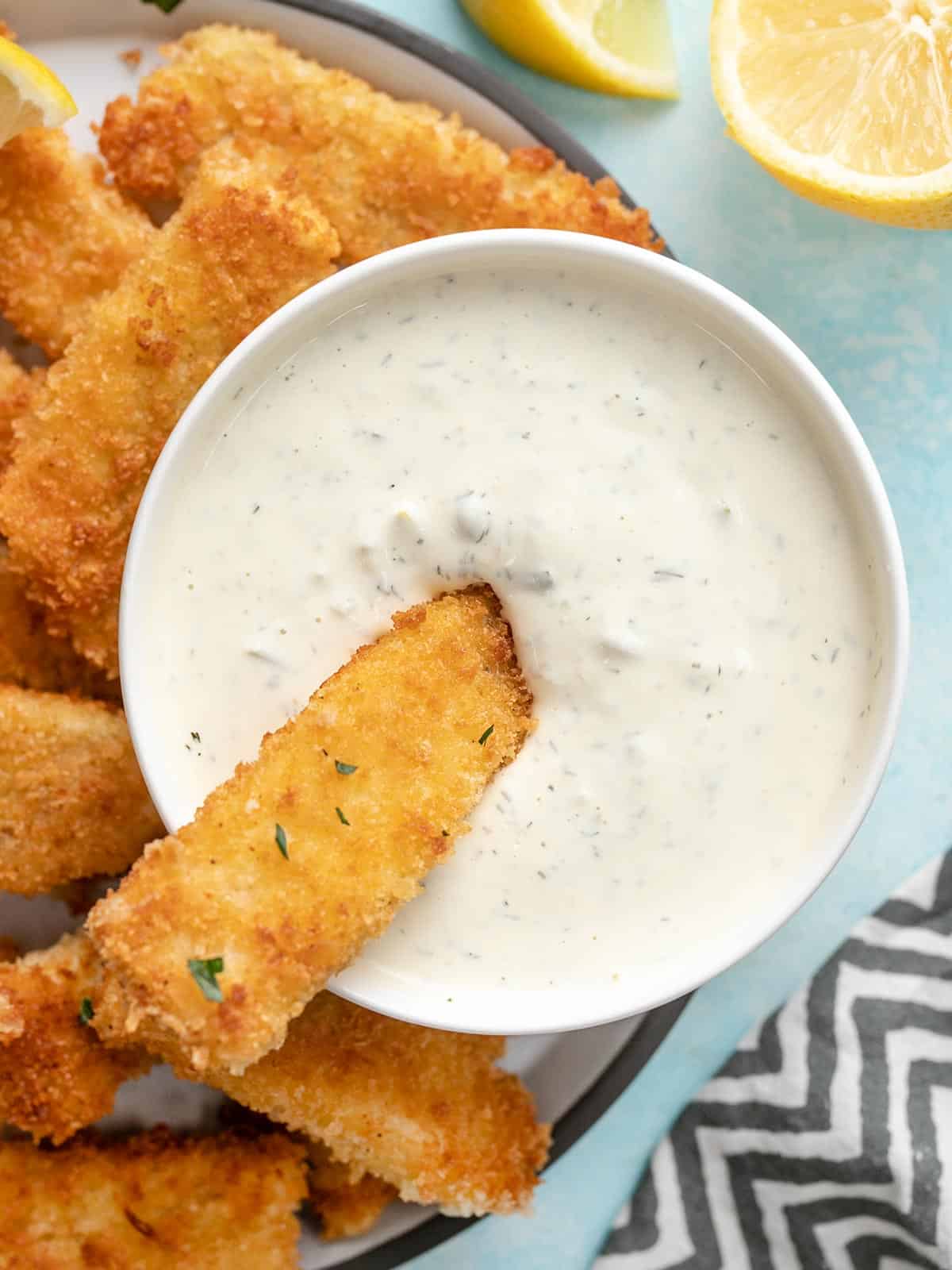 Serve with your favorite seafood, roasted vegetables, or even as a sandwich spread!
The post Homemade Tartar Sauce appeared first on Budget Bytes.