Garlic bread makes every meal better, especially if it's this buttery, crispy, extra garlicky homemade garlic bread. I've been obsessed with this garlic bread for years now and probably make it more often than I should. Why? Because it really couldn't be easier to make, it's SO good, and it's very freezer-friendly so you can keep some on hand for whenever that garlic bread craving hits. …Which for me is pretty much every night. 😏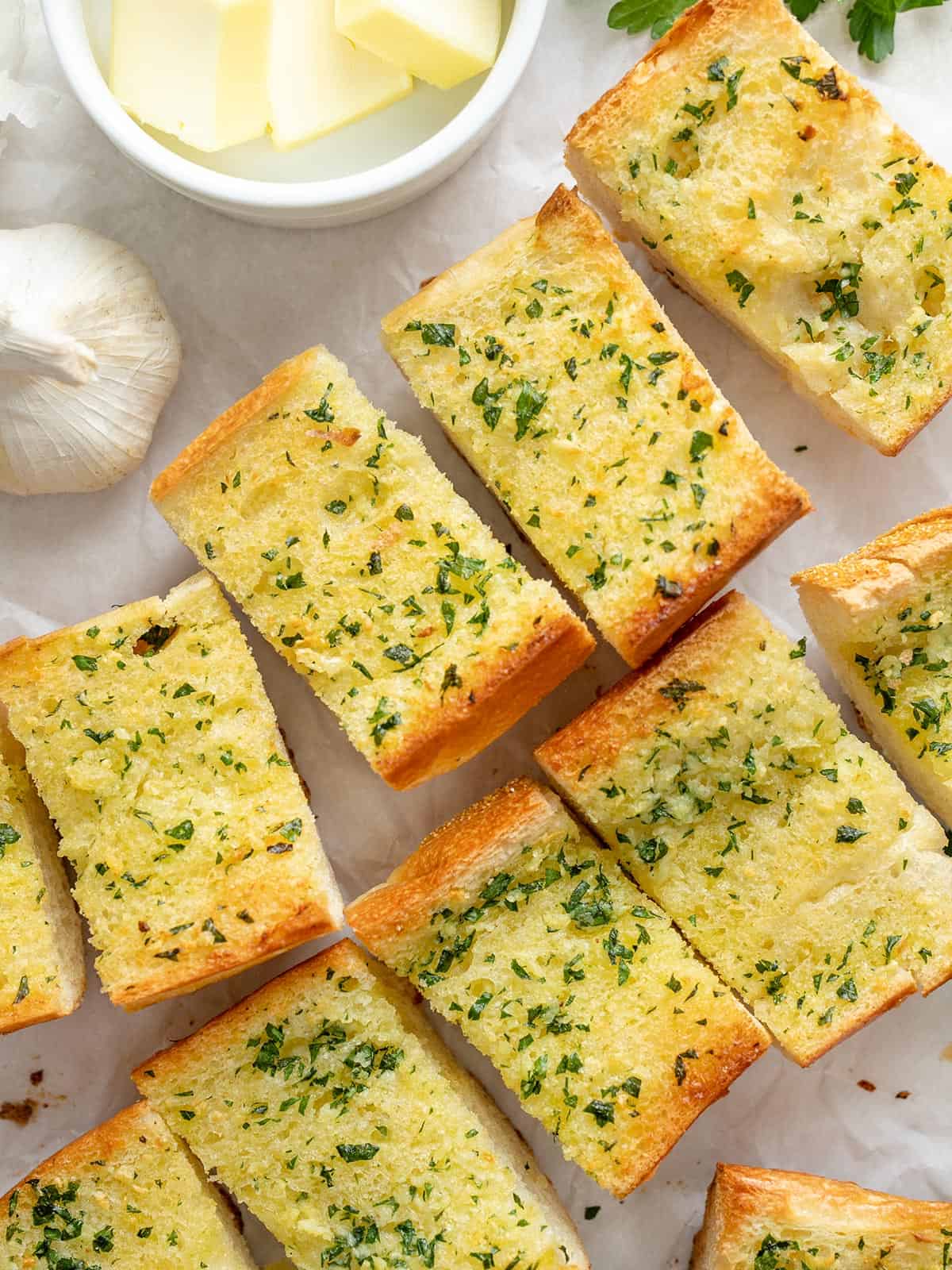 What Do You Need to Make Garlic Bread
Homemade garlic bread with real butter and fresh garlic is incredibly simple to make and so much better than what you'll find in the freezer aisle at the grocery store. Here's what you'll need to make my absolute favorite garlic bread:
Bread: The best bread for homemade garlic bread, IMHO, is a large soft loaf of French bread or Italian bread. It soaks up the garlic bread well without getting too tough or crispy as it bakes. While I do generally love baguettes, they tend to get really hard and don't soak up the butter as readily as a slightly softer loaf.
Butter: Salted butter is the vehicle for all that garlicky flavor and makes the bread extra rich and delicious. You can use unsalted butter if you have it, but you'll need to add extra salt to the garlic butter mixture to make sure all the flavors pop!
Olive Oil: A little bit of olive oil helps make the olive oil more spreadable AND helps keep the butter from browning quite as fast while it bakes.
Fresh Garlic: What would garlic bread be without fresh garlic?? Fresh garlic helps keep the garlic flavor front and center with a nice punchy finish.
Garlic Powder: A little bit of garlic powder in addition to the fresh garlic adds a really deep garlicky base note, so you're getting a full one-two garlic punch!
Parsley: Fresh parsley adds a little bit of freshness to cut through the rich butter and strong garlic flavor, plus it adds a pretty splash of green color. You can skip the parsley if you don't have any on hand.
Salt: There is some salt in the salted butter, but adding just a little more really helps all of the flavors in the garlic bread really pop.
What Else Can I Add?
The basic garlic bread recipe below is divine on its own (IMHO), but you can make it even more epic by adding any of the following ingredients:
Try stirring a couple of tablespoons of grated Parmesan into the garlic butter mixture for a crispy umami finish.
Top with whole milk mozzarella before baking to make it into an easy cheesy garlic bread.
Use roasted garlic instead of in in addition to the fresh garlic for a milder, roasted flavor.
Add more herbs. Try stirring an Italian herb blend or a pinch of red pepper flakes into the garlic butter for even more flavor. Or, if you have an herb garden, add in some chopped basil or oregano.
Stir a tablespoon or two of pesto into the garlic butter mixture for a fun twist.
How to Store and Reheat Garlic Bread
This garlic bread is perfect for freezing. After spreading the delicious garlic butter mixture onto your loaf, freeze the garlic bread in an air-tight container, like a gallon-sized freezer bag. It can then be baked straight from the freezer, with just a couple of extra baking time added.
To store leftover garlic bread that has already been baked, make sure to allow the garlic bread to cool completely to room temperature before packing in an air-tight container to avoid condensation. The garlic bread will stay good at room temperature for about a day, or in the refrigerator for 2-3 days. Garlic bread can be reheated in an air-fryer for a minute or two, microwaved for about 30 seconds, or wrapped tightly in foil and baked at 350ºF for 10-15 minutes, or until heated through.
And don't forget to make some Homemade Pizza sauce to dip your homemade garlic bread (or cheesy garlic bread) in!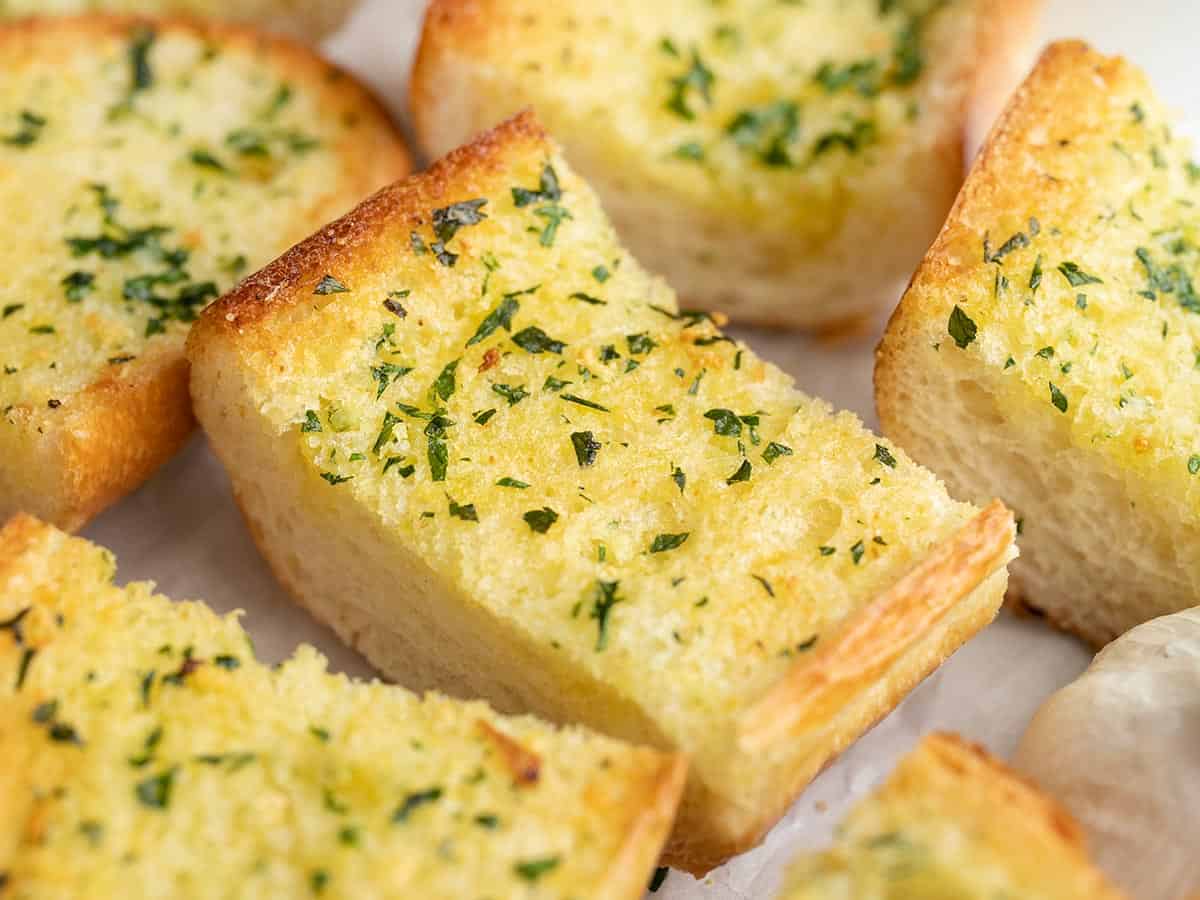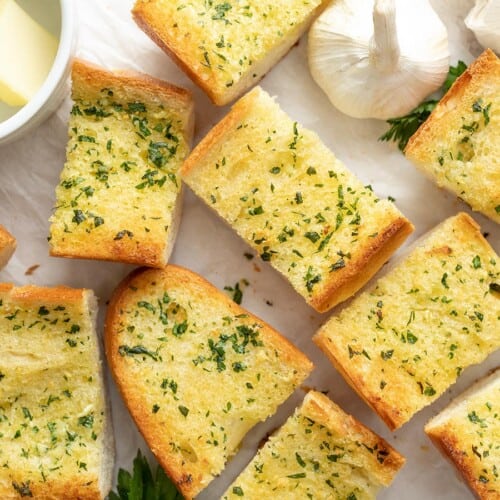 Homemade Garlic Bread
Buttery homemade garlic bread is easy to make with just a few simple ingredients! It's freezer-friendly and is a great side dish for any dinner.
Servings
12
(2 slices each)
Ingredients
1

loaf

French or Italian bread (approx. 24″ long)

$2.99

6

Tbsp

butter, room temperature

$0.75

2

Tbsp

olive oil

$0.32

4

cloves

garlic, minced

$0.32

2

Tbsp

chopped fresh parsley

$0.22

1/8

tsp

salt

$0.01

1/4

tsp

garlic powder

$0.02
Instructions
Preheat the oven to 400ºF. In a bowl, stir together the room-temperature butter, olive oil, minced garlic, garlic powder, chopped parsley, and salt until relatively smooth (a few small lumps of butter are okay).

Cut the loaf in half, into two 12″ long pieces, then cut each piece open lengthwise. Lay the bread on a baking sheet cut sides facing up. Spread the garlic butter mixture evenly over the open surfaces of the bread.*

Bake the bread for 10-15 minutes, or until the edges are golden brown and crispy. Bake for less time if you prefer a softer garlic bread, and more time if you prefer a crispier garlic bread. Cut the bread into 2-inch sections and serve hot.
See how we calculate recipe costs here.
Notes
*Once the garlic butter is spread over the surface of the bread it can be frozen in gallon-sized freezer bags and baked at a later date. The bread can be baked straight from the freezer, although it may take a minute or two longer to brown.
Nutrition
Serving:
2
slices
|
Calories:
163
kcal
|
Carbohydrates:
18
g
|
Protein:
4
g
|
Fat:
9
g
|
Sodium:
271
mg
|
Fiber:
1
g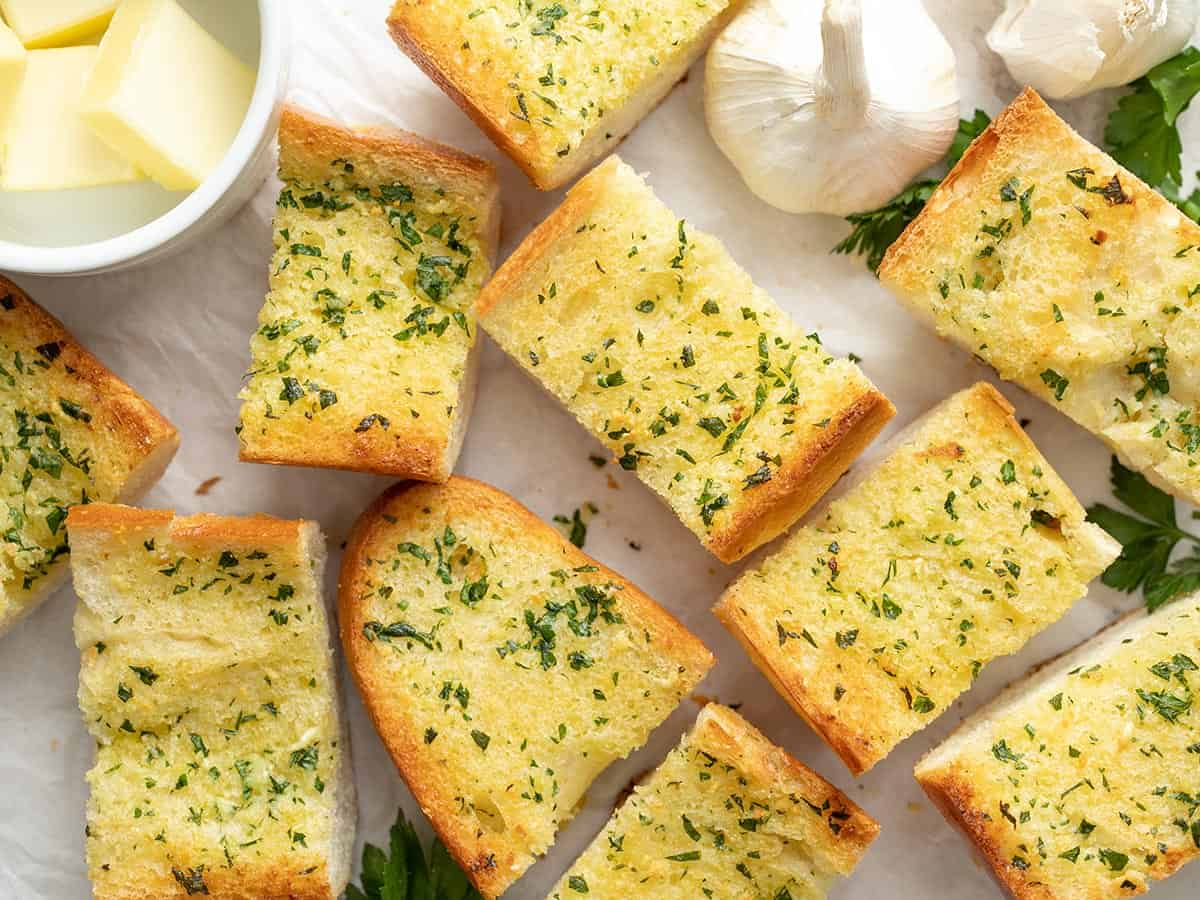 How to Make Garlic Bread – Step By Step Photos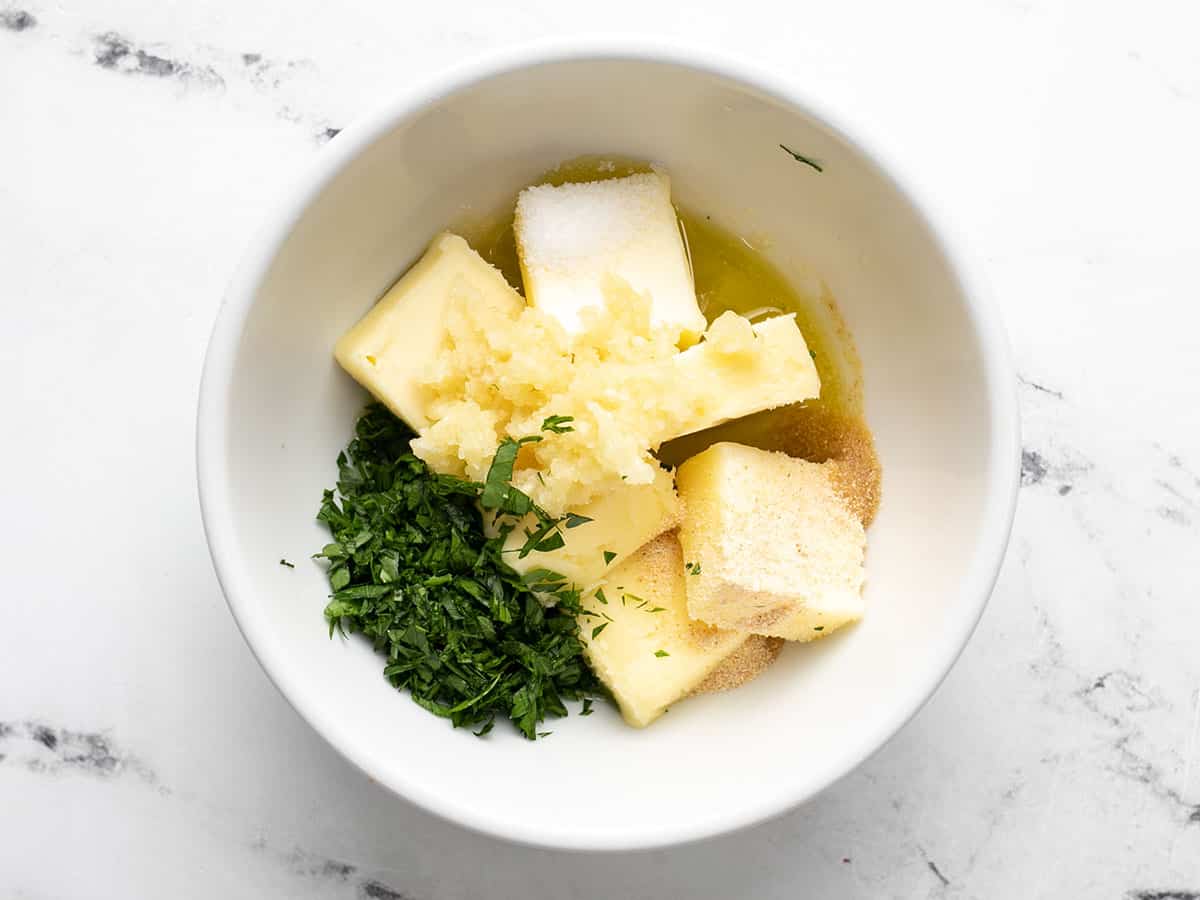 Begin by preheating the oven to 400ºF. In a bowl, combine 6 Tbsp room temperature butter, 2 Tbsp olive oil, 4 minced cloves of garlic, 1/4 tsp garlic powder, 2 Tbsp chopped fresh parsley, and ⅛ tsp salt.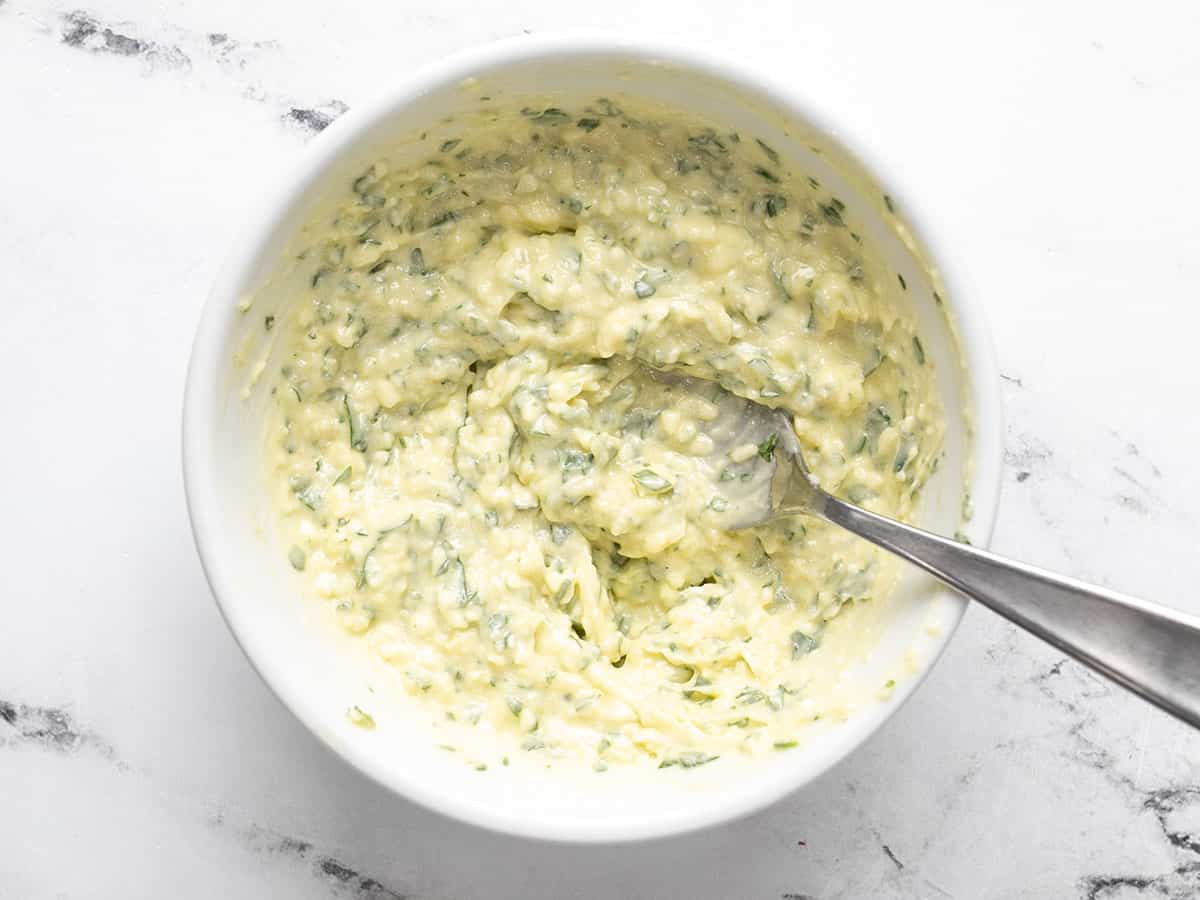 Mix the garlic butter ingredients together until they're evenly combined. It's okay if there are some small butter lumps left in the mixture.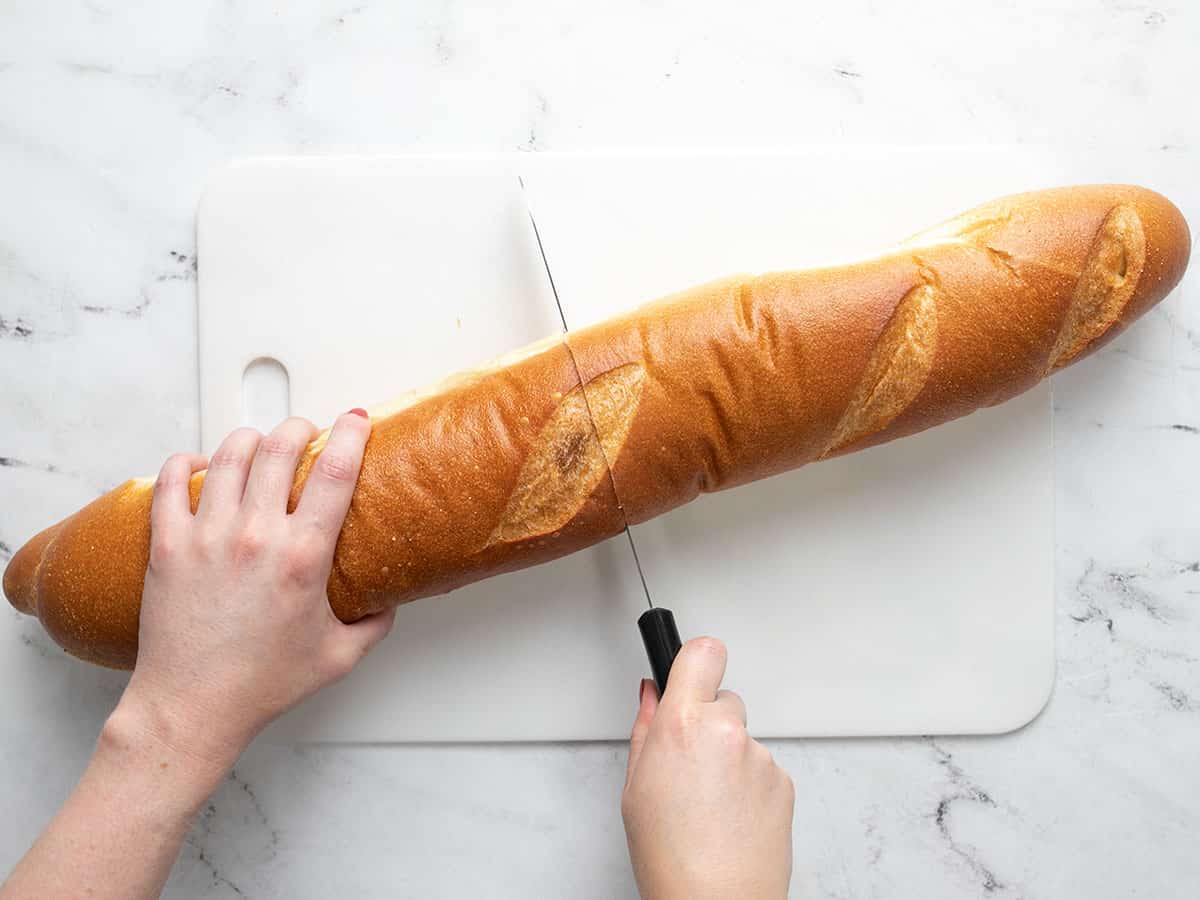 Cut one large French loaf (24 inches) into two 12-inch sections, then cut each section open lengthwise.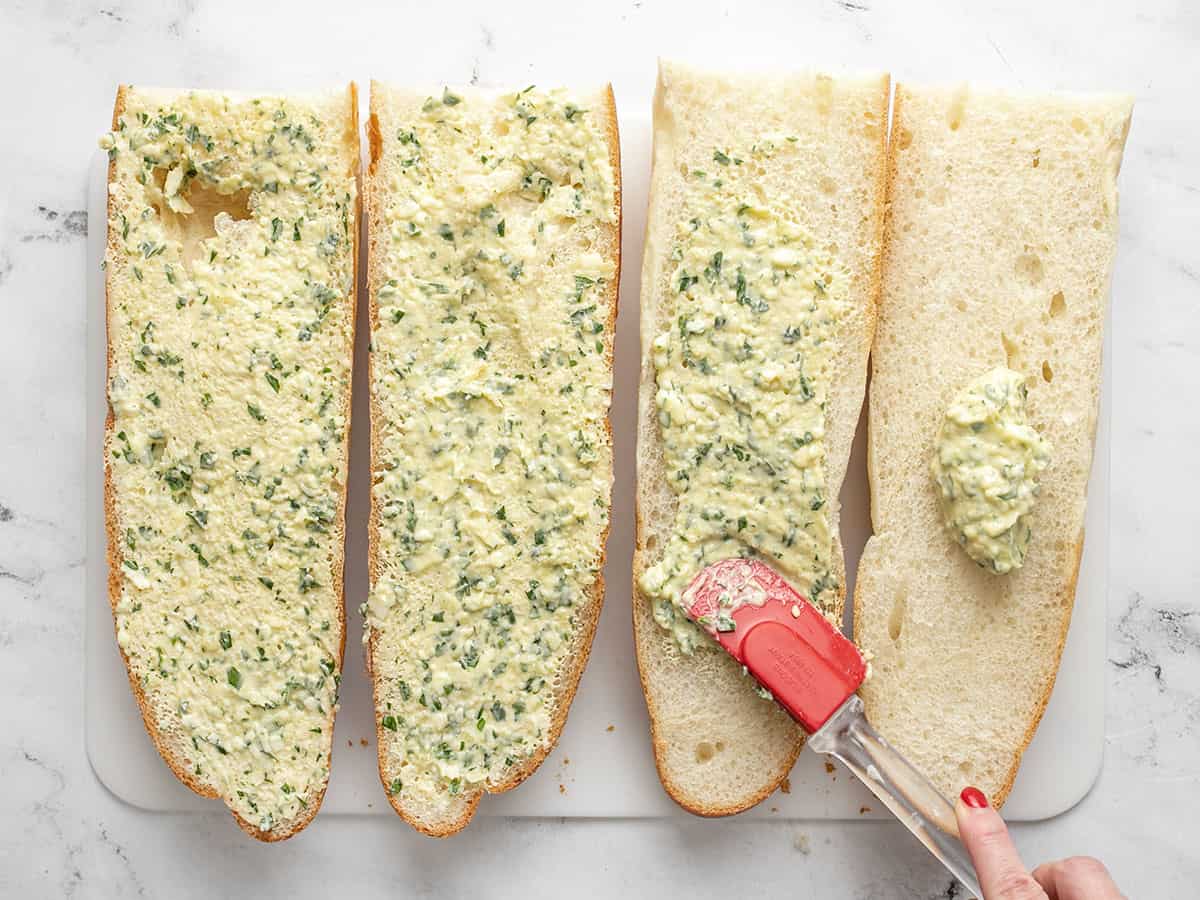 Spread the garlic butter mixture evenly over the open surfaces of the bread, making sure to get all the way to the edges.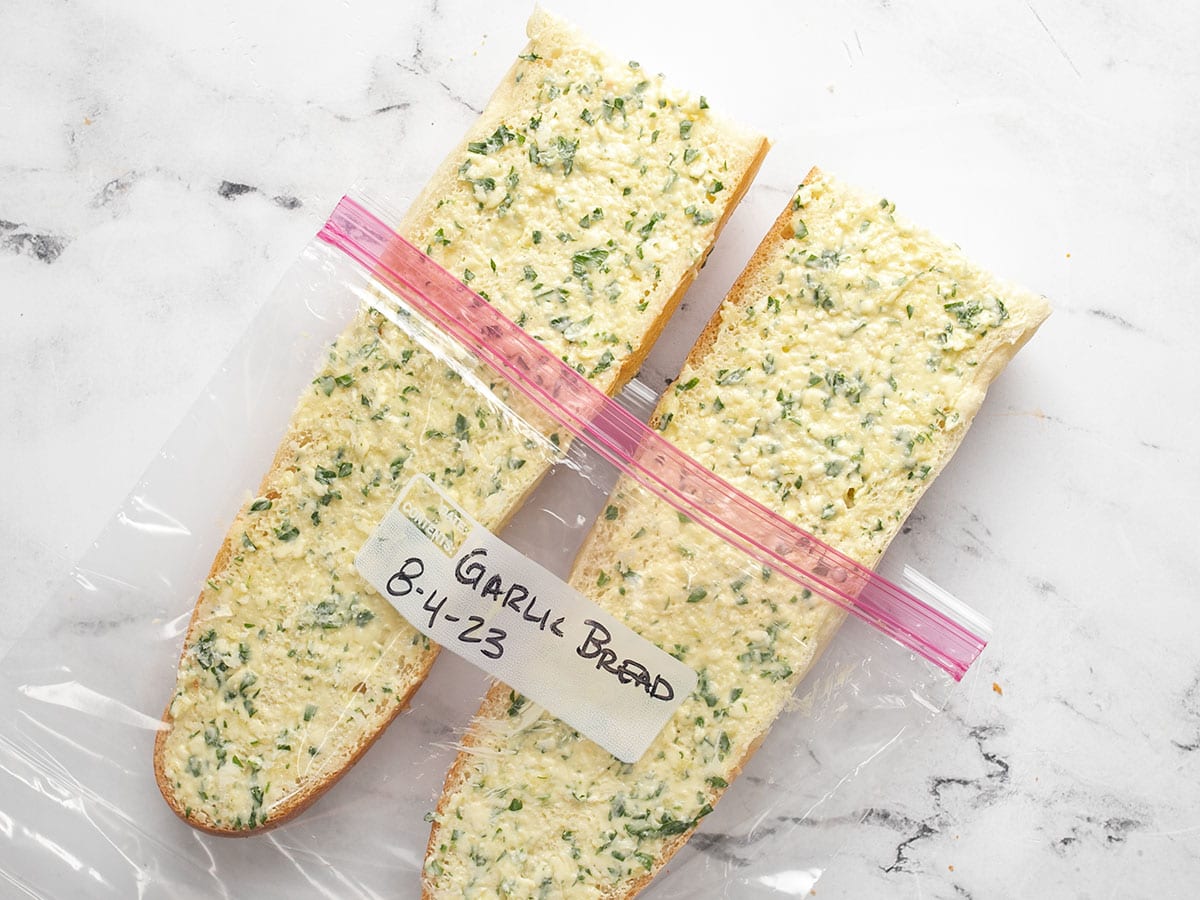 If you want, you can freeze some of the unbaked garlic bread for later! Bake the frozen garlic bread as usual, no need to thaw, adding just a couple extra minutes to the bake time.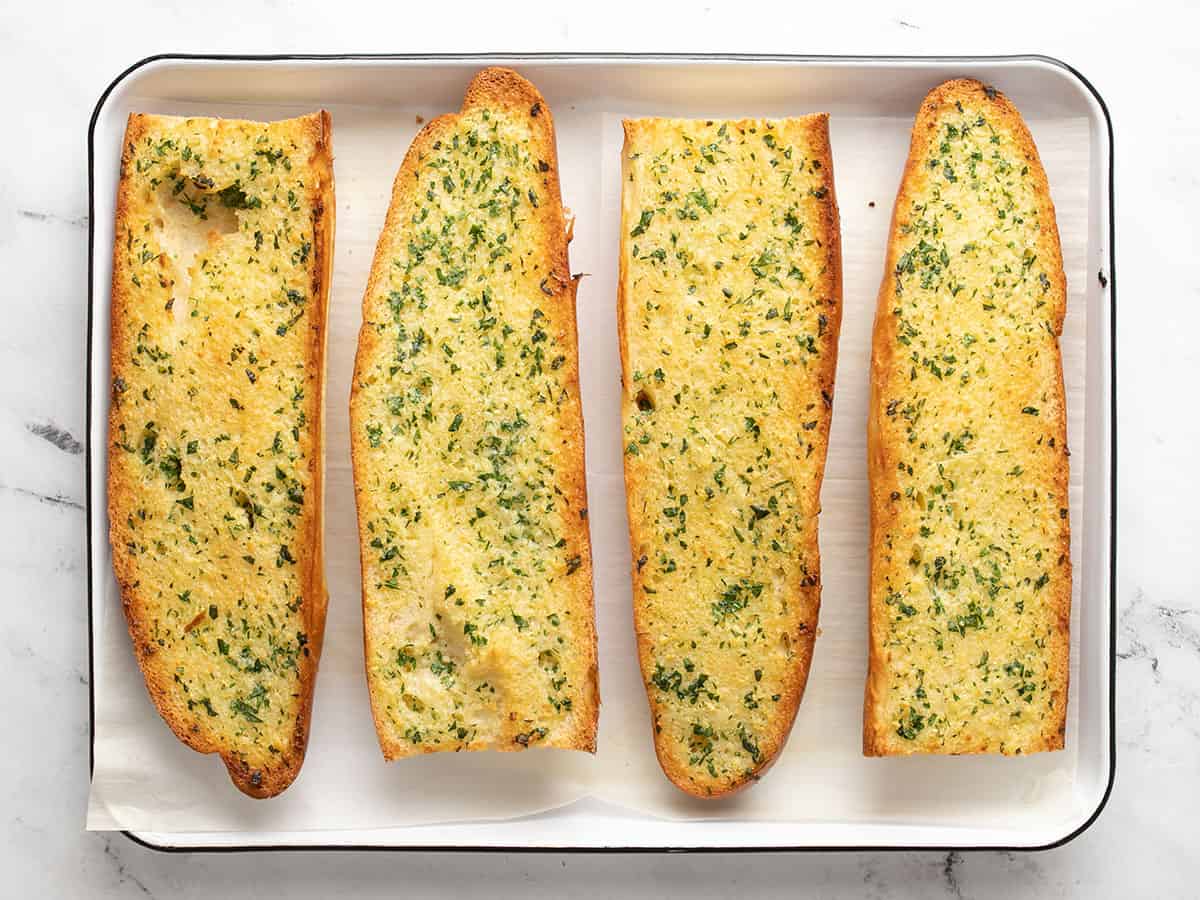 Place the garlic bread on a large baking sheet (using parchment is optional, but makes clean up easier). Bake the garlic bread in the preheated oven for 10-15 minutes, or until it is golden brown and crispy on the edges. Bake less time for softer garlic bread and longer for crispier garlic bread.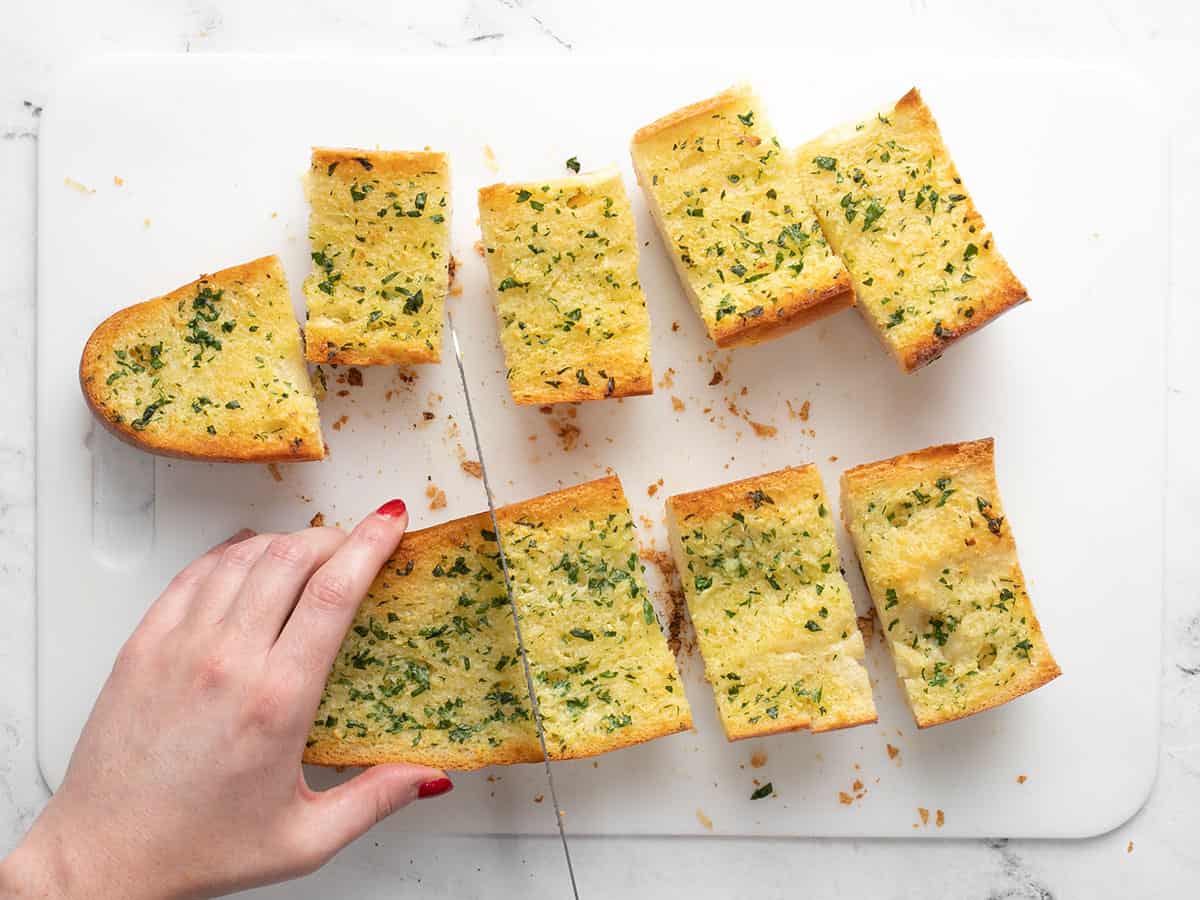 Cut the garlic bread into 2-inch wide pieces and serve!
Yaassssssss. Garlic bread ❤️ forever.
What to Serve with Garlic Bread:
The post Homemade Garlic Bread appeared first on Budget Bytes.