Eggs have always been a budget staple in my house, but in this economy? 😅 With the price of eggs increasing every day, I'm having to replace some of my usual go-to egg-heavy meals with eggless recipes. And since I know this egg-tastrophy is hitting everyone hard, I thought I'd round up some of my favorite egg-free Budget Bytes recipes to help make the shift a little less painful for everyone. So if you're an egg lover like me and you need some satisfying alternatives until those egg prices come back down, hopefully, these egg-free recipe ideas will help!
And if this doesn't satisfy your needs, you can always peruse our entire egg-free recipe library!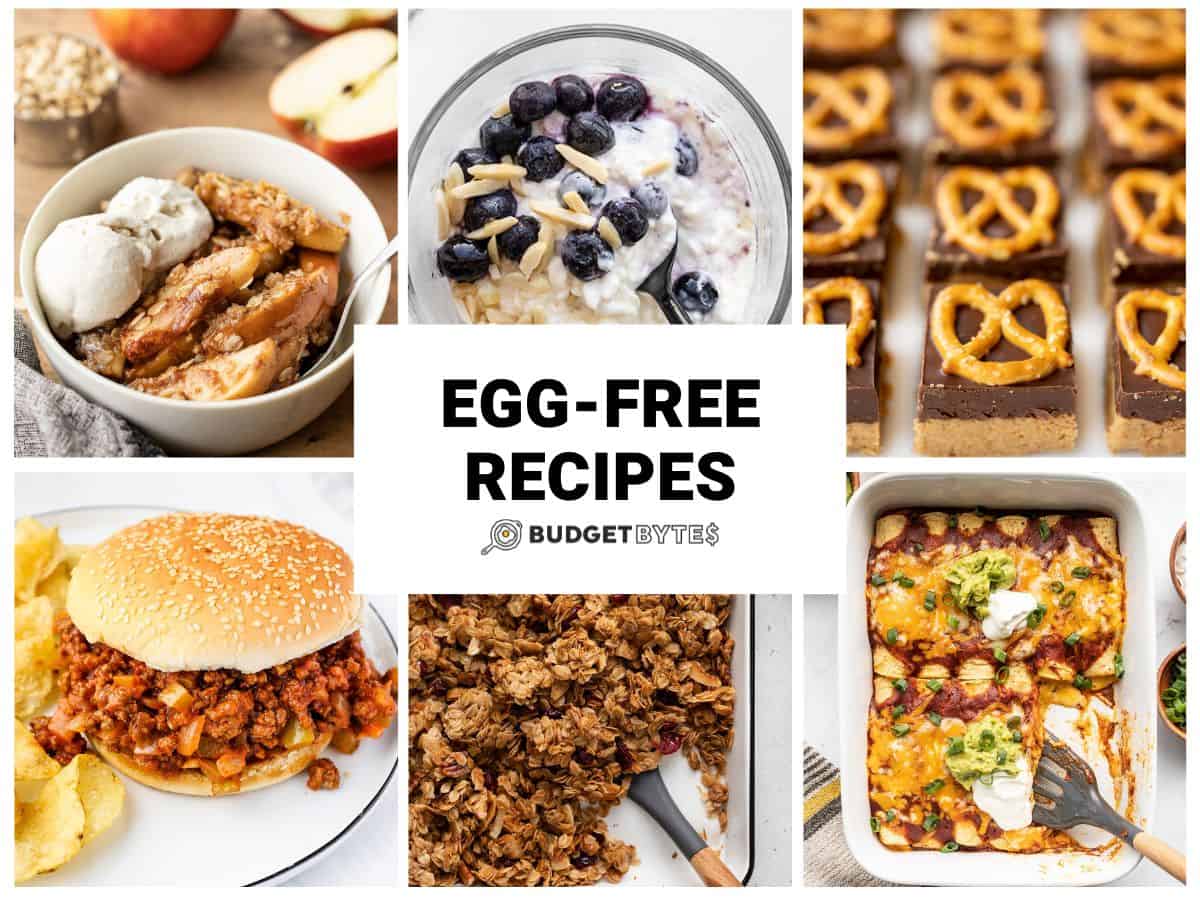 Egg-free Breakfast Ideas
I could happily eat eggs for breakfast every single day, but not at these prices! My usual eggstravaganza breakfast will have to wait. Here is what I'm enjoying for breakfast lately, instead of my favorite scrambles, omelets, and frittatas.
Homemade Granola – This homemade granola is really inexpensive, easy to make, versatile, and if you top it with some yogurt you've got a really filling breakfast, sans-egg!
Overnight Oats – Overnight oats (any flavor) are another great easy breakfast option without eggs. You can toss in whatever fruit or nuts you have, or add some yogurt for extra protein!
Country Sausage Gravy – I know I have these *pictured* with eggs, but you don't need any eggs to make the gravy and you certainly don't have to serve it with eggs on the side! Make some homemade biscuits and bacon to go along with your gravy and you're set!
Yogurt Bowls – Top a bowl of yogurt with just about any fruit, nut, seed, grain, or a dollop of jam or jelly. (The version pictured does have lemon curd, which contains eggs, but you can replace it with any flavor of jam, jelly, or preserves.)
Ham and Cheese Biscuits – It's just like your favorite breakfast sandwich, minus the egg! Still totally hearty, delish, and the perfect handheld meal for on-the-go.
Smoothies – Smoothies are a great egg-free breakfast option. I love the chocolate coffee flavor linked above (it tastes like a Wendy's frosty!), but there are so many options when it comes to smoothies. 🙂
Savory Oatmeal – For all my savory breakfast lovers out there, you've got to try savory oats! Load 'em up with veggies and other umami-filled ingredients and you won't even miss your morning eggs. Promise! (And when egg prices come back down, you can add one to your bowl.)
Cottage Cheese Breakfast Bowls – Cottage cheese also makes a really great base for a breakfast bowl and there are so many topping options! Head over to the blog post to see this blueberry almond version, plus five other flavor combos!
Egg-Free Baked Goods
Baked goods like cakes, cupcakes, scones, and muffins often use eggs to help keep the crumb sturdy, but eggs aren't always necessary. Here are a few of our favorite egg-free baked goods for you to enjoy until those egg prices come back down!
Cranberry Orange Cream Scones – These tender two-bite scones use the magic of heavy cream to keep the crumb soft and rich without using any egg in the process. They're easy and absolutely irresistible!
Easy Soda Bread – This super simple bread is a fool-proof homemade bread for beginners. Just a few ingredients (and NO eggs), makes you a really hearty loaf that's perfect for slathering with butter and jam, or dipping into your favorite soup.
Cheddar Drop Biscuits – These super easy biscuits make the perfect side for any dinner. They're savory, rich, and soooo buttery!
Cinnamon Nut Swirl Mug Cake – It's like a single-serving cinnamon roll, but made in a mug! And in the microwave! …Without any eggs!
Chocolate Depression Cake – Eggs were also really expensive during the Great Depression, so people made this super simple chocolate cake that is still moist and delicious even without using any eggs (or dairy)!
Sweet Potato Biscuits – This really fun spin on biscuits uses mashed sweet potato to give the biscuits extra moisture, flavor, and a really fun orange color! …And not an egg in sight!
Egg-Free Dessert Recipes
A lot of desserts tend to use eggs as well because that glorious yolk provides a lot of richness. But there are still plenty of eggless options when it comes to curing your sweet tooth. Here are some of our favorite egg-free desserts.
Rice Krispie Treats – Rice krispie treats are one of the easiest desserts you'll ever make, and they're plenty rich, even without eggs, thanks to a generous helping of butter.
Lemon Cream Pie – This deliciously light and fluffy lemon cream pie is another deceptively simple dessert that requires only a few simple ingredients, none of which are eggs. 😉
Peanut Butter Pretzel Bars – These addictive little bars have a super rich base (thanks to peanut butter), a sweet chocolate topping, and then the perfect little salty crunch to balance it all out. DIVINE.
Raspberry Oatmeal Bars – If you need a quick sweet-tooth-fix, you probably already have the ingredients for these oatmeal bars in your fridge! The jam acts as the "glue" that holds the bars together, so no egg needed!
Apple Crisp – Apple crisp, or any fruit crisp are really simple desserts that require no eggs. It's just lightly seasoned fruit baked down until it's soft and delicious, topped with a sweet, crispy, and buttery crumble topping. So easy!
Egg-Free Dinner Ideas
There are TONS of dinner recipes that don't require eggs, so you can peruse our Egg-Free Category page to see the full library of recipes. But I'll highlight just a few of my favorites for you here!
Creamy White Chicken Chili – This chili is so rich and delicious that it will make you forget all of your egg woes (and maybe all the other problems in the world).
Sloppy Joes – Sloppy joes are such a quick classic! Bonus, you can sub half the beef for lentils to make them even more budget-friendly (see Sloppy Joes Plus for instructions).
One Pot Chicken and Rice – You'll never make plain rice as a side dish for dinner again after you try cooking it together in the pot with juicy chicken thighs and a hefty dose of herbs and spices.
Cheesy Pinto Beans – If you're looking for something easy, and I mean EASY, these cheesy pinto beans are it. Cheddar cheese adds all the richness you'd normally get from egg yolks and the beans & rice combo will take care of all your protein needs.
Sheet Pan Kielbasa, Potatoes, and Green Beans – This is probably the easiest sheet pan meal I've ever made, and one of my favorites (flavor-wise). It's just too simple and too good to miss!
Cheese Enchiladas – Melting cheese in a tortilla was my go-to snack when I was growing up (…okay, maybe still to this day), so these cheese enchiladas are like an elevated meal-worthy version of that simple snack! So good!
---
What Recipes have you been leaning on lately to replace your recipes with eggs? Let us know in the comments!
The post Egg Free Recipes appeared first on Budget Bytes.