Whether you are vegetarian or you simply enjoy the occasional Meatless Monday dish, you're going to love this list of quick & easy vegetarian recipes! There's something special about meals that don't require extra time to brown ground meat or prep chicken, and are still packed with flavor and easy to make. So we've gathered all of our favorite vegetarian recipes from veggie-packed pastas and salads, hearty soups and easy dinner meals all in one place! Definitely bookmark this page and let us know which one is your favorite in the comments below!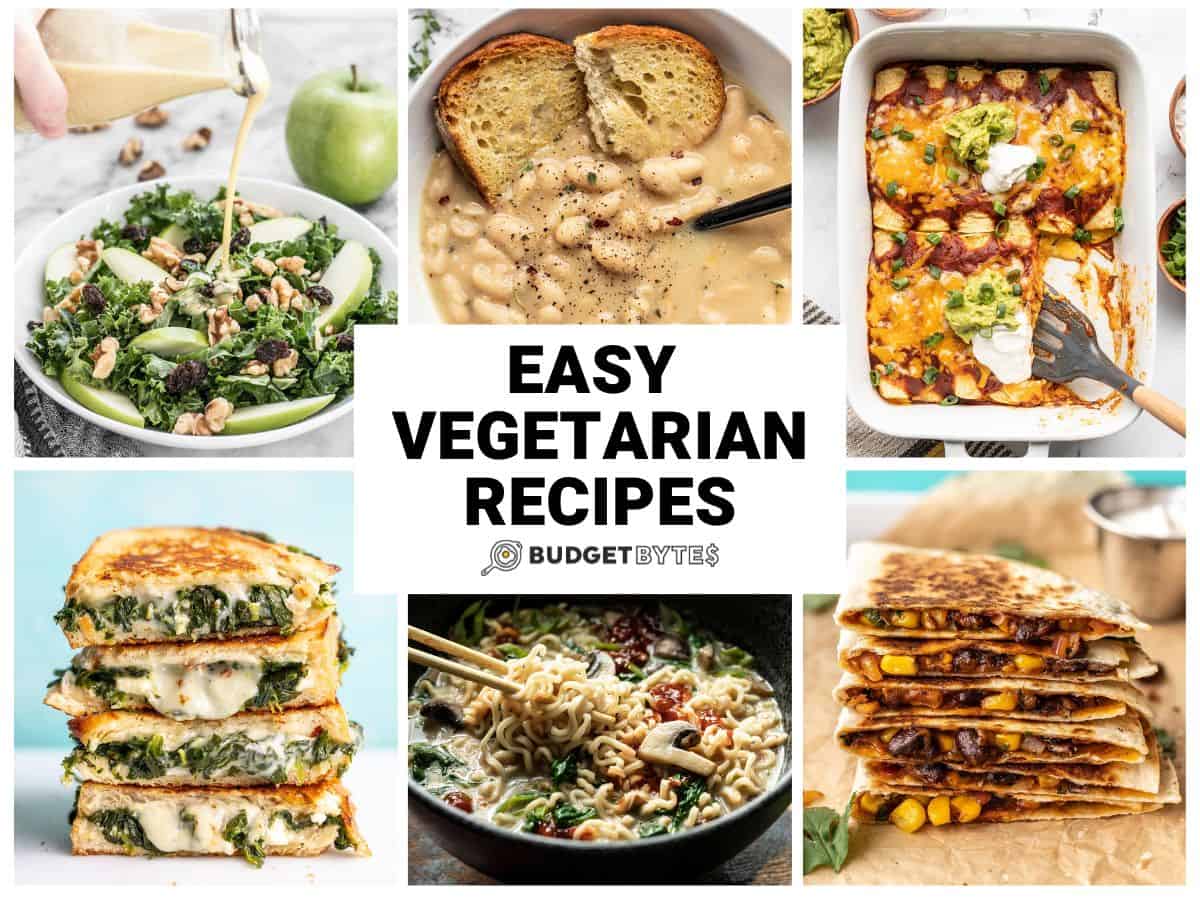 Vegetarian Dinner Recipes
We're kicking things off with these six reader-favorite vegetarian dinner recipes to feed your family on those busy weeknights!
Dinner doesn't get much easier than these Cheese Enchiladas! A simple combination of tortillas and cheese with an extra kick of green chiles and spices makes this the perfect easy weeknight recipe!
If you're a fan of the traditional french dip recipe then you're going to love these Vegetarian French Dip Sandwiches! They're made with sautéed portobello mushrooms and served on thick, crusty bread with a delicious au jus that's perfect for dipping.
Pan-fried, crispy, Honey Sriracha Tofu is seriously addicting and SO good! It's made with extra firm Tofu and a sweet and spicy sriracha glaze. The only hard part is trying not to eat the entire batch all by yourself!
White Beans with Mushrooms and Marinara is an easy one skillet meal that uses a few simple pantry and produce ingredients and comes together in under 30 minutes!
These Creamy Coconut Curry Lentils with Spinach are made with a delicious, rich and creamy coconut sauce that goes perfectly with some fresh naan. Enjoy this simple plant-based meal for lunch, dinner or weekly meal prep!
Who says you can't enjoy great vegetarian BBQ food in the Summertime? These BBQ Tofu Sliders are inexpensive, easy to make and seriously finger-licking good!
Quick & Easy VEgetarian Recipes
You definitely don't have to be a vegetarian to fall in love with this next set of easy meatless meals. When you don't have a lot of time and you just want something quick & flavorful – these easy vegetarian recipes can be made in just a few minutes!
Move over traditional ramen…this Vegan Creamy Mushroom Ramen recipe is rich in flavor, includes a delicious broth and comes together in just 15 minutes…WIN!
Switch up dinner tonight with these Creamy White Bean and Spinach Quesadillas! They're crispy on the outside, rich in flavor and can be made in just 20 minutes.
Who can resist a cheesy, gooey grilled cheese sandwich? Take it up a notch with this Spinach and Feta Grilled Cheese for lunch or an easy dinner recipe!
Though this may seem like a simple recipe, you'll be surprised just how much flavor is packed into these Cheesy Pinto Beans! Serve with a bowl of rice and you instantly have an easy, satisfying meal.
These Black Bean Quesadillas are one of the most viral recipes on our website. They have a spicy blend of beans, corn, taco seasoning and just a few other simple ingredients and come together in just 15 minutes!
Vegetarian Pasta Recipes
If you're a pasta lover like me, then you're going to love these veggie-packed pasta recipes! Choose from roasted, sautéed or grilled vegetables, your favorite pasta and a simple sauce and you'll have a delicious, easy pasta recipe in minutes.
This goes out to all my spicy food lovers out there! These viral Spicy Sriracha Noodles are undeniably a huge favorite around here and are made with a super easy and delicious sauce. One of the best 15-minute recipes you'll ever make!
I love a good flexible pasta recipe and this Quick Veggie Pasta is super easy to make. Use whatever leftover veggies you have in your fridge and your favorite pasta and you instantly have a quick and easy meal.
This Roasted Broccoli Pasta with Lemon and Feta is incredibly easy to make and only uses seven ingredients! The roasted broccoli adds a great smoky flavor to the pasta and the lemon and feta gives the dish an extra pop of flavor. Definitely give this one a try!
If you love grilled vegetables, especially in the summer time, then this Grilled Vegetable Pasta Salad might just be your new favorite recipe. Simply toss the grilled veggies with pasta and a creamy homemade balsamic vinaigrette and it's perfect for your next family meal or backyard BBQ!
Tuscan recipes hold a very special place in my heart and this Tuscan White Bean Pasta definitely does not disappoint. It packs in lots of flavor from the garlic, basil and parmesan and a good source of protein from the white beans. It's perfect for a simple weeknight meal.
Vegetarian Salad Recipes
If there's one food I never get tired of it's salads! They're extremely easy to customize by adding roasted vegetables, fresh seasonal fruit and quick & easy homemade dressings. So here are six of our favorite vegetarian salad recipes!
Can we just get a round of applause for this Roasted Cauliflower Salad! The lemon tahini dressing alone is absolutely incredible, then it's served with roasted cauliflower and spiced chickpeas for the perfect salad combo!
It's hard to go wrong when you mix Kale with a great vinaigrette like this Apple Dijon Kale Salad. The crisp apples, walnuts, raisins and homemade dijon vinaigrette give this salad so much flavor and makes it perfect as a side dish or for weekly meal prep!
If you're looking for a really simple summer salad recipe, this Panzanella Salad is absolutely perfect and uses very minimal ingredients. Serve it with our easy homemade balsamic vinaigrette dressing and its even more delicious!
This Cold Peanut Noodle Salad is perfect for meal prep as the ingredients are all very sturdy and refrigerate very well. And the sauce…Oh the Sauce…the homemade creamy peanut lime dressing is a little tangy, a little sweet and goes perfectly with this salad recipe!
If pasta salads are your jam, then this Broccoli Pasta Salad with Tomato Vinaigrette will be one of your favs! It features a tangy homemade tomato vinaigrette, lots of crunchy vegetables and your favorite pasta for a delicious salad combination.
This Crunchy Cabbage Salad made with our yummy sesame ginger dressing is perfect for a quick lunch, a vegetable side dish or it works great for dinner especially when you add some teriyaki chicken or honey sriracha tofu on top!
Vegetarian Soup Recipes
There's a reason why soup is often referred to as a hug in a bowl. It's warm, hearty, comforting and can be enjoyed all year long! These easy vegetarian soups are packed with vegetables, have tons of flavor and the best part is they make large servings so it's perfect for leftovers or to freeze for later.
This creamy and cozy Rosemary Garlic White Bean Soup comes together with just eight simple ingredients and it's perfect with some homemade croutons on top or a piece of crusty bread for dipping!
This super hearty and comforting Tomato Lentil Soup is perfect on a cold winter day. If you enjoy soup as much as I do you can certainly make it any time of the year and freeze any leftovers to enjoy later!
Surprisingly this Cabbage Soup recipe is extremely flavorful and absolutely delicious! It's loaded with veggies and made with a simple herb-filled broth. And this recipe makes a LOT so you'll definitely want to enjoy it throughout the week or freeze some for later.
Another one of our favorite vegetable-loaded soups is this Easy Minestrone Soup recipe. It's warm, comforting, budget-friendly and great for meal prep! Wanna add pasta…go for it! Or just keep it simple by adding some extra beans for an even more hearty flavor.
If you loved this list of Easy Vegetarian Recipes and want to see more of our favorite recipe rounds ups then check out some of our other popular ones below!
The post Easy Vegetarian Recipes appeared first on Budget Bytes.