When you're first learning how to cook, finding a good recipe can be overwhelming. Instead of spending hours wading through the vast sea of online recipes for something that is delicious, EASY, and doesn't require obscure ingredients, just come back to this list. We did the legwork and rounded up over 25 of our best, reader-favorite, easy recipes that are perfect for beginners. So you can stop searching and go straight to the kitchen to get your cook on!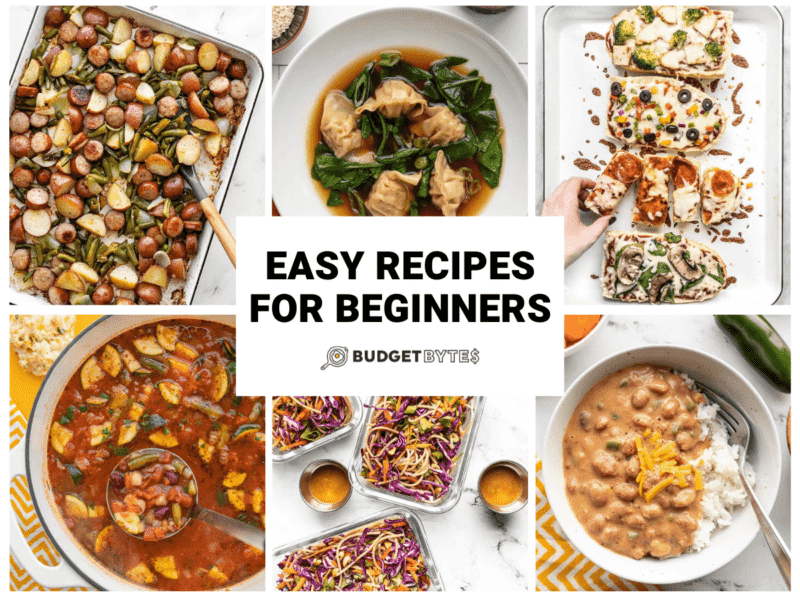 DINNER RECIPES FOR BEGINNERS
A dinner recipe your whole house will enjoy eating may seem daunting for a beginner. However, these recipes will not only feed the crowd and be ready in just a few steps, but they'll also have everyone begging for more.
Sheet Pan Kielbasa Potatoes and Green Beans – Filling, tasty, and as easy as it gets, with only SIX simple ingredients, and very little hands on time. What more you could want from a dinner recipe! 🙌
Sheet Pan BBQ Meatloaf Dinner – This really has to be one of the fastest and easiest dinners EVER! Vegetable sides along with the loaves to make a whole dinner in one swoop. This Sheet Pan BBQ Meatloaf Dinner is seriously so easy and customizable, you'll be making it your own in no time!
Easy French Bread Pizza – One of our favorite reasons for making French Bread Pizza is because it's a great way to use up the leftovers in your fridge. You can top pizzas with just about anything, so dive into your refrigerator and find some creative pizza toppings! 
Sloppy Joes – Homemade Sloppy Joes are quick, easy, full of flavor, AND freezer friendly. 🙌 Plus, we've got some tips for you in the recipe, like replacing half the beef with lentils, to make them even more budget-friendly, since the price of ground beef isn't getting lower anytime soon.
VEGETARIAN RECIPES FOR BEGINNERS
Are you new to trying vegetarian meals? Worried they may not fill you up? Be ready to stuff yourself with these veggie-packed recipes! What's even better, many of these recipes use frozen rather than fresh vegetables because they don't go bad quickly and are cheaper!
Curried Chickpeas with Spinach – This is how food should be. Uncomplicated, fast, and super tasty. The simple tomato sauce is kicked up a few notches with curry powder (hot or mild, your choice) and would probably be good poured over just about anything.
Cold Peanut Noodle Salad – No need to reheat, it's light but filling, and the flavors are oh so fresh. This delicious salad is topped off with a homemade tangy, sweet, and creamy Peanut Lime Dressing to make everything finger-licking good.
Creamy White Bean and Spinach Quesadillas – The incredible ease and low cost of these Creamy White Bean and Spinach Quesadillas might make them the best quesadilla on our website. They literally only take about 20 minutes and are so freaking good. 
Cheesy Pinto Beans – We love exploring really simple ways to transform pantry staples, like canned beans, into a filling and satisfying meal. When served over rice, you've got an easy and satisfying meal for pennies.
EASY PASTA RECIPES
Mom's spaghetti just got an upgrade. These easy pasta recipes are not only budget-friendly, but they taste incredible, too! Add a couple of these to your dinner menu this week.
The Best Weeknight Pasta Sauce – This sauce is incredibly easy and uses only a few ingredients, yet has a wonderfully rich and hearty flavor. It's perfect for a simple spaghetti night, or with to serve with our Roasted Eggplant with Meat Sauce recipe.
Pasta With Bacon And Peas – This simple dish is a perfect combo of pantry and leftover ingredients! It starts with our favorite quick meal template (pasta + Parmesan + greens), and then we add a little bacon for a simple and delicious meal.
Garlic Noodles With Beef And Broccoli –  These noodles are super rich, buttery, salty-sweet, and an umami filled dream. They're usually served as a side dish, but we've turned them into a full meal.
Creamy Tomato And Spinach Pasta – Quick skillet pasta dishes like this Creamy Tomato and Spinach Pasta are perfect after a long day. They require only a few ingredients, cook up super fast, and leave you feeling full and happy!
Spicy Orecchiette With Chicken Sausage And Kale – If you're a Budget Bytes veteran, you probably have memorized this formula for fast weeknight dinners (pasta + parmesan + vegetable). But for all our new friends, this one will change your dinner game!
EASY SOUP RECIPES
Soup recipes are perfect for beginners because they're easy, the leftovers are great, and they're super budget-friendly! So ditch that canned soup and make a big pot of one of these easy soups to feed you for the rest of the week.
Easy Minestrone Soup – This Vegetarian Minestrone ticks all of our Budget Bytes boxes: easy, inexpensive, flexible, and meal prep friendly!
Easy Dumpling Soup – A quick-and-simple homemade lunch or an effortless dinner that's still wholesome, comforting, and budget-friendly. Dressing up mostly store-bought ingredients, in order to scratch that "itch" for when ordering out isn't on the menu.
Coconut Curry Ramen – You only need five simple ingredients and about ten minutes to make this bowl of delicious noodles. Plus, there's no chopping required, so this coconut curry ramen is a really great choice for anyone just starting out.
Easy Rosemary Garlic White Bean Soup – This easy Rosemary Garlic White Bean Soup only takes eight simple ingredients, is crazy flavorful, and will give you all those warm cozy vibes!
Tomato Herb Soup – A deliciously tangy, herb-infused sauce became the great beginning to a super fast, easy, and delicious homemade Tomato Herb Soup.
BOWL MEALS FOR BEGINNERS
Layered with flavors that combine in every bite, bowl meals are another way to get more comfortable in the kitchen. They are simple, fast, and affordable. Try these easy bowl meals and soon you'll be on your way to creating your own with ingredients you already have on hand!
BBQ Beef And Beans – These BBQ Beef and Beans are like the love child of baked beans and beef chili. They're hearty and flavorful, they meal prep well, and can be as no-fuss or as "from scratch" as you want them to be.
Poor Man's Burrito Bowls – A big bowl of rice, black beans, salsa, and cheese. It's only a few ingredients, it's super inexpensive, but somehow still so filling and so delicious!
Loaded Mashed Potato Bowls – Use leftover homemade mashed potatoes or ready-made store-bought mashed potatoes to make this recipe a cinch! Then load 'em up with all your favorite fixins for a quick and easy meal.
Cottage Cheese Crab Bowl – Like a deconstructed California roll, this crab bowl is light and fresh, but still filling enough to serve as a whole meal (for us, at least).
EASY TAKE OUT FAKE OUT RECIPES
When your calendar is slammed, opening that food delivery app and ordering in is tempting. But wait! It's just not worth it. These dupes will save you money, and we promise they're even better than free delivery.
Sweet Chili Chicken Stir Fry Bowls – It's really more of a "formula" than a recipe. Just stir fry a protein (even if it's not chicken), add a sauce (either homemade or bottled), spoon it over rice or another starch, and add a simple steamed vegetable. Done and DONE. 
Turkey Taco Salad – This salad comes together quickly, gives all the flavors we need, and is still super filling. Oh, and did we mention how flexible it is? We also included tons of ideas for substitutions and add-ins.
Pork And Peanut Dragon Noodles – Sweet, salty, sticky, crunchy, and all the noooooodles! These Pork and Peanut Dragon Noodles are like comfort food x 100. You'll never go back to take out. Ever.
Easy Teriyaki Chicken – The simple marinade turns into a gorgeous light glaze that adds just the right amount of salty, sweet, and savory flavor to juicy chicken thighs for a simple yet satisfying dinner. The leftovers are pretty good for lunch the next day, too.
Pick a recipe and just get started! The more you cook, the more comfortable you'll become in the kitchen. Let us know what recipe was your favorite!
The post Easy Recipes For Beginners appeared first on Budget Bytes.