Ground beef is an easy dinner favorite. Not only is hamburger easy to incorporate into any recipe, it's hearty and always a winner. We've rounded up some of our favorite easy ground beef recipes so the next time someone asks, "what's for dinner?" or you catch a killer sale on ground beef, you've got a short list of easy go-to recipes. And let us know what your favorite is in the comments below!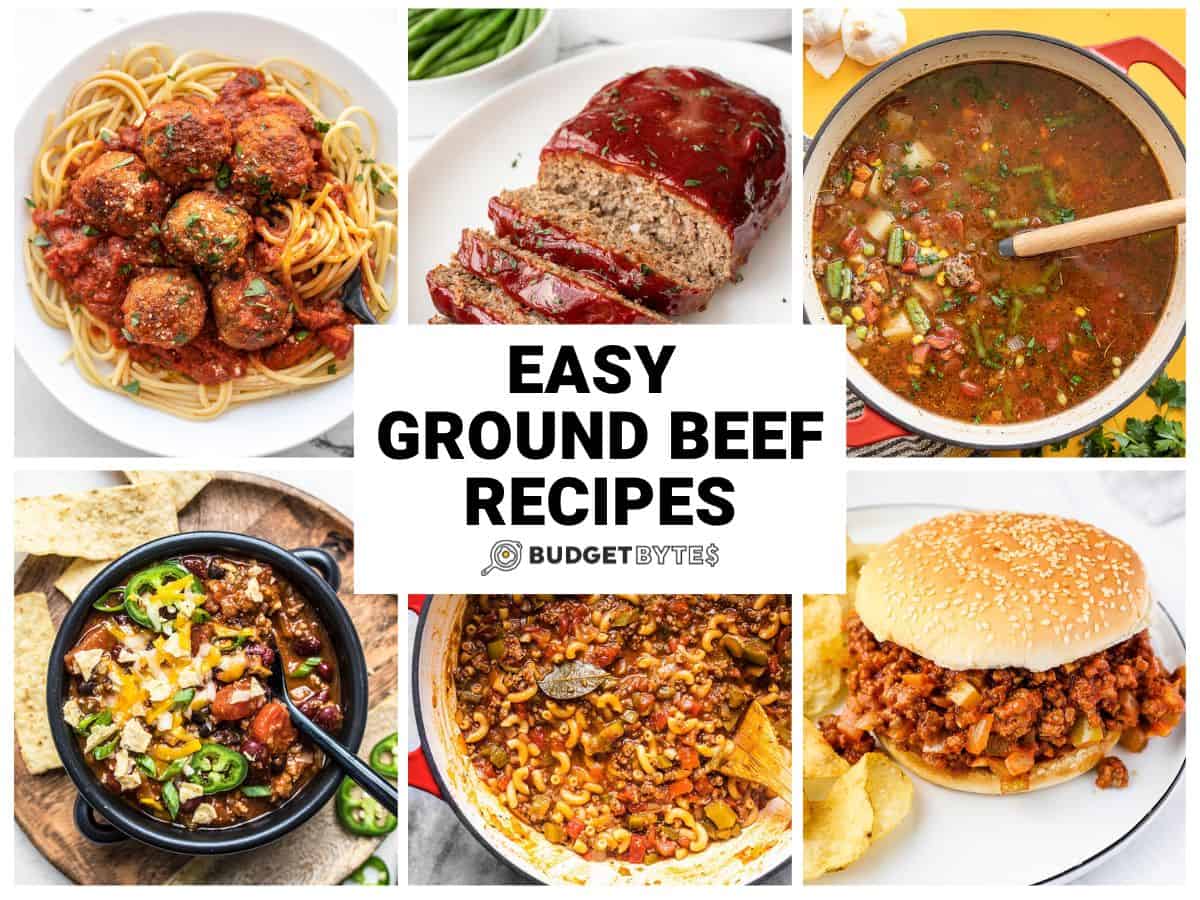 Favorite Ground Beef Recipes for Dinner
Sloppy Joes are always a family favorite and making them from scratch is surprisingly easy! So toss the canned sauce and whip up these incredibly flavorful homemade sloppy joes instead!
I know everyone has their own chili recipe, but THIS chili recipe has won awards. Plus we've got a ton of ideas and suggestions for modifying the recipe to make it your own.
Homemade Meatloaf is a dinnertime classic for a reason. It's savory and delicious, totally nostalgic, and that tangy tomato glaze on top is to die for. Plus, the leftovers make great meatloaf sandwiches the next day!
Swedish Meatballs are hard to resist with their ultra creamy sauce and bed of fluffy mashed potatoes! No trip to Ikea needed to get a plate of this goodness!
This dish goes by many names depending on where you live: American Goulash, Chop Suey, Beef and Mac, and more. No matter what you call it, it's a super cozy ground beef and pasta dish that lands somewhere between chili and a traditional red meat sauce, and it's absolutely divine.
If you grew up on TV dinners in the 70s or 80s, you know about Salisbury Steak. It's no surprise that homemade Salisbury Steak is 100x better, so it's definitely worth trying. Put it on your dinner menu this week!
Take your spaghetti night up a notch with these easy homemade meatballs. I promise they're not difficult and worth the few extra minutes of prep! Plus, you can freeze some for later. 😉
Bolognese sauce is one of those recipes that you want to let sit and simmer away all afternoon so that your whole house smells amazing and the flavors develop into something truly epic. Put this one down for your next weekend and enjoy the best Sunday dinner ever!
The simplicity of this Curried Ground Beef with Potatoes juxtaposes the incredible flavor, making it one of my all-time favorite dinner recipes. Trust me on this one, you WANT to try it.
Simple Ground Beef Recipes
Beef and Cabbage Stir Fry (also known as cabbage roll in a bowl) is one of the most viral recipes on our website. So if you haven't tried this one yet, you're missing out!
When you just need something simple and GOOD that uses pantry staples, this Beef and Tomato Rice Bowl is it.
Beef Taco Skillet is kind of like beef nachos, but different. Everything is sautéed together in a skillet and topped with shredded cheese for an extra gooey finish. Talk about quick comfort food!
If you want to level up your pasta game, give this Weeknight Pasta Sauce a try. It's easy enough to make on a busy weeknight, but still a hundred times better than store-bought jarred sauce!
Sheet Pan BBQ Meatloaf Dinner is an easy dinner where you cook your main and two sides all together on one single sheet pan. Talk about easy!
Skip the take out tonight and make these Garlic Noodles with Beef and Broccoli. It's super quick, so filling, and totally craveable!
Ground Beef Soup Recipes
Taco Soup is one of the easiest soup recipes you'll ever make! Just dump everything in the pot, let it simmer, and you end up with a super flavorful and hearty bowl that is ready for your favorite toppings. P.S. The leftovers are awesome, too!
Vegetable Beef Soup is a childhood favorite, but trust me when I say you want to make this from scratch instead of buying the sad little cans. The homemade version is extra hearty with big chunks of vegetables and plenty of beef in every bite!
If you want even MORE vegetables (and fewer carbs), go for this Beef and Cabbage Soup. I love this soup so much that I make it at least once a month, year round!
Ground Beef Casseroles
Cottage Pie is just a Shepherd's Pie but made with ground beef instead of lamb. To make this cottage pie extra luscious, we also mixed in a healthy dose of cheese into the mashed potatoes. YUM.
Pasta, hamburger meat, and a cheesy, creamy red sauce make this Beef and Mushroom Country Casserole absolutely irresistible!
Beef Burrito Casserole has all of the delicious ingredients of a beef burrito, but in casserole form! Ground beef, beans, cheese, plenty of spices, and rice instead of a tortilla.
Slow Cooker Ground Beef Recipes
These Slow Cooker Meatball Subs are one of the best things I made in 2022. They're so easy, the meatballs so tender, and the subs are better than anything you'll get a restaurant. 🙌
Also known as "poor man's stew", this Slow Cooker Hamburger Stew is a simple combination of ground beef, vegetables, and broth. Not fancy, but oh so satisfying!
These big and juicy Slow Cooker Meatballs cook right in the red sauce over slow and low heat so you get the MOST flavor possible and not a drop goes to waste.
One Pot Ground Beef Recipes
One Pot Cheeseburger Pasta is an all-time Budget Bytes reader favorite recipe. You get all the flavor of your favorite cheese burger in an easy one pot pasta and that ground beef is stretched over several servings!
Another easy one pot meal, this Beef Taco Pasta has all your favorite southwest flavors in pasta form. You can't go wrong!
Who doesn't love a rich and creamy stroganoff? We made this One Pot Beef and Mushroom Stroganoff a little more budget-friendly by adding some mushrooms and cooked it all in one pot to make it as quick and easy as possible!
If you grew up on hamburger helper, you're going to love this One Pot Chili Pasta! It's like the grown up version, made from scratch, and I promise it is soooo much better but still just as easy. 😉
The post Easy Ground Beef Recipes appeared first on Budget Bytes.