Easy Dumpling Soup is one of my absolute favorite things to throw together if I want a quick-and-simple homemade lunch or an effortless dinner that's still wholesome, comforting, and budget-friendly. I've designed this recipe to be as versatile as possible, dressing up mostly store-bought ingredients, in order to scratch that "itch" for whatever takeout favorite I'm craving when ordering out isn't on the menu.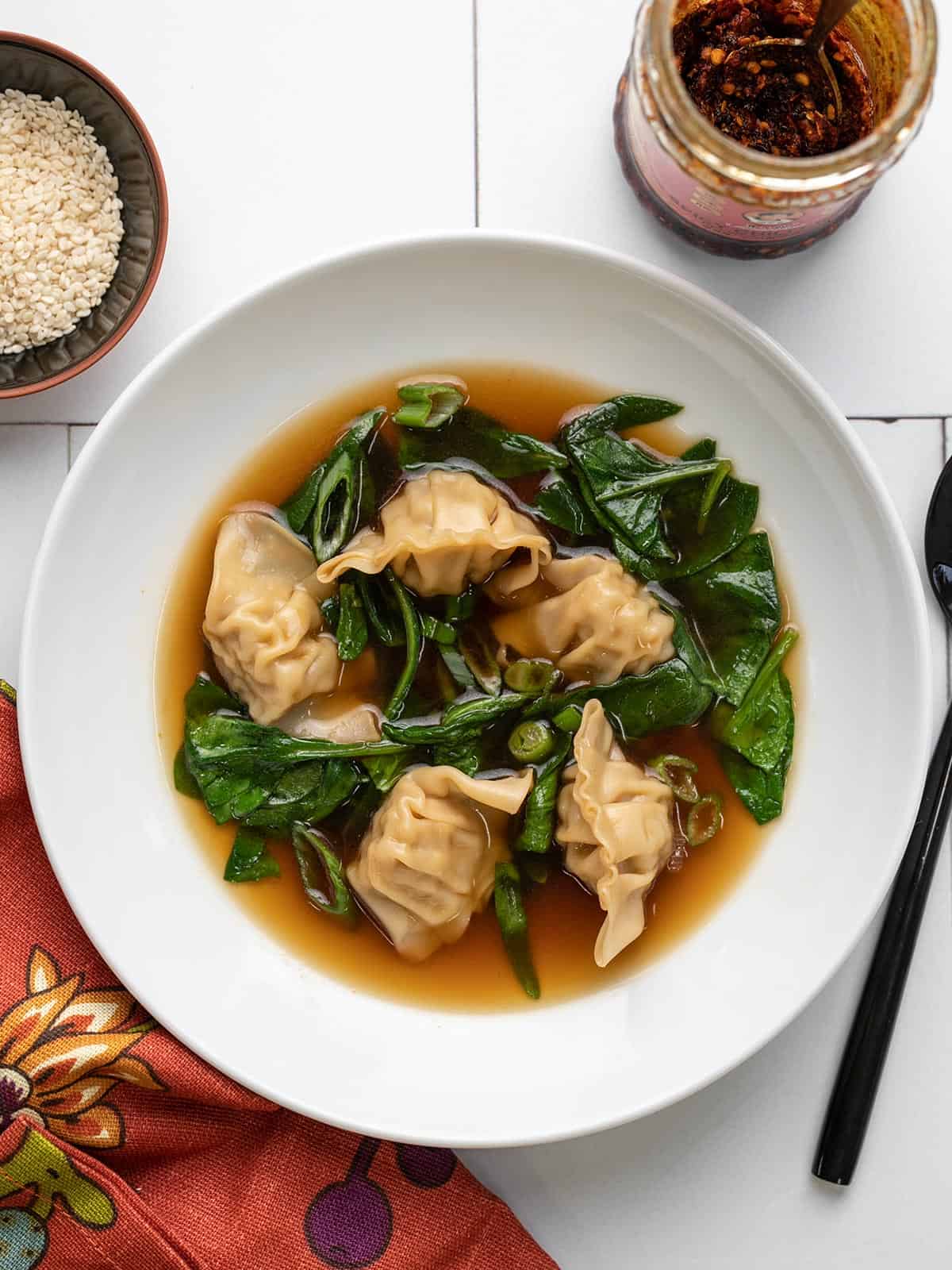 What is dumpling soup?
Our version of dumpling soup is a quick, semi-homemade soup inspired by dumpling soups found in Chinese, Korean and Japanese cuisines. The soup features a savory clear broth, delicate meat-filled dumplings, fresh greens, and an array of condiments to sprinkle on top. Here's what you need for this Easy Dumpling Soup:
Frozen dumplings — You can find Asian-style dumplings in the freezer section, usually filled with pork, vegetables, shrimp, or a combination of those ingredients.
Broth — We fortified our vegetable broth with soy sauce and toasted sesame oil!
A handful of fresh greens — like sliced green onions, fresh spinach, or baby bok choy
Condiments — Use anything your heart desires! Try chili crisp, sesame seeds, black vinegar, cilantro, and more!
Is this an authentic recipe?
No, this is not an authentic dumpling soup, but we highly encourage you to read more about the wide variety and rich culture surrounding dumplings. Also, check out these recipes for authentic Chinese potstickers and Xiaolongbao (soup dumplings), Korean mandu, and Japanese gyoza.
What kind of dumplings to buy
Most grocery stores offer a variety of frozen dumplings options of different sizes, shapes, and fillings (usually pork, vegetable, shrimp, or a combination of those flavors)—and any type of frozen dumpling will work for this recipe. If you're operating on an extra-tight budget, visiting an Asian grocery store is a great place to find a wider selection, larger quantities, and even lower prices.
How to know the dumplings are fully cooked:
Frozen dumplings are usually on the smaller side, so they cook quickly when added to boiling broth. However, since our suggested cook time is only based on the handful of brands we've tried (and there are so many others!), I highly recommend consulting the package directions on your dumplings to ensure you are cooking them long enough—as well as checking the suggested serving size to make sure you are preparing enough for two people.
Are the leftovers ANY good?
I would not recommend saving these leftovers. As it sits, the dumplings will keep soaking up the broth until they bloat and then fall apart. Instead, just make the amount you think you will eat, which is why I've developed the recipe for two servings rather than four. Since it comes together so quickly, it wouldn't be the end of the world if you decided to make it twice in one night!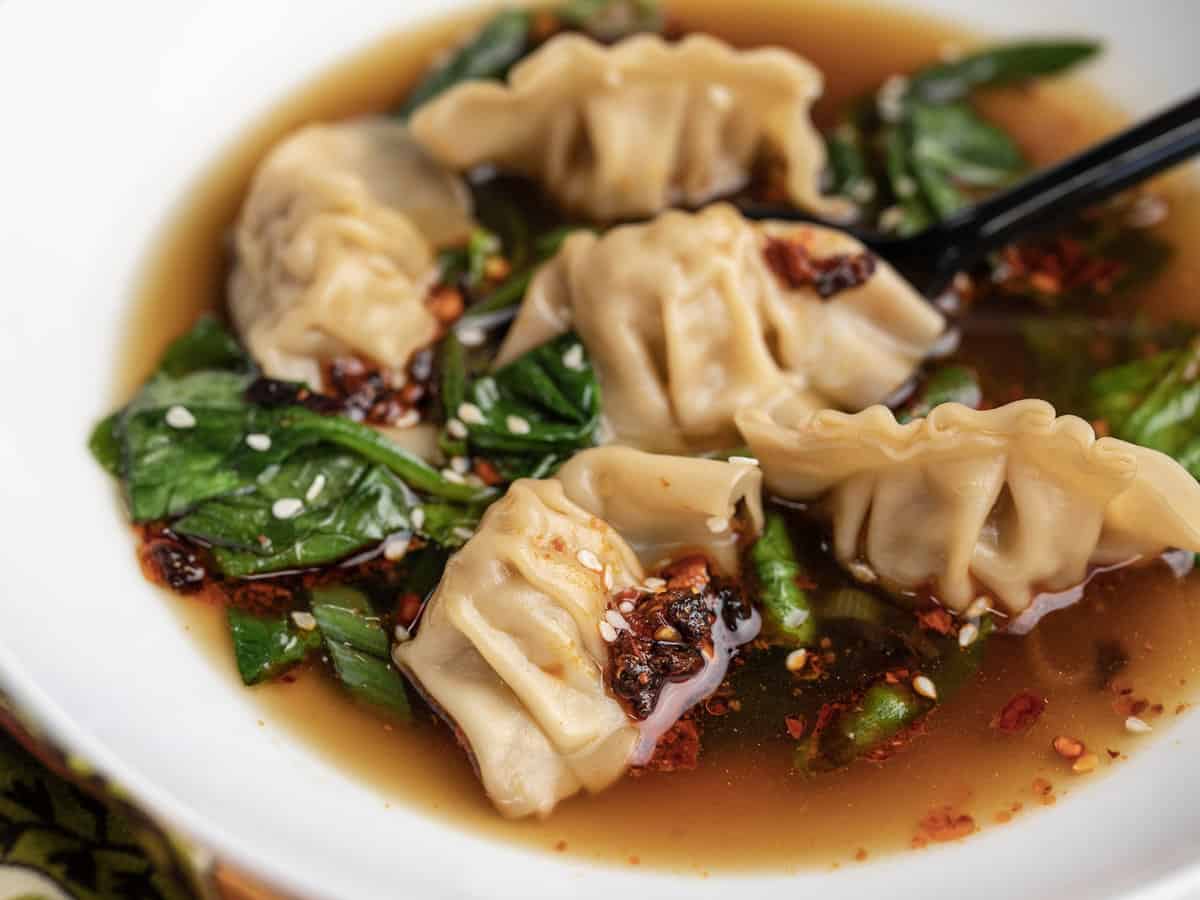 Take your Dumpling Soup to the next level
Some great flavor and topping additions for this soup are: 
Cubed tofu, cooked chicken, or another prepared protein
Mushrooms, or other fresh or frozen vegetables
Half of a hard-boiled egg
Fish sauce
Kimchi
Cilantro
Mirin 
Rice Vinegar or Lime Juice
Miso paste
A prepared sauce like Scheuzan chili oil, chili garlic sauce, sriracha, teriyaki sauce, or a prepared "dumpling sauce"
Sesame seeds, crushed nori, or a store-bought Furikake blend
My go-to Topping combinations
Plan to add any extra condiments and toppings directly to each serving bowl, so each person can mix and match them to suit their tastes. My go-to topping combinations are (per bowl): 
1 Tbsp kimchi + handful of torn cilantro 
¼ tsp Szechuan chili oil + hardboiled egg 
Sliced mushrooms + nori + sesame seeds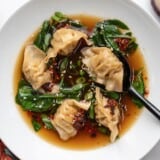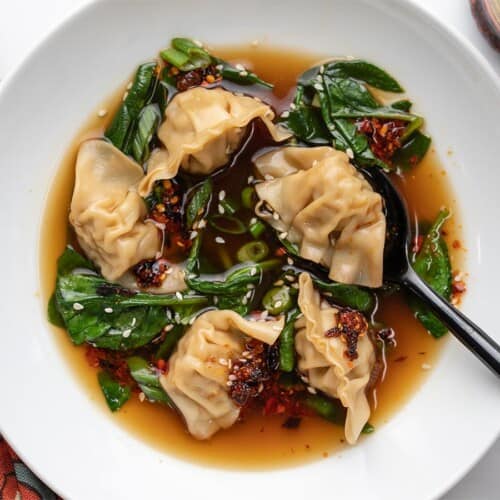 Easy Dumpling Soup
Easy Dumpling Soup is the perfect quick dinner because it's endlessly versatile, insanely budget-friendly, and can be made in 15 minutes.
Ingredients
10

frozen dumplings*

$2.00

2

cups

vegetable broth**

$0.24

1

Tbsp

soy sauce

$0.06

1

tsp

toasted sesame oil

$0.06

1

green onion, thinly sliced, white and green parts separated

$0.11

1/2

cup

fresh spinach***

$0.15
Instructions
Combine the vegetable broth, soy sauce, toasted sesame oil, and the white parts of a sliced green onion in a medium-sized pot. (If using, also add the fish sauce, pre-cooked proteins or tofu, and any fresh or frozen vegetables that need time to soften.)

Bring the broth up to a boil on medium-high heat. Once boiling, add the dumplings.

Cover the pot and allow the soup to come back up to a boil. Boil the dumplings for about 2 minutes or until they are cooked through. (Consult package directions.)

Turn off the heat and stir in the green parts of the sliced green onion and a handful of spinach.

Split the soup into 2 serving bowls and top with any desired condiments.
See how we calculate recipe costs here.
Notes
*
You can use any flavor (pork, vegetable, chicken, etc.), but I prefer ones with pork and vegetables.
**We use Better Than Bouillon mixed to make all of our broths. If substituted with a low-sodium broth, the final dish may need more salt. 
***or baby bok choy
Nutrition
Serving:
1
bowl of soup
|
Calories:
290
kcal
|
Carbohydrates:
46
g
|
Protein:
8
g
|
Fat:
9
g
|
Sodium:
1809
mg
|
Fiber:
3
g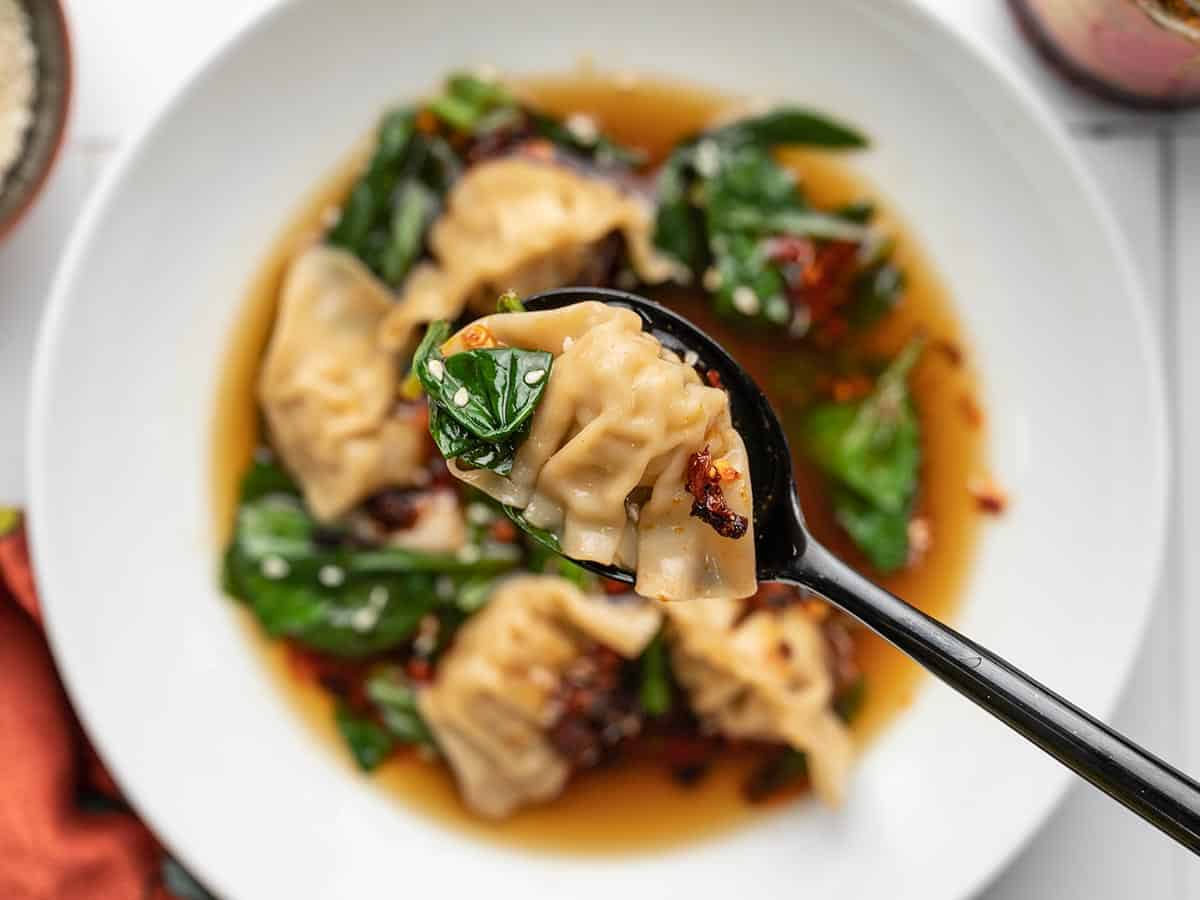 How to Make easy dumpling soup – Step by Step Photos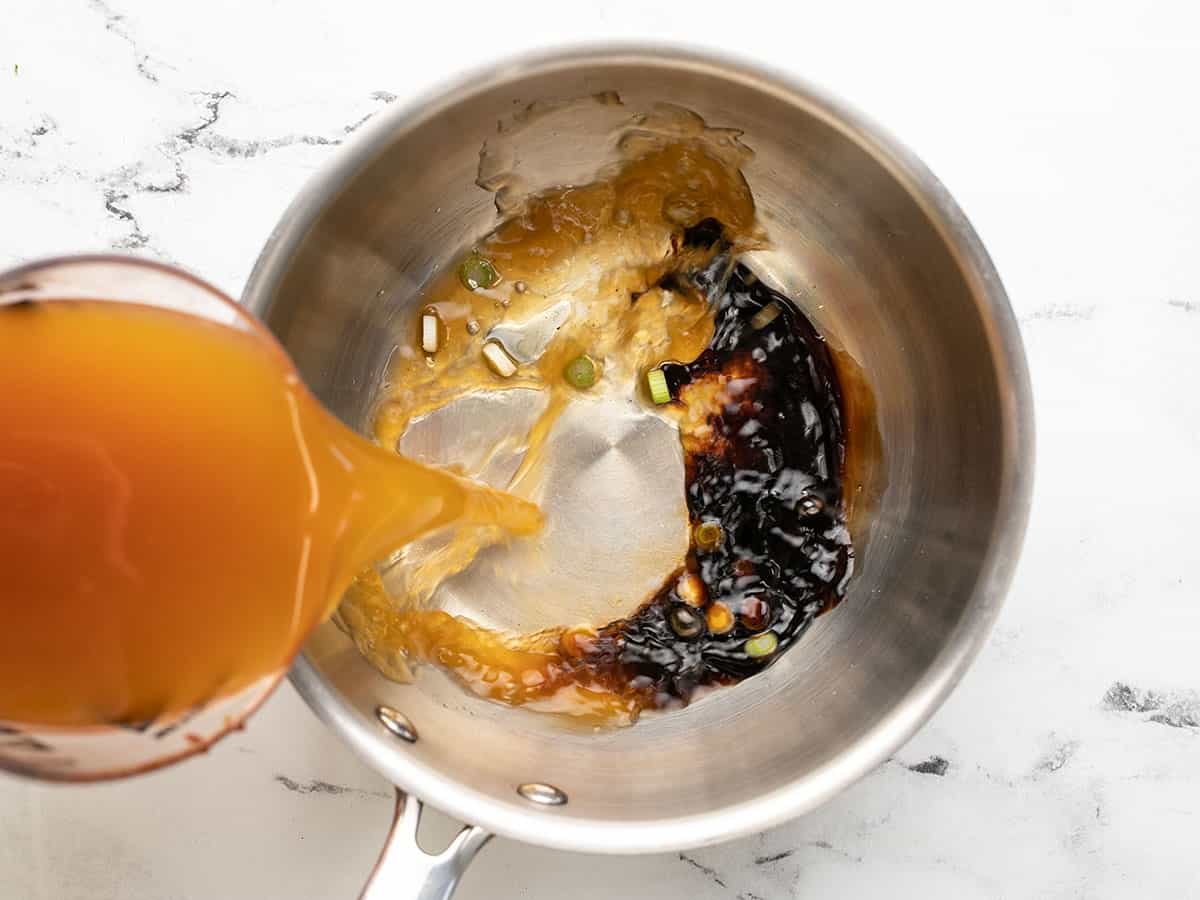 In a medium-sized pot, combine 2 cups of vegetable broth, 1 Tablespoon of soy sauce, 1 teaspoon of toasted sesame oil, and the white parts of a thinly sliced green onion (set the green parts aside for garnish), and cook over medium-high heat. You should also add the fish sauce now, if using — as well as any other extra ingredients that require some cooking time, like leftover cooked proteins from the fridge, tofu, mushrooms, or any other fresh or frozen vegetables that need time to soften.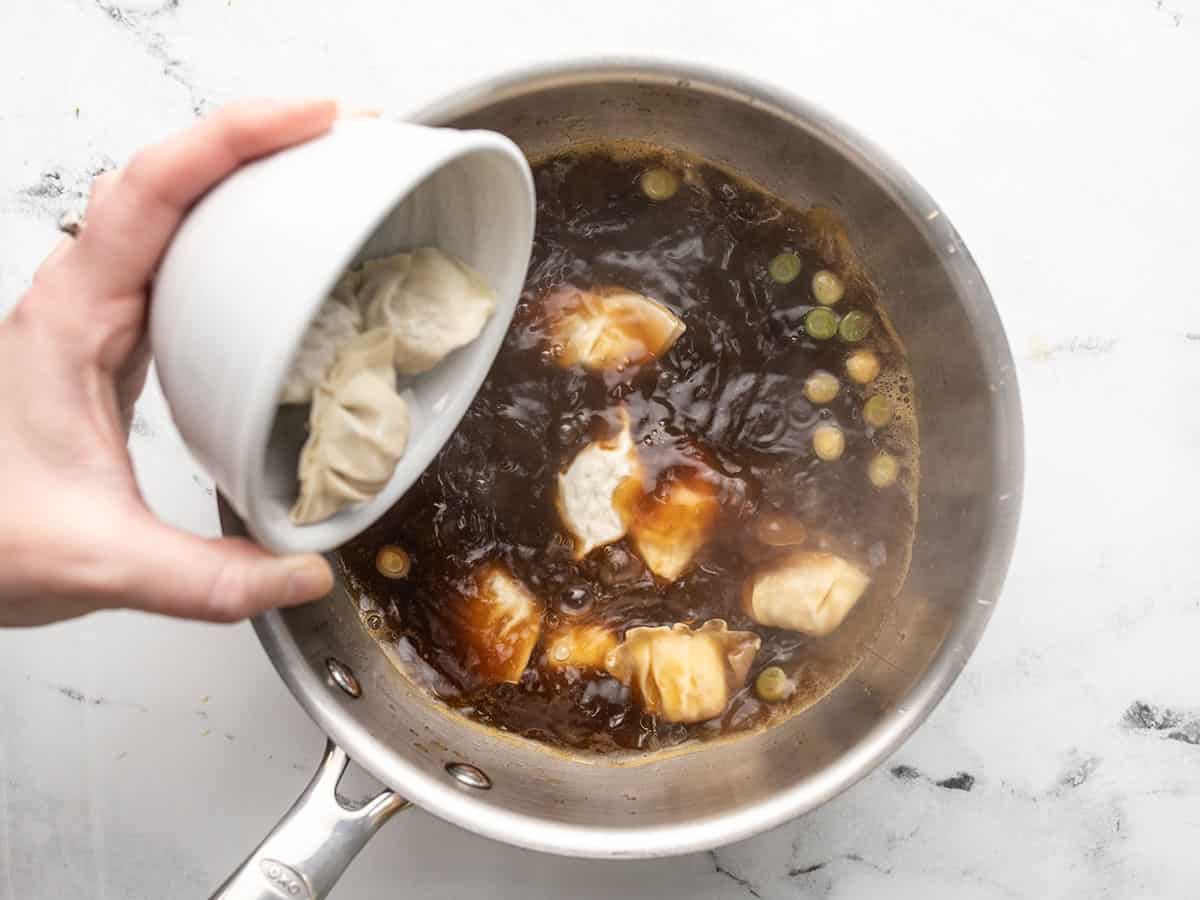 Bring the broth up to a boil on medium-high heat. Once boiling, add 10 frozen dumplings. Cover and allow the soup to come back up to a boil. Boil the dumplings for about 2 minutes or until they are cooked through. (Check out the suggested cooking time on your dumpling packaging to insure this will be enough time to cook them all the way through — at the same time, also check the nutrition label to make sure you add the correct amount for two servings.)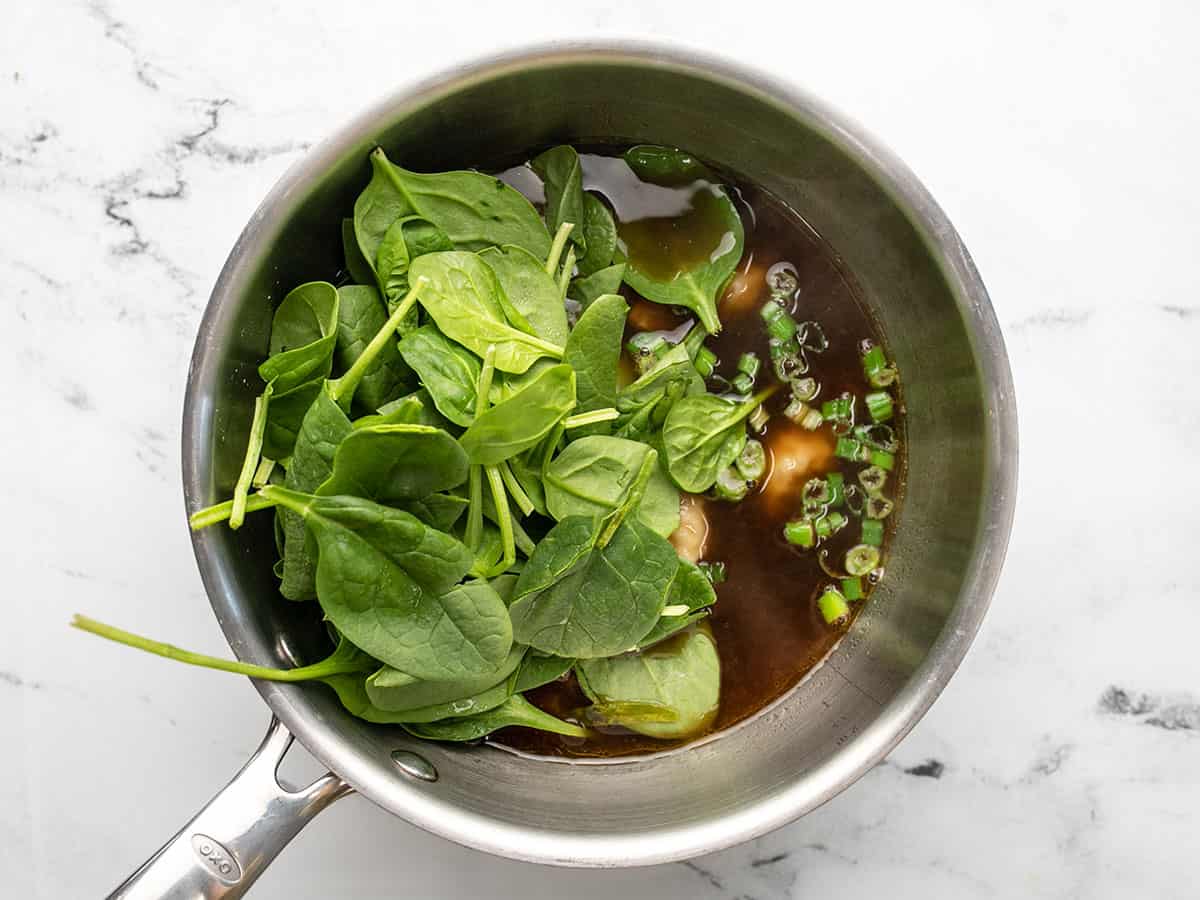 Turn off the heat and stir in 1/2 cup of fresh spinach and the reserved green onion slices.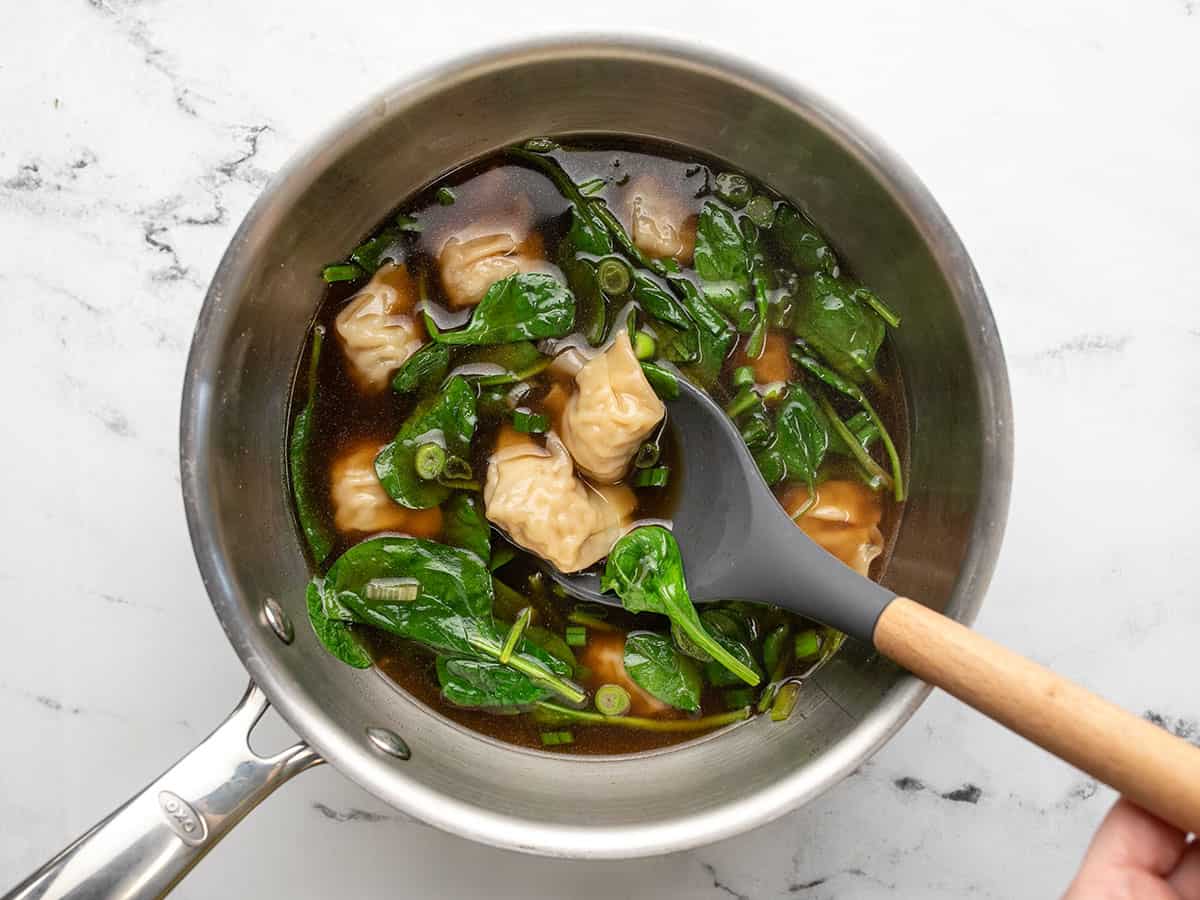 Split the soup into two serving bowls and top each bowl with your desired garnishes. We chose to sprinkle ours with a few sesame seeds and a heaping spoonful of Sichuan Chili Crisp!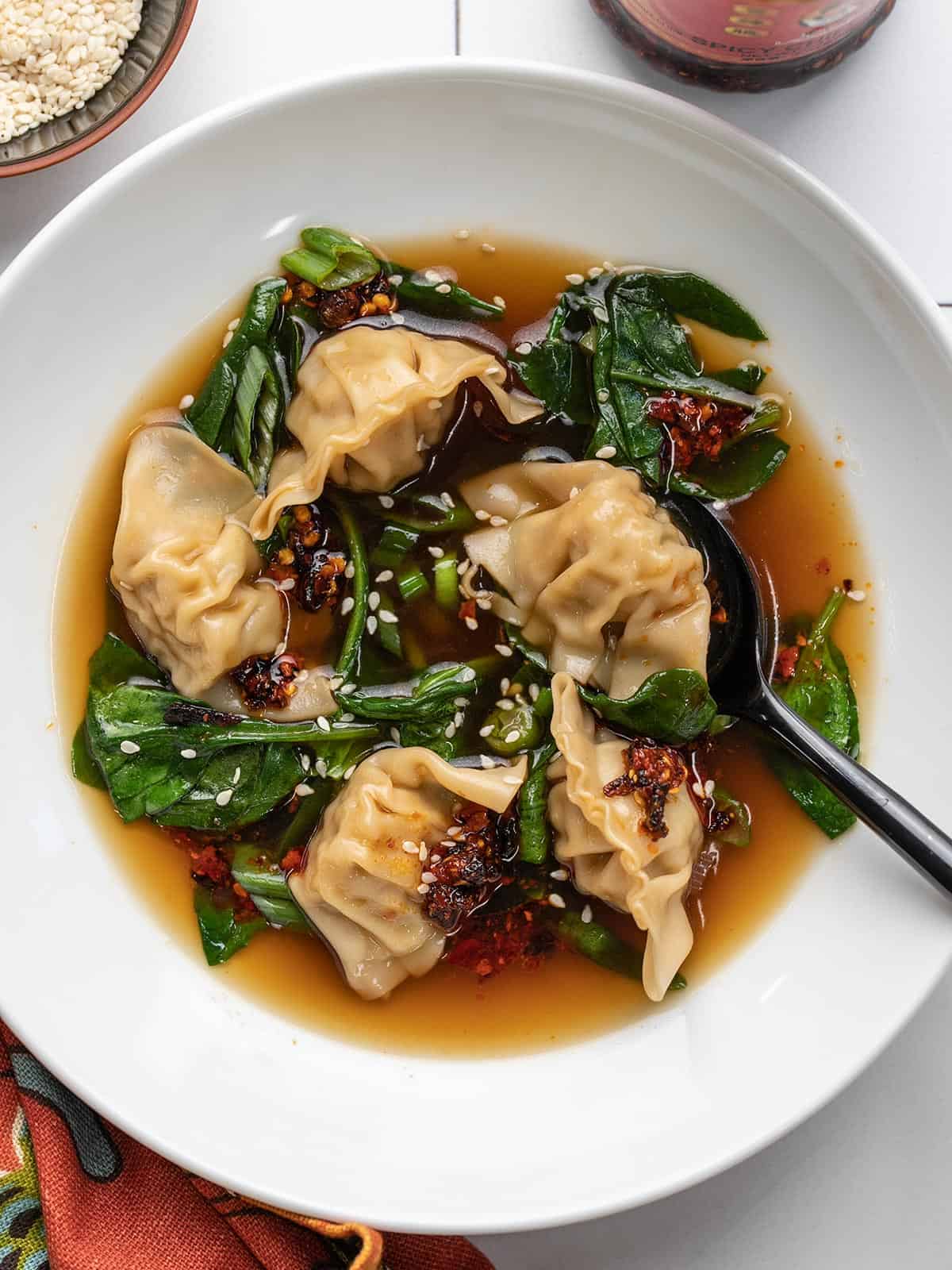 GET IN MY BELLY!
The post Easy Dumpling Soup appeared first on Budget Bytes.