If you're as obsessed with cozy creamy pasta dishes as I am, you're going to love this. We've gathered our best creamy pasta recipes all in one place so you can get that creamy comfort food fix even faster. Whether it's a classic Alfredo or a rich carbonara, a velvety sauce combined with perfectly cooked pasta can create a delicious and satisfying meal that is hard to resist. So, if you're a pasta lover looking to elevate your weeknight dinner game, you've come to the right place. Make sure to bookmark this page so you can try a new creamy pasta recipe every night of the week!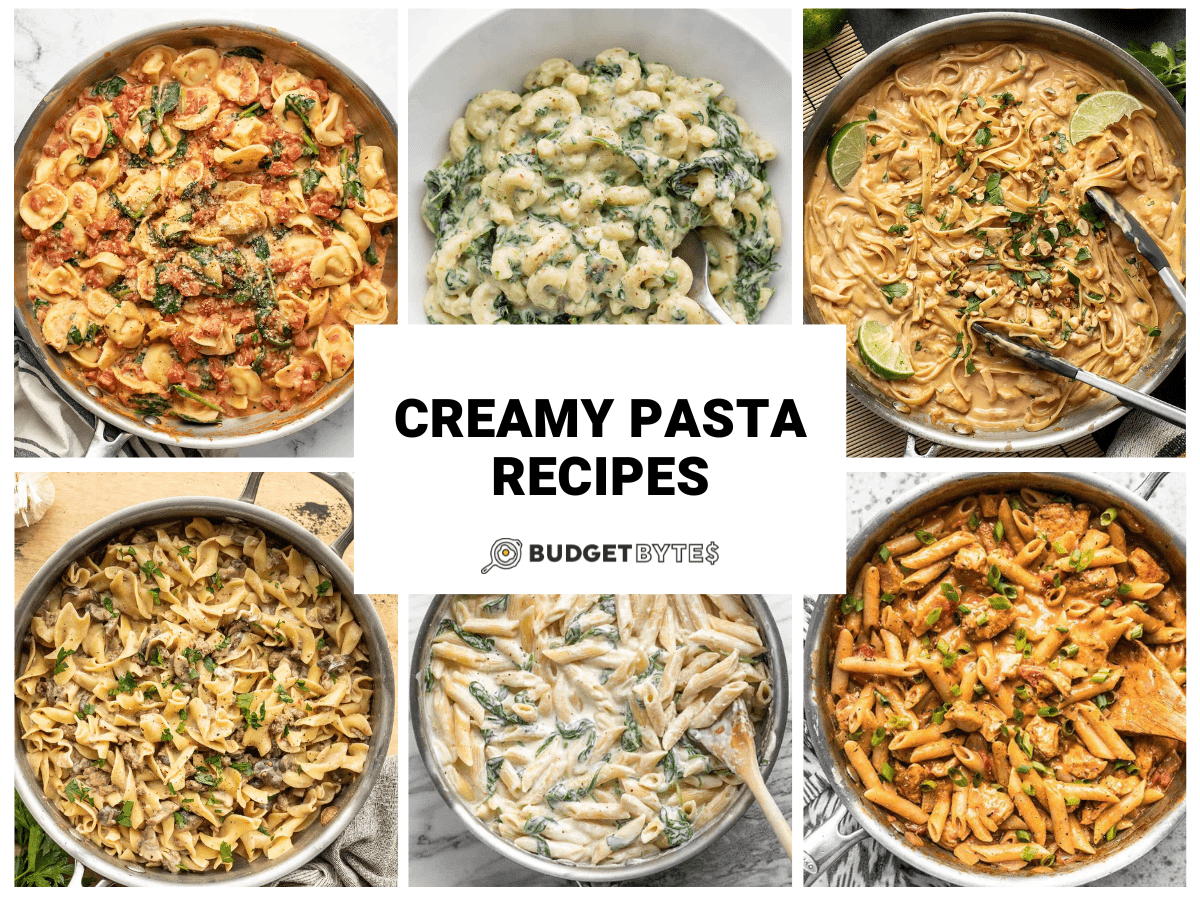 Quick skillet pasta dishes like this Creamy Tomato and Spinach Pasta are perfect for nights when you are just tired, hungry, and borderline HANGRY. It requires only a few ingredients, it cooks up super fast, and leaves me feeling full and happy! 🙂
This Homemade Mac and Cheese is a classic stovetop macaroni and cheese recipe made with a roux-based cheese sauce that will satisfy all of your cheesy pasta cravings. It's amazingly delicious on its own, but we've also included a list of fun add-ins and other ways you can customize your mac and cheese and make it unique.
You only need a few ingredients, about 20 minutes, and you'll have this warm, comforting Creamy Tuna Pasta with Peas. The best part? It will be equally as good the next day for lunch!
This One Pot Creamy Mushroom Pasta is a super-rich, umami-filled delight that is, as always, easily prepared in one pot. It's the perfect comfort at the end of a long tiring work day. And don't forget to make a little garlic bread to serve on the side. 😉
You can really take this Creamy Pesto Mac And Cheese With Spinach so many different directions! Try adding a handful of sun dried tomatoes, or maybe some chopped up rotisserie chicken. Or try topping it with some crumbled feta, bacon bits, or some buttered breadcrumbs!
This One Pot Creamy Cajun Chicken Pasta is incredibly easy to make and so it's perfect for weeknight dinners. We have a few variations you can try to make it the way you love it!
We paired the tangy flavor of sun dried tomatoes with garlic and Parmesan for a simple but indulgent One Pot Creamy Sun Dried Tomato Pasta.
Regular weeknights call for something better than jarred pasta sauce. Better but not harder. This Creamy Pesto Chicken Pasta comes together in about 25 minutes, is super luscious and creamy, and uses just a few simple ingredients. 😉
If your usual go-to comfort food is pasta with butter, Parmesan, and salt and pepper, take it a little further and make this super creamy Spinach Alfredo Pasta. We promise it'll be worth it!
These Peanut Noodles with Chicken are straight-up addictive with their sweet-savory-spicy-rich sauce and tender chunks of chicken breast. Plus, the whole recipe comes together in a cinch, so this is a great last-minute meal for those days when you just need something easy and GOOD.
This super easy Spinach Tortellini Skillet, which is a riff on one of our most popular recipes, Creamy Tomato and Spinach Pasta. This tortellini version is a bit easier (no chopping onion!) and a little more filling.
When it comes to indulgent comfort foods, I don't know if anything beats Chicken Alfredo. You just can't say no to a big ol' plate of carby pasta drenched in an ultra-rich and creamy sauce and topped with juicy strips of seared chicken, can you? (That was a rhetorical question.) And it's so easy to make at home!
What makes better comfort food than a rich creamy pasta dish, like this One Pot Beef and Mushroom Stroganoff? This is yet another "better than the box" meal. It cooks in one easy pot, just like hamburger helper stroganoff, but it's homemade.
If you grew up in the midwest in the '80s when creamy casseroles were a dinnertime staple, you may still have a soft spot for classic dishes like this Tuna Noodle Casserole. It's filling, creamy, and totally comforting! And no canned condensed soup!
This extra luxurious Shrimp Alfredo is super easy and feels just as fancy as going out to eat. …Except way less expensive and way more special because you did it yourself. We promise this creamy shrimp alfredo pasta will earn you some extra points!
What's your favorite creamy pasta recipe? Let us know in the comments below?
The post Creamy Pasta Recipes appeared first on Budget Bytes.