Feeding a family on a tight budget is NO JOKE! We created this Cheap and Easy Family Dinners roundup to help keep dinnertime fresh and alleviate that recipe rut. Every delicious recipe in this round up comes together fast, requires minimal hands-on prep time, and makes at least four big servings for about what you'd spend for one serving at a restaurant. WIN!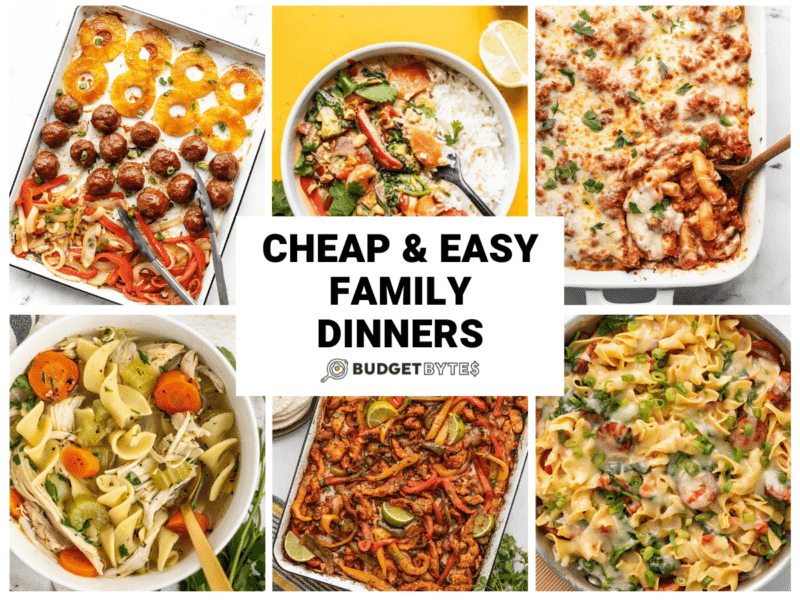 SHEET PAN DINNERS
One of the quickest, easiest ways to get dinner on the table quickly is to throw everything on a sheet pan and bake it up. Plus, there's only one pan to clean up, which is perfect for busy weeknights! Feed the whole family with these five cheap and easy sheet pan meals:
Sheet Pan Chicken Fajitas is a Budget Bytes staple! Why? Because it achieves the same smoky flavor of traditional fajitas without a smokin' hot skillet. We bet this easy, delicious dinner will also earn a spot in your dinner rotation!
Sheet Pan Kielbasa, Potatoes, and Green Beans is an excellent, hearty meal for a busy weeknight. This easy dinner recipe brings together smoked kielbasa and frozen veggies, so it comes together quickly with minimal prep.
If you've got a sweet tooth, you will love the sticky-sweet caramelized pineapple rings prepared alongside our Sheet Pan BBQ Meatballs! You can serve up serious summer-BBQ vibes with this drool-worthy dinner all year long (without sweating over a hot grill)!
Do you love a classic meatloaf? If so, this Sheet Pan BBQ Meatloaf Dinner is for you! It's a simple twist on the traditional version but gets dinner – complete with two sides – on the table in less than an hour.
For an unforgettable family meal, you've got to try out this Sheet Pan Pizza! This easy recipe produces restaurant-quality pizza at half the cost.
ONE POT DINNERS
You can't go wrong with a one-pot dinner. One pot pasta and rice dishes typically make about four servings each, create a well-rounded meal, and require minimal prep and cleanup! Whether it's Meatless Monday or you need a meal to match your family's favorite protein, these five cheap and easy one pot dinners will have you covered:
Ditch the box of Hamburger Helper and try this homemade version instead! Check out the full recipe for One Pot Cheeseburger Pasta to learn how we achieve the signature taste of the original with a special, budget-friendly ingredient you already have on-hand.
This cheap, easy Cheesy Sausage Pasta has everything you'd ever want in a dinner recipe: a hearty serving of veggies, a hint of spice from the sausage, quick-cooking egg noodles, and ooey-gooey melted cheese on top! Plus, it all comes together in the same skillet and will hit the dinner table in less than 30 minutes!
This Creamy Chicken and Rice Skillet is the ultimate, budget-friendly comfort food. Since rice is so filling, it helps stretch expensive proteins and frozen vegetables in a way that still satisfies the whole family. You'll love this cheesy, decadent, and easy one-pot dinner!
Buying budget-friendly seafood options like frozen shrimp whenever they're on sale help mix up your dinner rotation without breaking the bank. Try this fresh, filling, and easy One Pot Lemon Garlic Shrimp and Rice. 
This One Pot Creamy Mushroom Pasta is a perfectly uncomplicated recipe for a meat-free, busy weeknight dinner. If you're craving something more complex, you can "beef" it up (literally) or add a few handfuls of leafy greens or top it with grilled chicken.
EASY SOUP AND STEW RECIPES
Some meals are not tied to a season when you are eating on a budget. Soups and stews are so easy to have on hand and can feed everyone no matter the temperature outside. These five cheap and easy soups and stews will be the center of your meal: 
When I need a hug in a bowl, I turn to Chicken Noodle Soup. This classic recipe cooks everything in one pot for ultimate simplicity.
This Chicken Stew is the perfect dinner for Chicken Noodle Soup lovers looking for a heavier version of the classic, cozy meal. Adding potatoes gives the broth extra thickness and creaminess, which upgrades it from a light soup to a hearty, filling stew.
When it comes to quick, easy, and budget-friendly dinners, nothing quite compares to a big pot of chili. This really is the Best Homemade Chili on the block, and the leftovers are even better!
Homemade taco seasoning and ranch seasonings make this Taco Soup extra flavorful, but you can use store bought seasoning packets to make it even faster!
If you're trying to feed many hungry mouths and make the most of your food budget, you really can't go wrong with this Easy Vegetable Beef Soup. This big-batch soup will effortlessly feed a family of 6, makes excellent leftovers, and is a great choice for batching and freezing.
Combining store-bought swaps (like frozen tortellini and dumplings) with fresh ingredients is a great way to create simple, semi-homemade meals like this Creamy Tortellini Soup! We love this cozy vegetarian soup and its rich tomatoey broth!
EASY CASSEROLE RECIPES
Casserole recipes make the best family dinners! They are easy to make and are a great way to pack tons of flavor and ingredients into every bite!  If you're looking for big meals to feed your family, you will love these four easy casserole recipes:
This Chicken Alfredo Bake is the dictionary definition of the ULTIMATE creamy, cheesy, rich pasta bake. It is guaranteed to become a family favorite! Once you whip up our easy, Homemade Alfredo Sauce, you only need a couple of (cooked) chicken breasts, a bag of frozen veggies, half a box of pasta, and BOOM… dinner is ready!
Our recipe for Classic Baked Ziti is another super easy pasta bake guaranteed to satisfy your whole family! Make it a complete meal with a Simple Side Salad and Homemade Freezer Garlic Bread.
This super-simple, super-versatile Chicken And Biscuit Casserole makes a delicious family dinner using whatever you've got in the fridge or freezer. You won't regret doubling, or even tripling, the Cheddar drop biscuit topping. (Especially if you plan to bake this casserole in a dish with more surface area to cover than the 8×8" dish we used!)
If you love the classic combo of Vegetarian Chili and Homemade Cornbread, you've got to try our Chili Cornbread Skillet! This fun, vegetarian dish is the perfect mashup of the two Southwestern staples in a way that's reminiscent of a Vegetable Pot Pie.
VEGETARIAN FAMILY DINNERS
Replacing expensive meat with cheaper protein sources (like beans, lentils, and chickpeas) is a great way to cut your grocery bill in half. Whether your family always eats vegetarian, or you're looking to mix things up with some vegetarian meals, we have tons of easy and filling meatless dinners on our website! Add variety to your family's dinner rotation with these six Cheap and Easy Vegetarian Family Dinners:
For a vegetarian spin on the classic Mexican restaurant dish, give our Sheet Pan Portobello Fajitas a try! We swap out the chicken in our classic Sheet-Pan Fajita recipe, opting for slightly spicy, super-smoky portobello mushroom caps instead. We promise you won't miss a thing!
If you've got a ton of fresh vegetables on hand, and looking for an easy, cheesy, and cheap dinner, look no further than this One Pot Veggie Pasta! The combination of tomatoes, zucchini, and squash gives the dish ratatouille vibes, but we also add mushrooms to balance out the flavors and make this a hearty one-pot meal!
Slow cookers are a great asset when it comes to preparing long-simmered soups and stews without tending to them for hours and hours. We added some lentils to this vegan chili recipe which helps make this Slow Cooker Vegetarian Lentil Chili thicker and heartier and packs some extra protein!
For a dairy-free and vegetable-forward easy dinner, check out this Spicy Coconut Vegetable Stir Fry! This summery, tropical dish is also super-versatile, perfect for cleaning out the crisper, and pairs well with all types of protein, rice, legumes, or whatever you have in the pantry!
Chickpeas (or Garbanzo Beans) are another great way to make a quick, filling, and cheap dinner without meat! Paella inspires this recipe for Spanish Chickpeas and Rice, but you won't need any of the expensive seafood or saffron!
The post Cheap And Easy Family Dinners appeared first on Budget Bytes.