Chili is seriously one of my favorite parts of the fall-winter season. It's super easy to make, the leftovers are amazing, and it's incredibly cozy and hearty. It's basically all I want to eat from September to March. 😅 Our classic chili recipe is great, but I also love this simple black bean chili because it has a slightly lighter, brighter flavor, and I just have a soft spot for black beans. Gimme all the black beans all of the time! So if you're looking for something to meal prep for the week or just something to keep you warm as the air outside gets colder, give this black bean chili a try!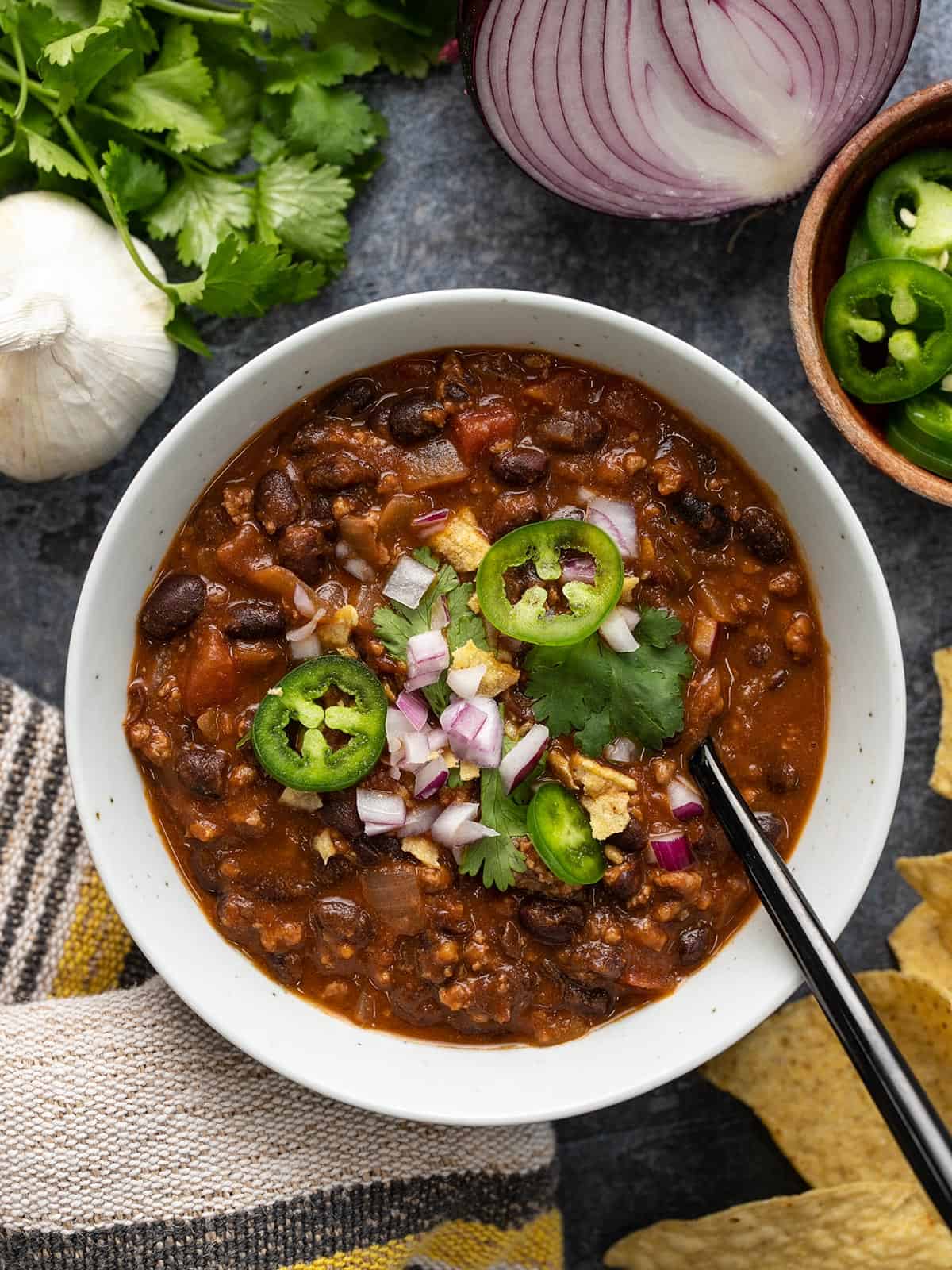 What's in Black Bean Chili
Rather than just substituting all black beans in my classic chili recipe, I also changed the flavor profile of this chili slightly. I used tangy diced tomatoes with green chiles, which gives the chili a nice brightness. I paired that with a little more cumin than usual for a slightly earthy base, and then added some smoked paprika because that smoky flavor pairs really well with the black beans. I also wanted the black beans to be the star of this show, so I actually used half the amount of ground meat as my classic chili, which helps keep it very budget-friendly as well!
Ingredients for Black Bean Chili
Here's what you'll need to make this delicious and hearty pot of black bean chili:
Onion and Garlic: Any pot of chili is going to start with plenty of onion and garlic to get those savory base flavors in place!
Ground Beef: I used only a half pound of ground beef for this recipe, but you can increase it to one pound if you prefer a more meaty chili. You can also substitute with ground turkey if preferred.
Tomatoes: I used a combination of diced tomatoes with green chiles and tomato paste for this chili. The diced tomatoes add texture and a zingy flavor (thanks to the green chiles) and the tomato paste adds richness and helps thicken the chili.
Herbs and spices: The spice mix for this chili starts with a hefty dose of chili powder, then we add some extra cumin for earthiness, a little smoked paprika, oregano, salt, and pepper. Feel free to add a little cayenne if you like your chili spicy!
Toppings for Chili
One of the reasons I love chili the most is all of the fun toppings you can add to your bowl. It's a great opportunity to use up leftovers in your fridge or pantry, and it can just add tons of flavor, color, and texture to the meal! Here are some of my favorite toppings for black bean chili:
Fresh or pickled jalapeños
Diced red onion
Avocado
Sliced green onion
Cilantro
Crushed tortilla chips
Sour cream
Cheddar cheese
Fresh lime juice
Diced avocado
Serve with a side of Jalapeño Cheddar Cornbread!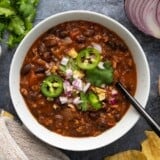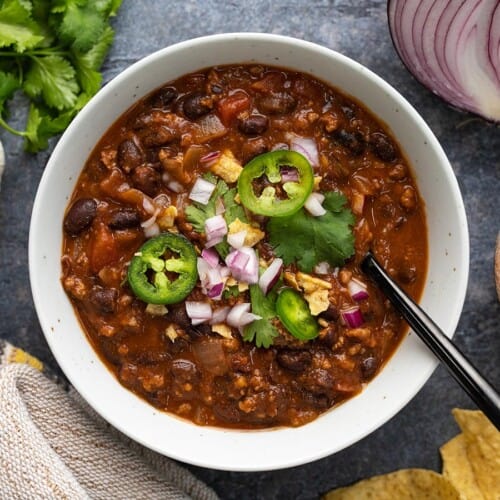 Black Bean Chili
This easy and comforting black bean chili is rich, full of warm chili spices, and fast enough to pull together on a busy weeknight. 
Servings
6
(about 1.3 cups each)
Instructions
Dice the onion and mince the garlic. Add the onion and garlic to a large pot with the olive oil and cook over medium heat just until the onions are softened (2-3 minutes).

Add the ground beef to the pot and continue to sauté until the beef is cooked through (5-7 minutes).

Add the drained black beans, diced tomatoes (with juices), tomato paste, chili powder, cumin, smoked paprika, and oregano. Stir everything to combine.

Place a lid on the chili and allow it to come up to a simmer. Let the chili simmer for about 15 minutes, stirring occasionally, to let the flavors blend and help the liquid thicken slightly.

Taste the chili and add salt as needed (this will depend on the salt content of your canned goods. I added about ½ tsp). Serve with your favorite chili toppings and enjoy!
See how we calculate recipe costs here.
Notes
*If you want a mild chili, you can use plain diced tomatoes instead of diced tomatoes with green chiles.
Nutrition
Serving:
1
Cup
|
Calories:
358
kcal
|
Carbohydrates:
46
g
|
Protein:
22
g
|
Fat:
11
g
|
Sodium:
1292
mg
|
Fiber:
17
g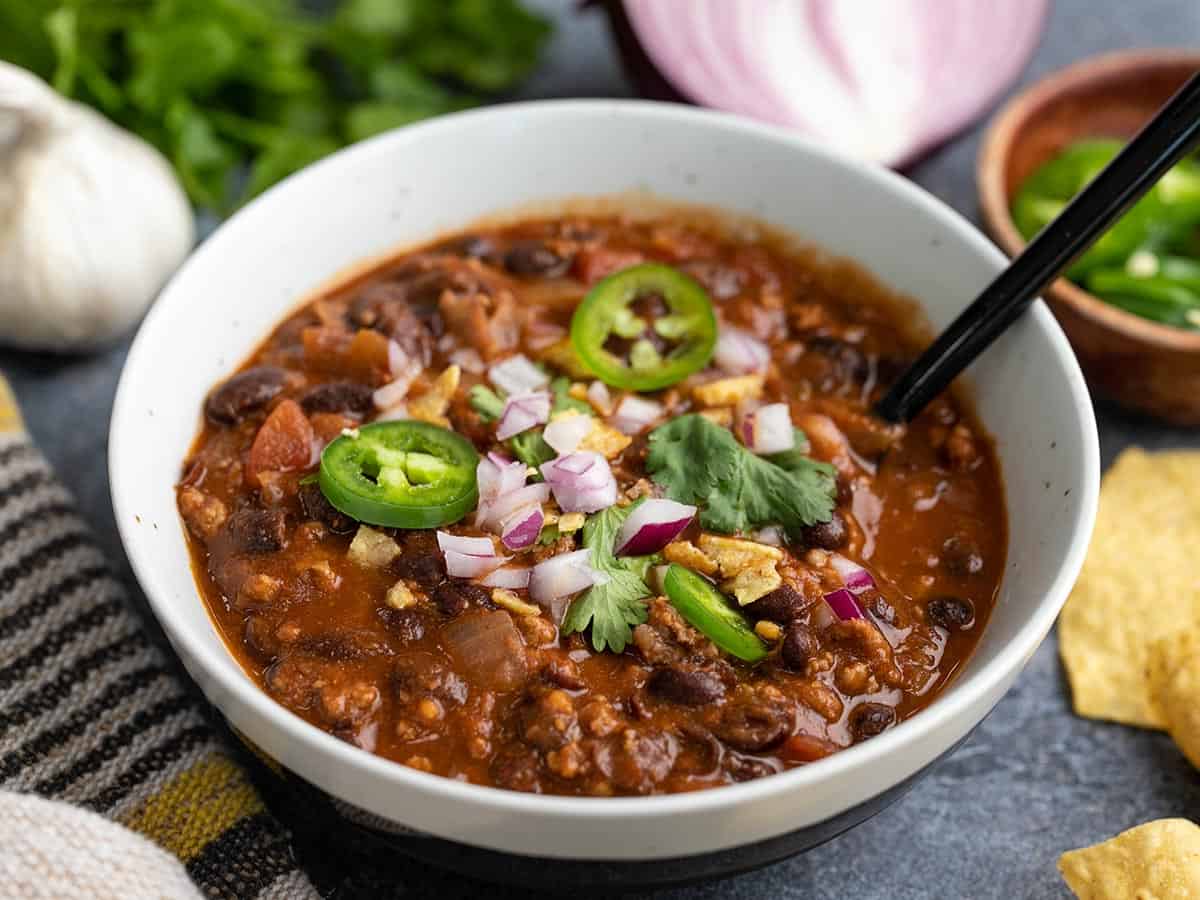 How to Make Black Bean Chili – Step by Step Photos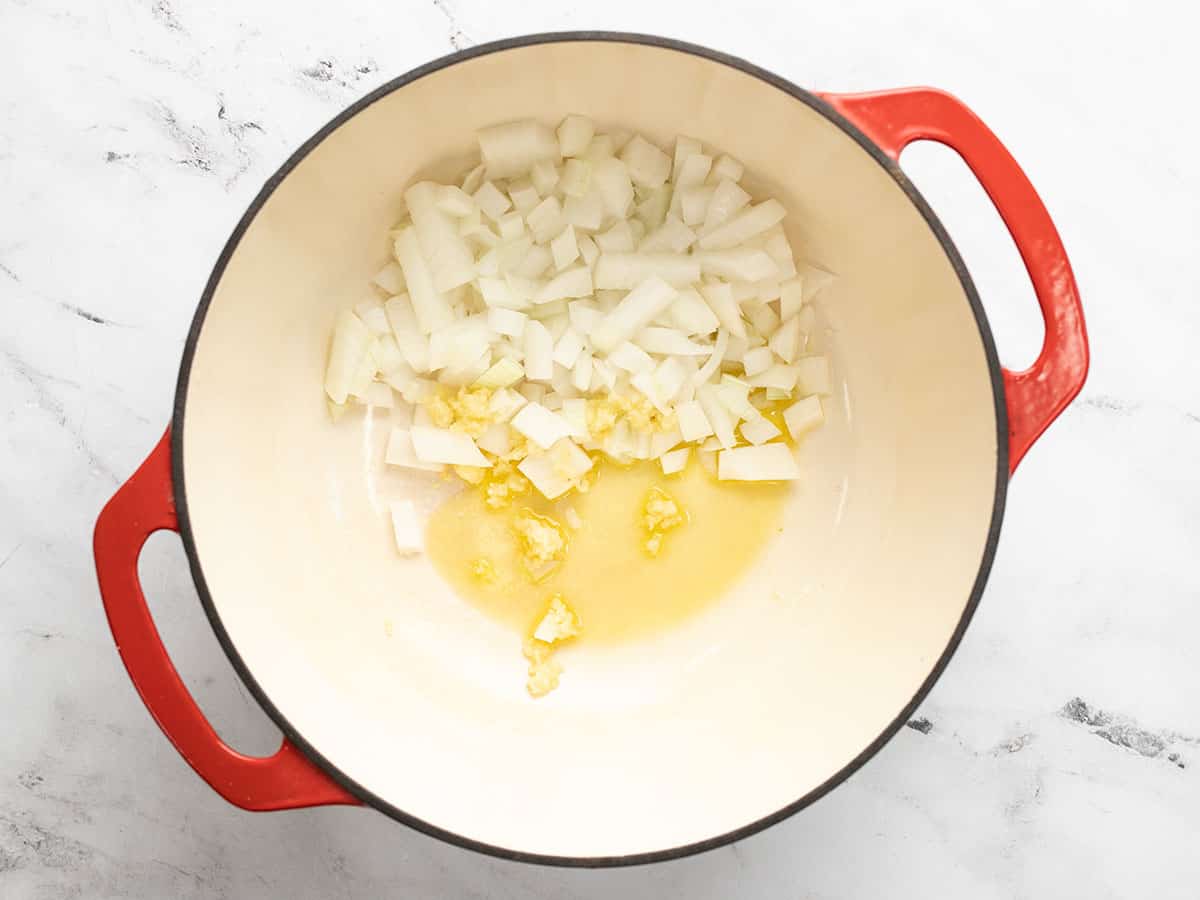 Begin by dicing one yellow onion and mincing four cloves of garlic. Sauté the onions and garlic with 1 Tbsp olive oil in a large pot over medium-low heat until softened (2-3 minutes).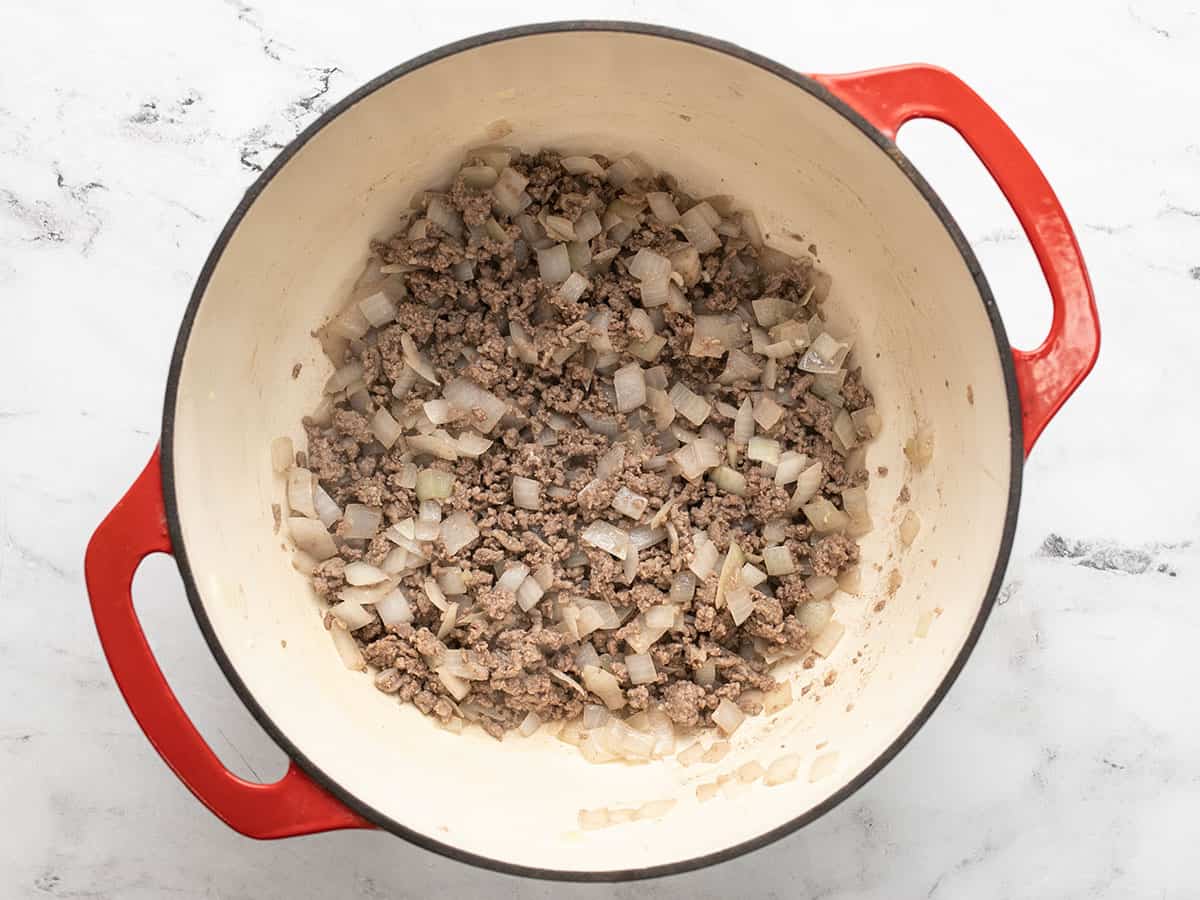 Add ½ pound ground beef (or turkey) and continue to sauté until the meat is cooked through.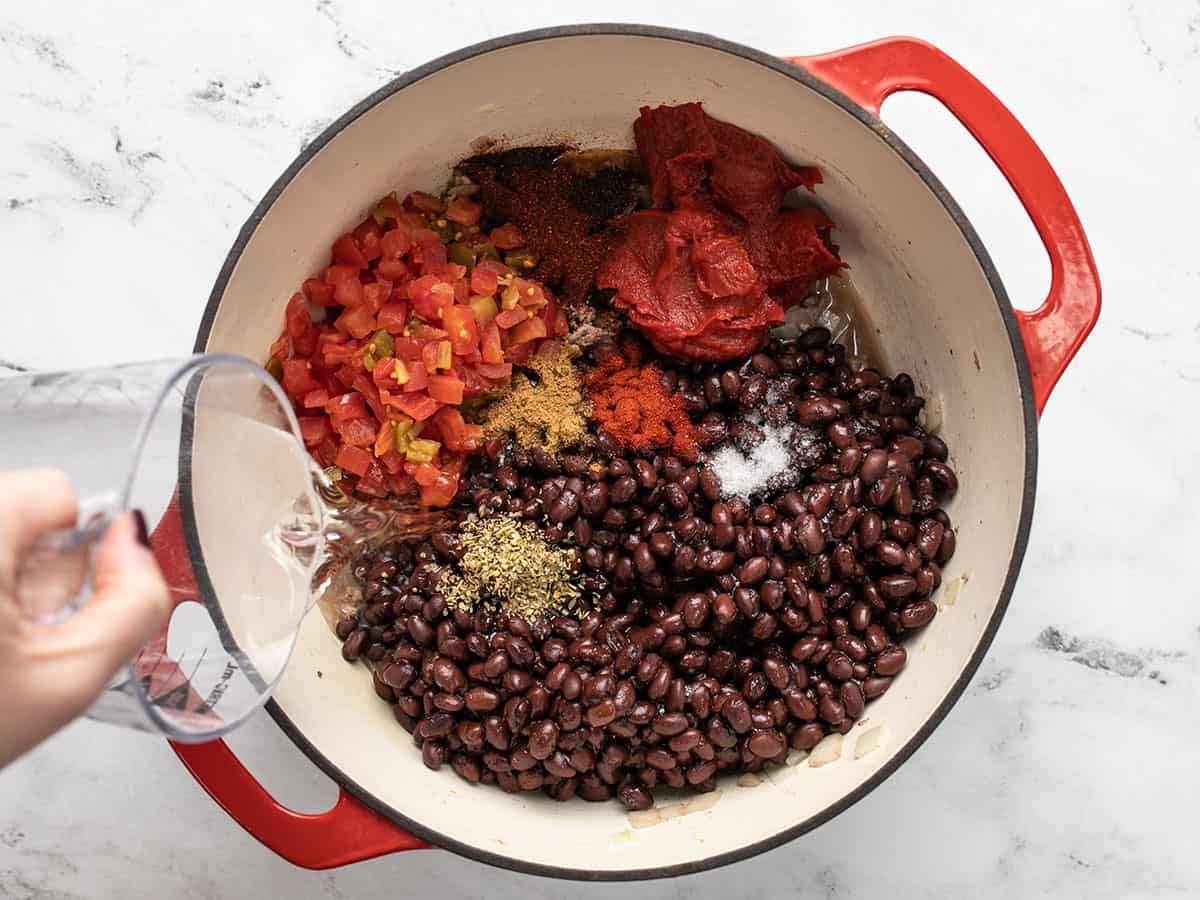 Add three 15oz. cans of black beans (drained), one 10oz. can of diced tomatoes with green chiles (with the juices), one 6oz. can of tomato paste, 1 Tbsp chili powder, 1 tsp ground cumin, ½ tsp smoked paprika, ½ tsp oregano, ½ tsp salt, and 2 cups of water.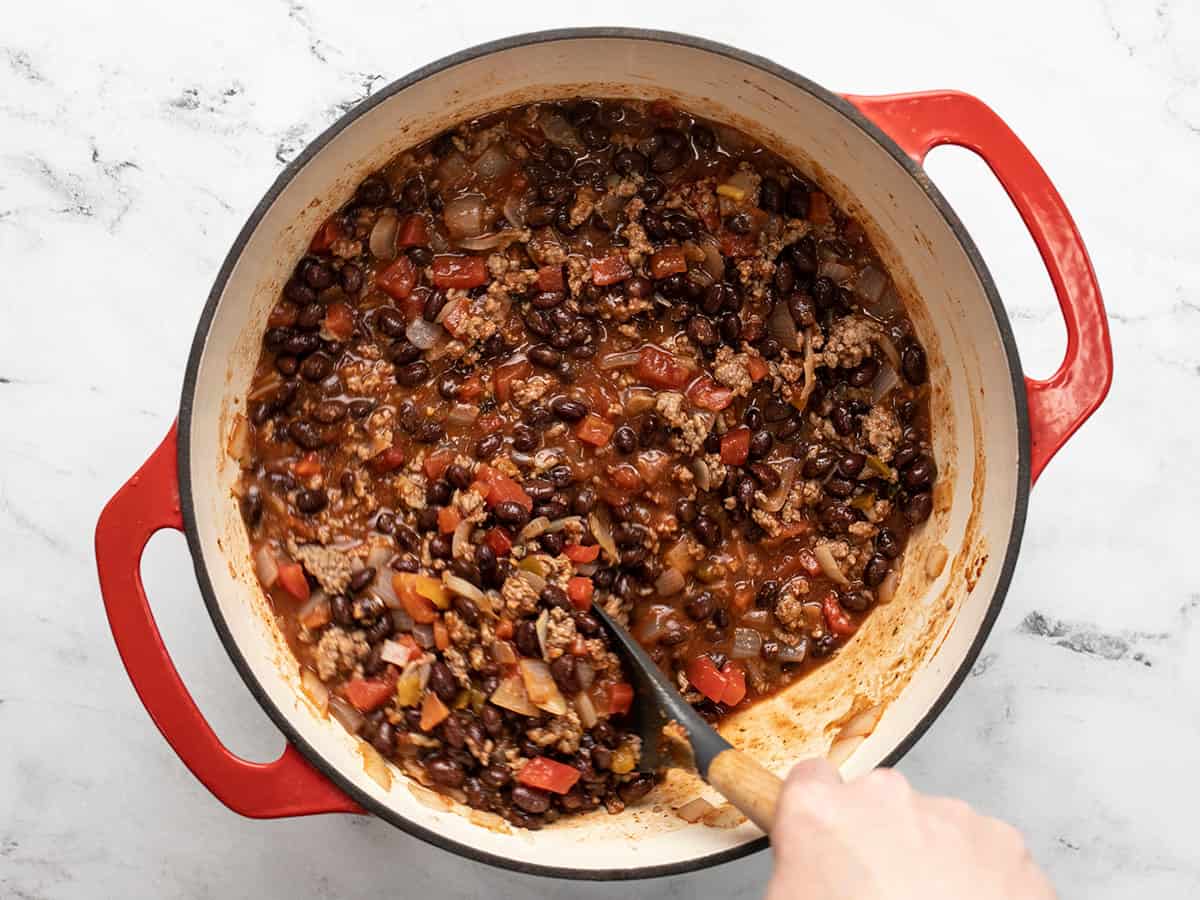 Stir all of the ingredients together until evenly combined. Turn the heat up to medium-high, place a lid on the pot, and allow the chili to come up to a boil. Once it comes up to a boil, give the chili a stir, replace the lid, and reduce the heat to medium-low.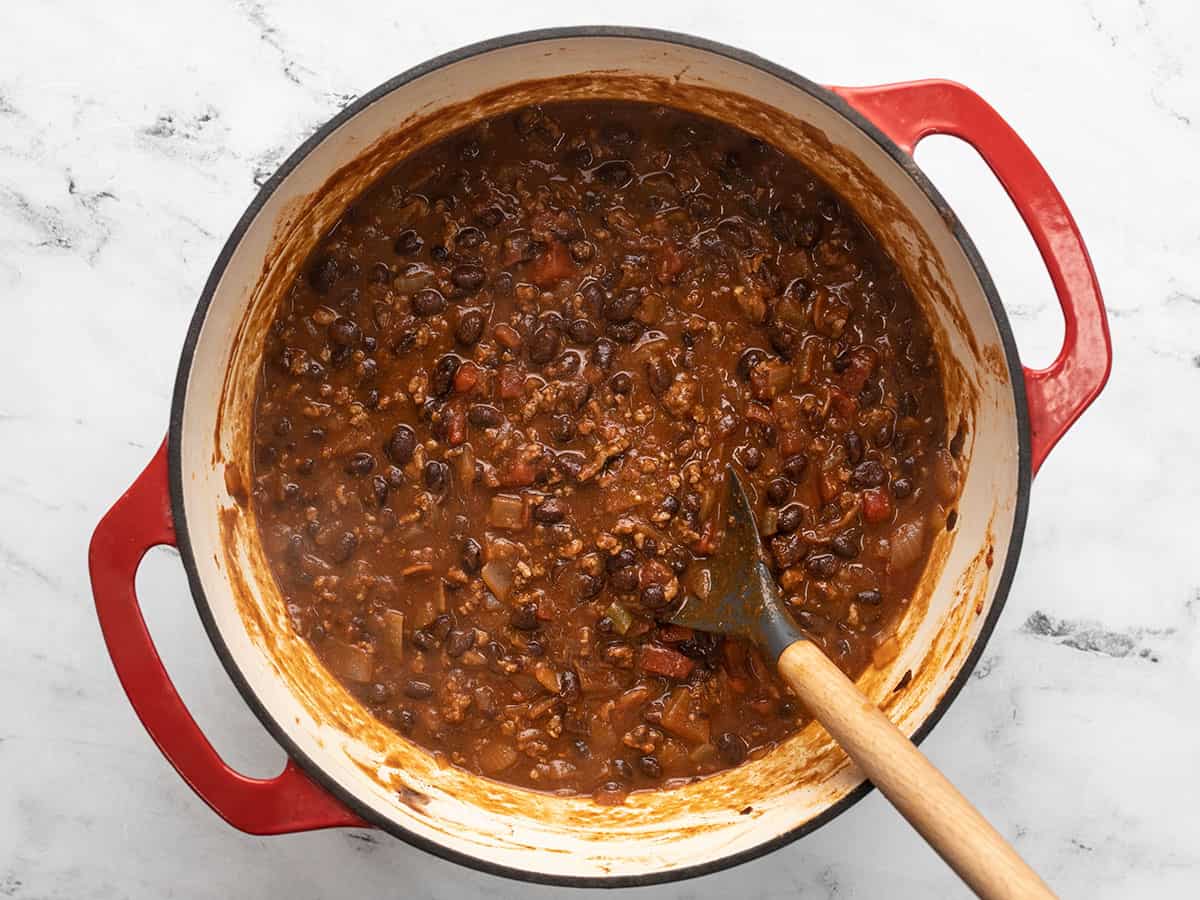 Let the chili simmer over medium-low heat for about fifteen minutes, which will help blend the flavors and thicken the sauce. Give it a taste and add salt if needed. I added about ½ tsp. And that's it! You're DONE making dinner!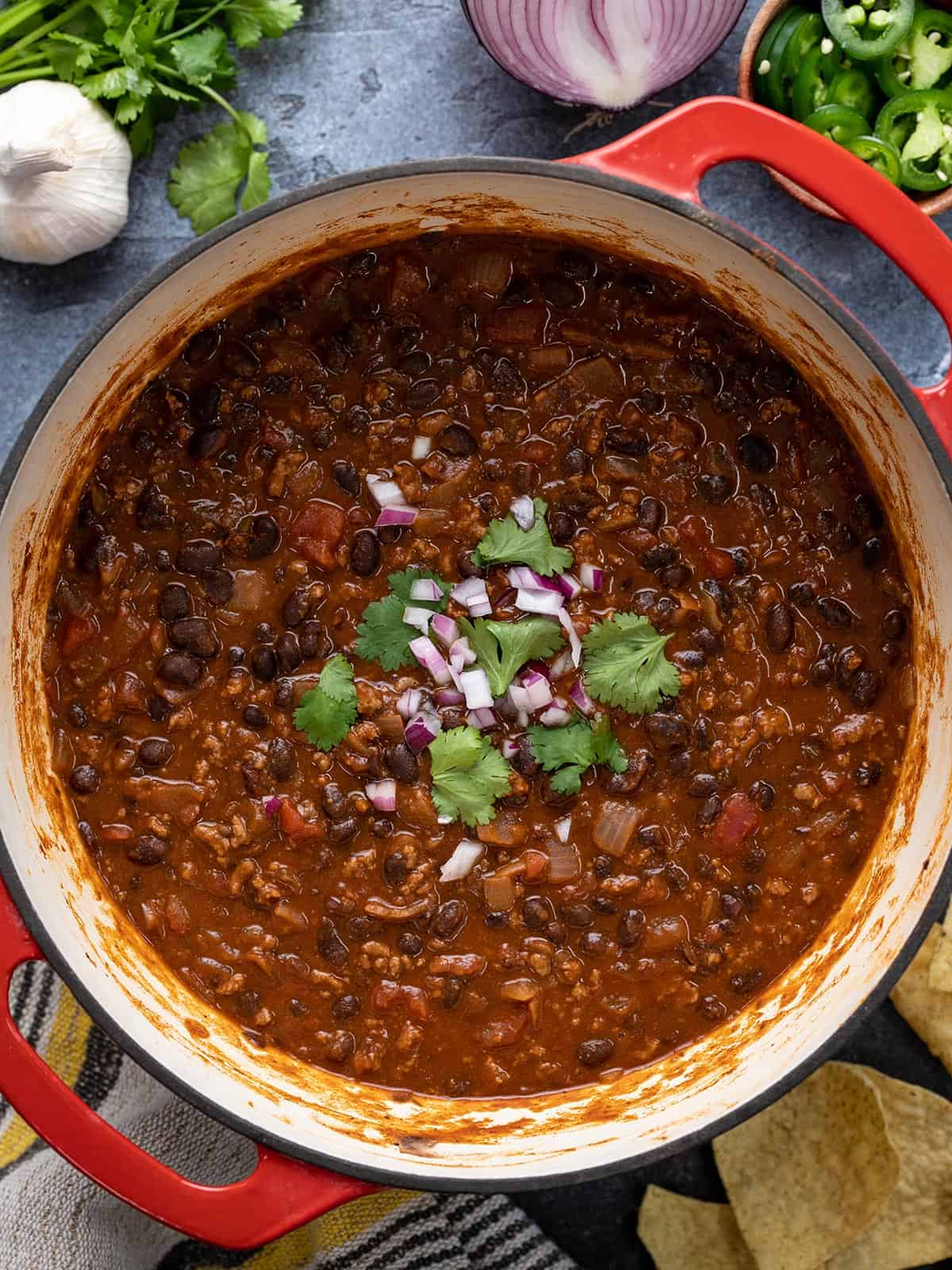 Add your favorite toppings and go to town! Or divide it up into single-serving portions and refrigerate for really easy ready-to-heat meals for the rest of the week.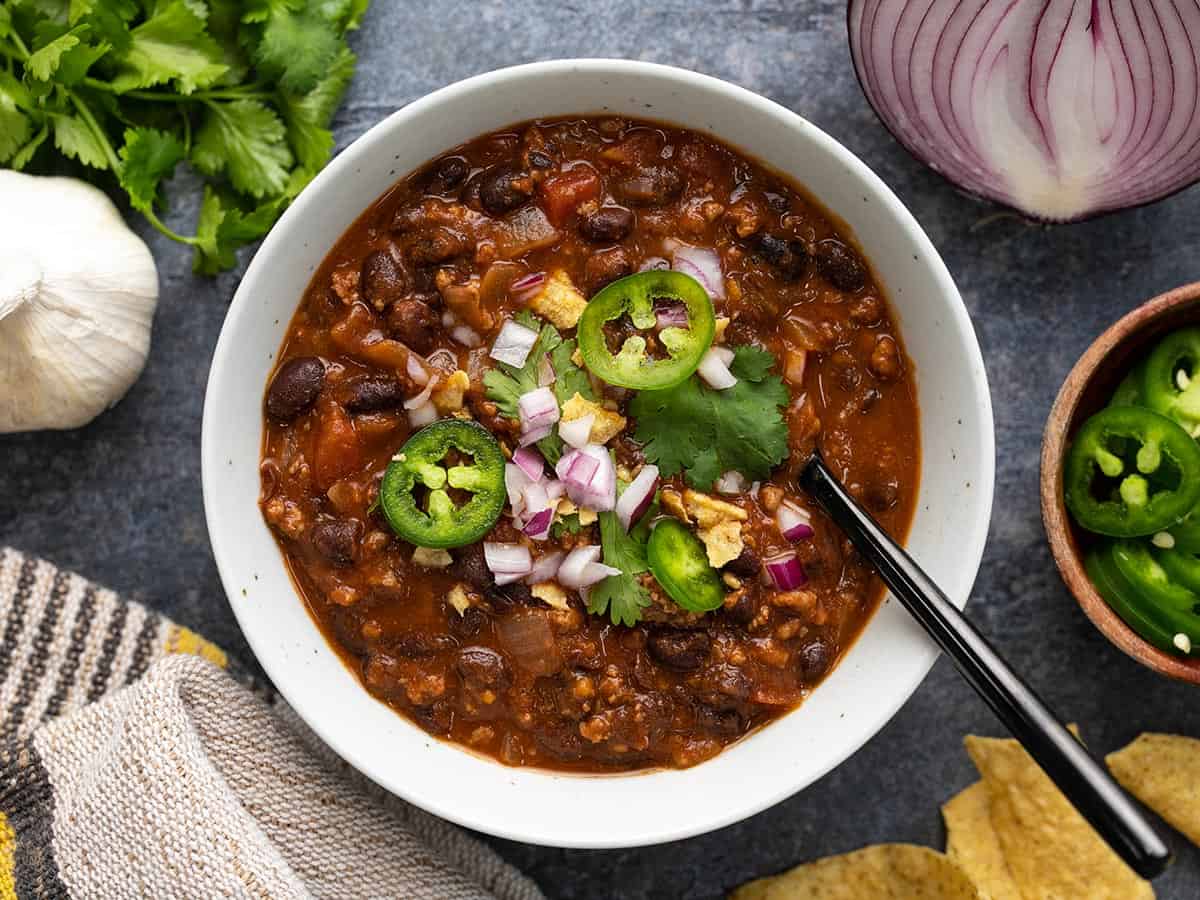 The post Black Bean Chili appeared first on Budget Bytes.