Potlucks are always a great time for families and friends to get together for special occasions, summer BBQs and Sunday dinners. And I'm sure we've all worked somewhere where they loved having a potluck to celebrate just about anything, ha! Well if you're looking for something easy, budget-friendly and delicious to bring to your next potluck, you're in luck! We've put together 30 of the Best Potluck Recipes to impress your friends at your next social gathering!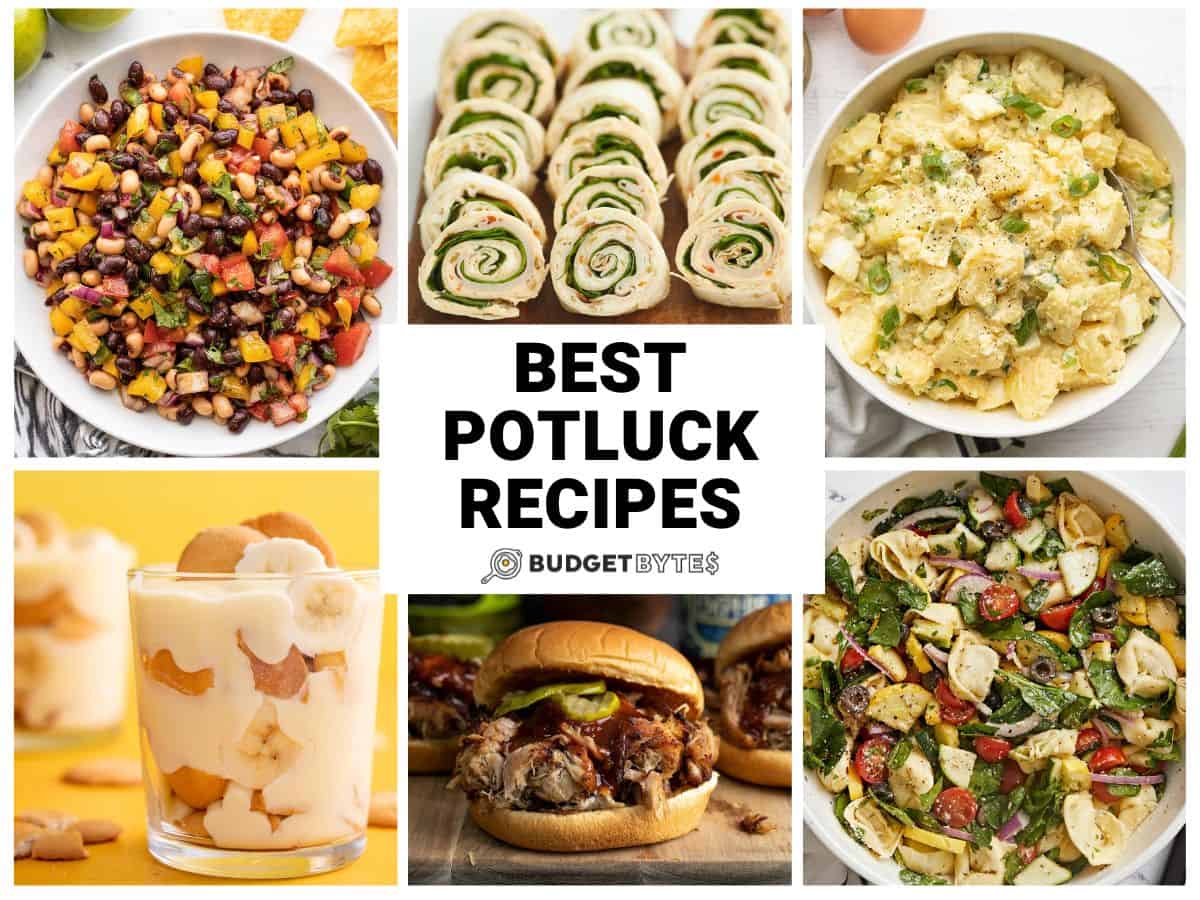 Easy Potluck Recipes
You'll definitely steal the show at your next party or BBQ when you make this Cowboy Caviar! It's an easy salsa-type salad that can be served with chips, on top of tacos or salads or as a side dish with your next dinner meal.
Pinwheels are a classic party item that everyone seems to love. These Turkey Pinwheels are easy to make and extremely versatile. So grab this basic formula then feel free to switch up the ingredient combinations!
You can't have a summer BBQ or potluck without this classic Macaroni Salad recipe. It's cold, creamy, budget-friendly and delicious!
If there is one thing I absolutely love it's definitely homemade cornbread. You can ditch the box stuff and serve this easy cornbread recipe with your soup, chili or as a side with your collard greens and pinto beans.
Everyone loves a good chicken salad and this Broccoli Cheddar Chicken Salad puts a fun spin on a classic recipe.
Potluck Dinner Recipes
When it comes to comfort food, it doesn't get much better than a deep dish serving of cheesy Homemade Lasagna. This easy lasagna recipe is the ultimate crowd-pleasing food and is perfect for potlucks and Sunday dinners.
This warm and comforting Homemade Chili recipe is great to enjoy all year long. You can serve it at a potluck or dinner party and allow guests to customize it with their own toppings for a super flavorful and hearty meal.
Yes – Baked Spaghetti, because why not? It turns the traditional spaghetti recipe into this delicious casserole topped with a gooey layer of melted cheese. Trust me, it's worth the extra effort.
These Sloppy Joes are great to make for a big party or get-together. Our version is made with a rich, homemade sauce which makes them extra flavorful. You can easily serve these with mini slider buns to feed a crowd.
You can never go wrong with a creamy, pasta casserole dish at potlucks and Sunday dinners. This Tuna Noodle Casserole recipe is made with a creamy, homemade mushroom sauce. It takes a little more time that using canned cream of mushroom soup – but it's totally worth it!
Potluck Salad Recipes
You definitely can't have a summer BBQ or potluck without a big bowl of Southern Style Potato Salad. This classic comfort food is creamy, tangy and has just the right amount of crunch.
I love a good pasta salad during the warm summer months. This refreshing Summer Vegetable Pasta Salad has lots of colorful veggies, an easy homemade vinaigrette and pasta – that's it! It also stretches well so it's great for large gatherings.
This simple Three Bean Salad has minimal ingredients, an easy and basic homemade dressing and is perfect for your next BBQ or potluck dinner.
Your family and friends will love this Tortellini Salad recipe at your next potluck event! It's a fresh, vibrant and delicious salad made with tortellini pasta, fresh summer vegetables and Italian dressing. Super easy and perfect for big parties!
This fun and delicious Lemony Cucumber Couscous Salad is super easy to make and stays fresh in the fridge for days. It's the perfect side dish for anything you might cook on the grill and it works great for meal prep!
Vegetarian Potluck Recipes
These Cheese Enchiladas are a simple recipe that combines tortillas, cheese, an extra kick of green chiles and of course our homemade enchilada sauce. They're warm, cheesy and seriously delicious!
These simple, light and refreshing cucumber sandwiches are perfect to make for brunch parties, bridal and baby showers, potlucks and even work gatherings. They're also really flexible so feel free to play around with the ingredients and make them your own.
Everyone loves a good deviled egg, but have you ever had hot deviled eggs?? These Nashville Hot Deviled Eggs are a fun twist to a classic potluck favorite recipe…and yes they're seriously hot!
Broccoli Cheddar Casserole is a comforting, classic recipe that is always welcomed at social dinner parties. This homemade version comes together quickly and is a great way to use up some leftover rice!
We love a good side dish that you can pair with almost any meal. This colorful Succotash is simple to make, budget-friendly and a great dish to use up other vegetables in your fridge.
Slow Cooker Potluck Recipes
Slow cooker recipes are perfect for potlucks because if you're someone like me there are probably a million other things you need to do to get ready for a party – especially if you're the host. Not only are these slow cooker potluck recipes delicious, but it will also free up some of your time and keep you from having to stand over a hot stove all day!
Slow Cooker BBQ Chicken is one of my favorite ways to cook tender, flavorful chicken. Chicken breasts are seasoned well and topped with BBQ sauce, then cooked slow which helps make them extra tender and allows them to soak up that yummy sauce.
This Slow Cooker White Chicken Chili is the perfect dump and go recipe. Add all of your ingredients to the bottom of the slow cooker, set your timer and when you come back you'll have a big batch of hearty, delicious white chicken chili!
You'll be surprised just how tender and juicy this Slow Cooker Pulled Pork recipe is after it's cooked low and slow. It's perfect for BBQ sandwiches, nachos or any potluck or party meal.
Slow Cooker Hamburger Stew is a simple, budget-friendly take on the classic beef stew recipe. It's made with ground beef, lots of veggies and is perfect to feed a crowd.
This Slow Cooker Buffalo Chicken is always a favorite at potlucks and dinner parties. Our version goes a step further and uses ranch seasoning which adds a huge burst of flavor to the sauce and makes it even more delicious!
Potluck Dessert Recipes
Say hello to one of the best chocolate cake recipes you'll probably every taste. This Texas Sheet Cake can easily feed a crowd and is great for potlucks and large family gatherings.
Is it just me or does it seem like Banana Pudding is always the first dessert to be devoured at potlucks? I suggest making a double batch of this easy Banana Pudding recipe because it's always a crowd favorite!
If you're team fudgy brownies with dense, chewy, rich chocolate then these super fudgy homemade brownies are just for you! They're easy to serve making them great for parties.
You can whip up a batch of these super easy Raspberry Oatmeal Bars when you need a sweet dessert to go with dinner. They're fun and simple to make with just a few pantry staple ingredients.
This fluffy Lemon Cream Pie is a simple dessert thats perfect for summer gatherings. Make it with a buttery graham cracker crust or vanilla wafers and just a few simple ingredients for a sweet and creamy dessert!
Enjoy all of these delicious potluck recipes at your next party and let us know which one is your favorite in the comments below!
The post Best Potluck Recipes appeared first on Budget Bytes.