Lentils are a superstar ingredient, and we love using them to help make meals that are fast, filling, and inexpensive. Lentils are easy to cook, can be paired with a variety of flavors, and are shelf stable so they're a great staple to keep on hand for busy weeknight dinners. We've rounded up some of our best lentil soup and stew recipes so you can see just how delicious and versatile these humble little legumes can be!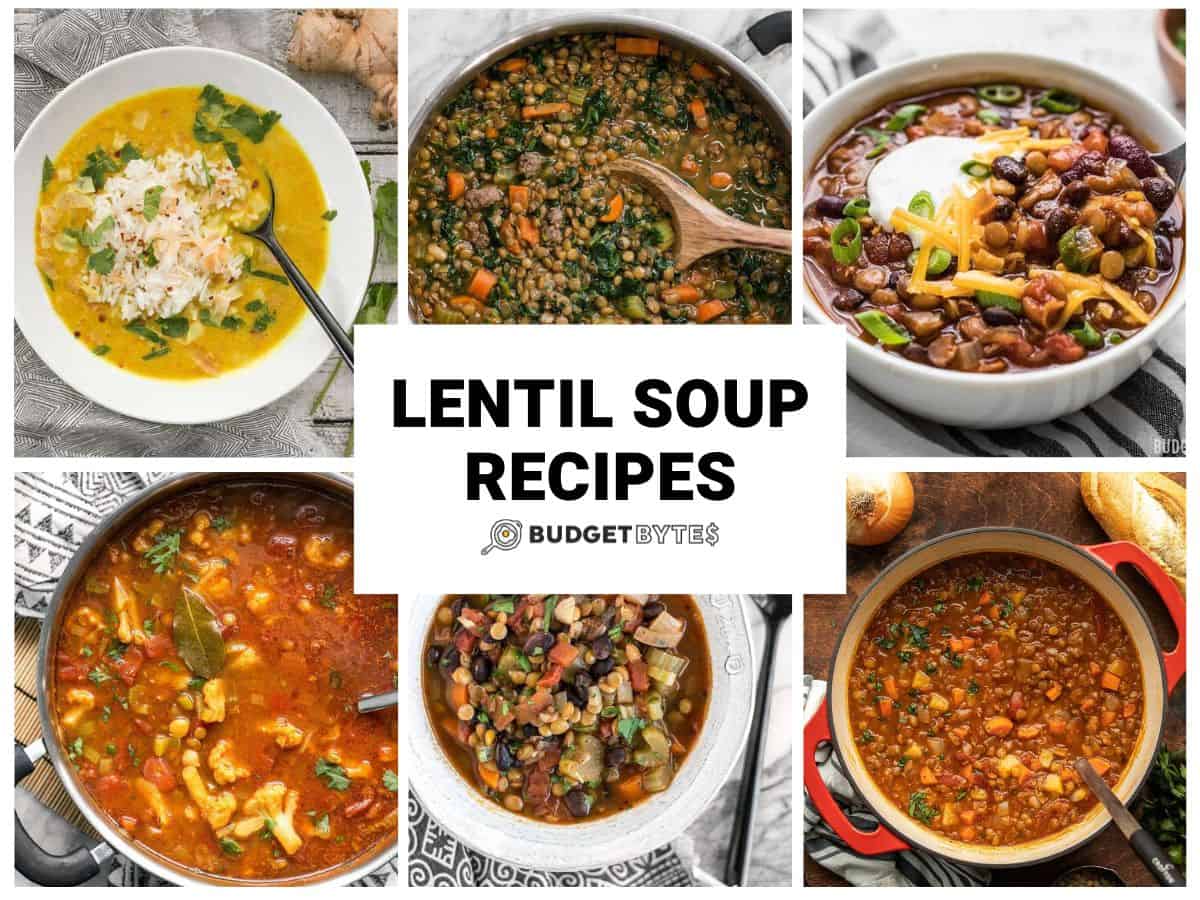 What Type of Lentils to Use for Soup
 There are hundreds of varieties of lentils available, but the most common types you're likely to find in U.S. grocery stores are brown or green lentils, red lentils, and yellow lentils. Each variety has its own flavor and texture and will create a different outcome in your recipe. Here is a brief description of the types of lentils we use in our recipes:
Brown or green lentils: These lentils cook quickly, require no soaking, hold their shape well, and have a nice earthy flavor. Use these lentils when you want the lentils to retain their shape in the soup or stew.
Red lentils: Red lentils have a very mild flavor and break down quickly when cooked. These lentils are great for creating a thicker texture in your soup or stew and pairing them with more delicate flavors.
Yellow lentils: Similar to red lentils, yellow lentils have a nice mild flavor that can be paired with a variety of ingredients. Yellow lentils also create a nice thick texture in soup or stews.
Our Favorite Lentil Soup Recipes:
If you're looking for a simple way to incorporate lentils into something you know you already like, this Tomato Lentil Soup is an excellent choice! It's like a vegetable soup with a tomato-based broth and an extra touch of earthiness courtesy of the lentils. It's cozy, filling, and full of flavor and texture! 
Our Chunky Lentil and Vegetable Soup is perfect for the days when you need to shop out of the panty instead of spending even more at the store. The recipe makes a huge batch of soup – because it's so great you will want to have it again and again – and it freezes extremely well, too!
Morrocan Lentil and Vegetable Soup is one of Beth's favorite recipes on the site because it's packed with beans, lentils, and veggies brought perfectly into balance with mouthwatering warming spices. It's the most delicious way to get your daily dose of veggies! 
This Creamy Lentil Vegetable Soup has a deep, umami-rich flavor that's absolutely out of this world – thanks to the combination of brown lentils and sliced mushrooms. Full-fat coconut milk gives it an extra creamy and luscious finish without any dairy products! (Don't be intimidated if you've never cooked with coconut milk before – once you try it, you will understand why we love it so much!)
Our Favorite lentil stew recipes:
If you want something more rich or hearty than a brothy lentil soup, these lentil stew recipes are for you! We like to utilize the lentil's natural thickening properties, letting them break down as they continue to cook, which helps create a hearty stew base that can stand up to big flavors and spices.
One of our fan-favorite recipes, this Lentil and Sausage Stew is an absolute classic with a double dose of protein – thanks to the lentils! We suggest making a big batch so you will have leftovers to tuck away in the fridge or freezer. 
If you're a fan of our Chicken and Lime Soup, I bet you will also love this recipe for Mexican Red Lentil Stew because we use the same cooking technique, finishing the soup with fresh lime juice and cilantro to make it light and fresh. This recipe also makes a huge batch and freezes well!
If you're a big fan of lentils but looking for a new spin on them, this Curried Red Lentil and Pumpkin Soup is for you! It's incredibly low-cost to make (just over $0.50 per serving!), vegan-friendly, and versatile in terms of ingredients because the pumpkin can be swapped for things like sweet potatoes or butternut squash.
vegan lentil soup recipes
While many of the recipes listed above are vegetarian or vegan, we have also created some soups and stews specifically for cooks looking to reduce the amount of animal protein in their diet with a fantastic, plant-based substitute like lentils – which contain even more protein than their cousins, beans!
For the days (or nights) when you need help from the slow cooker to get a wholesome dinner on the table, turn to this recipe for Slow Cooker Vegetarian Lentil Chili. It comes together with only 10 minutes of prep time but is absolutely bursting with flavor!
How would we describe our Golden Coconut Lentil Soup? "Light, bright, clean, and simple." The perfect thing to make when you need a palate-cleansing meal. While lentils are the main ingredient in this soup, the real stars are the fresh ginger and turmeric that help flavor the dish and give it that jaw-dropping golden hue.
With just five minutes of prep time and a laundry list of vegetables, this wholesome Vegan Red Lentil Stew will warm you up – even in the dead of winter. Red lentils are a must in this recipe if you want the stew to come together as quickly and easily as possible since they break down as they cook.
This recipe for Vegan Winter Lentil Stew will satisfy that craving for hearty beef stew when meat isn't in the budget or part of the meal plan. The best part is that the lentils really do all the heavy lifting but won't leave you feeling unsatisfied. 
The post Best Lentil Soup Recipes appeared first on Budget Bytes.