Giiiirrrl, it's hot outside! The temperatures are starting to climb, you're hungry, and you don't feel like heating up the kitchen. What do you do? Order take out? Noooooooo! I've got you covered. Here are 30 of our best hot weather recipes that require little to no cooking and are guaranteed to keep you full and refreshed in that sweltering summer heat!
Most of these recipes are meant to be served cold, or at the very least just warm, and most contain a lot of vegetables because vegetables are cool, crisp, and refreshing in this oppressive heat! Browse our selection of meal salads, sandwiches and wraps, tacos and quesadillas, and breakfast recipes that are perfect for summer.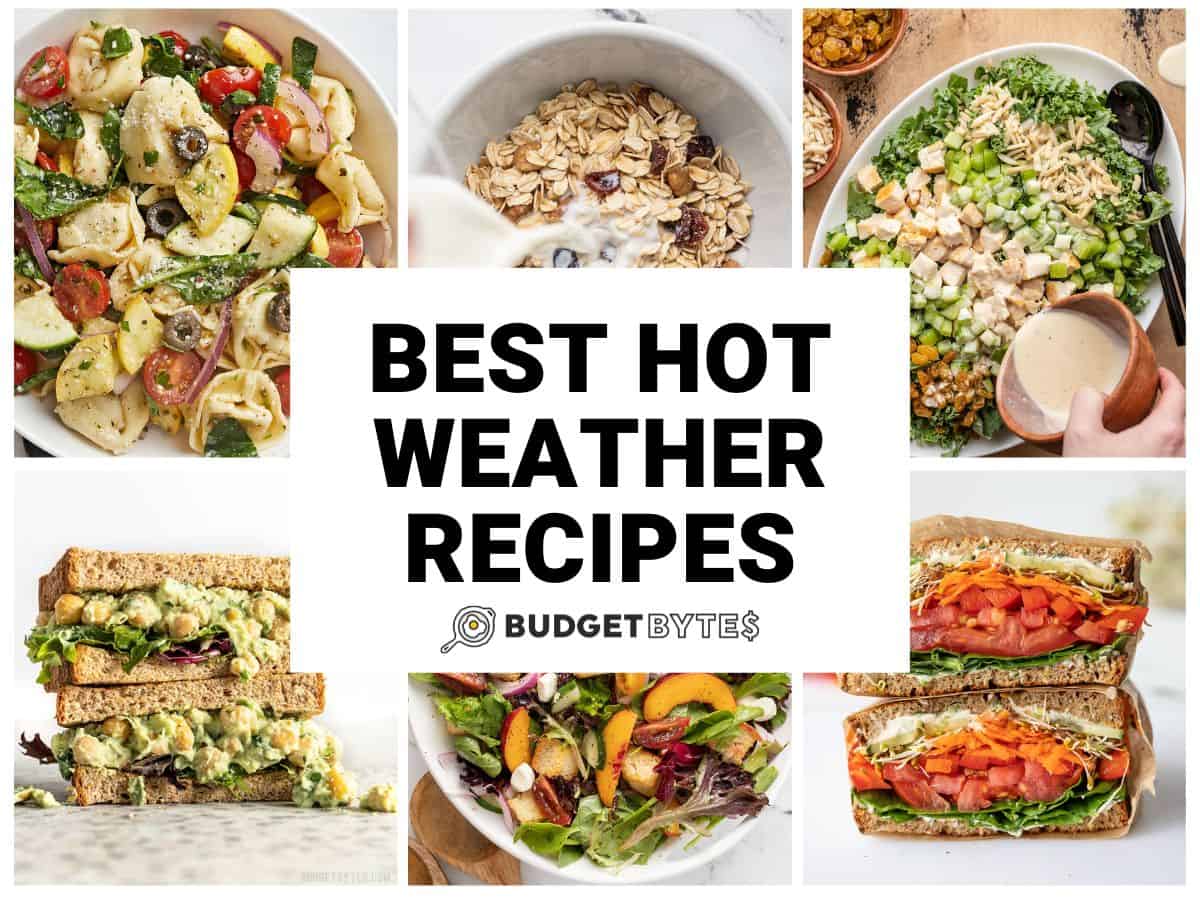 Meal Salads
This cold and crunchy Ramen Noodle Salad is the perfect light but filling cold meal for summer. Grab a rotisserie chicken from the supermarket to make this salad fast, easy, and 100% no-cook!
Tortellini Salad is a great summertime meal to keep on hand in the fridge. It holds up for days and tortellini cooks in a matter of minutes, so you won't have to cook long!
Take advantage of fresh summer produce and use up leftover stale bread in this classic summer salad. Panzanella is light, fresh, and fully customizable to what you have on hand!
Another great use for a rotisserie chicken, this super filling Crunchy Kale and Chicken Salad is the perfect summertime lunch or light dinner!
5. Antipasto Salad
For all the meat and cheese lovers out there who need something cold when the temperatures are high, this simple Antipasto Salad will satisfy your cravings! Savory, hearty, and totally no-cook, this one is a winner.
Cold, refreshing, full of protein and fiber, and completely mayo-free, this Mediterranean Tuna Salad is not the tuna salad your mom used to make!
Quickly browning up some ground turkey is all the cooking you'll need to make this delicious and light Turkey Taco Salad. It's a great dinner option for hot summer nights!
Whip up a batch of this Broccoli Cheddar Chicken Salad and eat for days! Use rotisserie chicken to make it 100% no-cook, or quickly sear a chicken breast in a skillet for a low-cook option.
Perfect for meal prep, the only cooking you'll need to do for this hearty and vegan Lemony Artichoke and Quinoa Salad is boiling up a batch of quinoa!
With hearty chunks of mozzarella, fresh tomatoes and spinach, tender bowtie pasta, and a homemade balsamic dressing, this Tomato Mozzarella Pasta Salad is everything you'll want in a cold summertime meal!
Sandwiches and Wraps
Take advantage of all that fresh summer produce by making the BEST veggie sandwich ever. We've got tons of ingredient suggestions and flavor combos for you to try!
Totally no-cook and full of bright, fresh flavors, this Scallion Herb Chickpea Salad is the ultimate answer to hot weather summertime meals.
Use a rotisserie chicken to make this cold, fresh, and sweet Chicken Salad with Apples 100% no-cook for summer!
Warm chicken, fresh tomatoes and cucumber, and a bright and cool yogurt sauce make these Greek Chicken Wraps an extra refreshing summertime lunch.
The perfect juxtaposition between cold and spicy, these Sriracha Chickpea Salad Wraps are an easy, flavorful, and refreshing no-cook summer lunch.
A quick sauté of chopped tofu is the only cooking you'll need to do for these tasty vegetarian sliders. Bonus: you can eat these BBQ Tofu Sliders as a bowl meal with the homemade coleslaw, too!
Egg Salad Sandwiches are a classic for a reason! They're super easy, cheap, delicious, and filling. Done and done!
When it's hotter than Hades but you know you've got to eat, these simple Cucumber Sandwiches are fast, easy, super refreshing, and won't make you feel overly full.
Tacos and QUesadillas
Talke about FRESH! These Fish Tacos are topped with a bright and tangy cumin lime slaw that has summer written all over it!
Super fast and easy, these Spinach and White Bean Quesadillas are creamy and satisfying without a lot of time in the kitchen required!
A brief sauté of the shrimp in a skillet is all the cooking you'll need to do for these super simple and fresh shrimp tacos!
This Budget Bytes Classic Recipe is great anytime of year, but it's definitely a life saver during the hot summer months! A quick crisp-up in a hot skillet is all the cooking you'll need to make these Hearty Black Bean Quesadillas!
Spicy, creamy, and fresh, these Blackened Shrimp Tacos are the BEST! You'll want to make them all summer long!
Breakfast Recipes
Green smoothies are packed with fresh summer fruits and a little spinach for good measure! They're ultra refreshing and filling for hot summer mornings.
Muesli is the O.G. overnight oats. With thick rolled oats, nuts, and dried fruit that you can eat with cold milk or yogurt, this simple breakfast will fill you up with no cooking required!
Skip the frappuccino and make your own cold coffee-filled breakfast treat! This Chocolate Coffee Breakfast Smoothie tastes like a Frostie, but is packed with breakfast goodies, even a little bit of vegetables!
We've got SIX different flavors of these protein-filled, meal prep ready, COLD Cottage Cheese Breakfast Bowls for you to try!
The natural sweetness of applesauce is all the sugar you need to make these dessert-like, hearty and refreshing Blueberry Almond Overnight Oats!
This simple and classic Peanut Butter Banana Smoothie is my go-to for breakfast or anytime during the day when the weather is hot!
Because you deserve dessert for breakfast after surviving this heat. 😉 These Double Chocolate Overnight Oats feel like you're eating chocolate pudding, but are chock-full of breakfast goodness.
I'd love to hear your summer favorites, too! Share your favorites in the comments below.
The post Best Hot Weather Recipes appeared first on Budget Bytes.