If you're the type to love anything and everything pumpkin pie flavored, you're going to LOVE this Pumpkin Pie Baked Oatmeal. It's got all the goodies of pumpkin pie baked right into your breakfast oats. …But with a lot less sugar so you won't get a sugar crash at 10am. 😉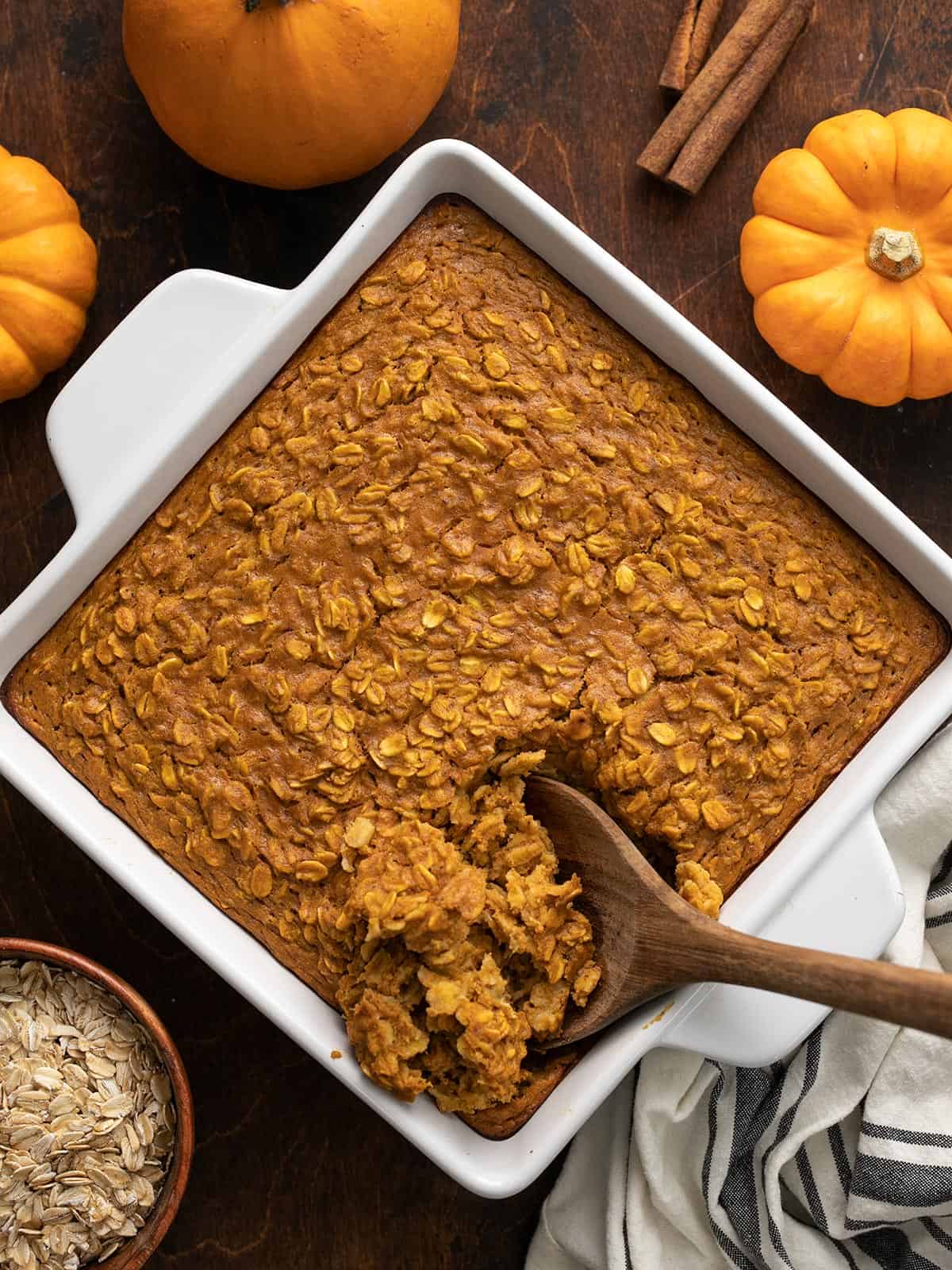 What is Baked Oatmeal?
Baked oatmeal is just oats that have been baked into a custard-like mixture. So think of bread pudding but made with oats instead of chunks of bread. They're soft (not crunchy like the photos sometimes appear), warm, and very moist. Baked oats are more firm than traditionally cooked oats because they contain eggs and less liquid, but they still remain soft.
WhAT KIND OF OATS TO USE
I find that old-fashioned rolled oats work best for baked oatmeal recipes. Quick oats are a bit too small and delicate, and will create a pretty mushy end texture. Steel-cut oats require more moisture and a longer cooking time, so they will not work in this recipe. Old-fashioned rolled oats are the perfect mix between good texture and quick cooking!
How to Serve Baked Pumpkin Pie Oatmeal
I absolutely love eating this pumpkin pie oatmeal cold every morning, but you can also reheat it in the microwave and eat it warm. Try drizzling a little maple syrup over top, sprinkling on a few chopped nuts, or even adding a dollop of whipped cream for an extra dessert-like finish.
How to Store Baked Oatmeal
This is a bake once, eat all week type of meal. After baking I divide the pumpkin pie baked oatmeal into single portions, then store them in the refrigerator for 4-5 days or freeze them for up to a few months. If you plan to freeze some of your baked oatmeal, chill it completely in the refrigerator first, then transfer it to the freezer.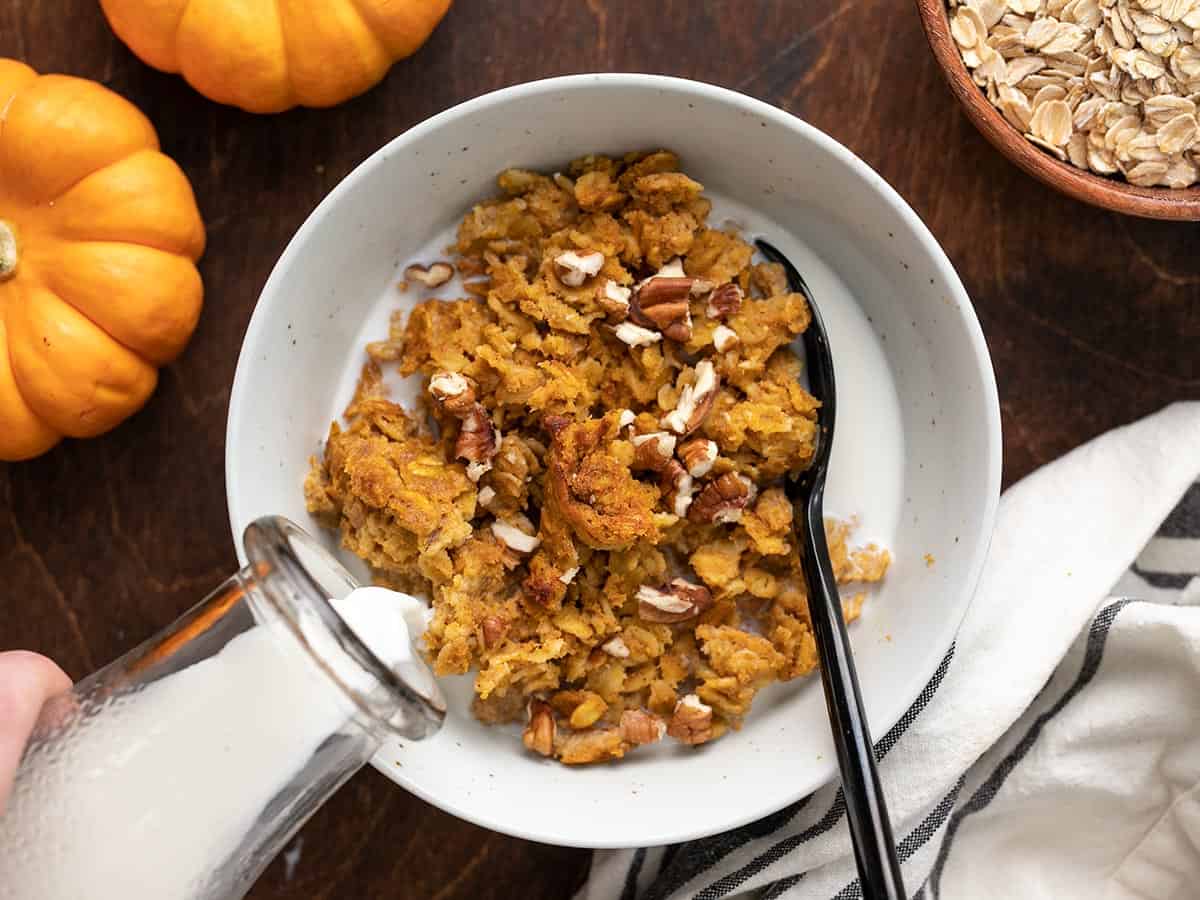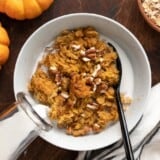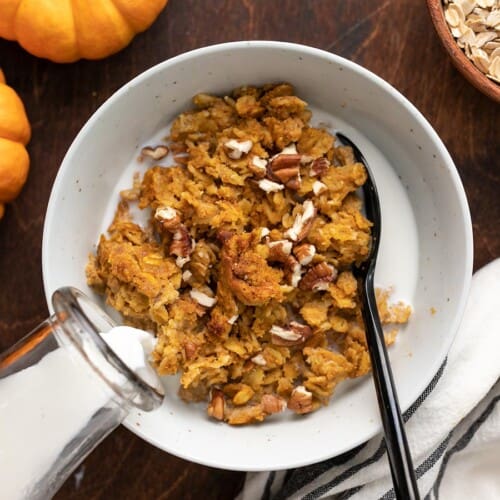 Baked Pumpkin Pie Oatmeal
Baked Pumpkin Pie Oatmeal is a great make-ahead breakfast option that has all the great flavors of pumpkin pie packed into whole grain oats.
Ingredients
1

15oz. can

pumpkin purée

$1.99

1/2

cup

brown sugar

$0.32

2

large

eggs

$0.36

1/2

Tbsp

pumpkin pie spice

$0.15

1/2

tsp

vanilla extract

$0.29

1/4

tsp

salt

$0.02

3/4

tsp

baking powder

$0.03

1 1/2

cups

milk

$0.36

2 1/2

cups

old fashioned rolled oats

$0.32
Instructions
Preheat the oven to 375ºF. In a large bowl, whisk together the pumpkin purée, brown sugar, eggs, vanilla, pumpkin pie spice, salt, and baking powder until smooth.

Add the milk and whisk until smooth again.

Stir the dry oats into the pumpkin mixture.

Pour the oats into an 8×8-inch baking dish.

Bake the oats in the preheated oven for 45 minutes, or until the center no longer looks wet and the edges are lightly golden brown.

Serve hot right out of the oven or refrigerate until ready to serve. The baked oats can be eaten cold or reheated. Top with milk, maple syrup, whipped cream, or nuts if desired.
See how we calculate recipe costs here.
Nutrition
Serving:
1
Serving
|
Calories:
285
kcal
|
Carbohydrates:
50
g
|
Protein:
9
g
|
Fat:
6
g
|
Sodium:
208
mg
|
Fiber:
6
g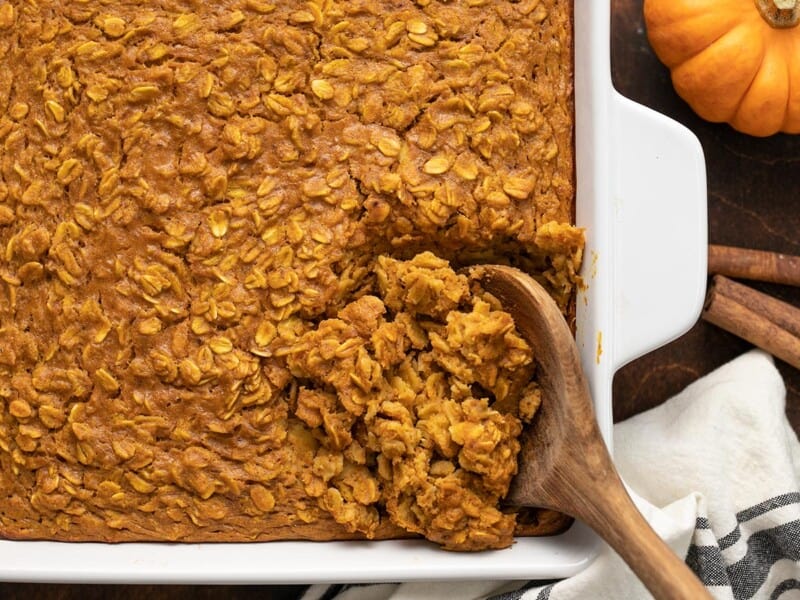 How to Make Pumpkin Pie Oatmeal – Step By Step Photos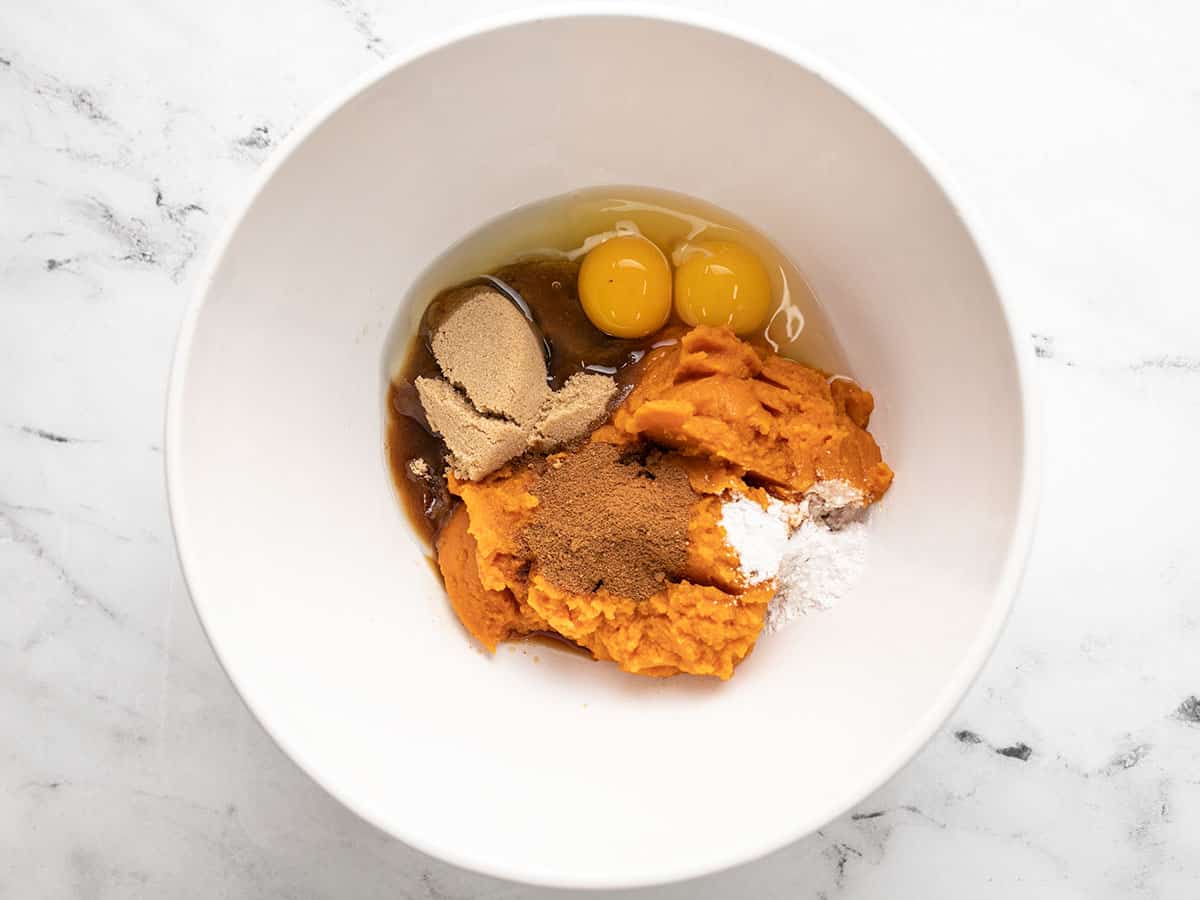 Preheat the oven to 375ºF. In a bowl, whisk together one 15oz. can of pumpkin purée, ½ cup brown sugar, 2 large eggs, ½ tablespoon of pumpkin pie spice, ¾ tsp baking powder, ½ tsp vanilla extract, and ¼ tsp salt.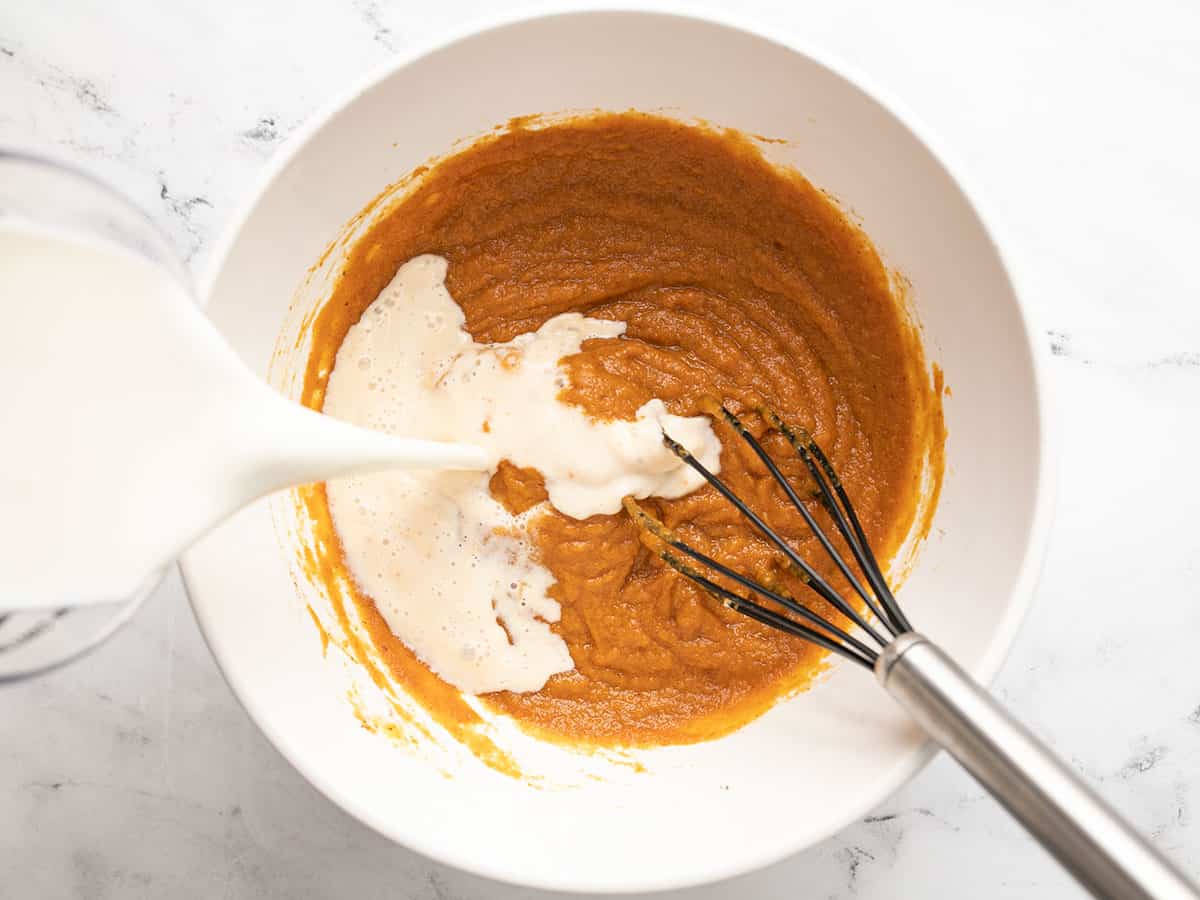 Add 1.5 cups milk and whisk until smooth again.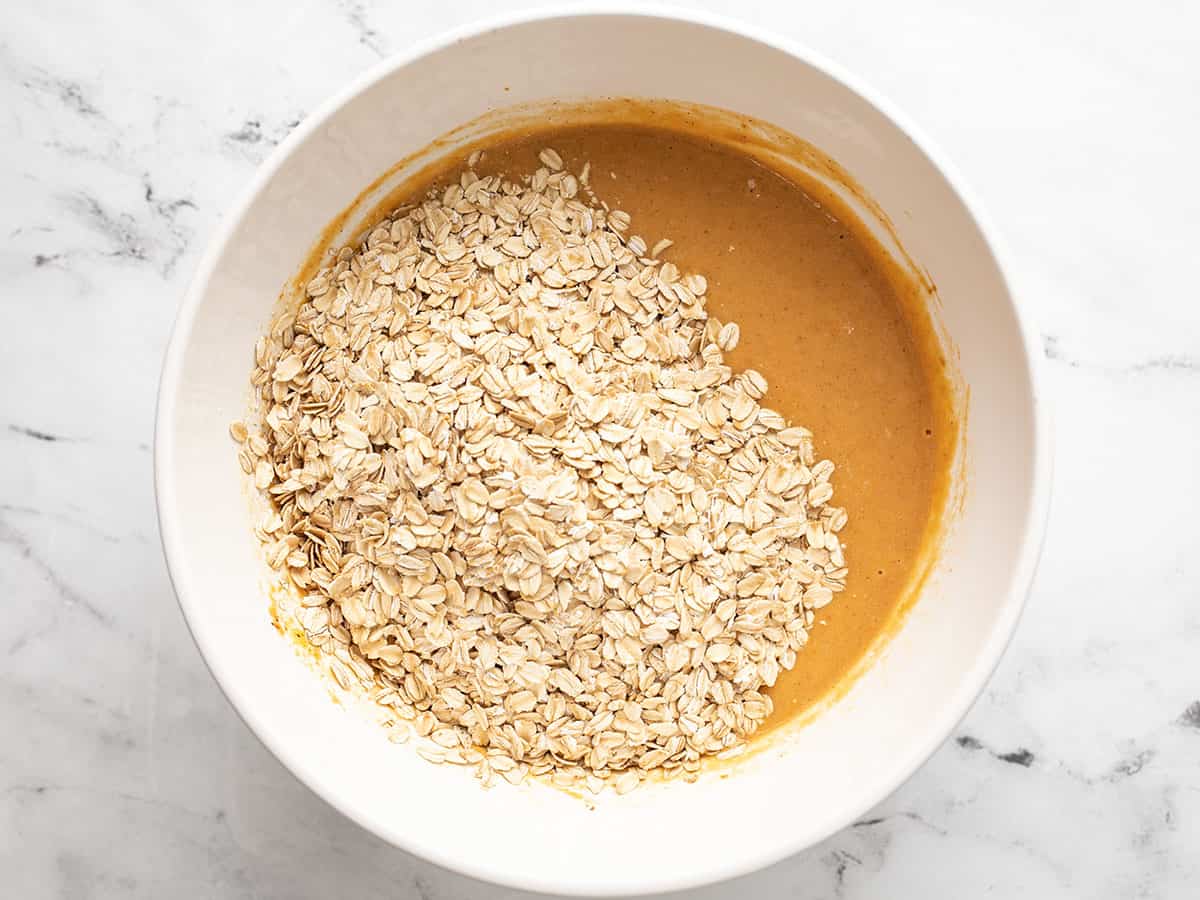 Add 2.5 cups of old-fashioned rolled oats to the bowl, then stir until combined.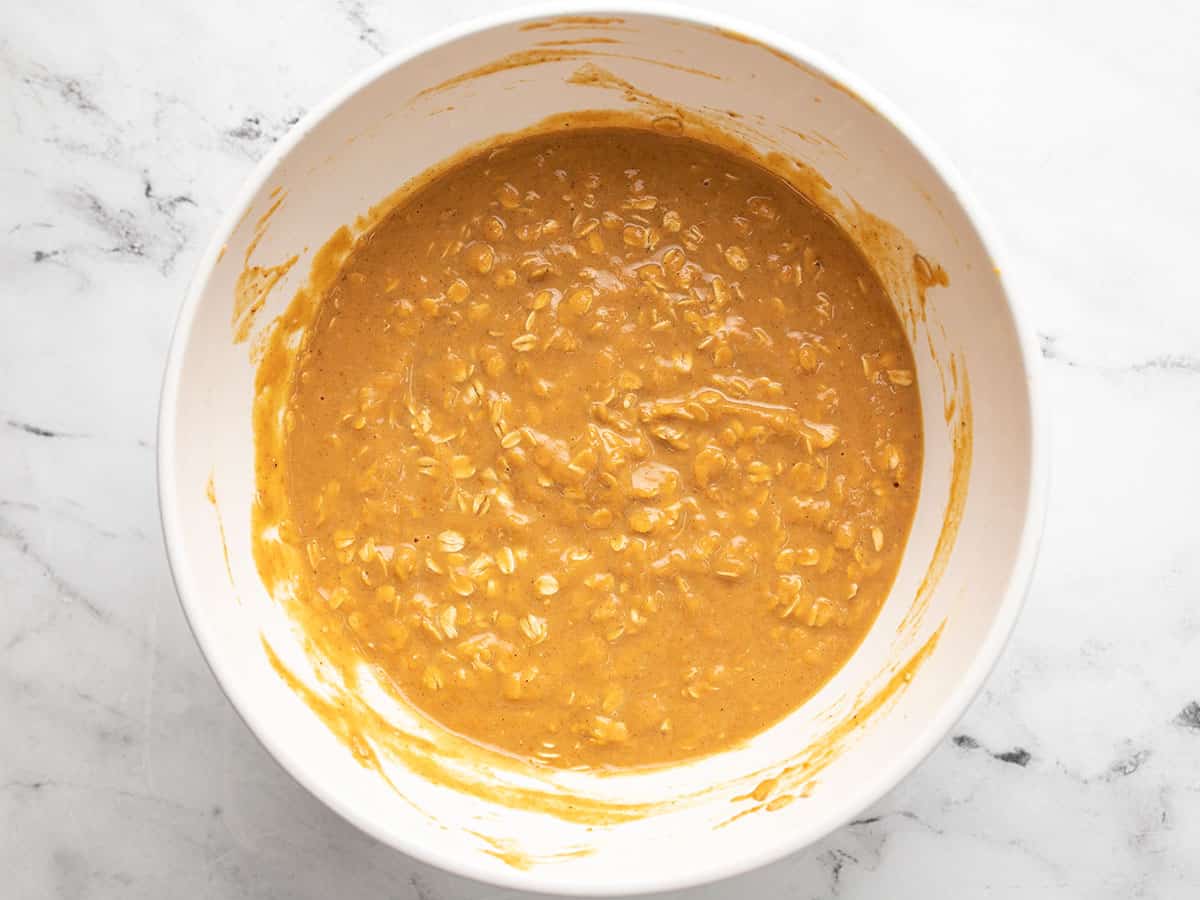 This is what the mixture should look like, once mixed.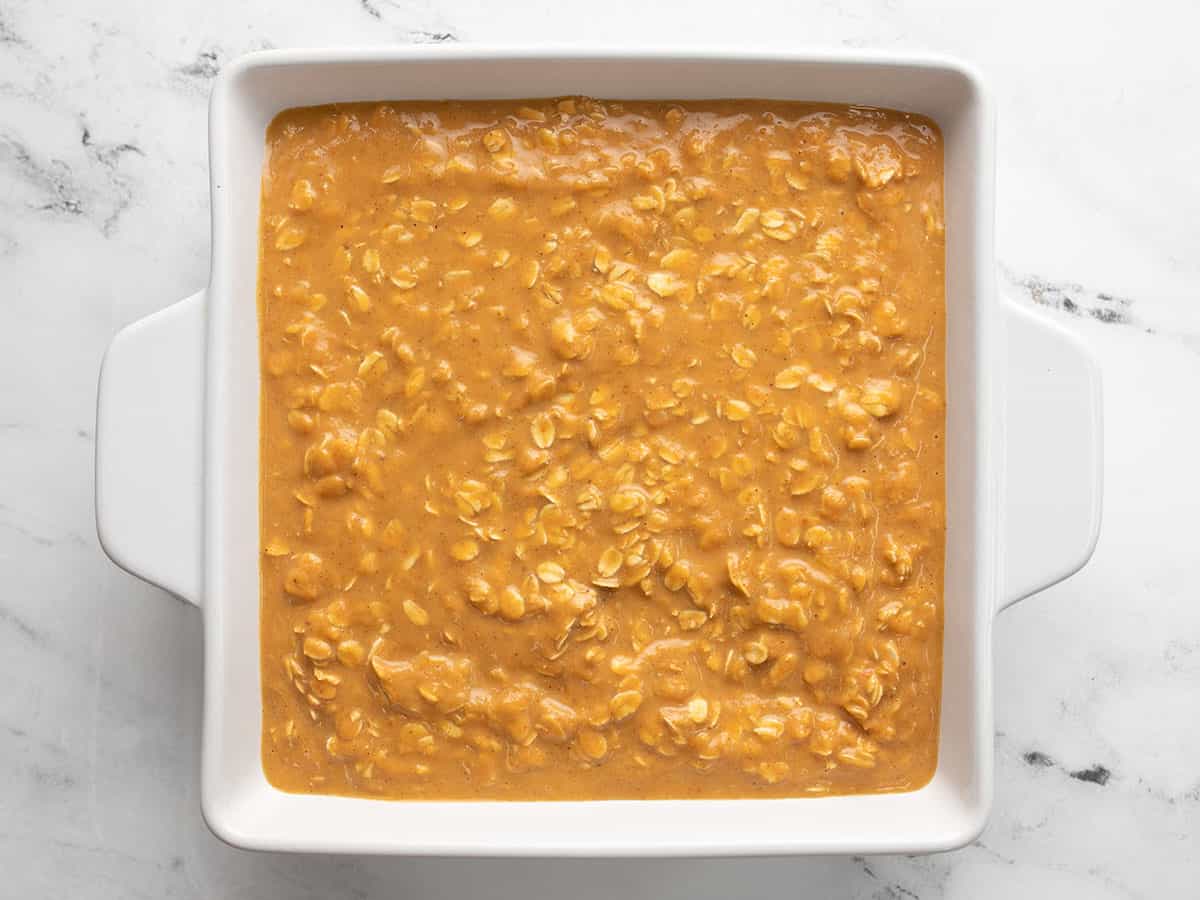 Add the pumpkin pie oatmeal mixture to an 8×8-inch baking dish.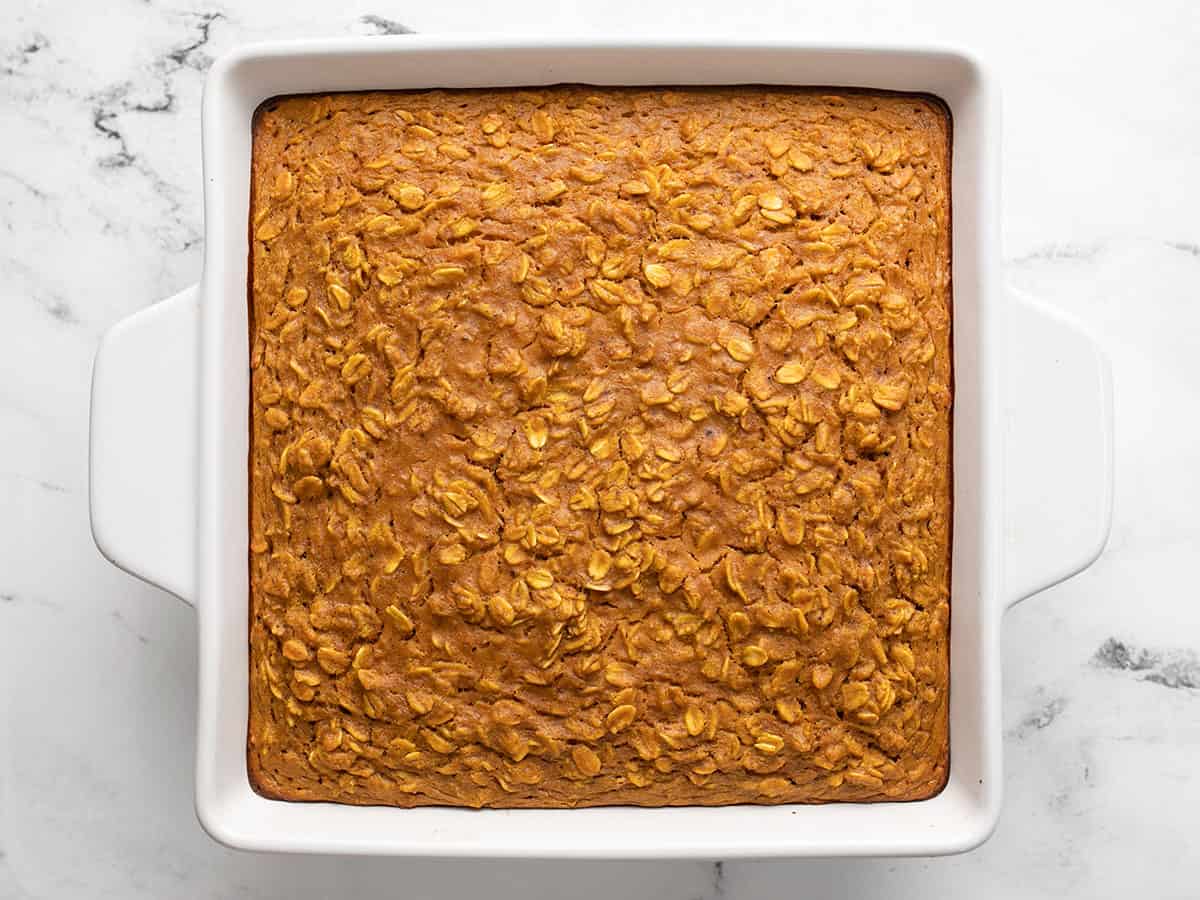 Bake the oatmeal for 45 minutes, or until the center is slightly puffed and cracked, and the edges look slightly golden brown.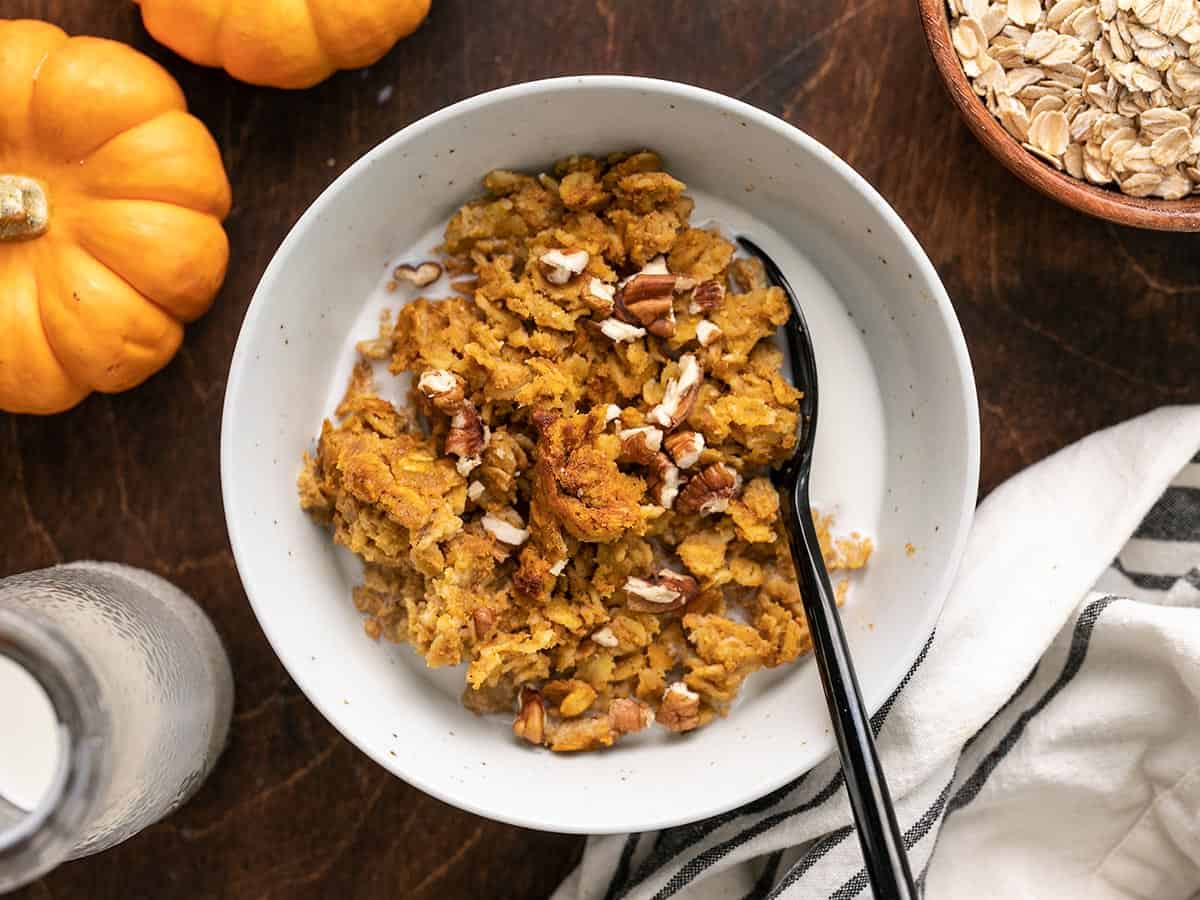 Serve the pumpkin pie oatmeal warm or refrigerate for later! Enjoy alone or with milk, nuts, or maple syrup.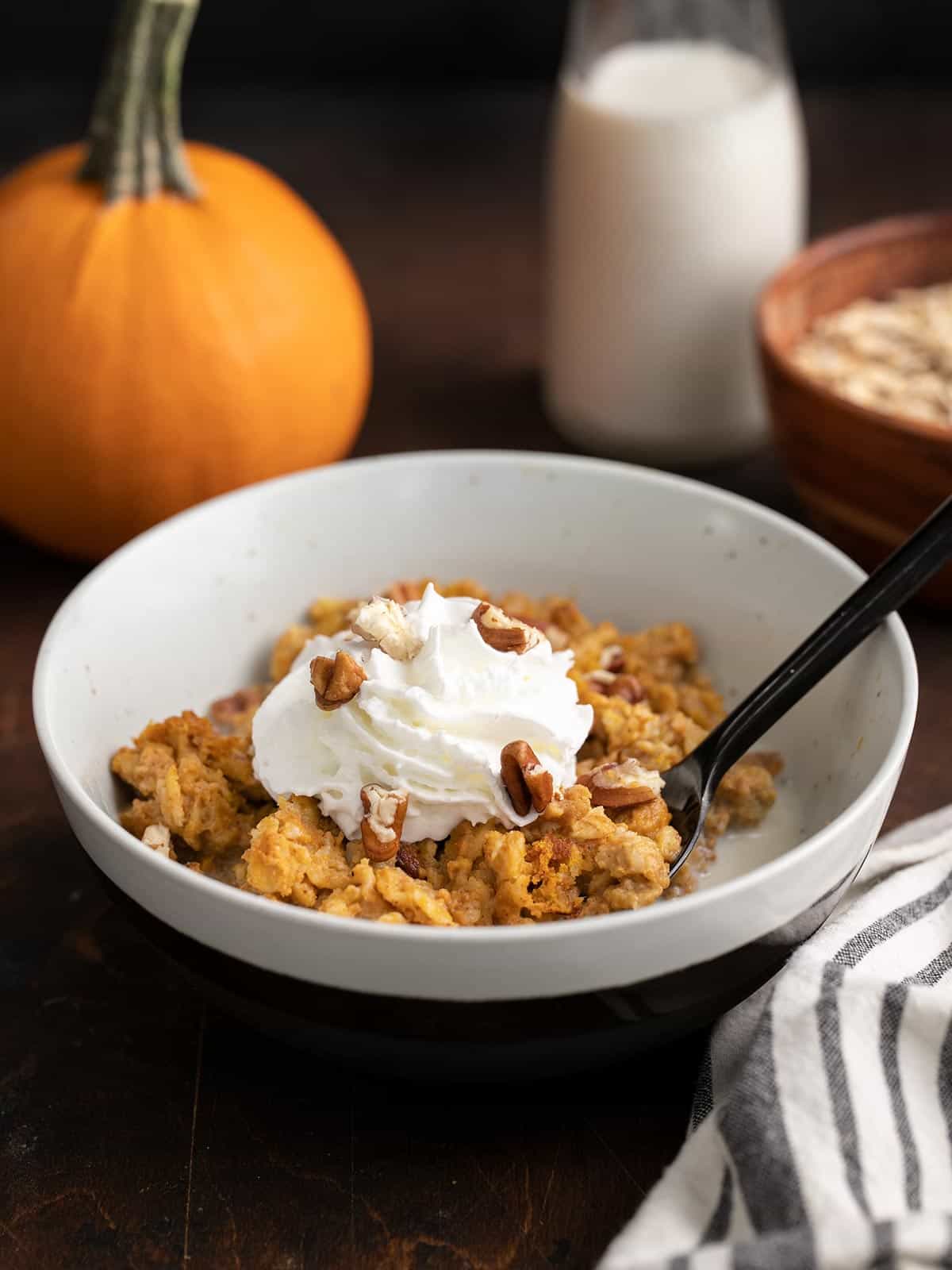 The post Baked Pumpkin Pie Oatmeal appeared first on Budget Bytes.